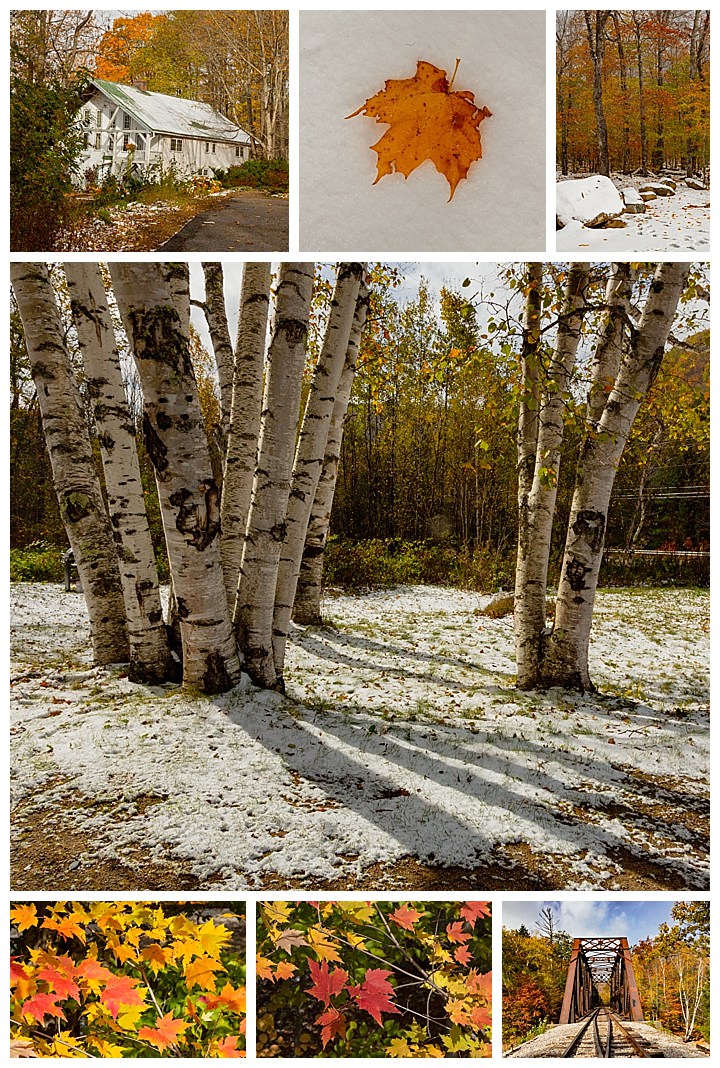 While in New Hampshire, we took a one day trip to the north of the state to chase more Fall colors, and stayed overnight at the Christmas Farm Inn and Spa, in Jackson, NH. It turned out that the colors peaked a few days before we arrived.
When we woke the next morning, it was snowing! OK, by New England standards, it was only snow flurries, but to those of us now accustomed to Ecuador weather, it was C-O-L-D!  We went out to photograph the newly dusted landscape.
In sending up the drone, I quickly discovered that the winds were gusting high above the trees, as the drone got blown into a treetop at 120′ in the air. It sounded like a chain saw cutting down a tree, then we watched the drone tumbling to the ground, bouncing off branches as it went.  After I restarted my heart, I realized that the trusty little DJI Phantom 4 Pro had righted itself and avoided calamity, with only the tip of one blade needing to be replaced.
Jackson, NH, is known for their ski resorts, and we had hoped to ride the chair lift up Mt. Washington. Unfortunately, it was closed due to those same high winds.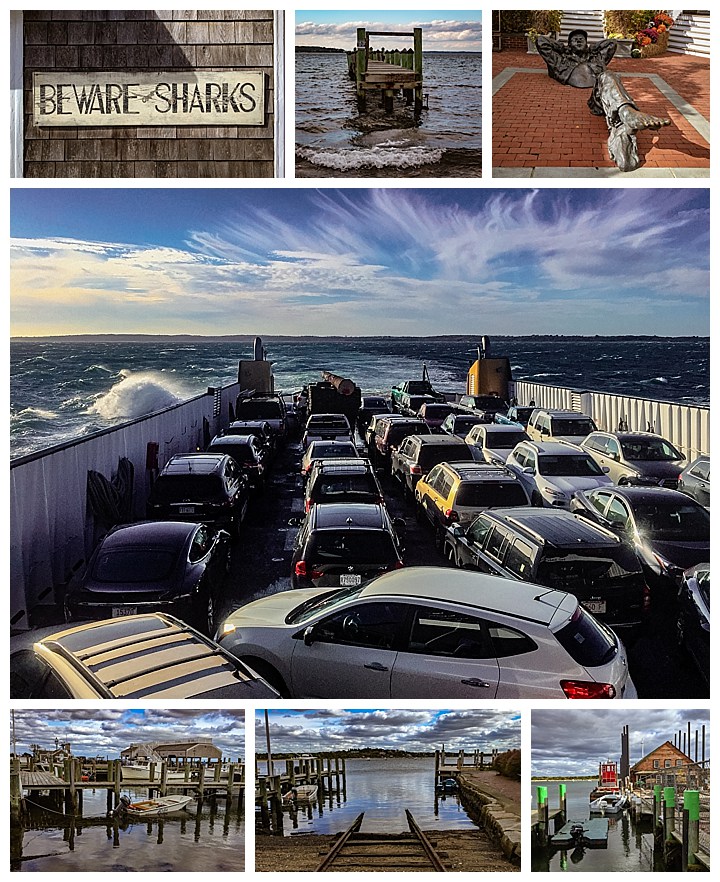 After a second overnight with our Exeter friends, we headed to Martha's Vineyard for a few days.  After hearing about this place most of our lives, we wanted to see it for ourselves.  The island is large and you really need a car to get around, so we put our rental car on the ferry and took it with us. The ride was pretty choppy (top), and turned out to be the last of the day — they cancelled all later trips due to rough waters.
Other images above are around the former whaling town of Edgartown on Martha's Vineyard. The movie Jaws was filmed there, so there are lots of paraphernalia and factoids from that movie.
When we think of New England, we often think of light houses.  Since the map showed five on the island, we drove out to see them.  As it turned out, one was inaccessible except by four-wheel drive, two were now privately owned and visitors not welcome.  That left two accessible, only one of which was really very photogenic (seen above).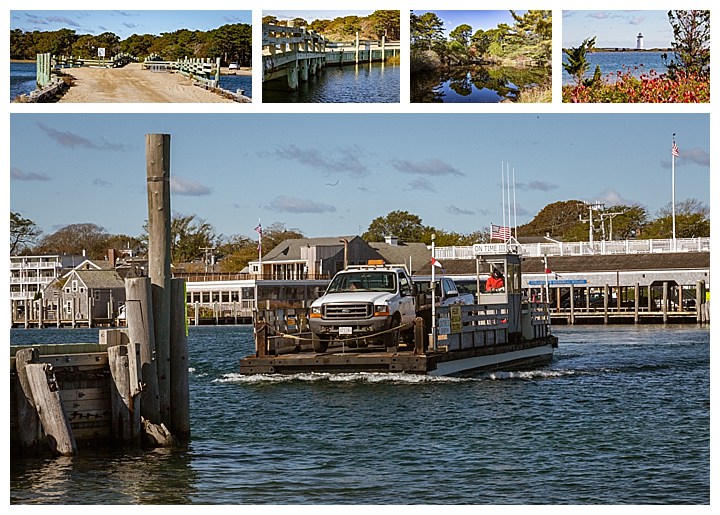 While here, we took a short trip to Chappaquiddick, the island on which Ted Kennedy had the fatal accident in 1969, which derailed his presidential aspirations for good.  To reach the island, you first go on a tiny 2 or 3-car ferry (bottom).  There are no signs nor maps showing the location of the bridge, so you have to do research from old newspapers in advance (upper-left two images). You cannot go further to the light house without a four-wheel drive, with lots of warnings that you WILL get stuck in the sand if you try it in a normal car, and that emergency pull-out is obscenely expensive.
Overall, Martha's Vineyard was a disappointment. We were there after the end of the season, so many of the stores and restaurants were closed, there were very few people around, and it was cold and very windy (I could not send up the drone anywhere on the island). We expect it would be a different experience during the Summer though.