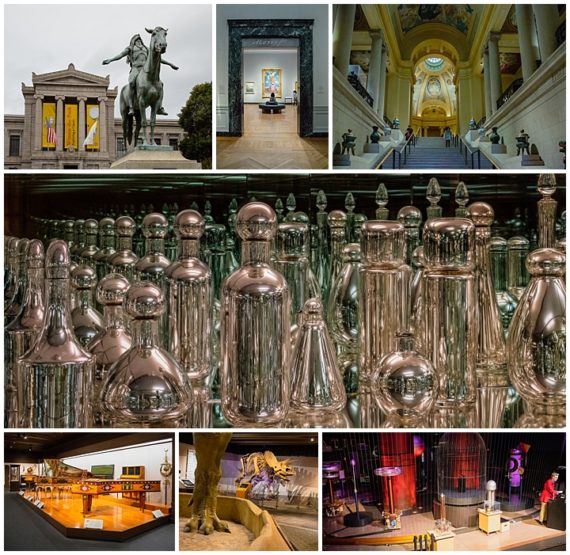 We had originally planned on "chasing the Fall Colors."  However, we were lucky enough to hit "Peak Color" in Vermont, and everything after that failed to live up to to our entry to Fall, so we decided to change plans.
We therefore wound up our New England travels with a week in Boston.  Evelyn loved this town when she visited for work several times in the 1980s, and Burt had never been there before.  If you look on TripAdvisor, you are told that the #1 thing to do in Boston is to visit the Fine Art Museum, so of course we did that first, as seen in the top two rows of the photo block above. The center image is from an "infinity display" where a couple dozen glass vessels were placed in front of a mirror, making it appear as though the bottles went on forever. Of course, Evelyn had to see  the works of some of her favorite painters: John Singer Sargent, Monet, Picasso, and other renown masters.  There was also a section devoted to historic musical instruments (lower-left), which we enjoyed.
Another attraction was the Museum of Science, which drew Burt's attention. We arrived just as a demo was being given on electricity and lightning (lower-right).  This is an excellent place to take kids, with all the interactive displays showing how to think analytically.
Just as we thought we had seen it all and were ready to leave, we heard an 8 year-old kid talk to his mother excitedly about the dinosaur exhibit.  How could we leave and not see the dinosaurs?!  We made a point of going there to finish off the science museum (bottom-center).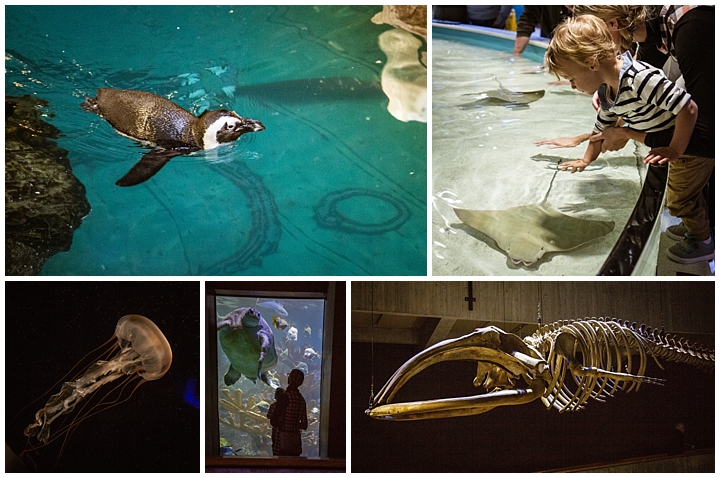 Another TripAdvisor recommendation is the aquarium.  We usually go to the major aquariums in cities when we have the time, so did so here too.  It was a well done aquarium, and well worth a trip with the kids.  It is pretty hard to compete with the likes of the Monterey Bay  Aquarium in California though, and this comes up just a little short in that comparison.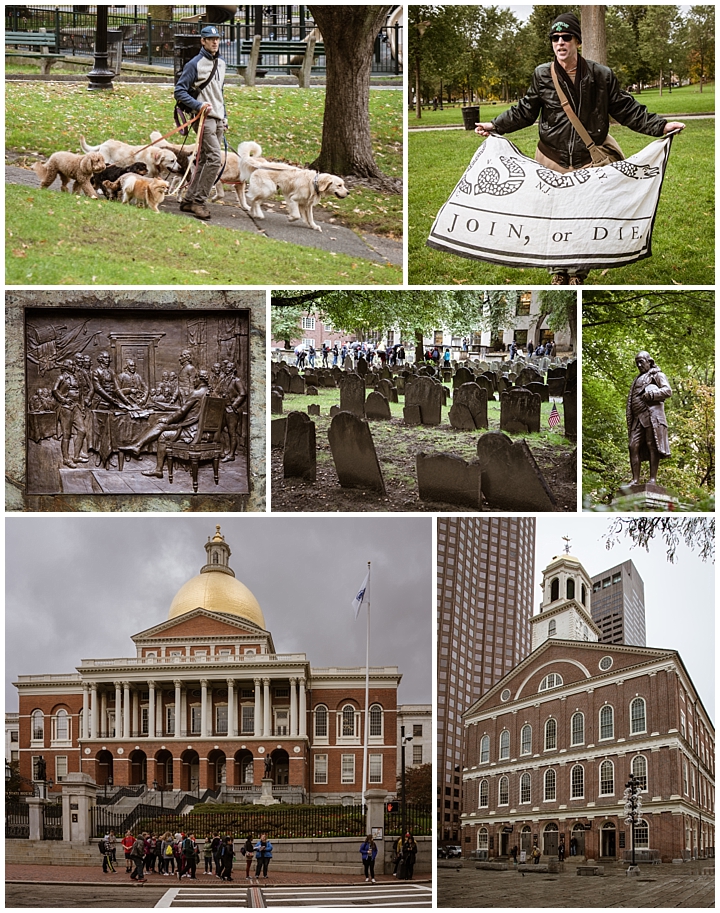 In recent years, we have become fans of the "free walking tours" in major cities, where a local expert takes you around and shows the significant sites for no up-front fee. You tip the guide as you see fit at the end.  Most of these have been quite good, with only a couple (Venice comes to mind…) where we left early and chose not to tip at all.
We started at Boston Common along the Freedom Trail, that took us along a 1-mile section of the route marked by the city as having Revolutionary War significance, which included Faneuil Hall, which unfortunately has transformed into a touristy, shopping center.
The guide (upper-right) was very entertaining, though his over-the-top exuberance did wear on us rather quickly.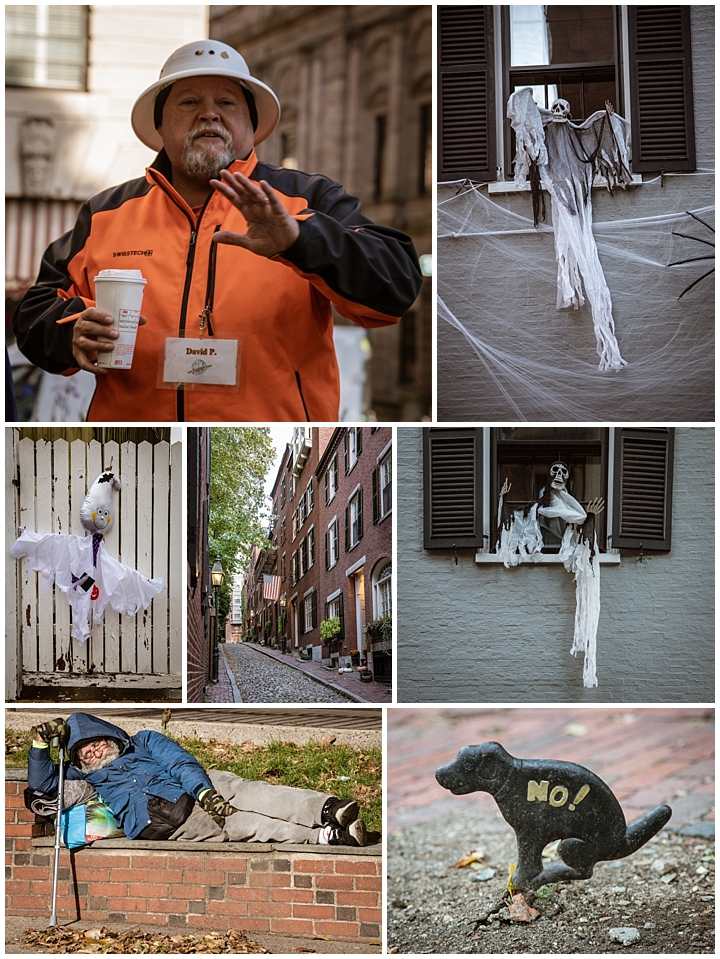 We also decided to take the free "Beacon Hill Crime Tour." This guide (upper-left) was quite entertaining, and kept us wanting to hear more stories.  We walked through our neighborhood and learned of the horrific crimes that have occurred over the centuries here.  Rather appropriate, since we were only a couple days ahead of Halloween.
One thing we noticed is that the homes on Beacon Hills really seem to get into the spirit of Halloween. We saw more ghosts and goblins on doors and window sills than we can remember anywhere else. We were told that Halloween is quite an adult event here, and if you bring your wine glass, you not only get wine, but a tour of the mansions.
After the guided walks, we did some exploring on our own. Very near our apartment is the Tadpole playground at the Boston Public Garden, which was drained for the off-season.  There are rather cute frog statues around the park (upper-left and upper-right), including one wearing the Boston Red Sox outfit (upper-left).  The carousel horses (bottom-left) were carelessly stacked in a corner, making me wonder how well they will weather the Boston Winter to come.
Naively, we had not realized that the World Series was in town, and wondered why it was hard for us to find hotel rooms that week. As night approached, I went to the rooftop of our rented room to capture some Blue Hour images of the city (lower-middle and lower-right).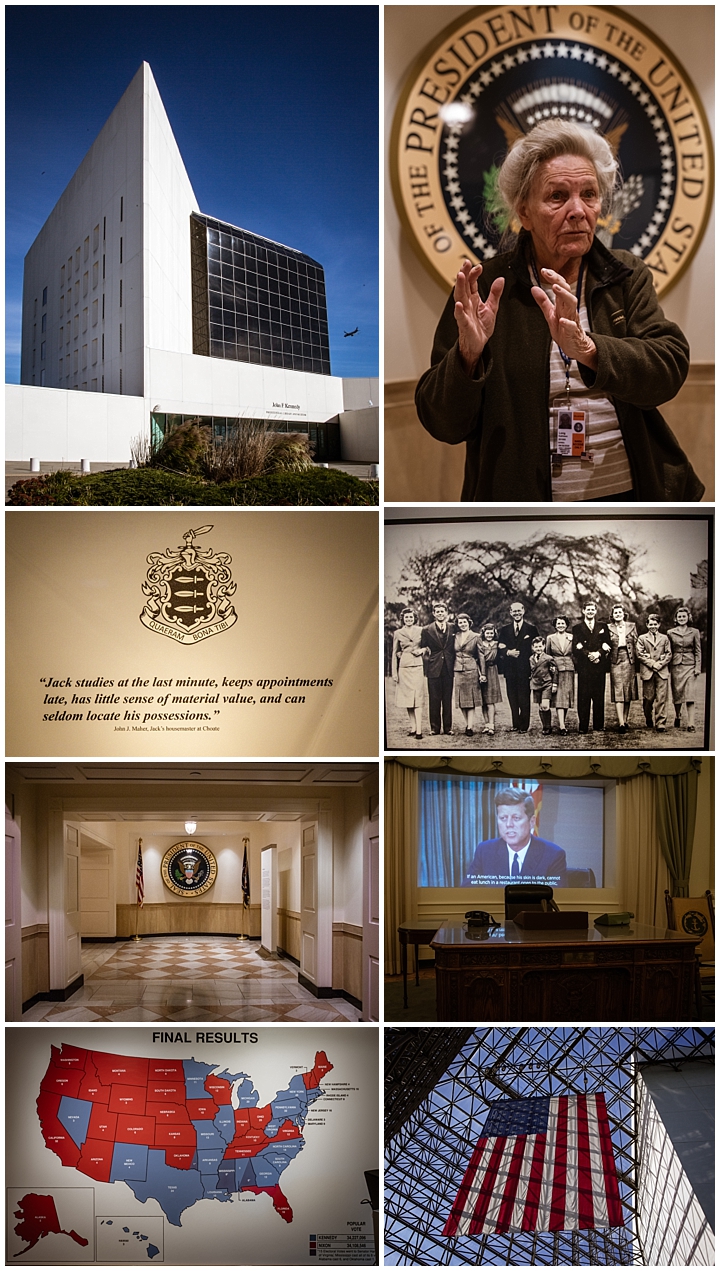 We almost skipped the John F Kennedy library.  One couple on our walking tour told us that the library was the highlight of their trip in Boston.  We therefore decided to see it on our last morning, on our way out of town.
We were so very glad we did.  We are both of the age where we can vaguely remember the events of his presidency, and can both still clearly remember where we were when we heard he had been assassinated.
The museum concentrated on Kennedy's life up until his nomination by the Democratic Party in 1960.  We learned, for example, that he had been a rather poor student in his early years (second row-left).  We also found that California had voted Republican in the 1960 election, as had almost the entire West Coast (lower-left).
Kennedy first installed the secret tape recording mechanism that later got Nixon into trouble.  This was available and operating during the Cuban Missile Crisis.  A documentary was shown, in which all the words were recordings of Kennedy and his cabinet. We had known that the crisis brought us close to WW III, but the recordings here really drove the point home. While his military advisors were telling him to do an all-out surprise massive strike on Cuba, Kennedy's response was "That is what the world expects from the Russians. It is not what they expect from America though. We must find a way to solve this that does not escalate to war."