Last night was the opening reception for Burt and Evelyn Johnson's first photo exhibition in Cuenca, Ecuador, at the Miguel Illescas Gallery. It was called Ecuador y Más: Su tierra y su gente (the land and the people), and presented images from three photographers: Michael Hamilton, Burt Johnson and Evelyn Johnson. All three are retired North Americans and are avid world travelers. Because we were exhibiting, Jack Hardy offered to document the event for us. All photos on this page were taken by him.
Sara Coppler, of Zero Latitude Magazine, took  the lead in promoting the event, and did an exemplary job (and will still be promoting the event which continues through January 7, 2019).  El Mercurio, the local newspaper, featured us at the top of the front page, leading readers to the cultural section, where we had an inspiring write-up.  We had expected 125 people, but ran out of food and drinks in the first 45 minutes!  Our food whiz had to scramble and make a second batch of sangria, as well as start rationing to have something for all of the estimated 300 people that showed up.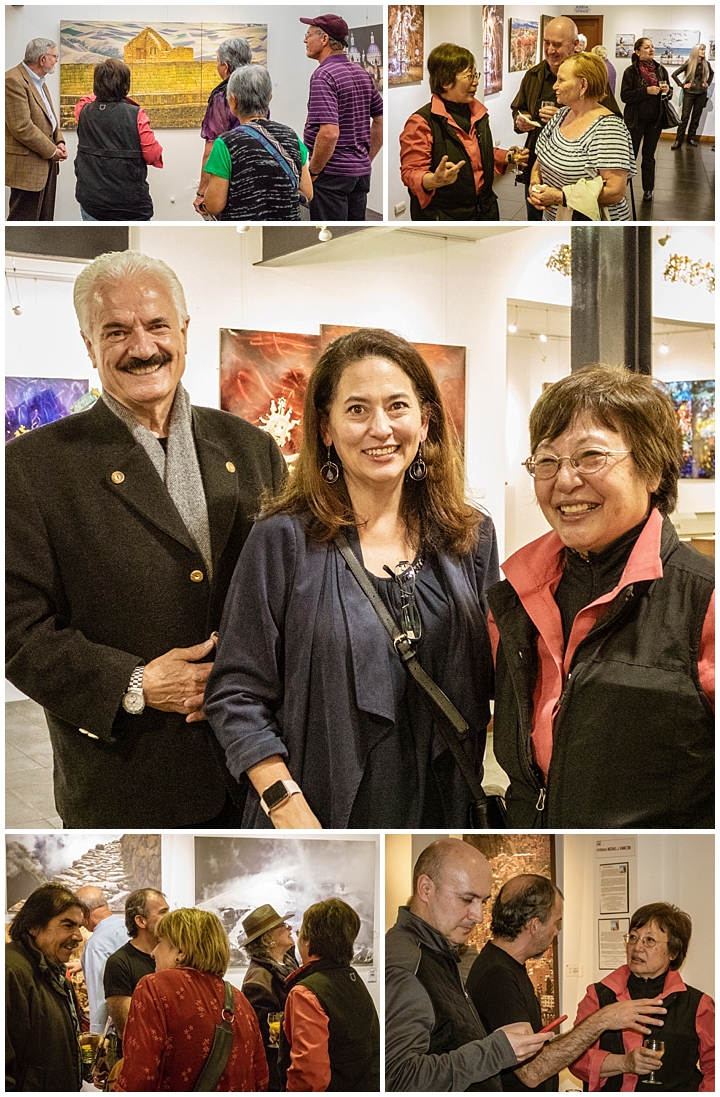 Evelyn displayed photographs from the daily lives of the fisherman of Puerto López on the coast in the show. My favorite was her image of the five boats at sunset and her Fish Robbers series. She was kept busy talking to the guests, as seen above.
Burt's photos in the show were from various fireworks "castles" plus drone images taken within Cuenca. His most popular image of the evening, called "Parque Calderón: the heart of Cuenca", was a 360 degree panorama shot from a drone 150 feet above the central park of Calderon (lower-right).
Because of the coverage in El Mercurio, there were several Ecuadorians who attended, several of whom spoke no English. I am afraid I was tongue tied the first time when one person asked about the photos in Spanish. I am rather happy to say, though, that I regrouped, and was actually able to describe the images in Spanish and hold a basic conversation after that awkward start.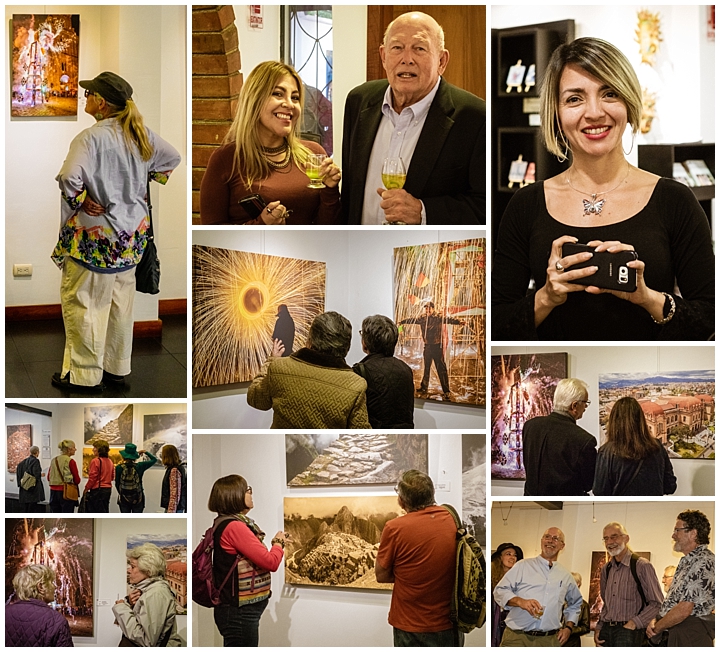 Michael Hamilton (bottom right), our partner, was complimented by many who were inspired by his photo of Chimborazo. This was Michael's third photo exhibit in Cuenca.
The opening was officially from 5PM until 8PM.  A steady stream of people actually started showing up at 4:30, and kept us busy right until the end, which was past the closing time for the gallery.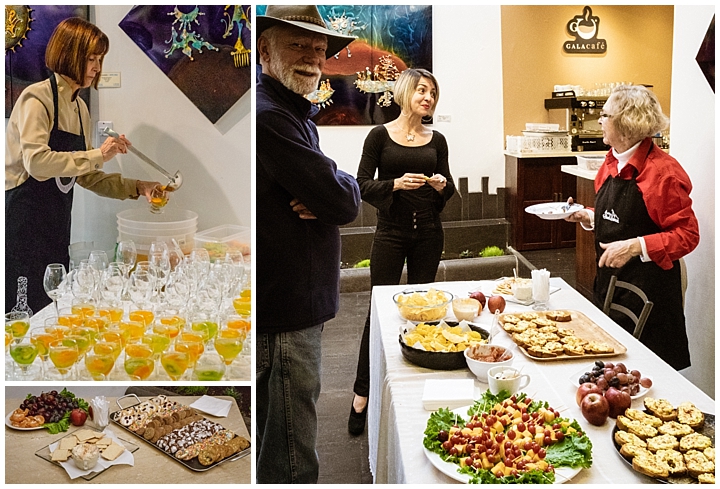 The food was beautifully organized and presented by our good friend, Sandy Kraft, who told us that she was being recruited for other catering events all night. We also want to thank our other volunteers: Kathy Kaulitz, Lin Berke, and Jan Van Norte.  Together, they helped make this a completely successful event… while helping us maintain our sanity. ☺