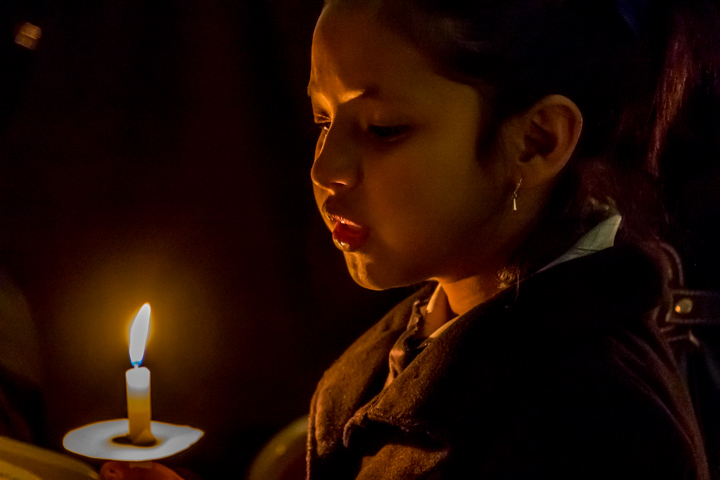 Christmas in Cuenca culminated with Evelyn being  selected as the winner of the Cuenca Dispatch and CuencaHighLife Christmas photo contest. The winning photo shows a girl holding a candle at the annual International Chorale Christmas concert, seen above.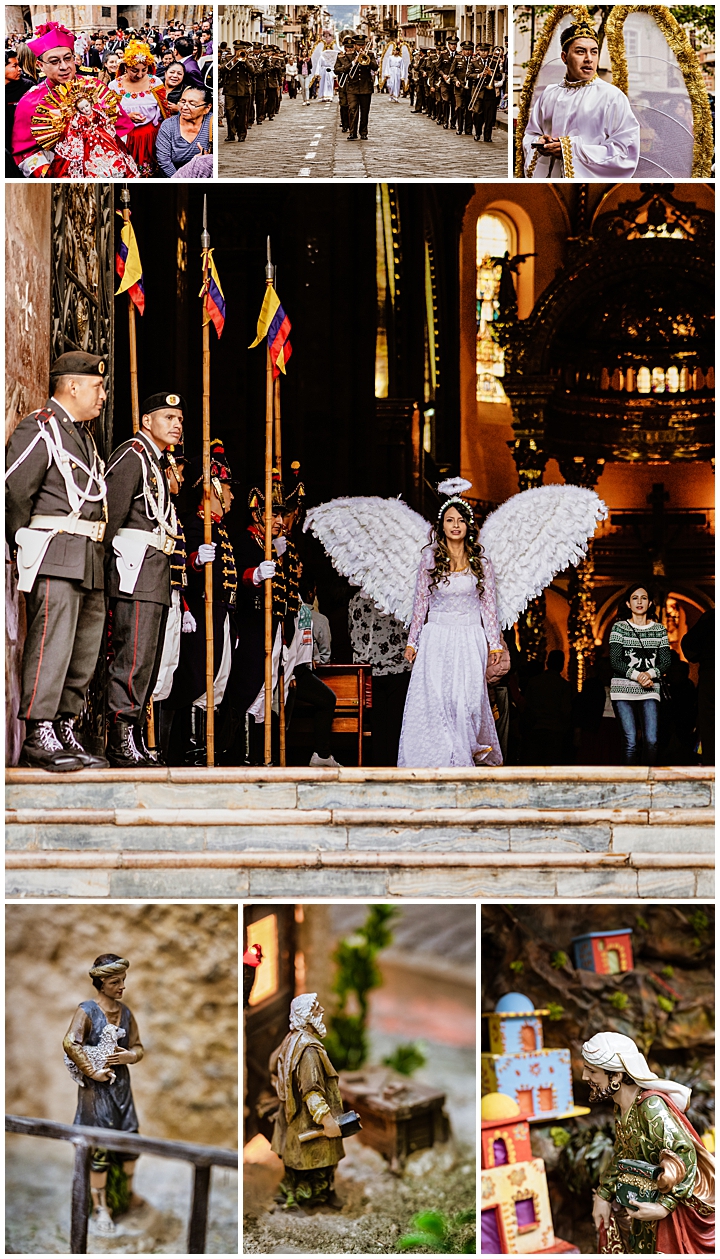 December is always a busy month for us in Cuenca. There are always so many choices that all expats here make on how to spend their time. Many times there are two or more events per day to attend, but not enough time to see and do everything. We saw the same flurry of activities this December attending various artist receptions, fund raisers and lots of holiday parties with friends, plus celebrating our 46th anniversary.
We have watched the annual Pase del Niño Viajero parade for the last six years on Christmas Eve, and watched part of it again this year (top two rows). The world's largest animated nativity scene was on display at the New Cathedral (bottom row). It was loaned by the Loja church and covers an area of 3014 square feet, with 1400 pieces, of which 600 are animated as the light cycles from day to night. It's a miniaturists dream.
We went to several concerts and symphonies, all of which are free in Cuenca. Evelyn's Spanish teacher's daughter, Estefani Ortiz (top left), is performing in a newly formed choral group at Iglesia La Merced with the Cuenca symphony orchestra led by maestro, Michael Meissner (top right).  There was the annual Festival of Lights, which has thousands of candles in paper holders all lit shortly after dusk.  For the first time, we sent a drone up to get a bird's eye view (middle-left), and discovered that the candles are not placed randomly, but rather form an elaborate image of a Christian Cathlolic crown and sceptre.  Side streets had more such candles, with various words spelled out, and another venue, the plaza next to Catedral Nueva, the lights emerged into  an image of a church. When Cindy Benson sang at this plaza, the acoustics from her Broadway song "Memories" was so astounding, that we felt that we had been transformed to New York City.
Every two years an art biennial is staged in Cuenca, with artists from dozens of countries competing. Much of the work is installation art, such as the metal airplane in the plaza shown bottom-left. The theme this year was "Estructuras Vivientes" or "Living Structures".  December always has its share of parades, many of which we come upon suddenly and without advance notice, such as the Scouts (Boy and Girl Scouts are a single group here) parading to celebrate their 50th year in Cuenca (bottom-right).
Burt and Evelyn also had their first photo exhibition in Cuenca, which continues through January 7th, 2019.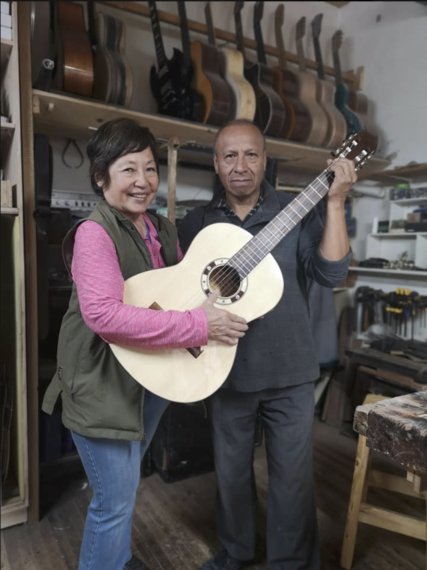 Just to make sure there is not too much free time lying around, Evelyn got a new guitar, and is now trying to learn to play it.  The guitar was custom made by Luis Uyaguari, one of the premier guitar makers in Ecuador, in exchange for a portrait Evelyn painted of him last year.
We will close out December with this aerial panorama of the Fiesta of Lights, shot from directly above Iglesia Santo Domingo, of the candles forming the Christian Catholic Crown.