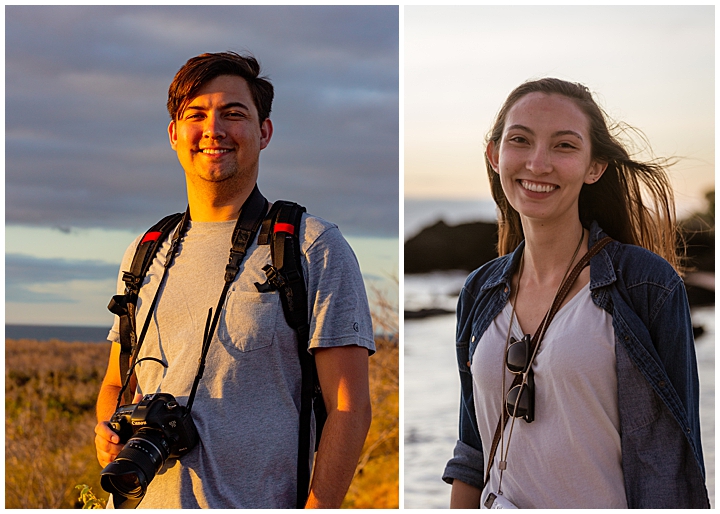 Our niece Kerry, and nephew Mark Jones came to visit us for the past week.  Both are from Evelyn's sister (Pauline) side of the family.  We told both that we would pay for a trip to South America when they graduated college. Mark actually graduated three years ago, and Kerry one year ago, but young lives and jobs kept them from accepting our offer until this year.
Mark actually just graduated last week with his second degree, an MBA from University of Calif at San Diego, and starts a new job next week as a Production Planner for Thermo Fisher Scientific.  This trip was squeezed between the two events.  Kerry is now in the PhD program at University of Calif at Berkeley (our alma mater). UCB is currently ranked #1 in the world for Chemistry and Organic Chemistry.
Our trip together kicked off with a 5-day cruise through the Galapagos Islands.  Though we (Evelyn and Burt) had been there twice before, this was Kerry and Mark's first time.  The two of them contributed many of the photos used in the blog posts of today and tomorrow, covering this trip.
We toured 5 islands: Santa Cruz Island, North Seymour/Mosquera Islet, Black Turtle Cove/Dragon Hill, Chinese Hat/Rabida Island, and Baltra.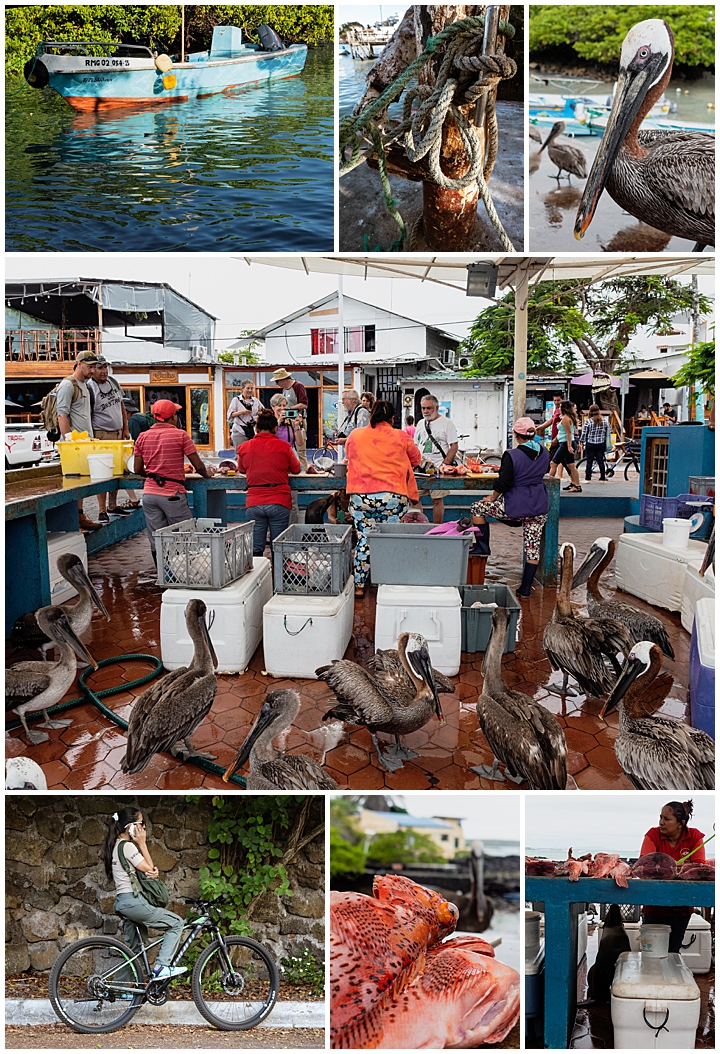 We started the first day walking around Puerto Ayora on Santa Cruz Island. Most of the island waterfront consisted of souvenir shops and (expensive!) restaurants. We were directed to the "fish market," and walked right past it the first afternoon, not seeing anyone or anything of interest.
When we returned the next morning though, we found fishermen selling their fresh catch, by the fish or by the pound in blocks from larger fish. Though on a much smaller scale than most fish markets we have visited, this one was unique in that the pelicans crowded the small area, waiting for pieces of fish dropped or discarded.
While on Santa Cruz island, we visited the Charles Darwin research station. This is where scientists try to rebuild the population of Galapagos animals that are on the brink of extinction, and to also decide how best to deal with non-native animals and plants that are adversely affecting the Galapagos ecosystem.
Darwin Station was famous for many years for housing "Lonesome George," the last Pinta Island Tortoise known to exist.  We saw that tortoise alive here at this station in 1999 and 2009.  He died in 2012, and his taxidermied body was displayed in a New York museum until suitable quarters could be built for his body at the Darwin Station.  We saw his taxidermy body there in New York in 2016, and now saw it again in its permanent location in a specially constructed building at Darwin Station.
The new tortoise star is Diego (brought from San Diego), who has already fathered more than 800 offspring.
Pelicans were abundant on these islands.  First showing up for us at the fish market (second photo-block on this page), we frequently found them roosting on rocks or bushes, or flying low — often as they were about to swoop down for a fish catch.
Sea lions are on almost every island in the Galapagos.  Though we are asked not to approach any animals closer than 6 feet, the sea lions do not have the same restriction.  One young sea lion decided that Burt's tripod would be tasty (center  and top-middle), and insisted on trying to take a bite out of it.  Since it is a carbon fiber tripod, the teeth made no mark, but the sea lion didn't stop trying.  When Burt raised the tripod to move away from this sea lion, the pup then took the leg down his throat!  If the tripod had not been quickly moved out of his reach, the pup would have probably choked on it.
Another young sea lion pup waddled over and started to nibble at Roberto's leg (our boat biologist / naturalist guide — bottom-middle).  Roberto tried to walk slowly away, but the pup continued to follow and nibble.  One final step and the pup decided to see what we were doing (bottom-right).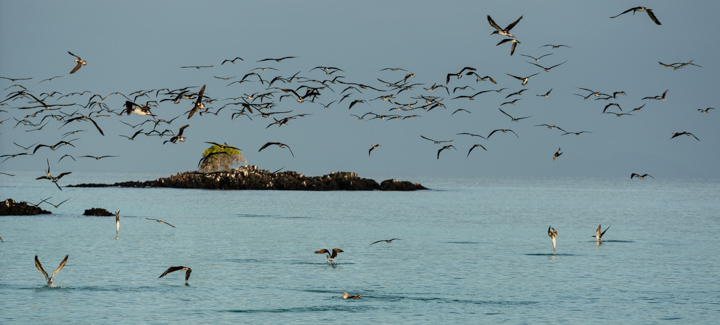 As we were ready to call it a day and return to the boat at sunrise, a swarm of several hundred blue footed boobies flew overhead and out to the ocean.  Racing back to the shore, I caught several images of the birds swarming and diving for fish. You can see two birds diving on the right, and another two on the left of this image.