Today was a day of exploration and struggling with Spanish. It ended with a meal at Evelyn's favorite restaurant (Chez Johnson) and a slap-stick bootleg DVD watched on a laptop.
We started the day with taking the metro Blue Bus for the first time. After finding the bus routes online, we discovered that #12 goes right by our apartment, and goes out to Banos de Cuenca — a small town of natural hot springs, rather similar to Calstoga, North of San Francisco.
You just stand on the side of the road, and stick out your arm as the bus approaches. Much like flagging down a taxi. The bus stops barely long enough for you to get your feet on the bottom step, and it is off like a rocket. 25 cents takes you to the next block or to the end of the line. We watched the sign-board for stops, and 20 minutes later got off at "4 Corners" in Banos. Didn't really know where to stop, but that seemed like a logical place to try from.
This church was at the top of the hill, and dominated the view from any part of town.
Being Sunday, the info booth was closed, but a local saw we were testing the door, and asked if we needed help. He knew all the spas in town and pointed out several from our hilltop vantage point. I asked which he would go to, and he said Novaqua, so we went there.
About then, music started blaring out of a tower speaker just over our head, and all further conversation was impossible, so we started walking down the hill towards Novaqua. As we were walking, I was struck by how close we were to Cuenca, yet how third-world the town looked.
This woman, in typical indigenous dress, walks along along a road lined with half-built and poorly built homes.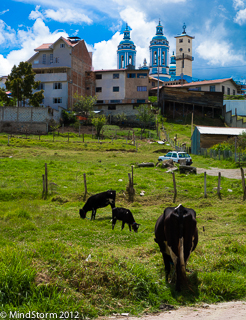 Cows are in the of town, and often in the middle of the road. You can see the church at the top of the hill, dominating every view.

We arrived at Novaqua, which is a completely modern facility. For $12 each, we had access to a warm swimming pool, hot pool, cold pool, steam sauna, and jacuzzi. For an extra charge, there was massage available too. I'm afraid I am not really much into these places, and was bored after 15 minutes… When I got into the hot pool, I neglected to read the advisory message next to it (in Spanish) — "recommended stay no more than 5 minutes." After 15 minutes, I got out when I was feeling feint… 🙂

I didn't photograph any interiors, as it was discouraged with people in the pools.
We left after about an hour, and wandered around the rest of town. We found another hot springs right next door that was obviously a favorite of the locals, based on the line to get in. The price there was only $4.25. We never explored the range of amenities there. We also looked in on Piedra de Aqua, which is the spa most heavily advertised. Their basic entry was $10 (less than Novaqua), but they quickly tried to upsell to packages costing as much as $175 per person. Yikes!
We wandered back into town and chose a restaurant for lunch that was packed with locals. We opted to order specific meals rather than the almuerzos. Evelyn's Sopa de Papa was $3, as was my Seco de Pollo, and a monster size cerveza (beer) was another $1.25. The meal was fairly tasty and set up back a whole $7.25.
After another Blue Bus adventure back to the apartment to drop off our clothes, we took a taxi out to Mall de Rio to buy a new impresora (printer) at the HP store. The lone store clerk spoke absolutely no English, so we spent an interesting half hour or so making clear what we wanted to buy, and then completing the purchase.
Turns out they have no inventory in these stores, and you are buying the unit off the shelf. There were 4 empty PC display slots that were filled when we checked out printer models last week, apparently sold in the interim. The salesman was extremely thorough and helpful, making sure we had every cartridge, cable, disk, and what-not for the HP OfficeJet Pro 8000 that we bought for $136.
By the way, you may have read my earlier warnings about making sure you brought any electronics with you from home that you want, because they are more expensive here. That does not include computer printers though. You can buy better ones in the States, but then you won't be able to get ink/toner for it. The printers sold here are not top-of-the-line from US standards, but they are reasonable, and supplies are then available when needed.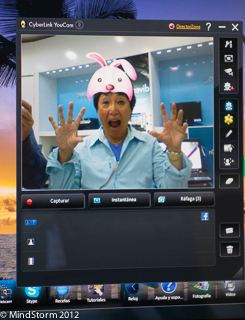 While waiting for the salesman to process our payment, Evelyn started playing with one of the PCs on display. She discovered a videoconverencing program that let her put bunny ears on herself. 🙂
We then went over to Coral, in the same mall, to stock up on some additional forks, plates, diet coke, and other necessities not available in the local mercado. Loaded down with our loot, we caught a taxi home.
It has been dry here for the past 4 days. Heavenly warm and dry for the entire Independence Day weekend. Just as we got home, around 5:30, it started sprinkling. By the time we had gotten everything inside, the sky opened up and it began to thunder and pour for the next couple hours. I guess the rain is back!
At home, I made pork chops and mashed potatoes. Chez Johnson is started to get his frying pan hands back in action again! We usually have breakfast at home (Evelyn cooks those), lunches out (we can't cook for the price the restaurants charge), and will probably get into a routine of eating at home for dinner 2 or 3 nights a week. That is much more restauant eating than we are accustomed to, but the food here is so good, and the prices so reasonable, that we will enjoy it while we can…
After dinner, we popped Johnny English Reborn, a James Bond slapstick farce, into my Mac laptop. This was recommended by our South Vietnamese guide last year. I was skeptical, as I am not a fan of slapstick, but I have to admit, I was laughing through this one. 🙂