We took a 30 minute TAME flight from Guayaquil to Cuenca at 7AM. While in the airport and on the flight, I attempted to read the Spanish language newspaper, and was very pleasantly surprised at how much I could understand. I have rarely attempted any spoken Spanish since we sold our last airplane in 1992 and stopped taking weekend trips into Mexico. We have been an occasional tourist to Spain and other Spanish speaking countries since then, but not really tried to use the language very much in the past 20 years.
I also listened to the speakers around me. Though I didn't know much of the vocabulary, I found that I could hear where one word stopped and the next began. I have never been able to do that in other Spanish speaking surroundings. What we have read about Ecuadorian Spanish being spoken more slowly and precisely seems true on first impression.
Most of the ground below was brown for much of the trip. Just was I was beginning to think Cuenca might be a brown featureless landscape, we topped a mountain and saw the green valley ahead — we could now see Cuenca.
We had arrived to be picked up at the airport for a "rental real estate tour" to see the kind of rental properties available in Cuenca, in preparation for possibly returning in December for Spanish lessons. This was arranged with Cuenca Real Estate (www.CuencaRealEstate.com). A few hours before we had boarded the plane in San Francisco, an email exchange with the owner made us worry that they were backing out entirely. We looked around the airport terminal, and found nobody waiting to pick us up. Uh-oh. Bad start for the trip…
We decided to wait a half hour in case there was some mixup. Our Cuenca Real Estate contact was William, and he arrived about half an hour after we had collected our bags. He had been given the wrong flight time, and thought he was arriving early to pick us up. A trip to their office allowed us to meet other members of the team. It turned out that the email just before our departure was a misunderstanding. They assigned a "rental real estate guide" and we were off and running.
Svein took us around to see several apartments that were vacant. We got a good idea of the range of living spaces available for a month's rent, though of course we will have to see what is specifically available come December. Svein also gave us some good information about the city in general, and even helped us go to a Claro (mobile phone) store to get a SIM card put into Evelyn's iPhone4S (which failed, but that is another story).
One apartment Svein showed us was currently occupied by the owners. We met Peter and Chris, a couple from Montana that has purchased an excellent Cuenca apartment and plan on living here during the Winter, while summering in Montana. We talked with Peter for quite awhile, and finally had to continue our rental property tour. Before we left, Peter offered to get together later to talk some more, and we jumped at the chance.
We continued our rental property tour, seeing some nice units, and seeing others that we decided weren't desirably primarily because they were in "Gringo Land" — where many of the expats lived. We prefer staying more among the Ecuadorians, where we hope to have more chance to practice our Spanish — once we have much anyway…
Svein also gave us a running commentary on the best places to go in town:
– Inca Lounge for Best Burger
– Junes had biggest burger in town
– Mall de Rio was largest mall
– Almacenes Chordeleg for electronics
– Coral for a wide variety (think Walmart)
– San Blas for ice cream
– Kookaburra for breakfast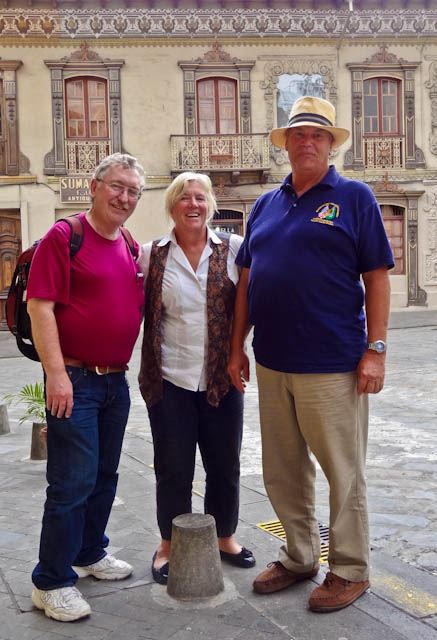 Svein dropped us off at the condo of Peter and Chris, and we offered to take them out to lunch. We walked to "El Tunel", where we had "menu de dia," which means you skip the printed menu and just have whatever the restaurant is serving for lunch. Juice, soup, main course and desert came to $2.25 per person — filling and delicious for the price of a cup of coffee at Starbucks! After lunch, Peter and Chris took us on a walking tour of the area, including their favorite local market co-op.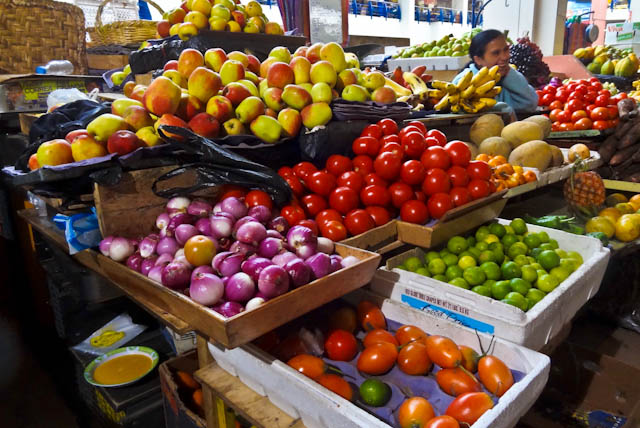 For dinner, we went to Gringo Night at California Kitchen. We met David Morrill (author of "Ecuador: The Owners Manual" available through International Living), plus an American couple from Florida whose name I neglected to note. That couple was an interesting side-note, in that they had come planning on retiring in Cuenca and decided they did not like the city. They were the perfect poster couple for why you need to investigate in person before deciding to move here. As they went through the things they did not like, Evelyn and I just smiled and nodded, while thinking "those are the exact things we do like"…
One big lesson from today's travels — when taking a Taxi, you must know the address and cross-street of your destination. Every time we just gave a name of a hotel or restaurant, the taxi drivers had no idea where we wanted to go. We always had to go back and get an address before they could get us where we were going.
Our first day in Cuenca was full, and we met far more friendly expats and locals that we expected. The trip is off to a good start!