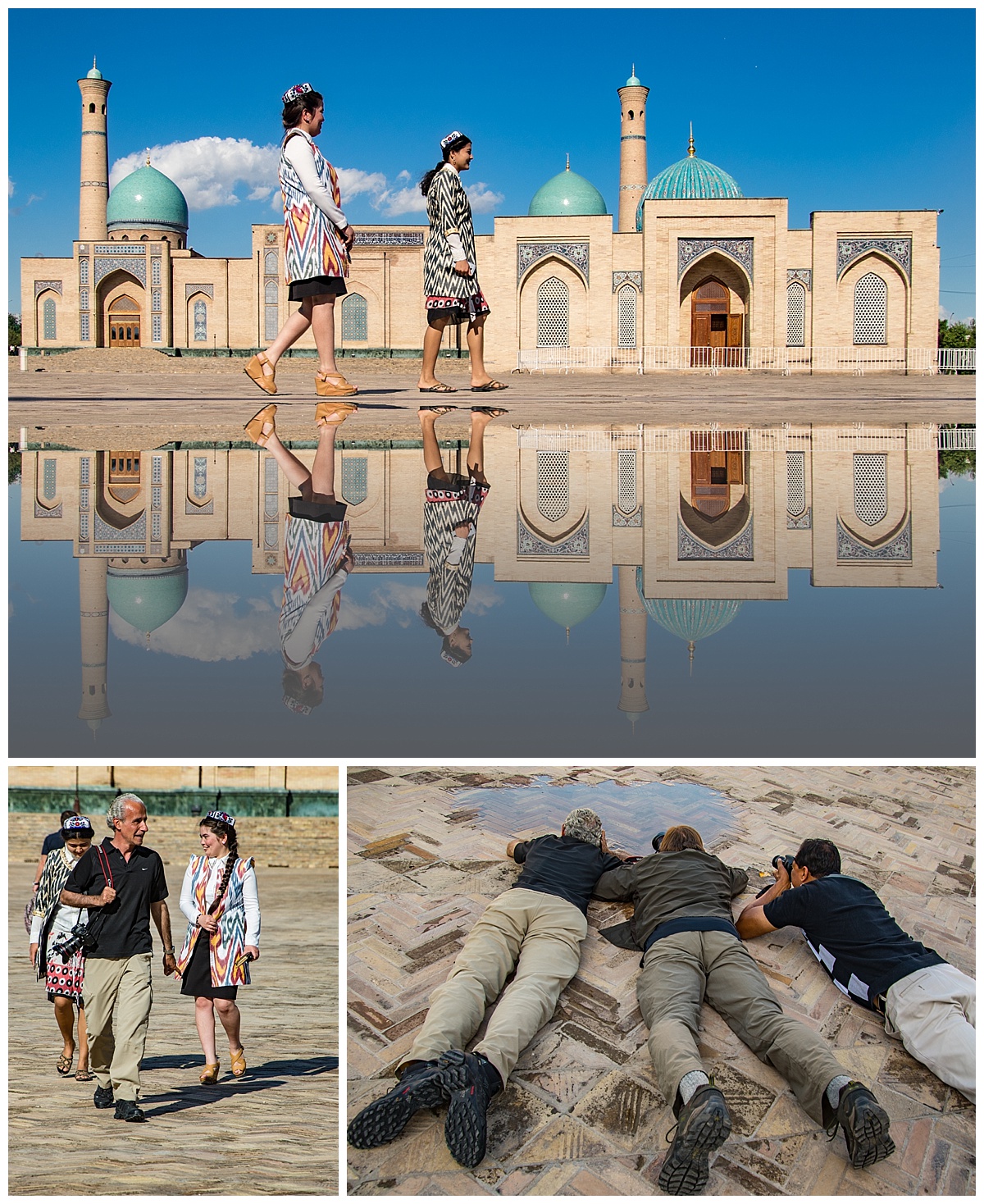 We have now entered Uzbekistan, and started our photographic tour with Mehmet Özbalci, the same guide we used on our photo tour in Turkey last year. The above block gives a taste of the guidance Mehmet gives us.  He had taken us to the Khast Imam Mosque to photograph in the late afternoon.  There was a small puddle and some of us started taking photographs of the building reflection.  Mehmet then saw two girls walking in the area (lower left), and convinced them to walk across the building for us a couple of times. Everyone then took turns lying next to the puddle (lower right).  The result is the lead image, top row.  Not much chance we would have gotten an image like that if we were traveling alone, not speaking a single word of Uzbek.
Uzbekistan was a member of the Soviet Bloc until their breakup in 1991.  Since that time, the country has been a putative democracy, though the prior Communist leader was president until his death last year. Having just come from Rome, we were struck with a similarity.  As mentioned in the last blog, Rome was a city filled with ancient statues that were larger-than-life, which was a means of the Roman Empire demonstrating their strength.
Similarly, everything in Tashkent seems oversized with Russian-style architecture.  The main roads in town are all 8 lanes wide, even though there are only enough cars to warrant 4 lanes.  Within a short radius of our hotel there were four separate huge public parks, each two blocks on a side, yet they were laid out in a manner that made them green, yet unusable for families (trees planted every few feet throughout the park, leaving a few park benches to sit on, but no open spaces to play or picnic).  Also, the buildings were massive, most filling an entire block, yet they were poorly utilized.  One such six story hotel was abandoned.  A huge museum building was closed, and we saw a single guard, and only a couple of souvenir shops.
It appears as though the government is trying to convince the world how strong the country is, even though it is clearly third world in many aspects.
The group's first photographic stop was at Chorsu Bazaar, a local market, where we wandered for about an hour.  Though nobody we met spoke English, most were open and friendly, smiling when we showed up.  That is Evelyn in the upper left image, holding up a cut of beef and posing with the butcher, as his friend insisted on taking the photo.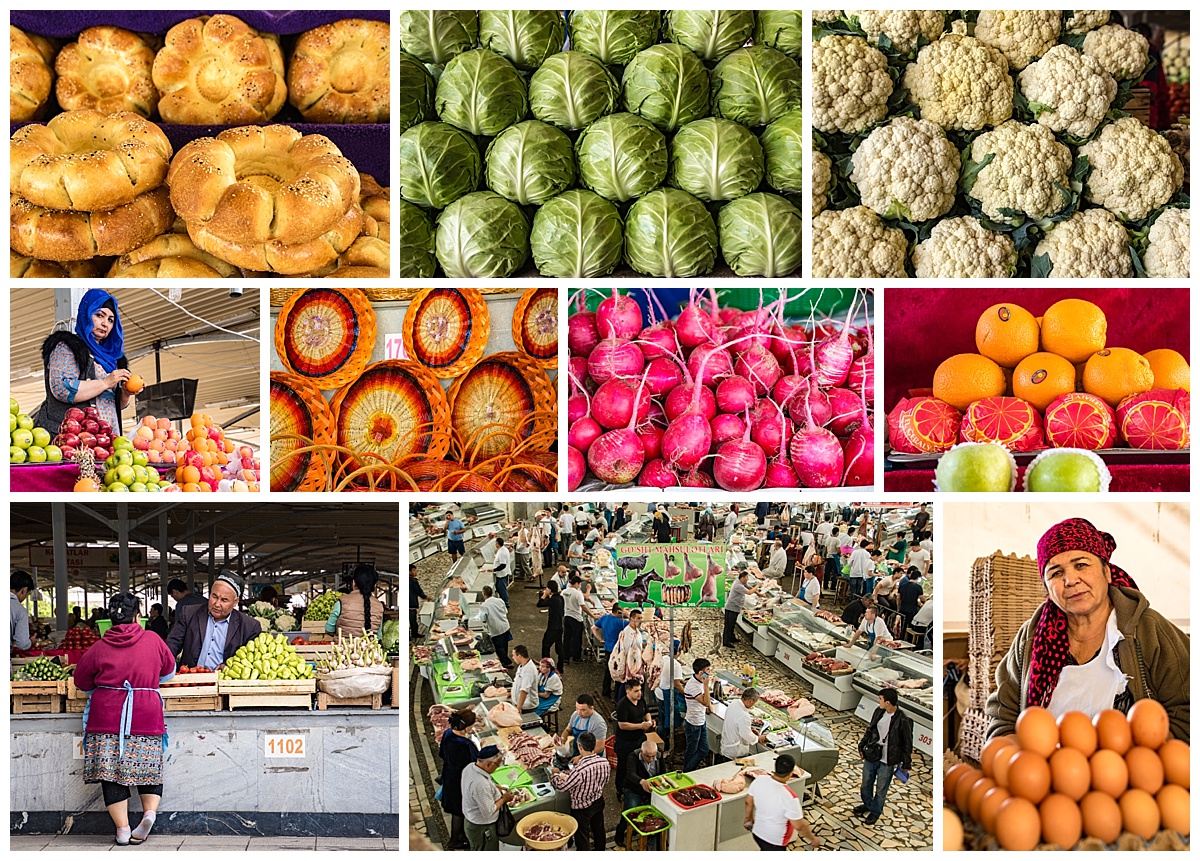 The items for sale were similar in most cases to any large mercado in Ecuador, though a few items varied due to regional tastes.  Bottom center image shows an overall view of the meat section of the market.  As with Ecuador, there is no refrigeration in the market, but most of the meat looked fresher than what we see at our local mercado in Cuenca.
We next visited an artisan workshop that consisted of  craftsmen carving and painting intricate wood designs.  The level of detail is astounding.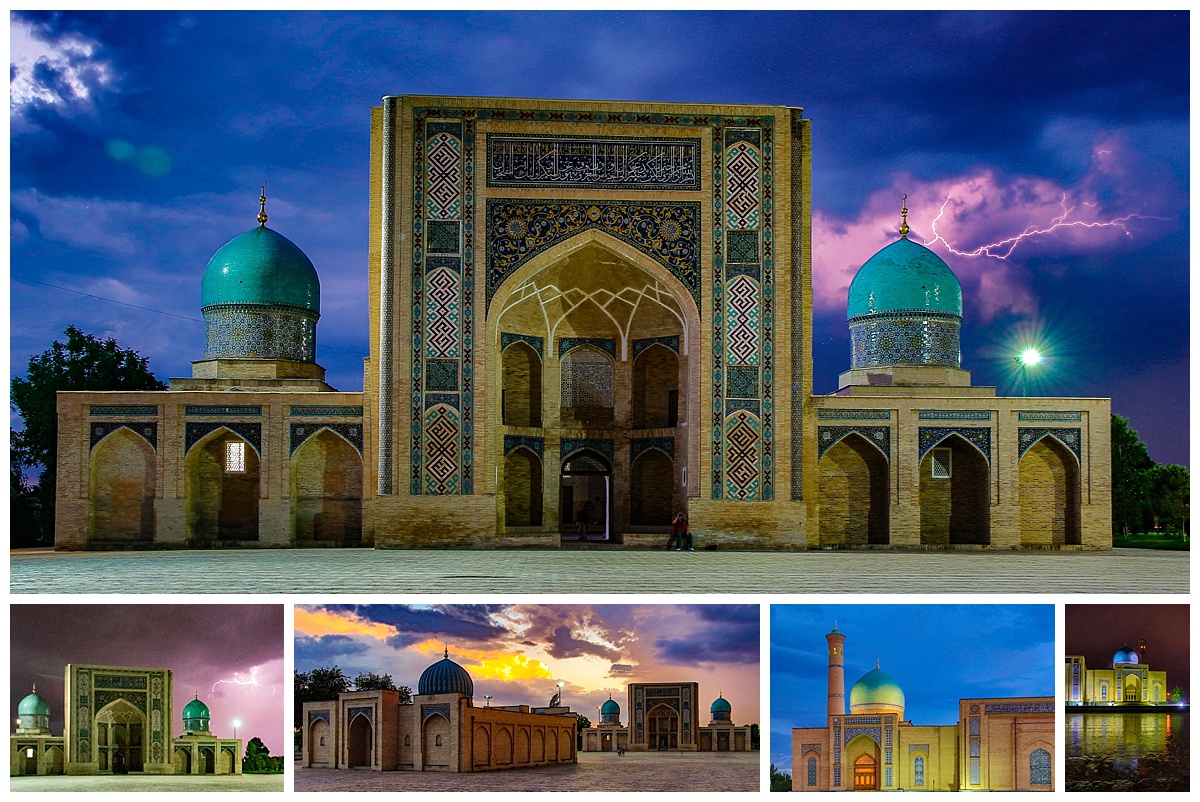 For sunset and the "blue hour," we went to another madrassa.  As we were watching the sun go down, we could see a massive lightning storm forming.  When it started to rain, we took cover under an awning, hoping it would pass soon, and leave us lots of wet pavement for more reflections.  Instead, the rain grew heavier as the storm strength grew, and we were treated to an outstanding lightning show.  We finally had to make a dash to the bus, and that one minute in the open made us all look like drowned rats!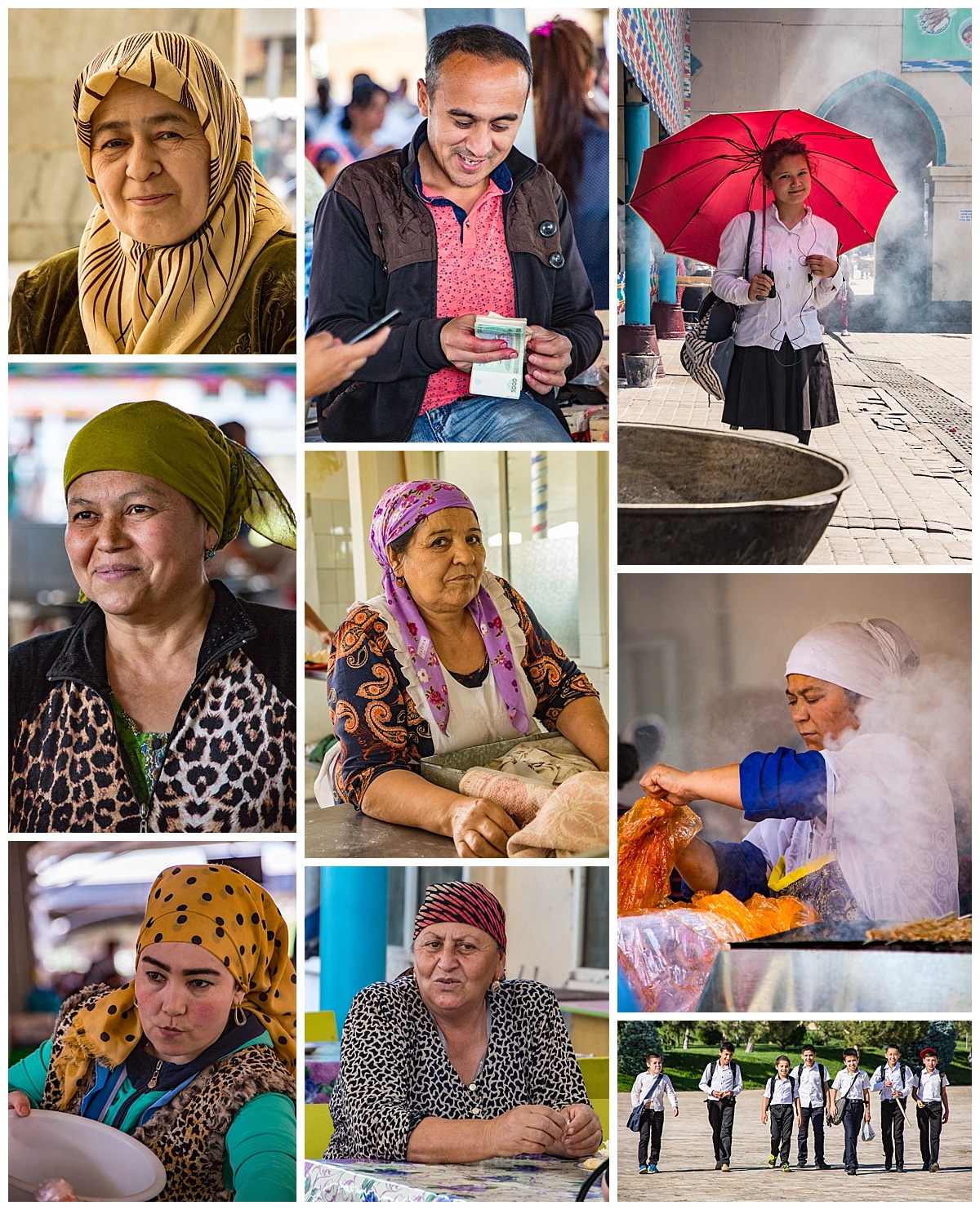 We'll leave Tashkent with some more images of the people we met at the market.  As with most of our travels, it is the people we meet that make each place special.