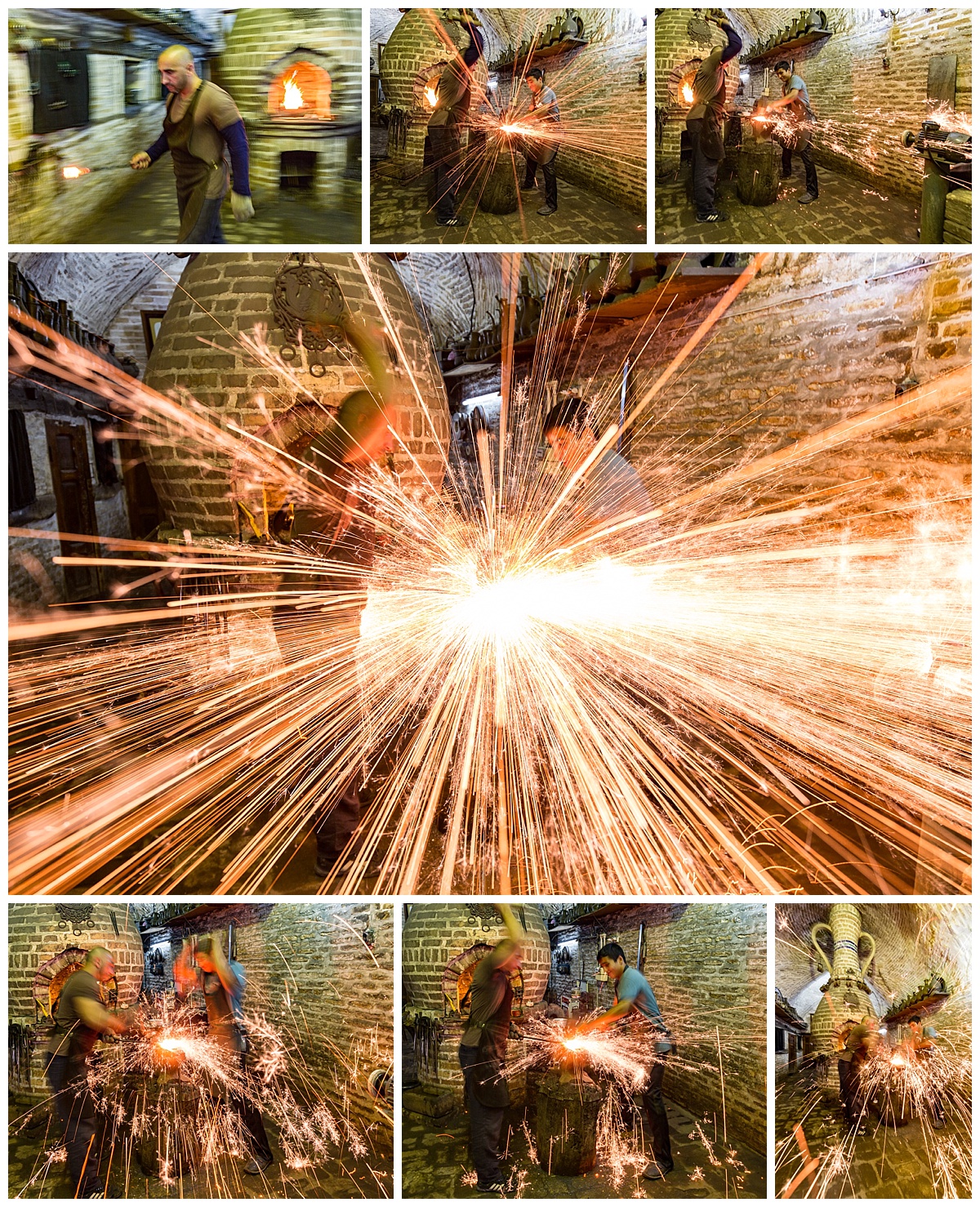 The highlight in Bukhara (pronounced "būhara") was our visit to a blacksmith shop. The blacksmith and his son made a decorative handle, and  Mehmet arranged for our group to photograph the process.  The images above and the video show how this all worked out.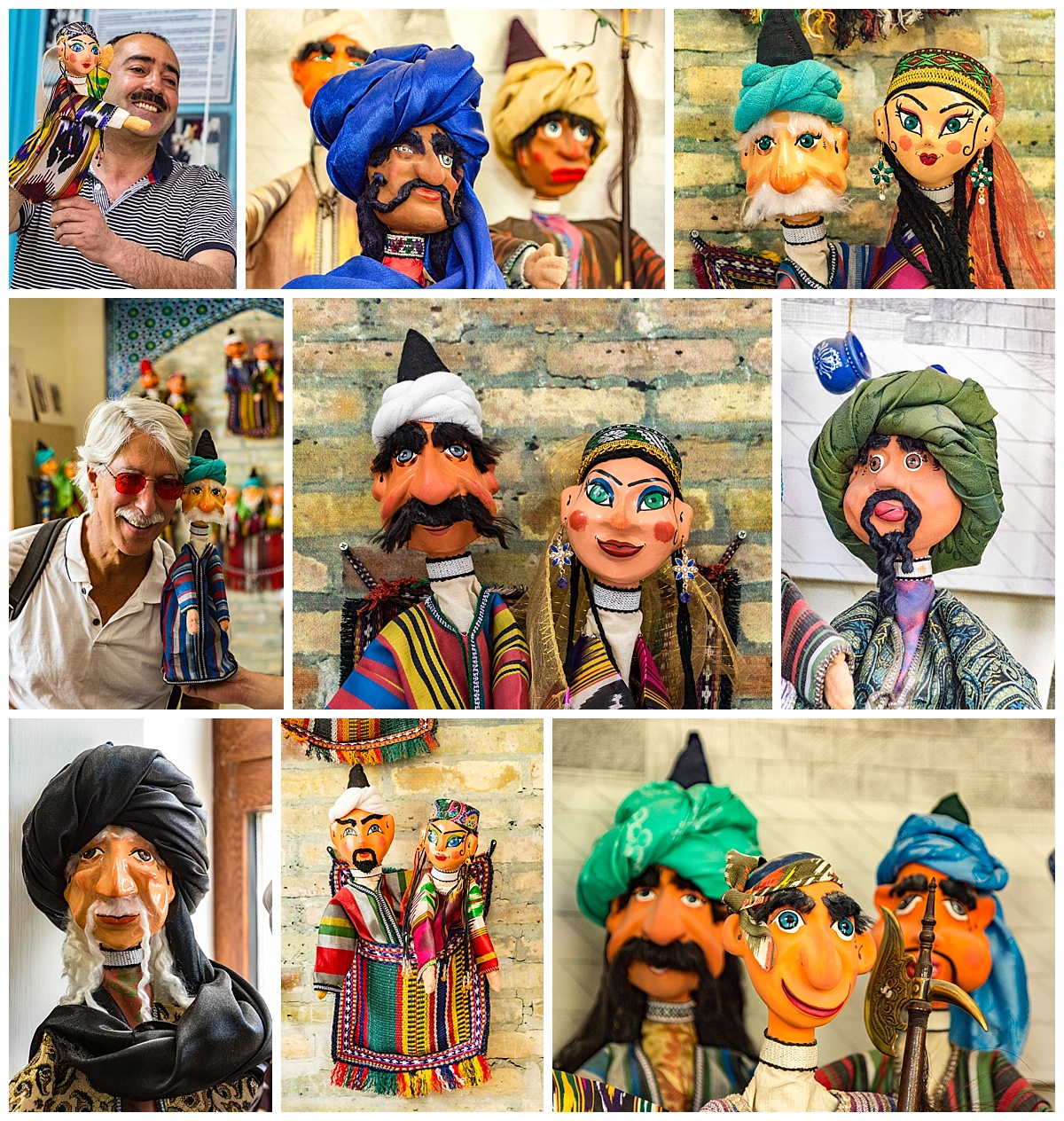 When touring the Jewish sector of town, we passed a puppet workshop and decided to stop in.  The owner (upper left) was engaging and entertained our group by showing us how to use the puppets.  That turned out to be a good sales technique, as two members of our group ended up buying three puppets for grandkids. Two of the puppets looked a lot like Rich, another member of our group.☺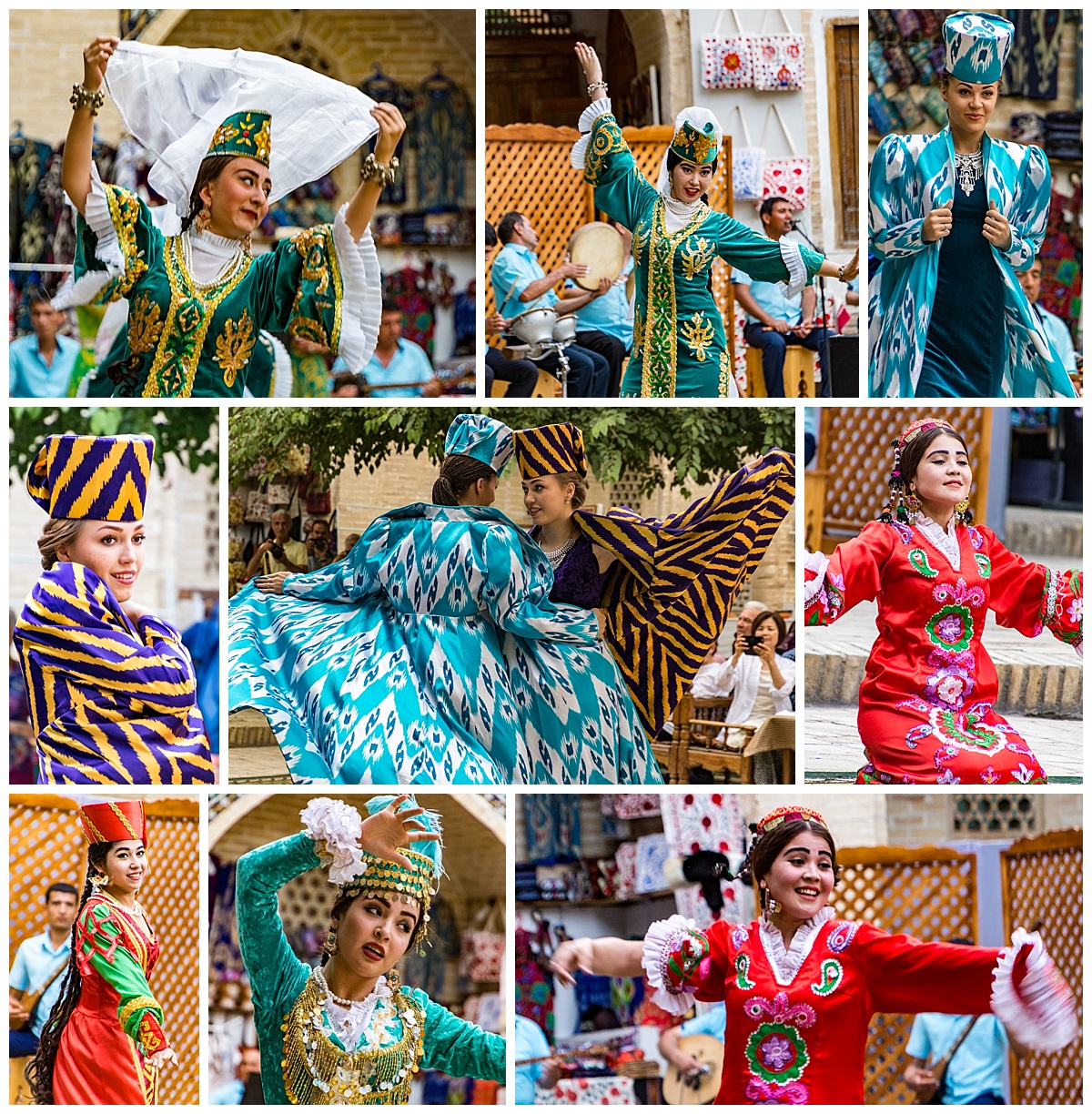 We went to a dance show / fashion show for dinner tonight.  It was more interesting and enjoyable than I had expected a fashion show to be and showed off their colorful textiles.
Bukhara is a city of colors and patterns, despite the buildings and monuments being so monochromatic.  Every turn encountered colorful carpet shops, hat displays, porcelain dishes – or ornamental knives and scissors for sale.  We saw the little happy men in the middle image above all over, including in the main city park, and think that it's the symbol for their upcoming spring festival.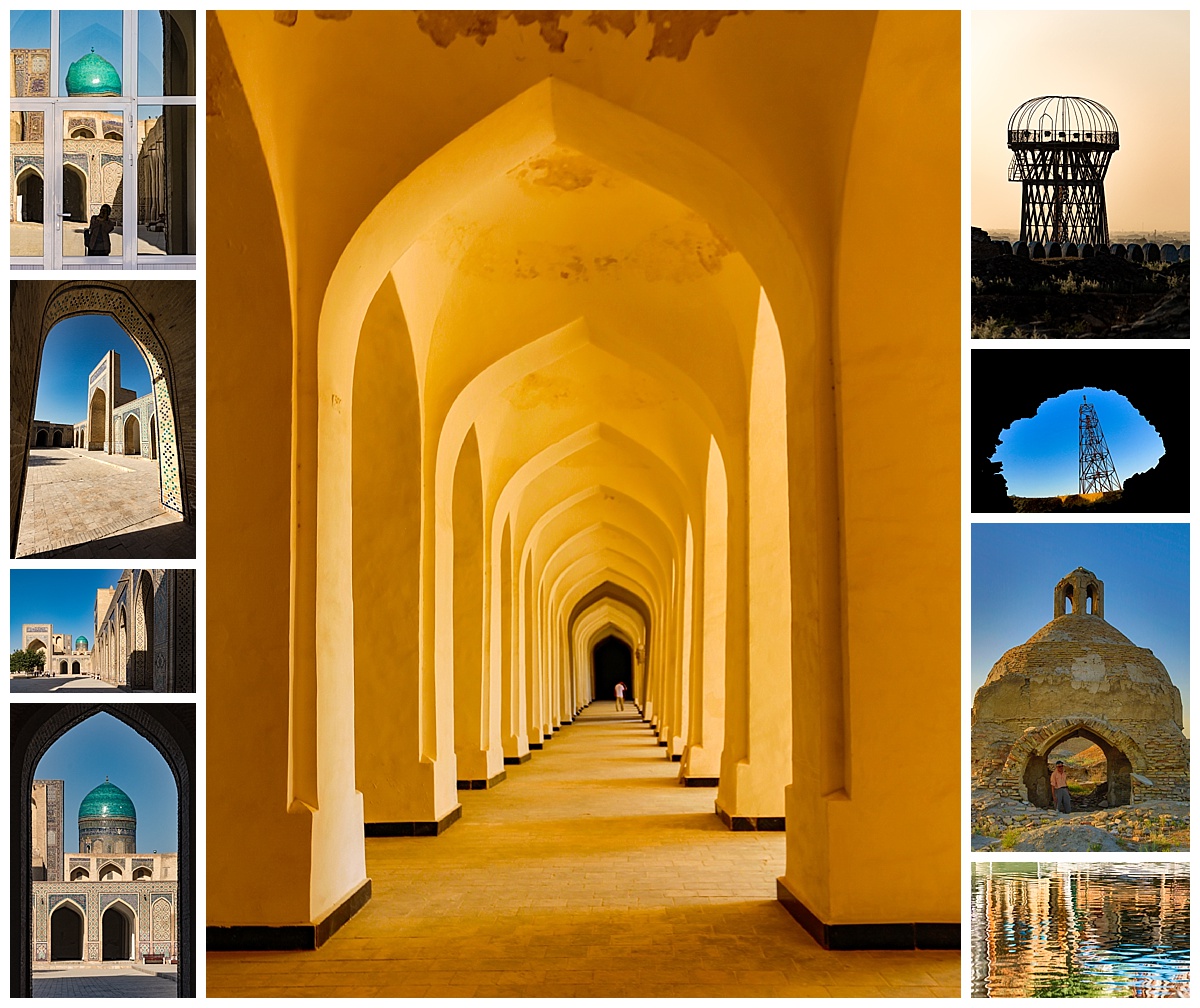 The architectural style of the buildings in the old walled city was similar to other cities in Uzbekistan, and the newer buildings were the soviet-style pragmatic structures.   We therefore looked for photogenic subject matter with different angles and viewpoints, as seen in the images above.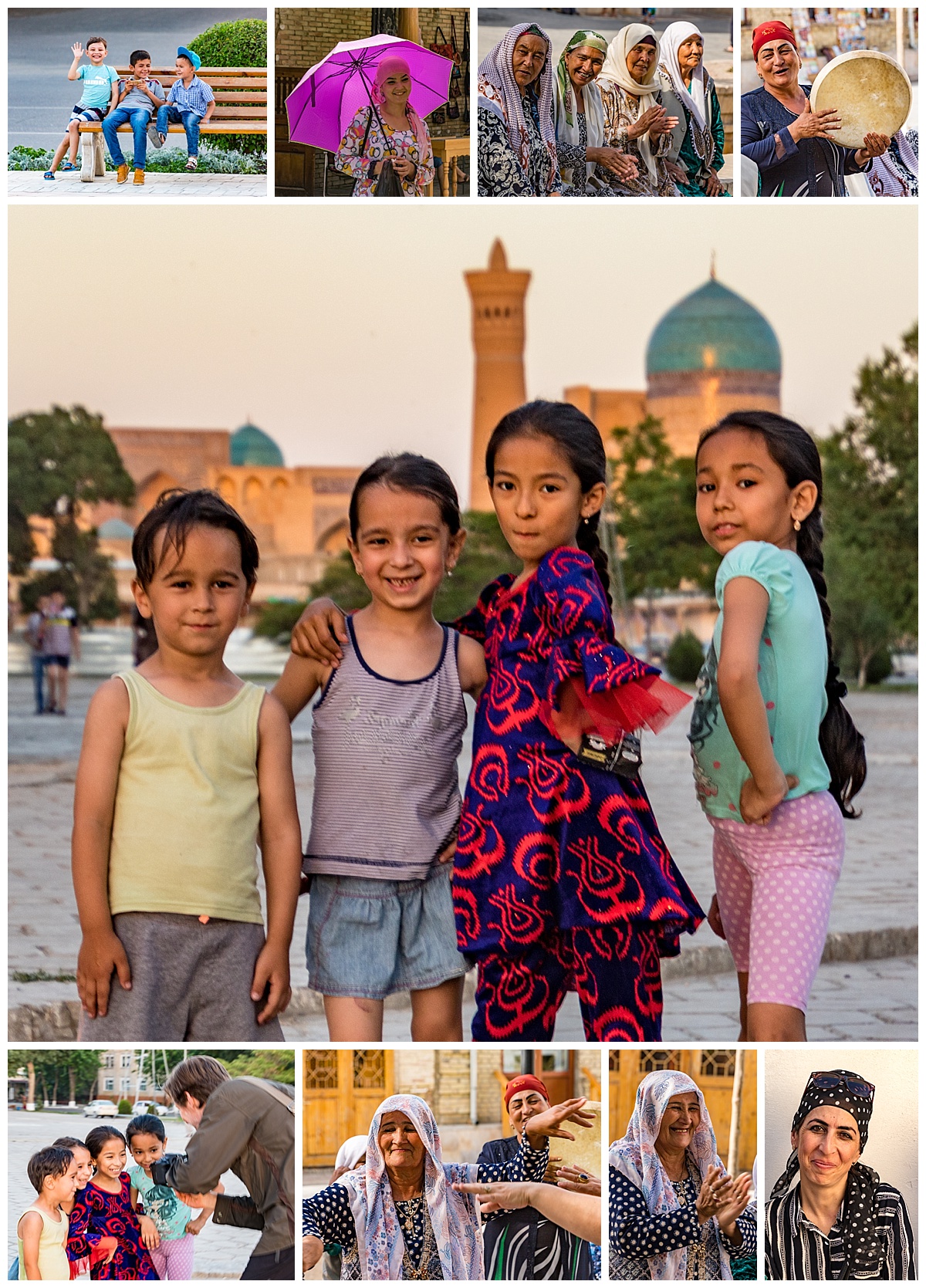 And, of course, the people continued to be the highlight of the visit.  People engaged us frequently.  The kids in the center image above rushed away from their mother and preened for our cameras, while her mother stood at the side and smiled.  Lower left shows Eric from our group showing the kids what their photos looked like, while they screamed in delight.
Watch 84 seconds of the blacksmith workshop, to get an even better feel of what it was like to photograph these two.