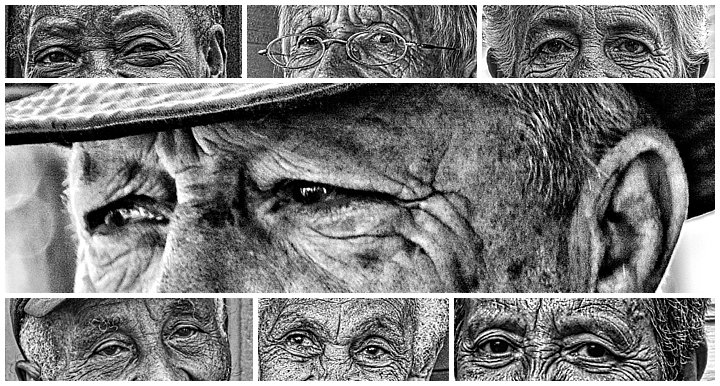 As we prepare to leave Cuba, it is mostly the Cuban people with expressives eyes that we remember. They have had a hard life, yet seem content.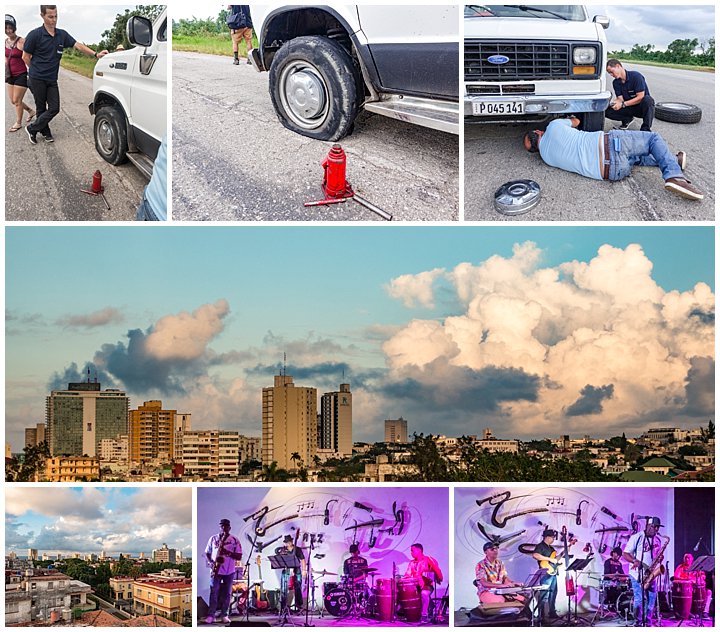 We ended our Cuba photo tour by returning to Havana for one last evening.  On the way there, our van got a flat tire with the retread flying off while on the freeway.  Our driver expertly kept control, then pulled over to the side, where he and the van owner quickly replaced the tire (upper row).  From the efficiency of their efforts, it was clear this was not their first experience with having a flat…
We watched the sunset from the terrace of our Casa Particular (middle and lower-left), then went out to a jazz nightclub for an hour that evening (lower-middle and right). The music scene and tastes have changed in Havana. In the past, only traditional Cuban music was played.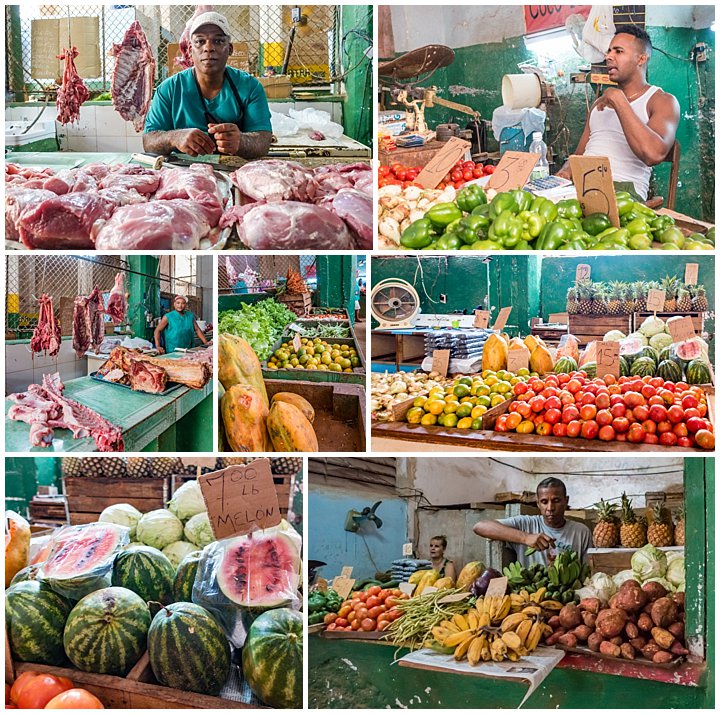 We extended our tour for an extra day, to give us a little time to walk around Old Havana. Above was one of the very few markets we found that actually had any food to sell. We also visited several art galleries and the National Museum of Fine Arts in Havana, which was a mixed bag of art by Cubans and art from others who created art while they lived in Cuba. We were not allowed to photograph inside the museum.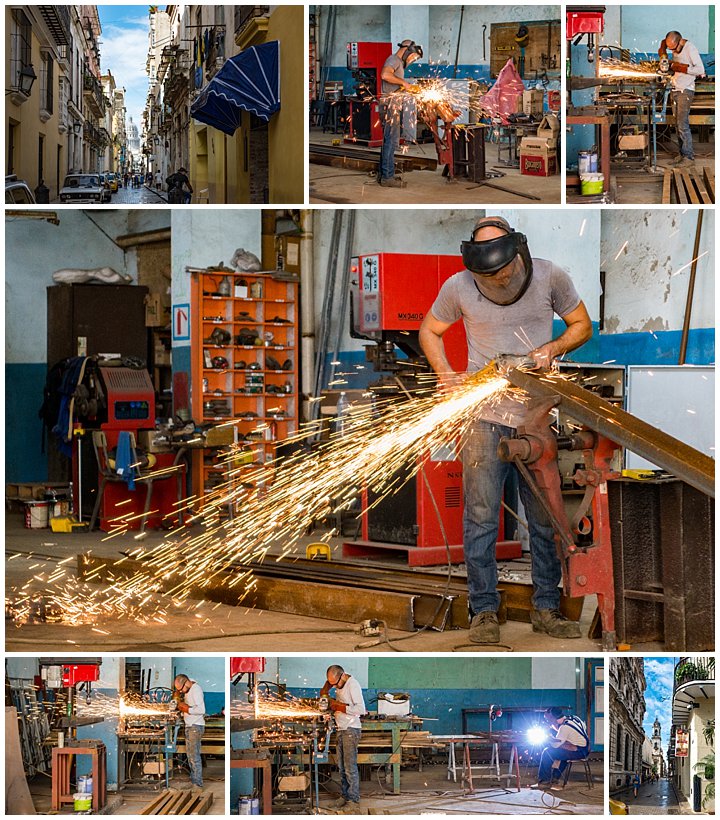 When we were in Bukhara, Uzbekistan this past May, we photographed a blacksmith in his shop, and captured some nice images there. We passed this welding shop on a side street in Havana, and decided to try to capture similar images of flying sparks.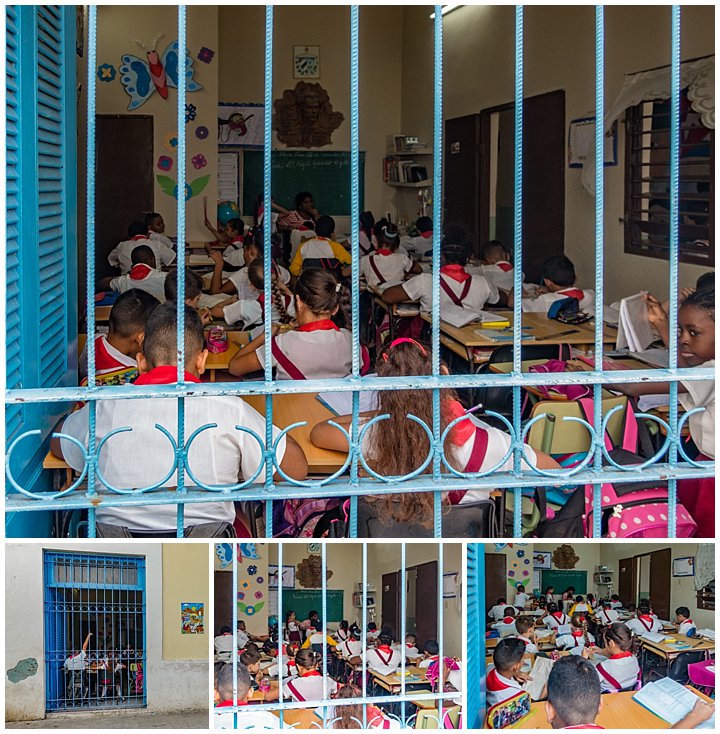 On another side street, we discovered a classroom in session.  The barred window was open to the main street, with all the commotion (and sometimes student's friends sticking their hands through the bars) associated with that.  It appeared that there was no cooling in the room, and having the window open was the only way to avoid overheating.
Here are a few final random images from wandering around town that last day.  There were a few attempts at new construction (upper-right) or renovation (upper-left), but most of the buildings were left in their run-down condition. We noticed that there were a lot more tourists in Old Town, especially whenever a cruise ship came into town.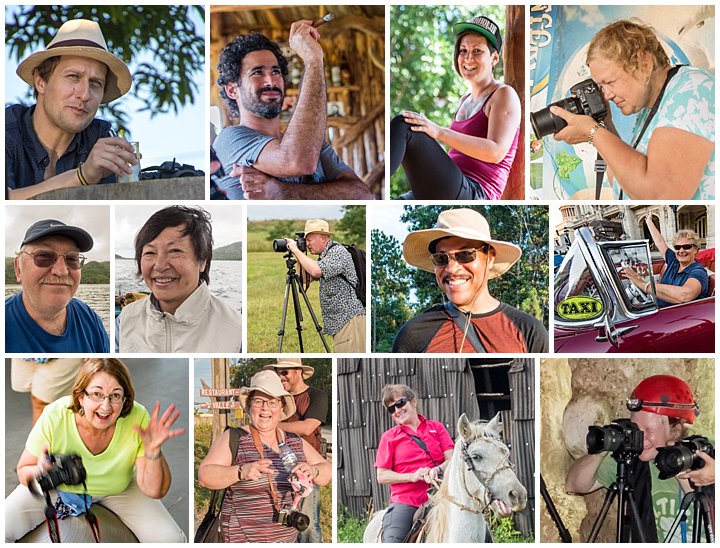 We'll close with some images of those on our tour group.  The top-left three were our guides, while the rest were photographers joining us for the tour.
Our final thoughts are that Cuba appears to be a country that has been frozen back in time, especially when you see the many vintage American cars in town and horse-drawn carts in many parts of the country. We will also miss the drinks — well-made Piña Coladas and Mojitos cost only $3, while a soft drink costs $2.
However, the tourists are clearly coming, and you can see the differences in the touristy parts of Cuba — higher prices, hawkers, reconstruction activity, and more English spoken.
Girl From Ipanema is played at a Havana Jazz Club from Burt Johnson on Vimeo.
Maybe next time we will try our luck fishing off the Malecón at sunset too…