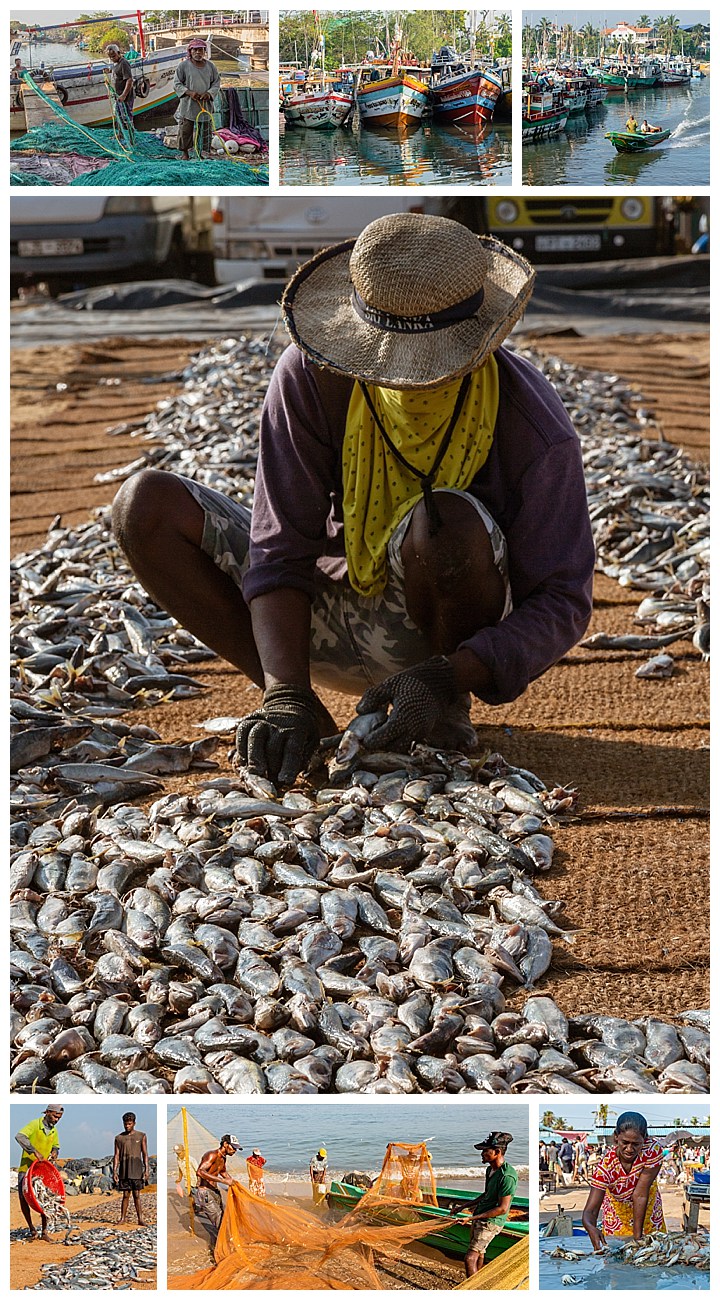 We drove most of yesterday, enroute to Habarana. Our first stop was the fishing town of Negomo, where they dry fish on the beach. We spent a couple hours watching the colorful fishing boats (top row), the men hauling in the catch and dumping it on bamboo carpets (bottom-left), and the workers organizing them to dry (center).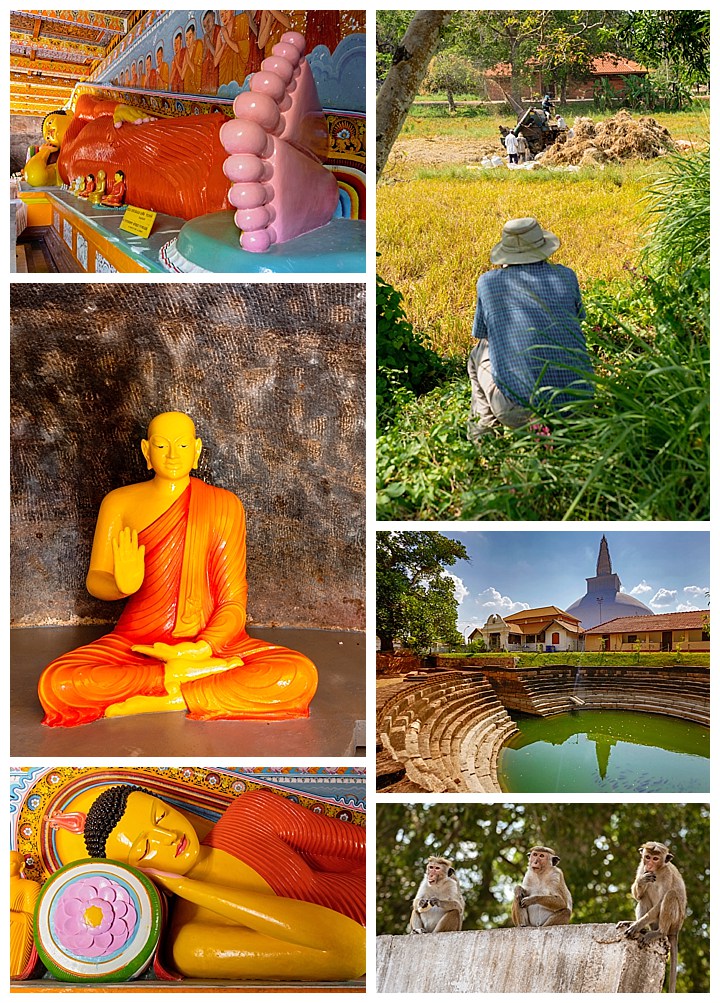 After lunch, we continued on to Anuradhapura, where we photographed the Isurumuniya Temple. King Ravana was born here, and its written history goes back over 5000 years.  Today though, it is most known as having the most colorful reclining Buddha in the world (left column).  At the same historic site was the Ruwanwelisaya Dagoda, with a photogenic circular pool in front of it (middle-right).
Enroute, we saw a rice harvest machine working in a field, so stopped and spent a few minutes capturing it (mostly shot video of it in operation, though upper-right shows Martin, from our group, also photographing the work).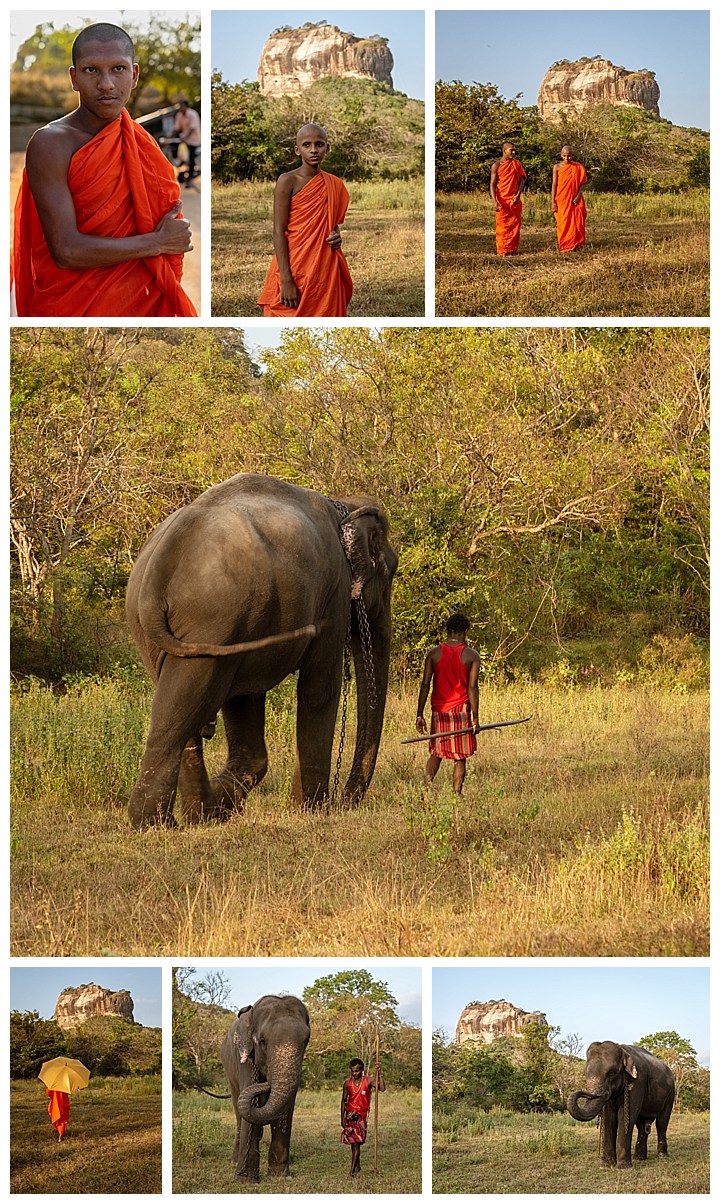 At the end of the first day, we drove to the Sigiriya Rock, which is a huge rock used as the Royal Palace briefly in the 5th Century BC.  It is now a UNESCO World Heritage Site, and was used as the backdrop for a photo session with an elephant, his handler, and a couple of monks, as seen above. Yep, Mehmet hired 2 monks and an elephant, so we could have a foreground.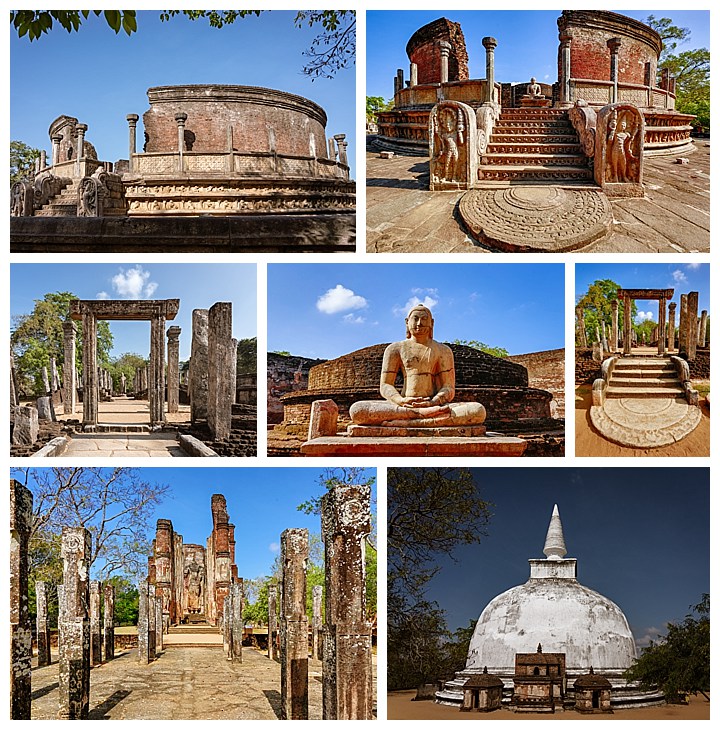 The next morning, we drove to Polonnaruwa, a historic site of ancient Buddhist temples. It seems that the capital of this island (Ceylon when we were in school, and now Sri Lanka) has had many names and many capitals along the way. This was the capital of during the 10th Century AD, named Nigaril Valanadu at the time.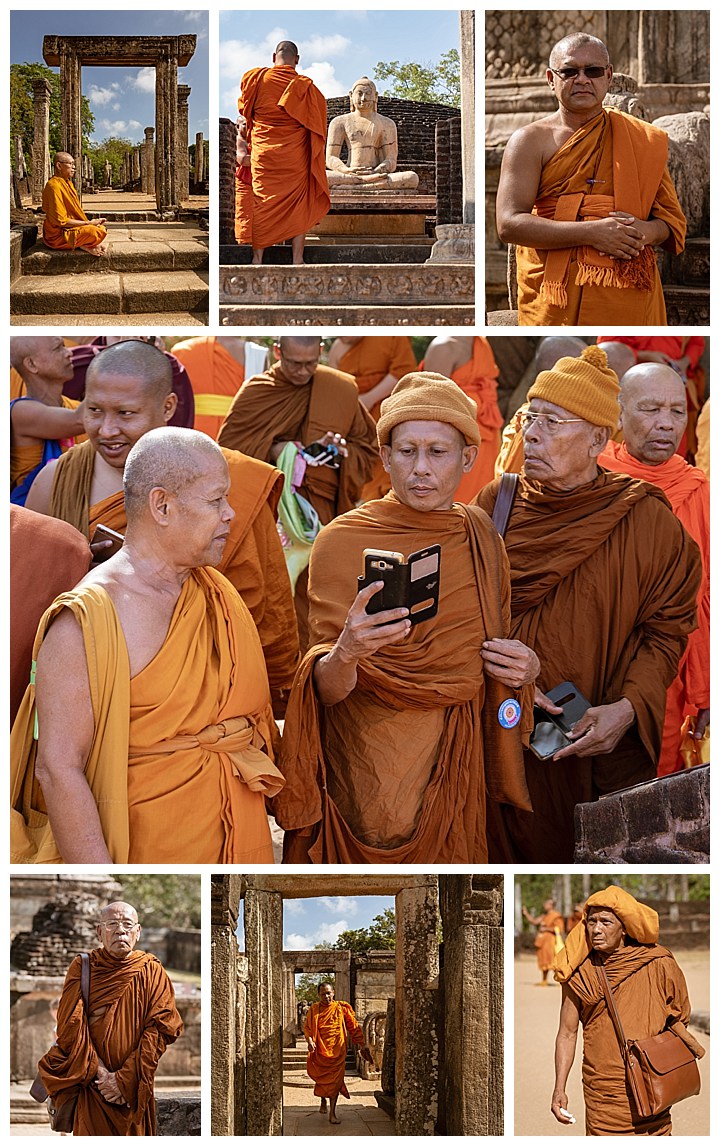 While we were there, two bus loads of Thai monks arrived. They were religious tourists, studying their Buddhist history, but taking selfies and snapshots of each other like any other group of tourists you will find anywhere in the world.  We find Buddhist monks to not only be colorful and fascinating to photograph, but also extremely polite and tolerant of our cameras.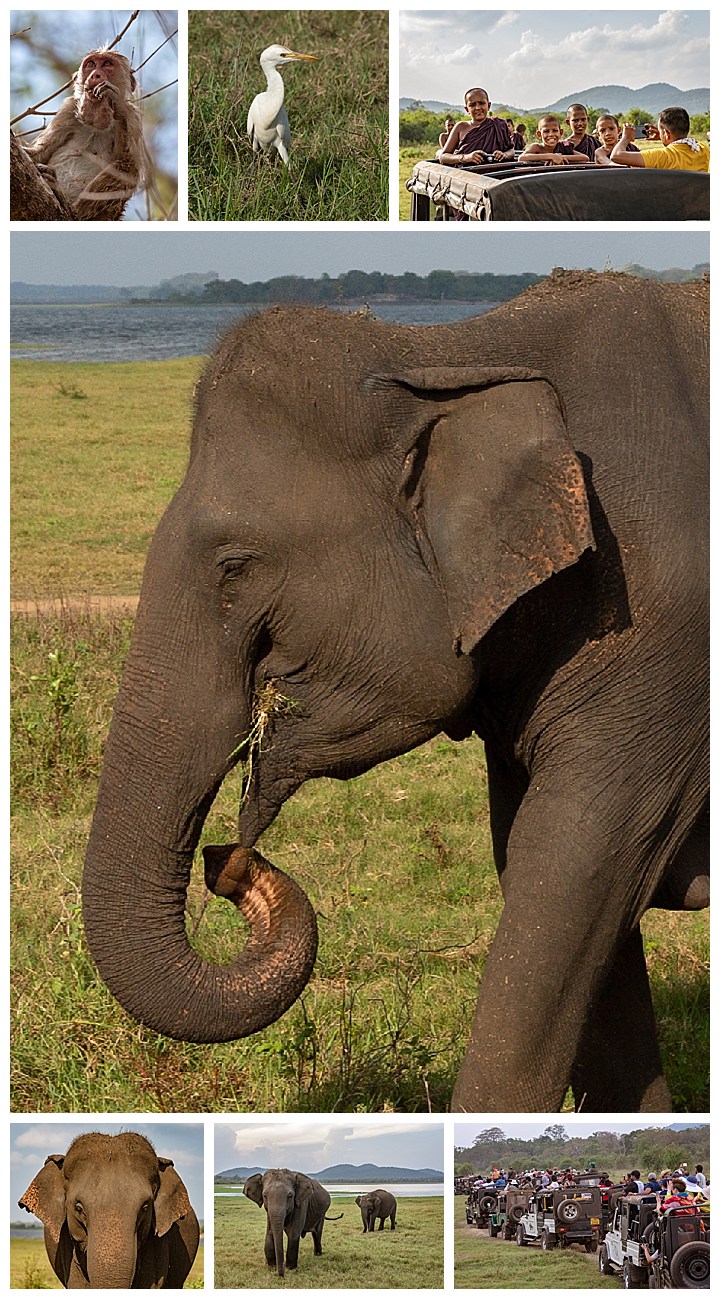 We completed our time in Habarana with our first game drive in Sri Lanka.  For this drive, we went to Minneriya National Park.  Sri Lanka is mostly famed for its elephants, and this park was a good introduction to them. With only a couple of exceptions (like the monkey upper-left and the egret upper-middle), elephants were the only wildlife in this park.
Unfortunately, it was also overrun with jeeps full of tourists.  Yes, I know we are also tourists, but we are more accustomed to going places mostly devoid of others using their cameras as a hunting tool!  Prior safaris to Tanzania (1991), Zimbabwe (1993), Namibia (2018) and Botswana (2018) all involved jeep treks into forests where we almost never saw another two legged wheeled animal.
The monks in a jeep (upper-right) were interesting, but then we hit… The Line… (lower-right) of some 50 jeeps, which is where we spent most of the "safari," literally stuck in traffic, since the jeeps were not allowed by park law to more than two wide (to protect the land and reduce the road imprint).
It seems a fitting end to this safari to show how we approached one elephant, with another jeep in front of us.  Moments after this was photographed, the other jeep left, and we got a clear shot of the elephant… and a clear scent too…  From our prior safaris, we recognized the extremely pungent smell of an elephant in musth.  This elephant was the only one we saw with a radio GPS necklace, allowing the park rangers to track it.  The elephant had killed two villagers the prior week, and was being tracked to assure it did not return to another human populated area.
An elephant in heat has a very strong musk smell that is unmistakable.  It also has what appear to be tears under its eyes, but are actually secretions of temporin. Elephant bulls in this condition are extremely aggressive, and need to be avoided at all times…