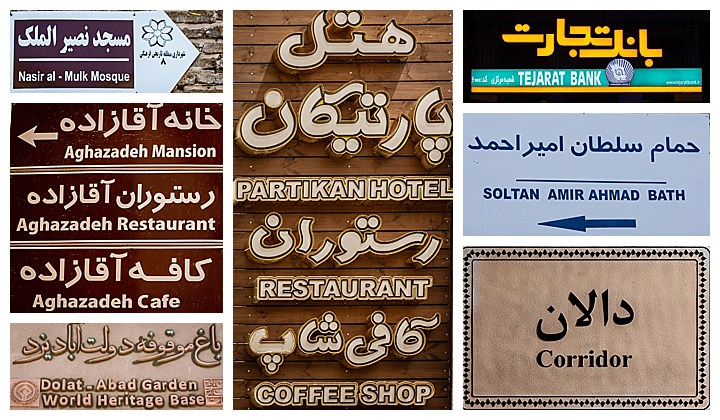 Iranian Local: I love you! (while making heart with his hands)
Me: I love you too (chuckling, then asking if I can take a photo — he warmly agreed, and he and his friends posed for the next several minutes for us)
After some more discussion, it turned out that this man was actually Afghan. Though born in Iran, he moved to Afghanistan with his father when he was a teenager.  He was back in Iran visiting his cousin, whom he then introduced to me, though the cousin did not speak any English.
He then declared "I have a lot of American friends!"  Since he lives in Afghanistan, I asked "Are they all soldiers?" to which he replied "Yes! Very nice people!" Surprisingly, this was the second Afghan man we met in Iran, both of whom opened with "I love you!" and both of which were highly impressed with Americans.  Once again, not the response I had expected…
The Persian language used in Iran is graphically very flowing and pleasing to the eye.  Surprisingly, there were many Persian signs that also included the English equivalent, and thus were easy to understand, as shown above.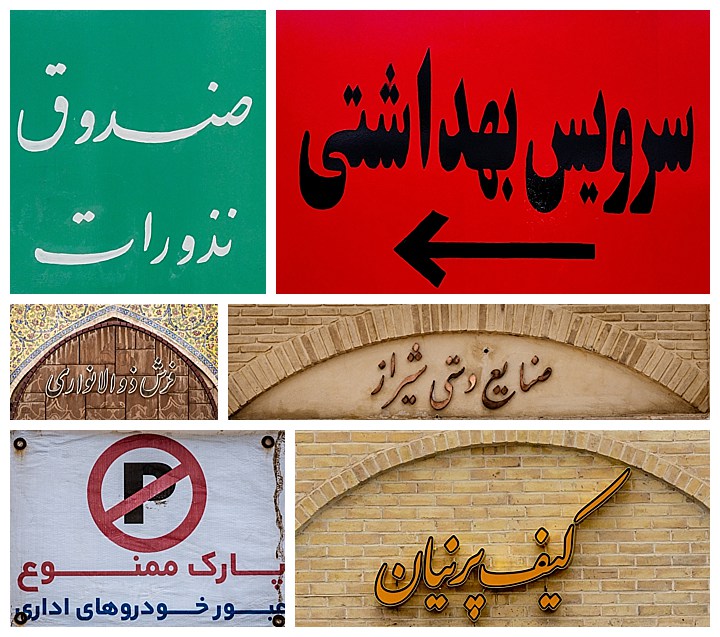 This quote is from the Iranian leader about Hijab: The Iranian women Hijab is not an obstacle, they are active in social and scientific activities as well as in their personal life. Such "words of wisdom" from the Supreme Leader are spread throughout all the cities.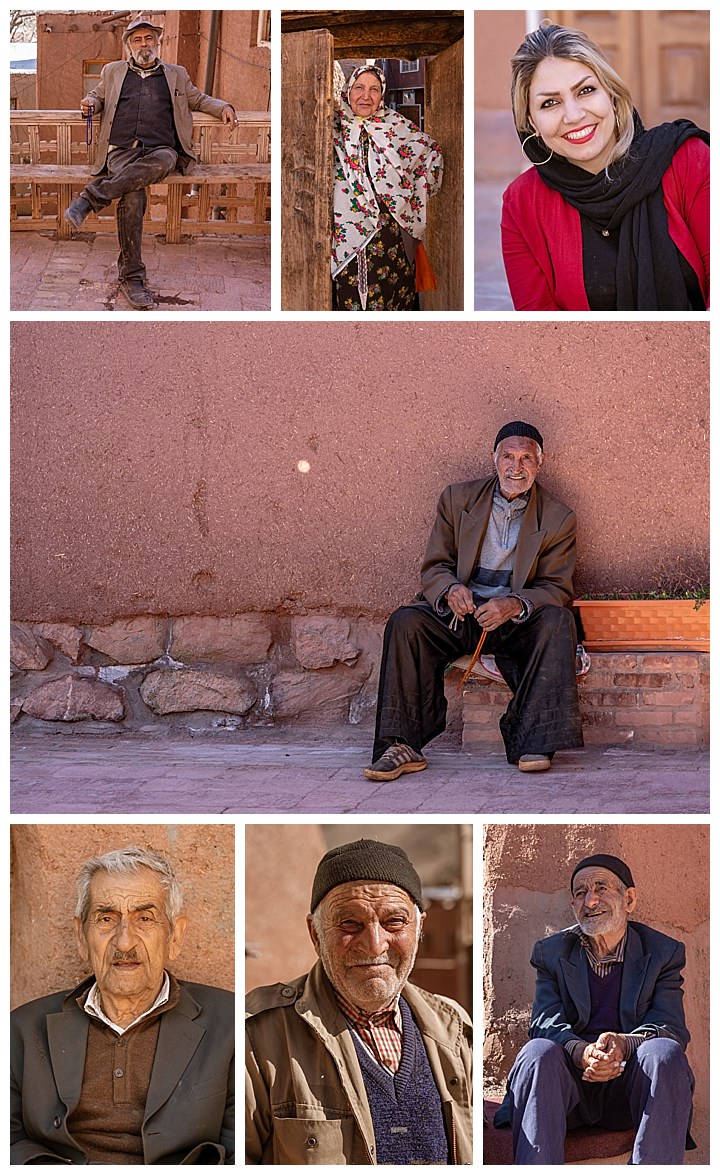 You have probably noticed a common theme in these blog entries on Iran. The people are warm, friendly, almost always smiling, and appear genuinely glad to meet Americans — usually their "first Americans."  In two weeks, we occasionally met someone who was camera shy, but nobody ever waved us off with any sign of anger.  Most of the time, they were glad to have us take their photograph, and often laughed when we showed them the result on the camera LCD.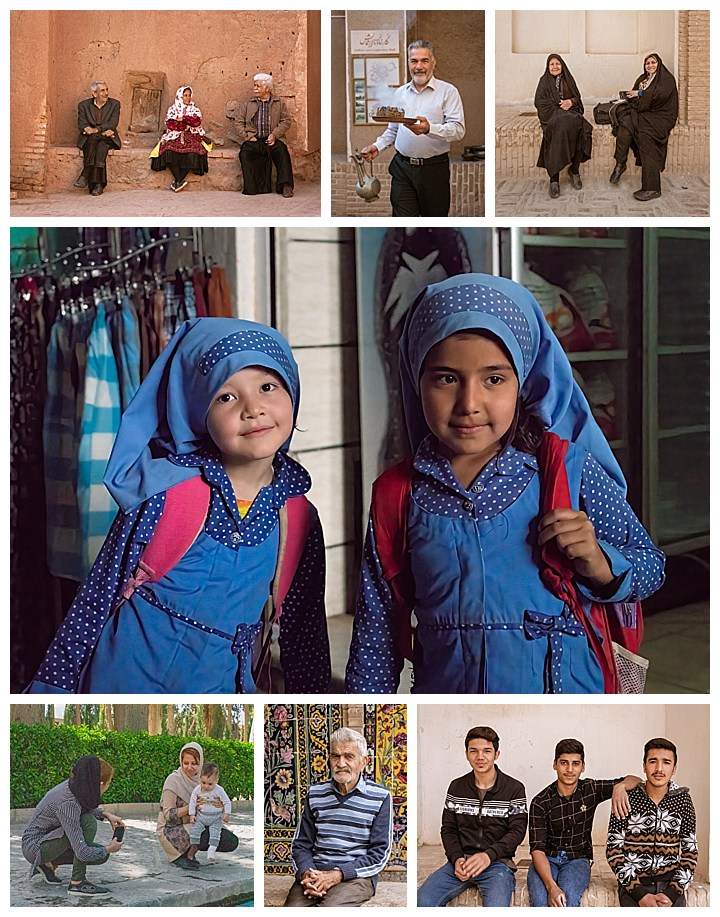 We almost never photograph young children unless their parents are nearby. In every case we did so, the parents would encourage their children to say hello to us (sometimes the only English they appeared to know), and to smile. The parents then always thanked us for taking photographs of their children, even if they could only say it in Iranian and body language.
The group in the lower-right here shows the Afghan man in the center who told me that he loved me at the start of this post.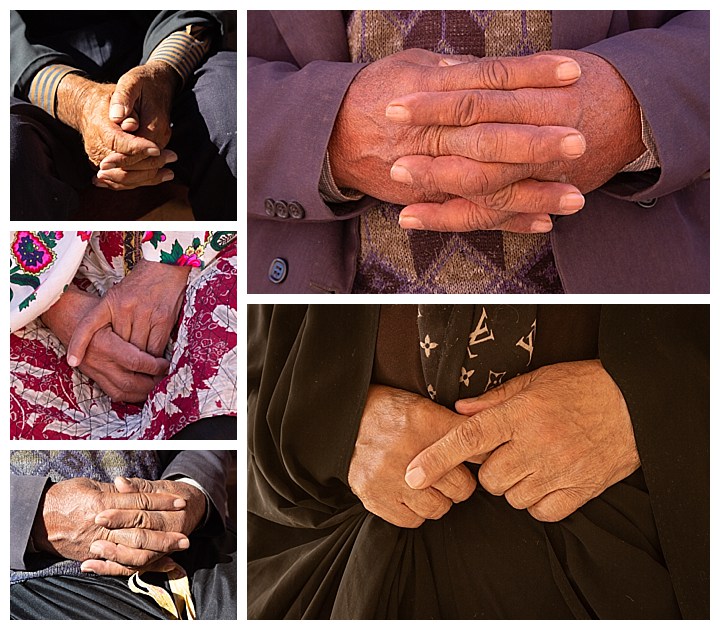 We started photographing hands somewhere along this tour, finding them interesting and a way to sometimes get a shy person to open up for portraits.
I would like to close Iran by noting again that it was Mehmet Özbalci of Fantastic Photo Tours who arranged this, and convinced us to join him on this Iran adventure.  It will definitely remain in our memories as one of the most enjoyable two week tours we have taken.  If you ever have the chance, please make an effort to come here yourself.  If you do, then we both strongly recommend Mehmet as your guide to this culture, as well as many others. (We have already arranged to join Mehmet for Myanmar next year — stay tuned for details!)