Amman is the capital of Jordan, and has been continuously occupied since 6,000 BC. It is the starting point for our two weeks tour organized through On The Go tours (OTG), that will cover Jordan, Israel and then Egypt.  As we stepped off the plane from Tehran to Amman, we were greeted by the OTG rep before immigration, and he walked us through the entire Immigration and Customs process, and had us in our hired transportation in record time.  One thing we discovered through these countries is that the OTG company reps are exceptional in their service at every step of the way, and always exceeded our expectations.  More on this later.
Guess how big that hand in the upper image above is?  Seems massive in that image, doesn't it.  The hand actually is large, but only about 2 feet (0.6 meter) from finger to wrist. This last remaining remnant of Hercule's Hand at Citadel, in the Temple of Hercules, is an excellent example of why we often include people in our photographs of monuments.  The people help to provide a sense of scale.
We missed sunrise on our first day in Amman, because the government turned down the OTG application to give us access to the Citadel, before it normally opened at 8:00 AM, well after sunrise.  Instead we saw the Roman Theater landmark, which is nearly intact. Unfortunately, we just missed the dawn light as we roamed around searching for an alternative location.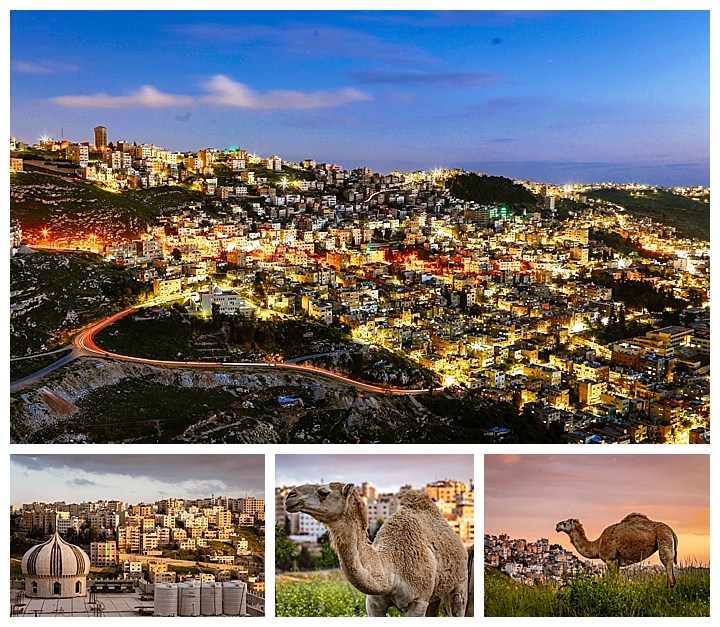 Later that evening, our driver drove around some hillside roads, looking for a good site for us to capture the sunset, after finding that the King Abdullah Mosque had unexpectedly closed before sunset.  We ended up in the location shown above — where we also happened do discover two wild camels grazing, which provided a nice foreground for the city.
During the day, we walked around the old city, which was hilly with narrow walking paths, and filled with vendors of all sorts. The local herbs and spices market in Amman caught our eye. This was our first real chance to interact with Jordanians, whom we found friendly and willing to pose for us.  The man center-right is grinding a spice, and invited me to come in closer and see the machine in action (this was a photograph by Evelyn, and you can see me photographing the internal workings of the grinder behind him).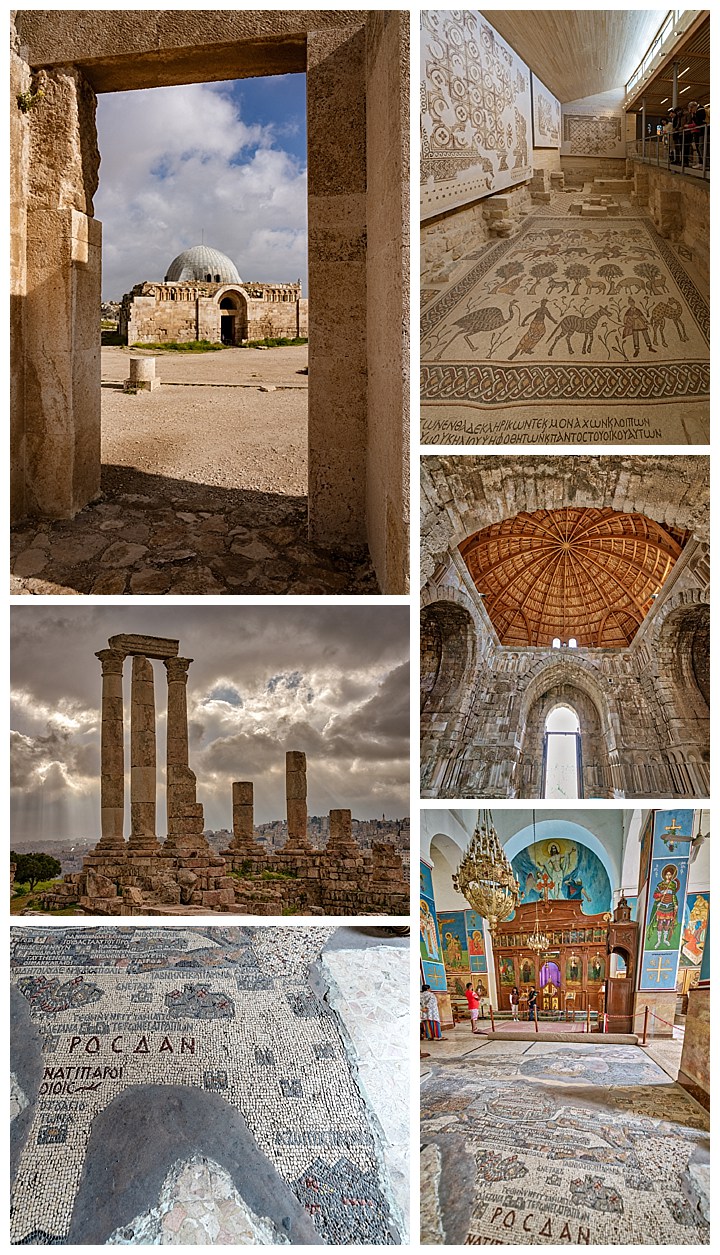 Enroute to Jerash, we visited Mt Nebo, a Christian religious site as it is where Moses is said to have first seen the Promised Land, which God told him he would never enter. Madaba is the site of a church that supposedly has the oldest known map of the world still in existence, as tiles on the floor (lower row), as well as where most of the Christians in Jordan occupy. We had our favorite schwarma sandwich and fries from a hole-in-the-wall store in Madaba.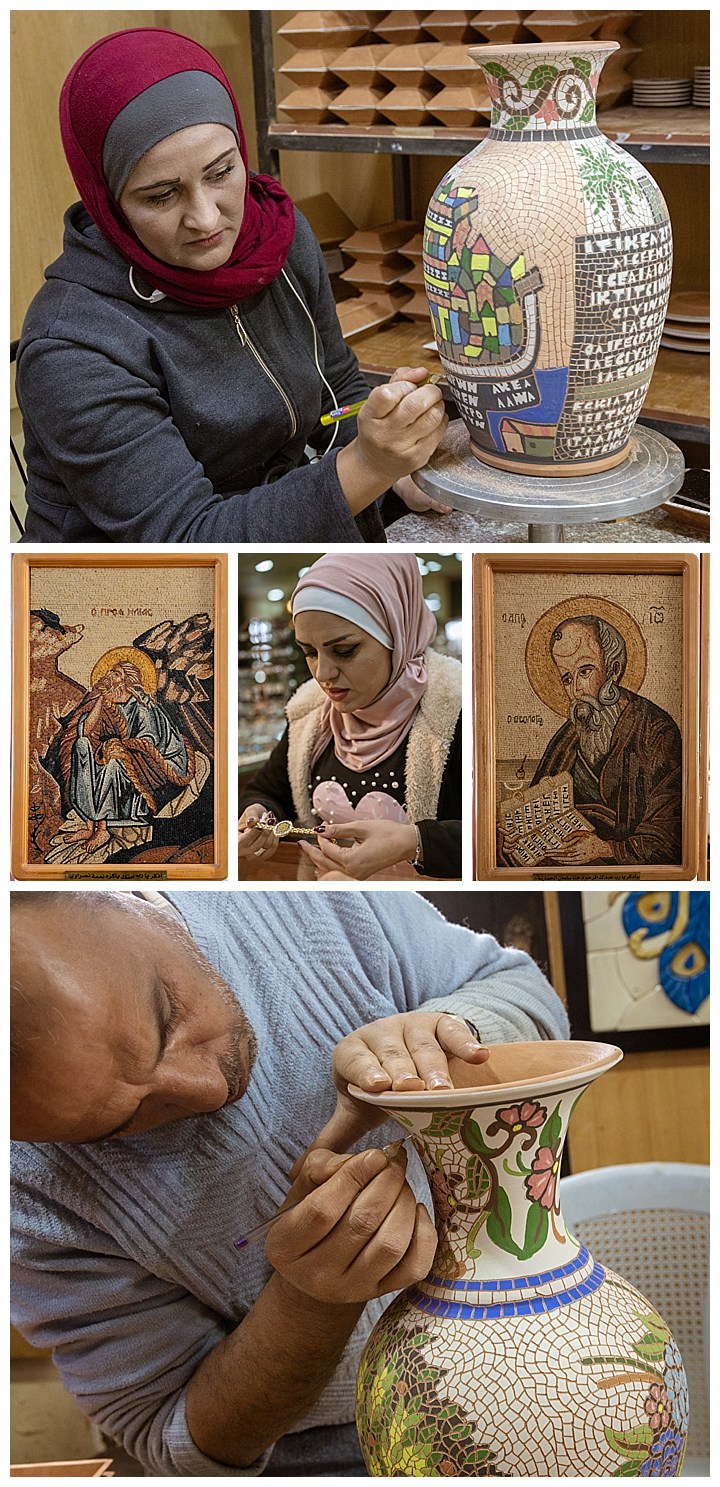 We also made a side stop at a mosaics factory, where we watched how they make highly detailed mosaic designs on pots and plaques.  The work is of exceptional quality, but our suitcases are already loaded beyond capacity, so we had to be content to only watch the skilled workers.