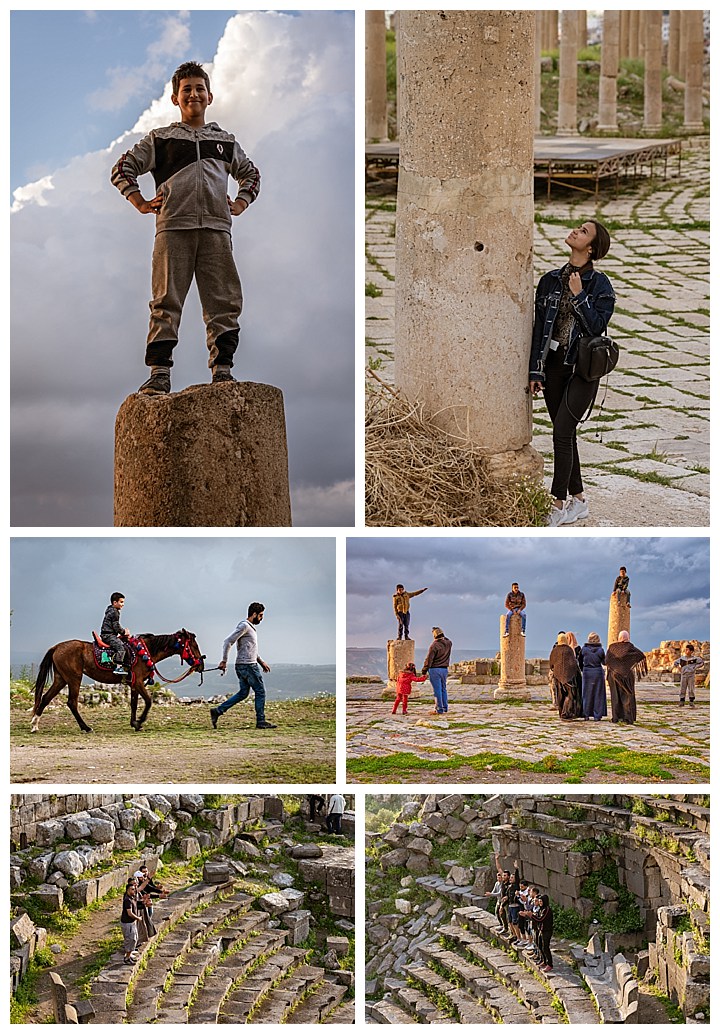 The ruined city of Jerash is one of the largest and most interesting Roman sites. You enter through an imposing ceremonial gate, go past colonnaded streets, enter a hippodrome (horse racing track), walk around temples, and can easily spend half a day there. Hadrian's Arch, the Temple of Artemis, the Forum, and the Temple of Zeus, were all breath taking in the golden hours.
We visited several cities of the Decapolis in Jerash today, and we spent sunset at Umm Qais, a town in northern Jordan that houses the Greek ruin Gadara,  (lower row, where two groups of men were singing chants to each other) overlooking the Sea of Galilee. Unfortunately, the skies were cloudy and the distance hazy, so we did most of our photography on the plateau, ignoring the sprawling view of the valley below.
At one point, a young boy climbed to the top of one of the pillars (top-left) as his mother looked on (top-right).  I quickly moved into place to capture the SuperMan against the storm clouds.  He clambered down and wanted to see my camera LCD.  Soon all his friends were climbing other columns, calling for me to photograph them too.  After nearly a dozen individual photos, I backed up and captured the scene with three boys (of course…!) on columns while their families watched. (center-right).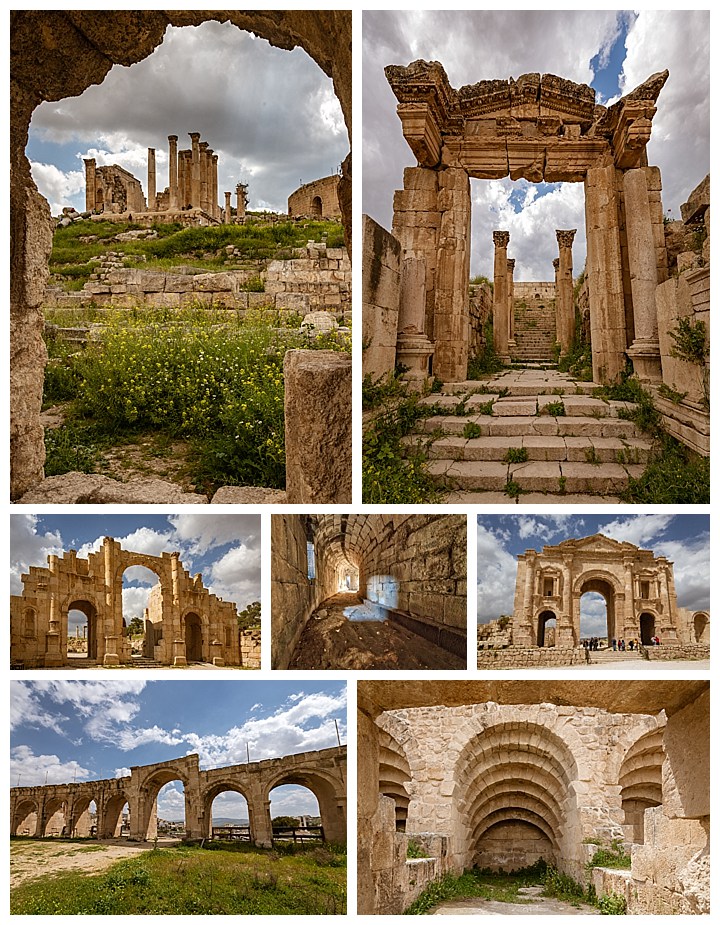 Gadera had numerous arches that intrigued us.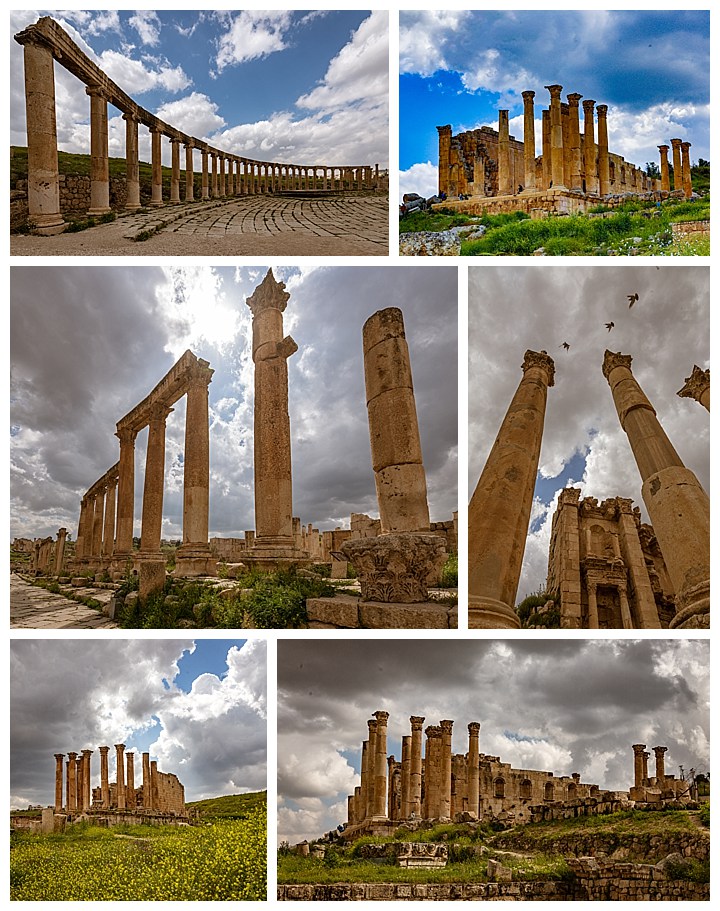 As the sun began to set, the many remaining columns of these ruined temple were stunning. These remaining structures are more than 2000 years old. Many were destroyed by earthquakes and then partially dismantled by later Byzantine and Umayyad building projects.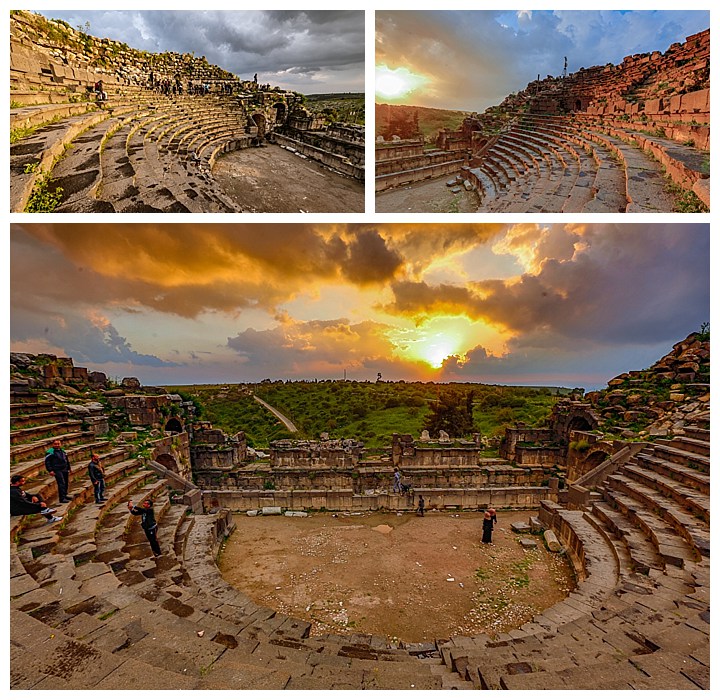 Evelyn enjoyed capturing the sunset photos of the small stadium, which was enhanced with dramatic clouds. Many families came here to enjoy the sunset. A local teenage girl had a chance to practice her English with Evelyn. At one point, when Evelyn told her she had to wait 10 minutes for the colors of the sky to turn vivid, she professed to be too impatient to wait that long, and then left tp rejoin her friends.
Meanwhile, Burt wandered among the columns and the plateau where most locals had gone to watch the sunset (upper). It was quite a scene with kids getting horseback rides, while other kids were climbing the ruins.   The clouds all came up within the last hour or so before sunset, helping to add drama to the scene. By the blue hour, the place had emptied out.