We spent one night in Wadi Rum in the desert in a tent. As part of the 4-wheeled drive tour, Fadi (our Jordanian guide) stopped at a sand dune, saying there would be a great view of the surrounding area from the top of the dune.  We started the climb (if you have ever tried to climb a tall sand dune, you know that it is a difficult task.  To advance two yards/meters up the hill, you fall back one).
On the way up, we encountered a bunch of friends trying to ski-board down the sand.  That looked like such an interesting scene that we stopped 2/3 of the way up the dune, and spent the rest of the time there.  I first attempted to set my video on slow-motion… then realized that was redundant. These people were having to hop and skip to move a couple of feet!  The sand was a lot more sticky than they expected. The top image shows one person on his board. This was an easy photograph, because he was there 5 seconds before he hopped a little to move another meter down the slope! ☺
Fadi (our Jordanian guide) then climbed to the top and ran down (center-left) to give us some action shots to capture.  About as we were ready to move on, a family encouraged their young child to slide down the dunes.  Again, the little girl ended up stuck in the sand (bottom), and just scooted down a few inches at a time.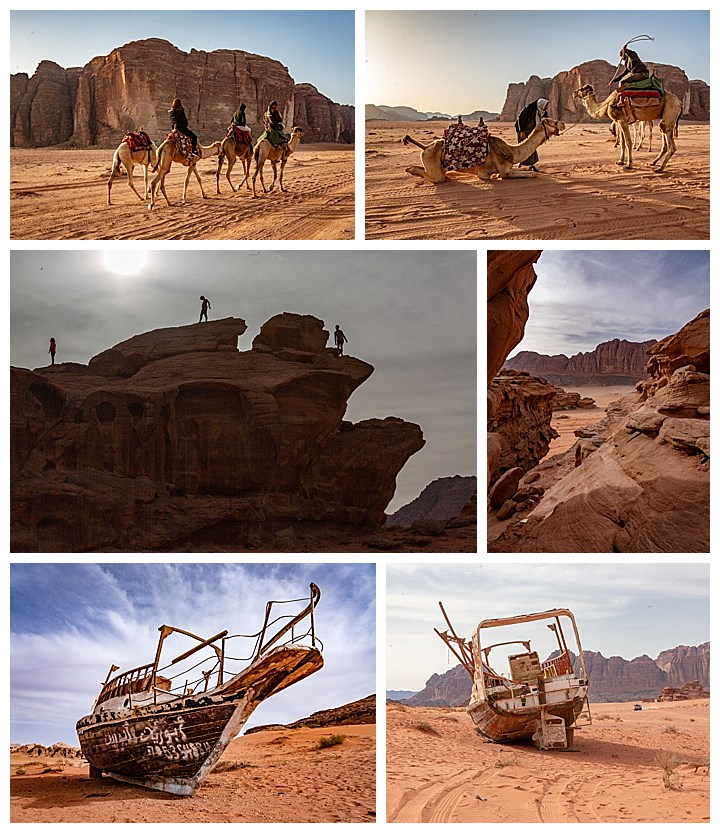 Heading towards the camp, we came across this abandoned boat (lower row) that seems so completely out of place that we asked to stop and photograph it too. No known history, other than the names of two brothers and phone numbers spray painted on the side.  Seems like a prop straight out of a Clive Cusler novel.
Our next stop was a small rock outcropping, that Fadi again said would give a good view of the panorama.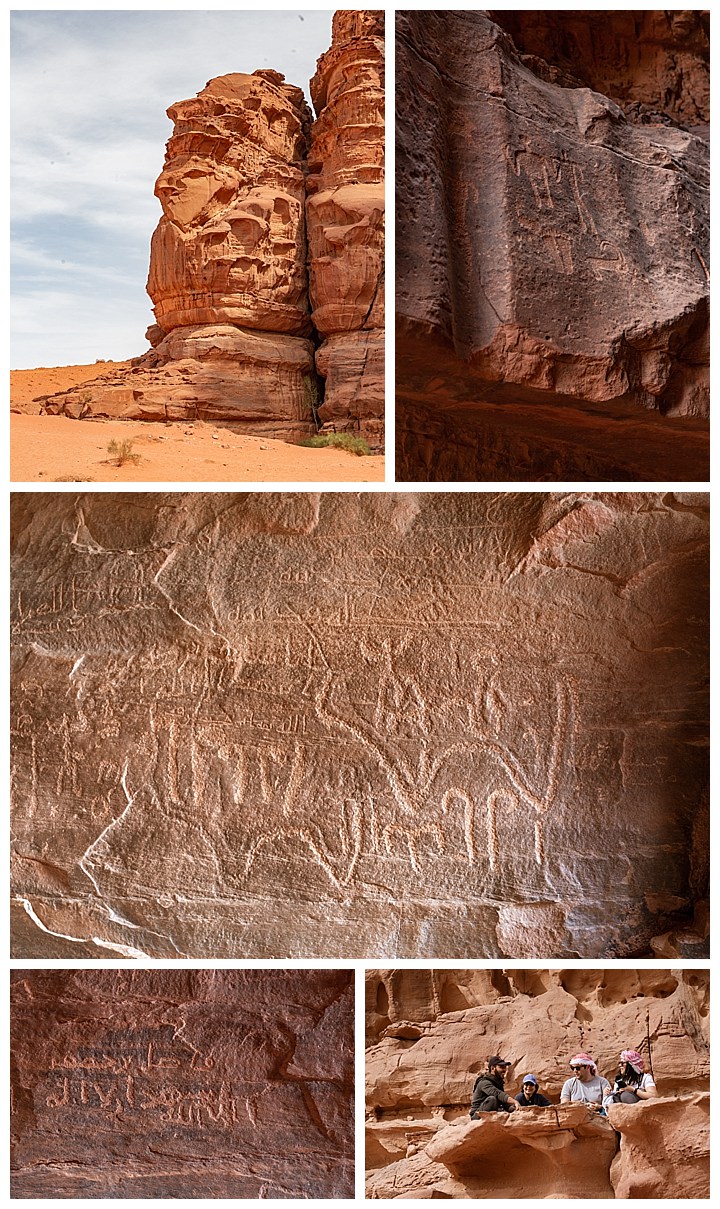 Yet another stop enroute to the camp was a slot canyon with ancient drawings on the walls.
As we reached camp, we climbed up above the Bedouin tents to photograph the sunset.   Fadi was waiting for us, while reading his email, giving a nice focus point to our sunset scene (upper-left).  We then got up the next morning at 4AM to head out to the desert for dawn images, also shown above.
The meal was one of the best we had in Jordan. It was called… "(my age is showing — I can't remember the name…)", where the pots and plates were buried in the sand, then cooked for two hours with charcoal.