I found Israel unpleasant and unwelcoming, and expect to never return.  I have never had this reaction in any of the other 81 countries we have visited.  To be fair, we were only in the country for three days, and one of those days was misspent with two abhorrent excuses for humanity posing as tour guides.  This pair definitely colored our experience and left us with a bad taste in our mouths. There, I have said it.   ☹
Now let's try to show the part of the country that was more pleasant.
In 1980, we lived in Beaverton, Oregon when Mt St Helens erupted, which destroyed the High Tech industry of the area. Intel then offered Evelyn a chance to relocate to California to be the engineer in charge of planning for three international  projects. One of these was a semiconductor wafer fabrication plant in Haifa, Israel.  On our first day in Israel, we drove past the plants that she helped build 30 years ago, and snapped some photos, one of which is shown above.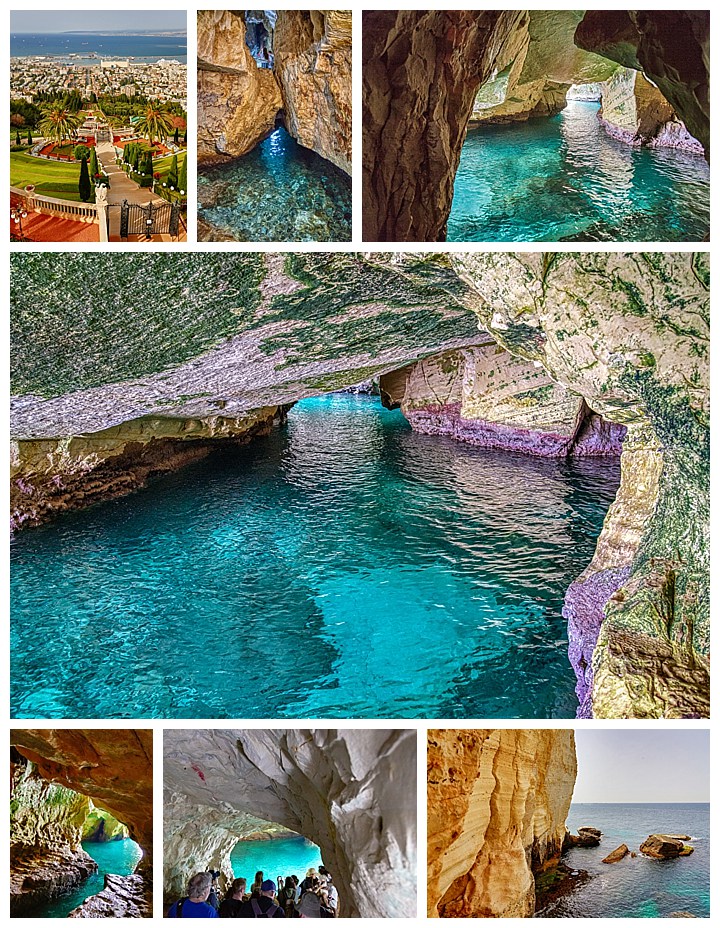 We also drove up the Mediterranean coast of Israel and found that the landscape is surprisingly lush and green. We stopped at Rosh HaNikra, where we explored the geographic formations with white chalk cliff faces opening into beautiful grottos.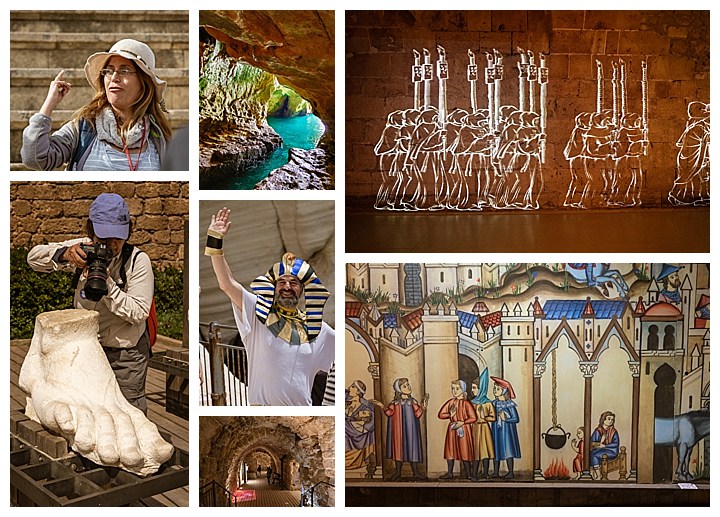 We entered one castle in Acre, the largest Crusader city in the country. This was interesting to see, even after all the castles and temples and churches we have seen over the past couple months. The interior included some well done animated wall projection illustrations (right column) that helped bring the old museum to life.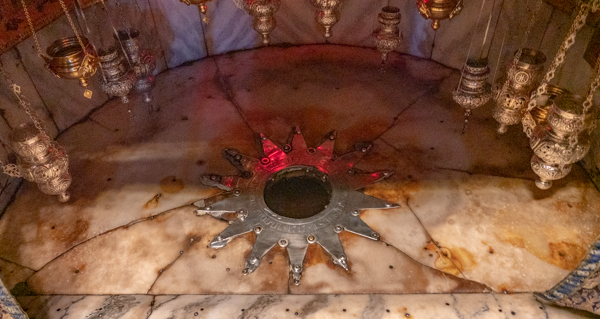 On the second day, we toured Jerusalem and Bethlehem. Unfortunately this was where we had two absolutely disgusting racist, money-grubbing, kickback-lusting tour guides who completely turned me off to Israel.
(Their sins fell far beyond just grubbing for kick-backs, but in trying to keep this upbeat as best as I can, I will not go into details. I initially went on a rant about these two, but have deleted that portion of the post, preferring to concentrate on the more positive aspects of the country.)
First thing in Jerusalem, we were told to wait in a line for "something fun!" After 80 minutes, where a priest kept yelling "no talking" any time a whispered conversation started up, we were finally allowed into a tiny room. There we saw the small, plain, 14-point star shown above, as a priest yelled "No photos! Keep Moving!" and rushed us out in less than 5 seconds. (Not being one to let small time dictators tell me what to do, I grabbed this as I went by, to show just how "exciting" the view was after more than an hour of wasting our time…)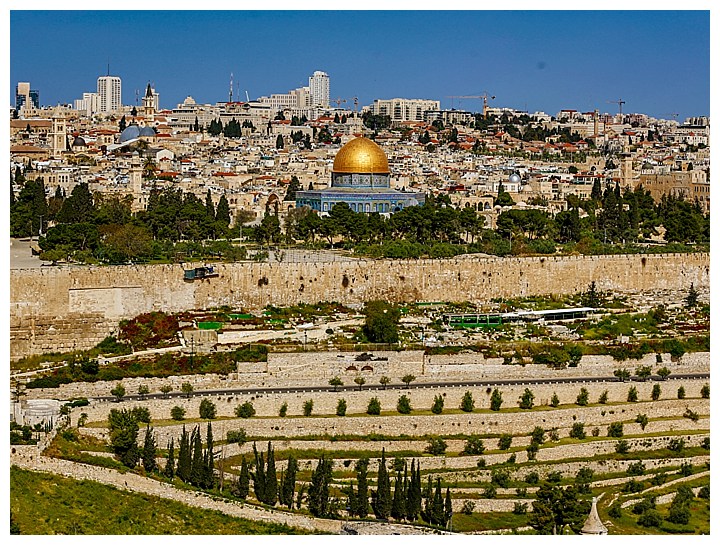 We had a brief overview of the city of Jerusalem from Mount of Olives, as shown above.
In Jerusalem, we also stopped by the Church of the Sepulchre, the site of the crucifixion, Jesus' tomb and resurrection shown above.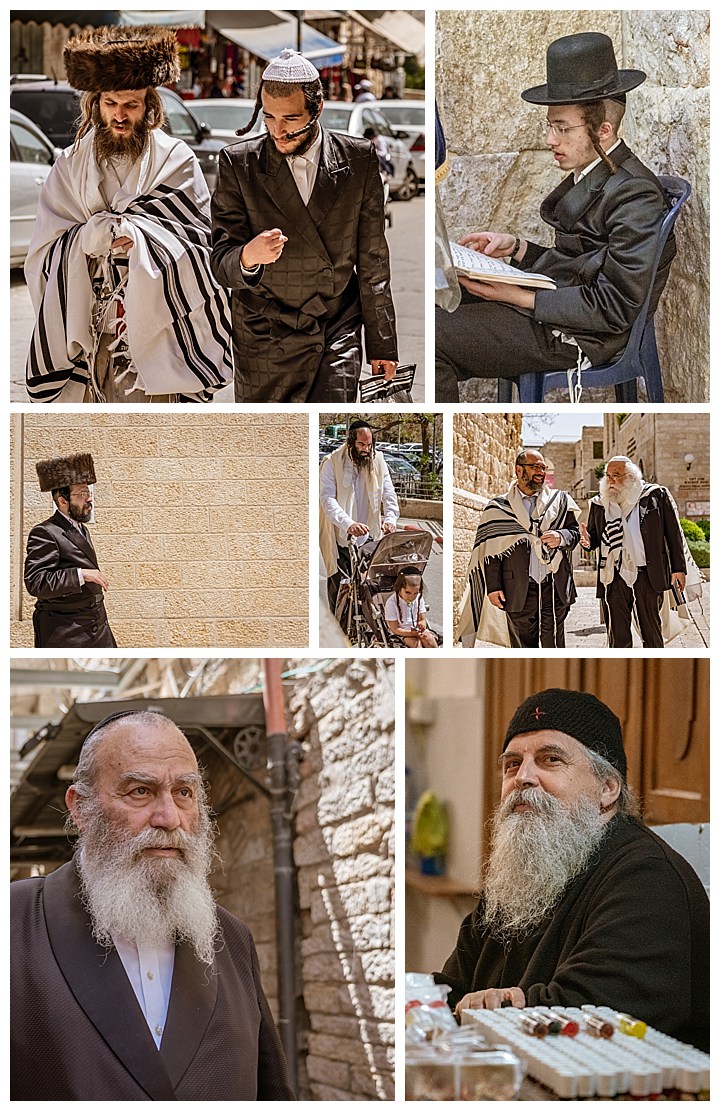 We took a few interesting photos of people. However, every one of the above photos was a "secret photo" in which the person did not realize he was being photographed.  Every single time a person saw the camera, he would angrily yell at us "no photos!"  It has been years since we met so many angry local people, and is in shocking contrast to our reception in Iran and other countries on this trip.

Our very last day was in Tel Aviv, and we had some free time to walk along the beach. Suddenly, we were met with real human beings who seemed to be enjoying life.  I only wish we had more of this time and experience.