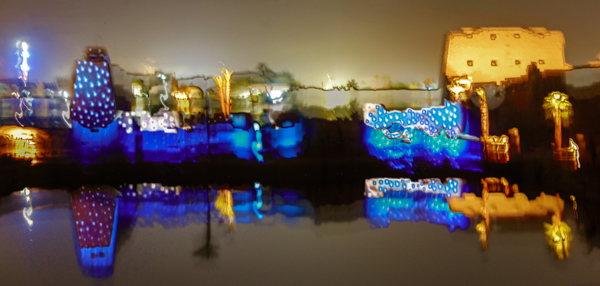 Above is another of those "happy accidents" where we made a mistake while making a photograph of the "Sound & Light" show (see below) at the Karnak Temple.  Never just delete an image because "you goofed."  Some of our more memorable images were the result of such goofs… ☺
Our second full day in Egypt had us driving from Aswan to Luxor. We first went to Kom Ombo to see another temple that made us wonder if this was real or not (it was real!). The carvings on the wall are so clear that anyone with a rudimentary knowledge of ancient Egyptian could easily read them. They write from left-to-right or right-to-left, or even vertically, and sometimes all three in a single narrative. The snake and crocodile (right-column) points the direction of the beginning of the text. Sounds facetious, but our guide, Ismael, actually has a degree in Egyptology, and could read them easily! ☺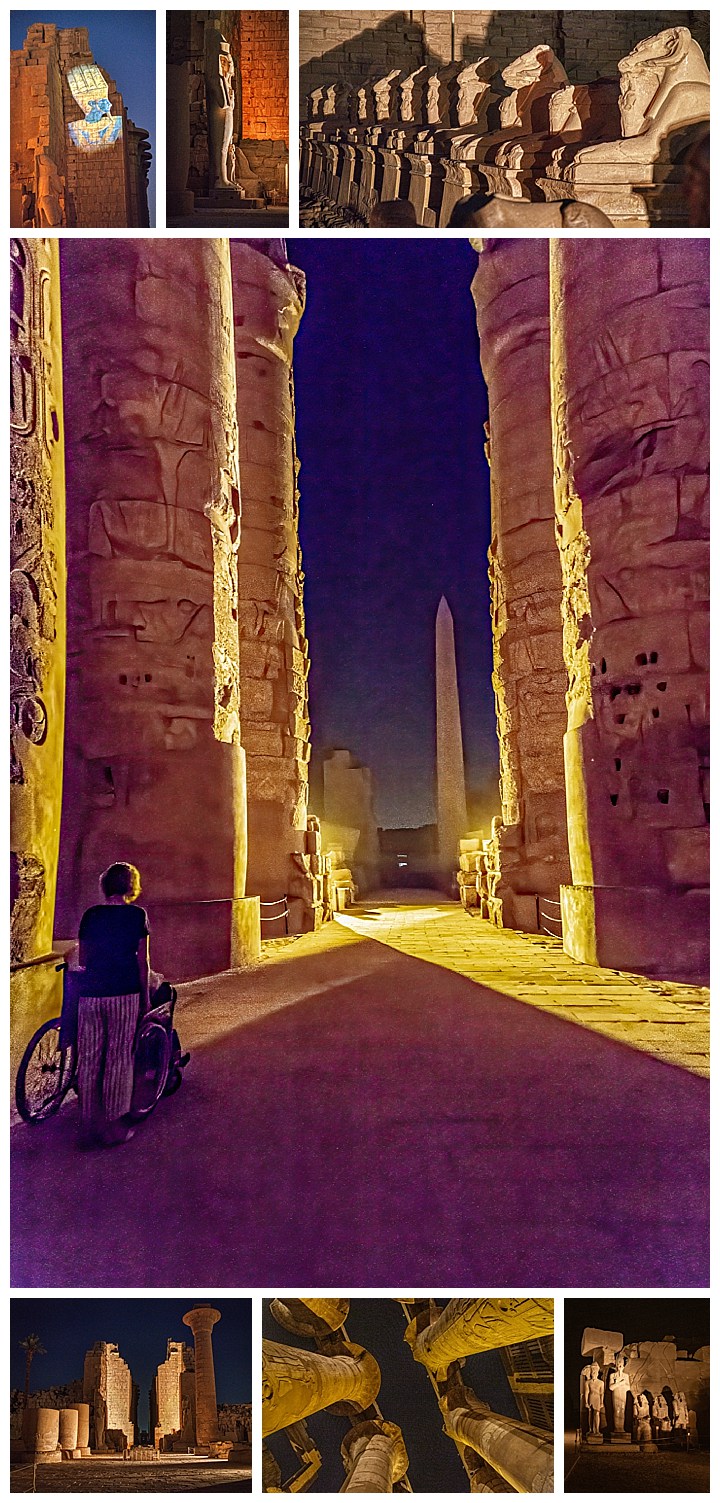 That night we went to the "Sound and Light" show at the Karnak Temple.  It was a fascinating walk through the temples illuminated at night. We would hear a booming voice telling us what we were looking at, as the lights illuminated various areas. Then we would walk on to the next lit area.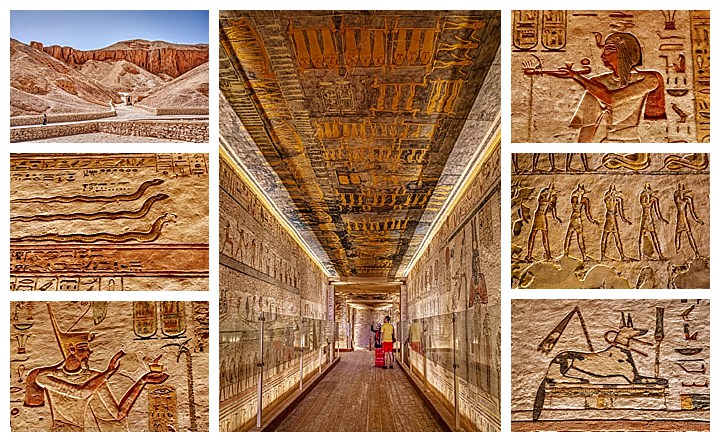 We next explored the Valley of the Kings.  This was a huge valley with more than 62 tombs, but only three of which we could enter, as shown above. You do not appreciate the findings of Howard Carter until you visit the Egyptian Museum in Cairo. The story is that Carter had spent 5 years unsuccessfully excavating. Two days before he was about to give up, he uncovered King Tut's Tomb in this valley, which was one of the greatest finds in the history of archeology.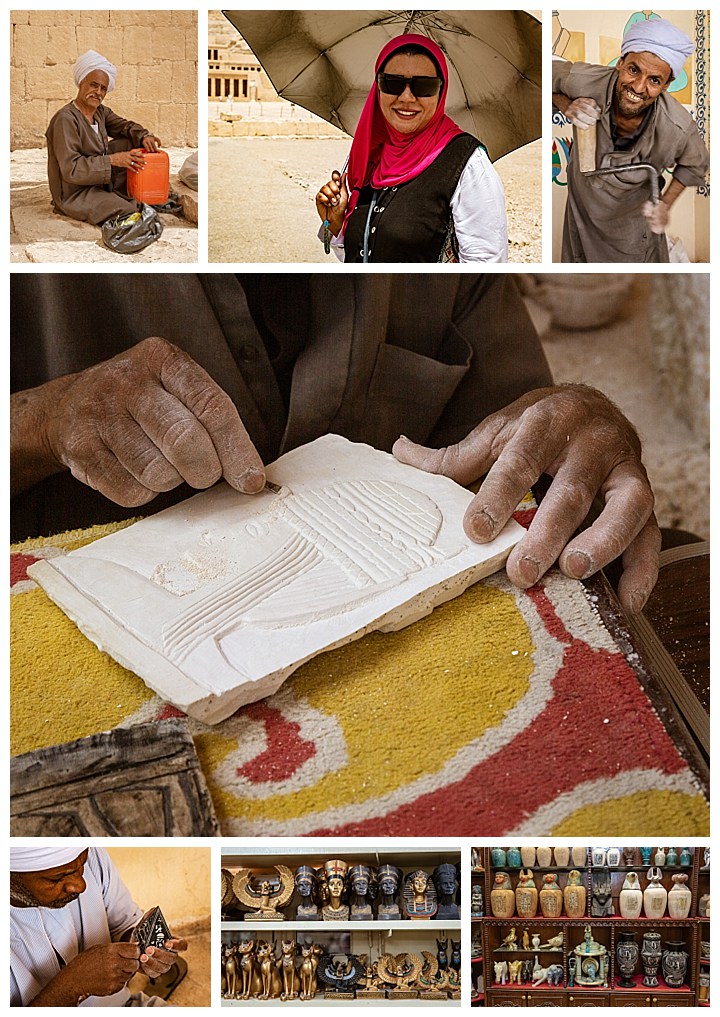 As we continued our drive, our guide Maru (top-center) asked if we wanted to stop and see where intricate tile carvings were made. We jumped at the chance, and ended up at the pottery shop shown above. 
We also stopped at the temple of Amenophis III, then proceed to the Valley of the Queens, and the Temple of Hatshepsut.  Much of this site was destroyed by an angry nephew, who sought to destroy any vestige of his aunt's identity.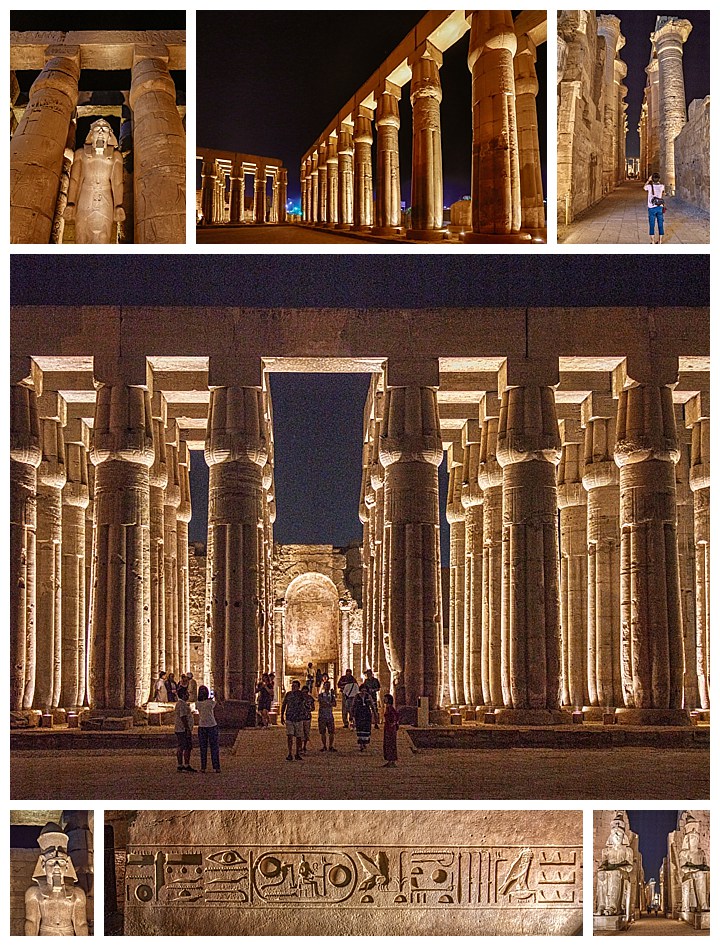 We ended the Luxor portion of our tour by seeing the Luxor Illuminated Show, just before we caught the overnight train to Cairo. Because of the dry heat of the desert, most of these "ruins" have been amazingly well preserved.