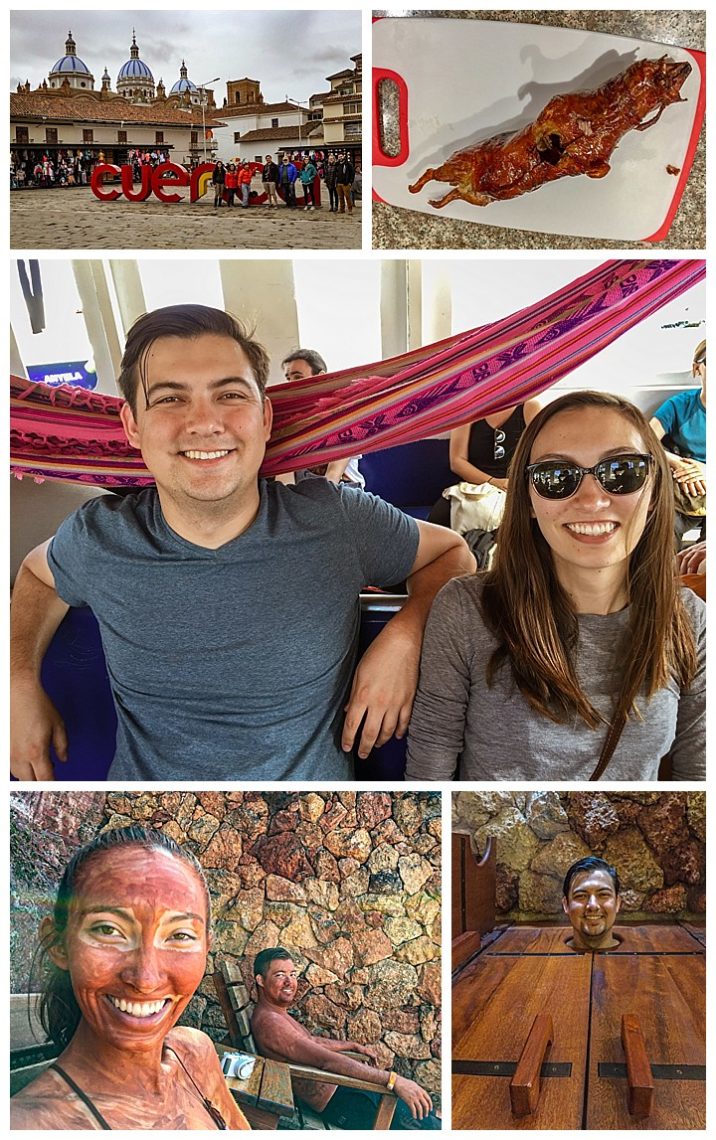 Mark and Kerry, our niece and nephew on Evelyn's side, both visited us in Cuenca in June. When they graduated from the university, we offered them a trip to South America as a gift. Mark actually graduated with a BS in Biology four years ago (and again with an MBA this month), while Kerry graduated a year ago (and is now a PhD student at University of California at Berkeley — our alma mater, which is also ranked #1 in the world in her field of Chemistry and Organic Chemistry). Busy young lives kept them from accepting our offer until this year, when both asked if they could travel to the Galapagos Islands with us, followed by a couple days in Cuenca. Afterwards, they went onward to Chimborazo, the Quilotoa Crater and the center of the world in Quito. The Galapagos portion of the trip was documented in part one and two, while this shows some highlights of their trip to Cuenca.
They were interested in sampling local Ecuadorean food, so we found a great restaurant in Centro called Guajibamba that delivers fully cooked cuy to your home, so we were able to introduce Mark and Kerry to that local treat (upper right). Evelyn then took them to the Piedra de Agua spa in Bańos to relax in the red and blue mud treatment (lower-left) and steam (lower-right) baths.
They were fortunate enough to be here during Corpus Christi week, and Parque Calderón (where the main fireworks with "castiles" occur) is only three blocks from our apartment. As such, we went down one night to see them up close and personal (never wear nylon clothing to these events, because "personal" means the fireworks will probably land on your clothes!) Mark has a good eye and shot several photos from the celebrations above.
We rented out the Jazz Society for one night, to throw a surprise party for Mark and Kerry. We invited some of our friends to meet the two graduates, of which about 40 were able to attend. To our delight, we had managed to keep the surprise until the moment they arrived in the room.
This happened to also be Kerry's 23rd birthday, so we had three reasons to celebrate — two graduations plus a birthday!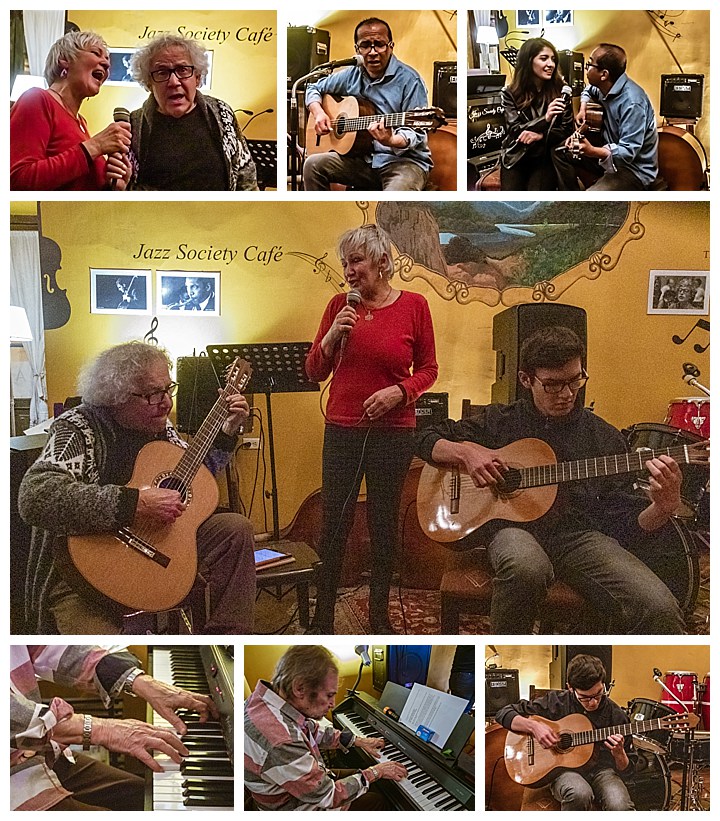 Jim Gala, owner of the Jazz Society, was gracious and played piano for the first half of the party (lower-left and lower-middle). After that, many of our musically talented friends took over the mic to serenade our visiting nephew and niece. Thanks to Jan Wallace, Rick Berke, Marcos Uyaguari, Estefi Ortiz, and Santiago for providing the music, and Sandy Kraft for organizing the food and decorations.