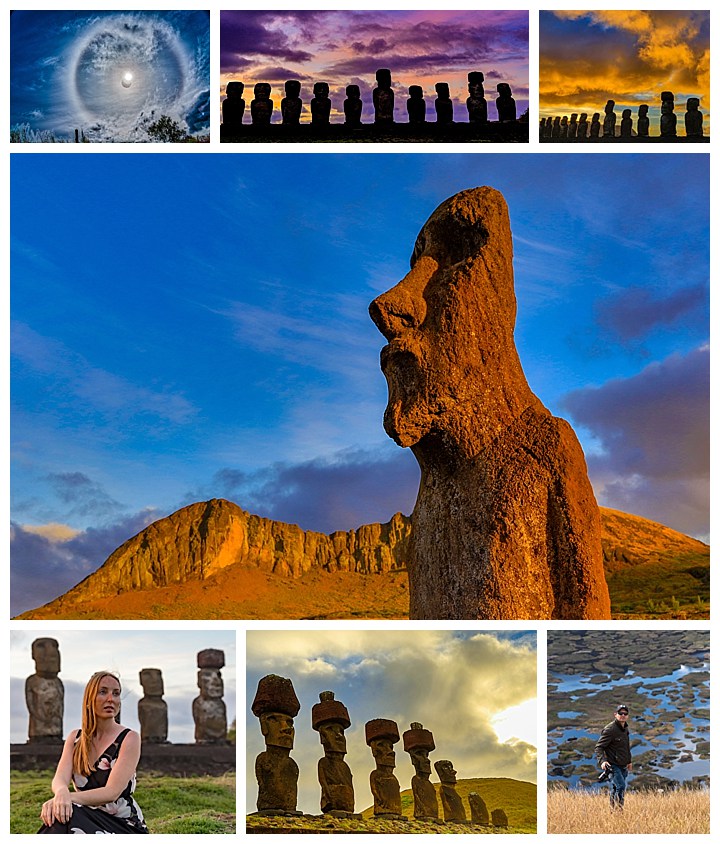 We went out for a sunrise shoot again this morning. Kim did some modeling for us at one site (lower-left), and as we were leaving the crater, Marc (our guide) posed for a quick shot (lower-right). This was another morning where we were lucky to get some color in the sky (top-middle and top-right). Also, a bit later, I looked up and saw my first "sunbow" where a rainbow completely circles the sun (upper-left).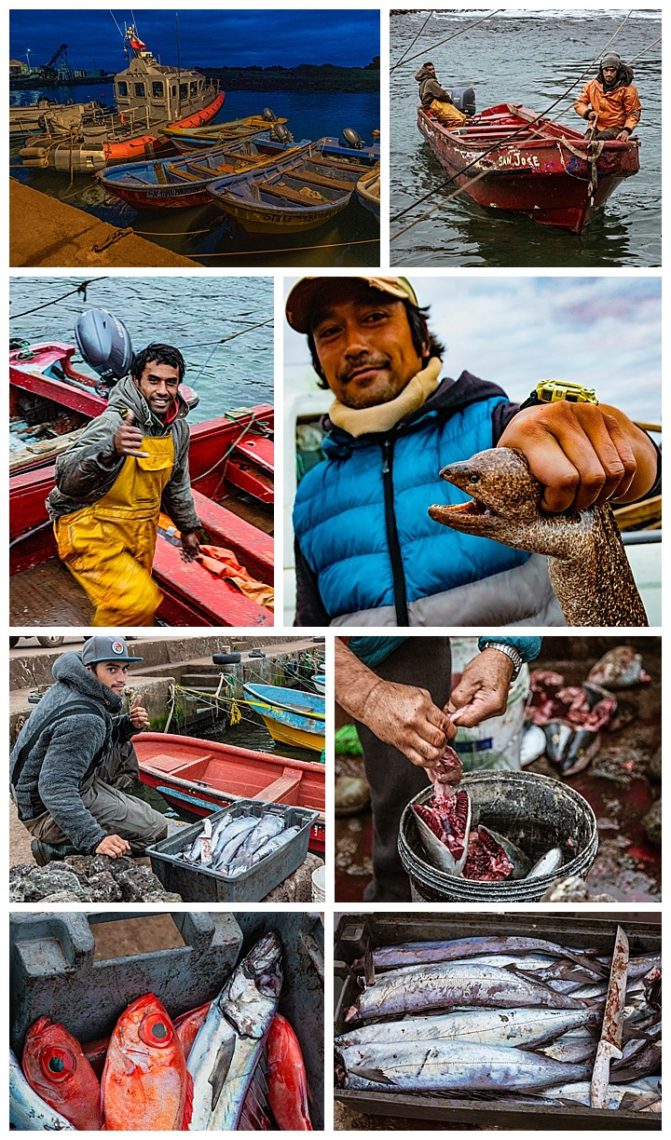 The next morning we went down to two wharfs at sunrise, in search of the fishermen. Instead of always focusing on the statues, we opted this morning to focus on the people, which is what we usually remember the most after trips like this. These workers leave in the early evening, in the small boats seen on the top row here. They then fish by hand and poles in small vessels about 23 feet long (artisanal) where no nets are allowed, all night long. They don't return until the early morning, shortly after dawn. We were told that the fish used to be found only 10 minutes out from shore. They now have to fish hours away from shore. Congril (moray eels, second row-right) and octopus are regular catches every morning.
The result of that long night's work is typically two or three bins, holding no more than 150 medium sized fish. However, one morning, when we were photographing moai at sunrise, our guide got an excited phone call from his father-in-law. He had just landed a 95Kg (210 pound) tuna! That was worth as much as a week's haul of the fish we saw come in this morning.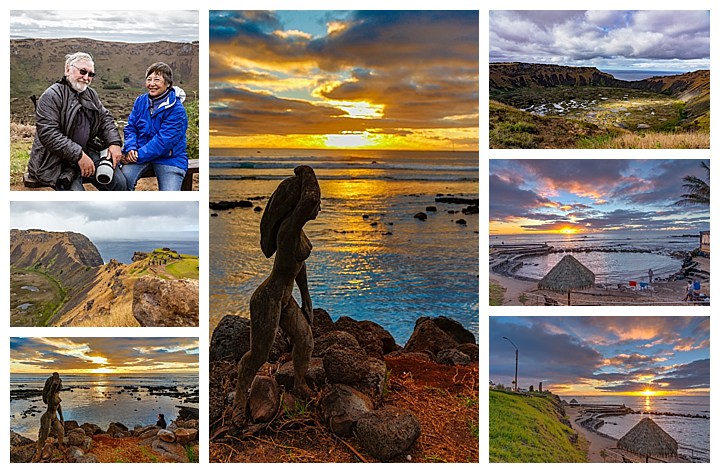 On our last night in Easter Island, we walked down the coast to a restaurant that had been recommended. Along the way, we stopped to photograph the sunset. We rarely get in front of the camera ourselves, but Marc did shoot this one image of us overlooking the Orongo crater (upper-left).
The Orongo crater itself was rather hard to photograph in a light that really showed the size and shape of the volcano caldera. This one panorama was as close as we could come. This really called or a drone to give an aerial view, but alas, this is another location that the Rapi Nui have outlawed drones in recent years.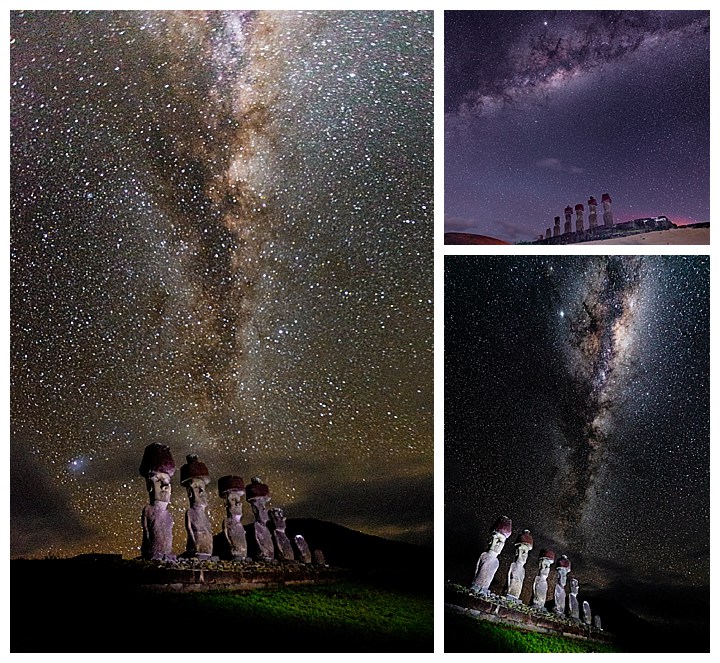 We tried on several nights to capture the Milky Way over the moai. Unfortunately, almost every night was either raining or cloud-covered. This one shoot was the only time we had clear skies… and then only for about 10 minutes before it clouded over again.
We have mixed feelings about the weather in Easter Island. We can count on the weather changing every hour, so we were warned to always wear layers and to be patient. We would wait for the right forecast for clear night only to get clouded over a half hour later, then a howling wind would start or a squall would past over. Such is the beauty and mystery surrounding Rapa Nui.
The people were genuinely nice, speaking a blend of Spanish and Polynesian language, and always with a friendly tone ready to help at any time. People are always smiling. Businesses open after 10 AM, take off during lunch, then reopen after 3 PM. Eating out is expensive here, since everything is shipped from the mainland, yet we found some favorite restaurants — Mamma Nui for pizza and Tataku Vave for seafood. We loved staying for a week in our cabin by the sea, listening to the waves crashing every night, watching the skies change every hour. The cabin was constructed for little people, as Burt hit is head on the beams every night, yet the location was easily walkable into town.
A little known factoid: Easter Island is called that because a Dutch explorer, Jacob Roggeveen, encountered it on Easter Sunday (April 5) in 1722.The island is called Isla de Pascua in Spanish and Rapa Nui by the Polynesians.