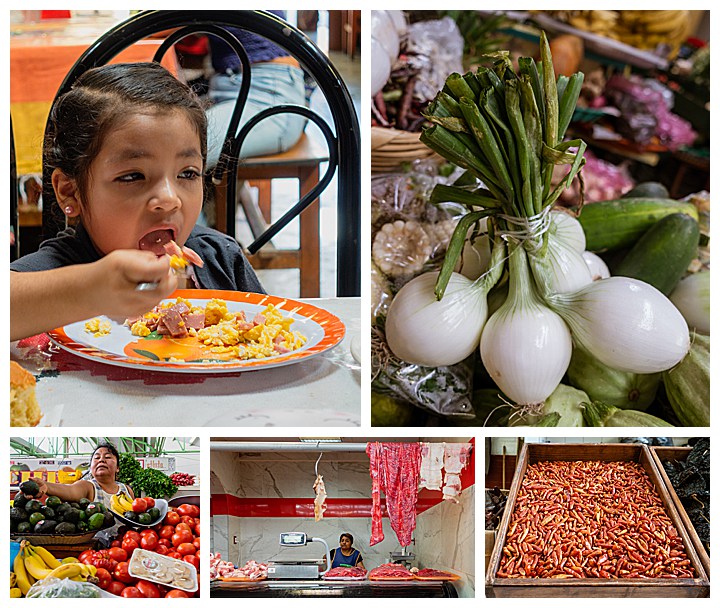 This is only the second time we have visited Oaxaca, recognized by UNESCO as a World Heritage Site. Oaxaca is also known for the best food in Mexico, along with its vibrant arts and crafts. We first visited Oaxaca almost 40 years ago, and were eager to see the changes.
We frequently take "walking tours" when first visiting new cities. These are tours that have become popular in recent years, where guides lead groups around town, showing guests a blend of landmarks and places they may not have gone to on their own. Plus they share stories or history from a local's perspective, and hope for a tip at the end for payment. The tour is technically free, in that no fee is charged up front, and you may pay whatever you feel is appropriate.
We started our first full day in Oaxaca by having breakfast at the Mercado Sanchez Pascuas one block from the AirBnb where we are staying. It is much like our mercados in Cuenca, except there is no hornado here (the baked pig that is so delicious in Ecuador). The green onions here are huge (upper-right), and they sell dried grasshoppers (lower-right) for snacking or adding to meals.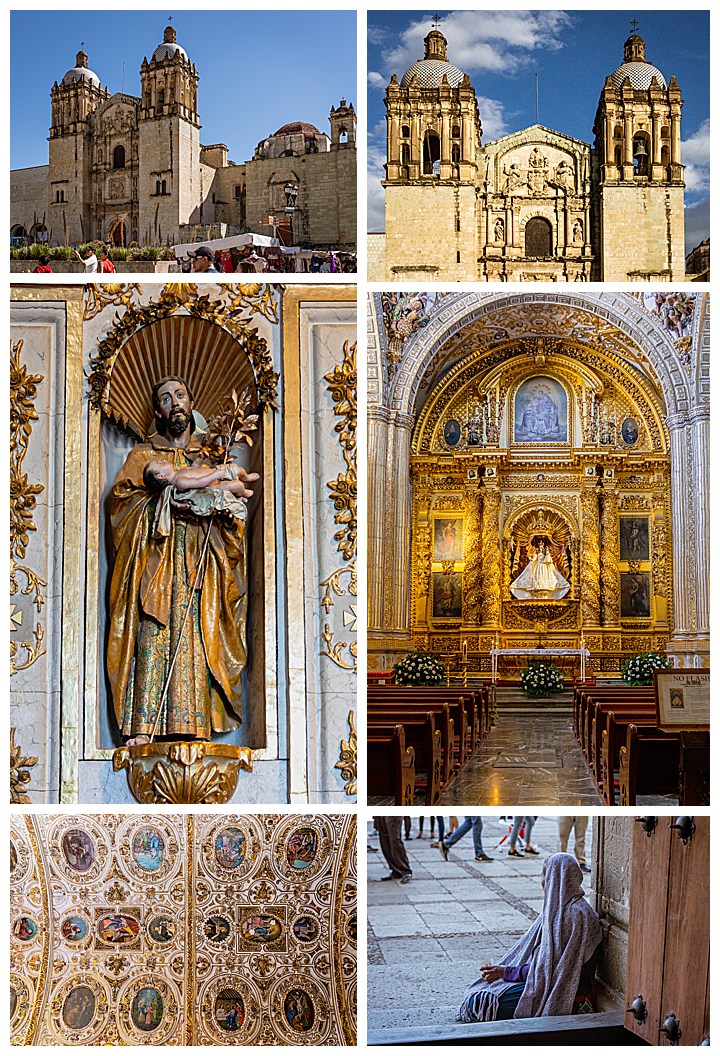 We have had very excellent tours in places like Buenos Aires, where the guide had a sense of humor and timing and could keep your attention through fascinating stories. At the other end of the spectrum was Venice, where we walked out without paying anything in the middle, after repeatedly telling the guide she could not be heard.
The guide here in Oaxaca was somewhere in between. Miriam was pleasant, but her recitation of history sounded like it was being read from a history book. Nevertheless, we were able to get a sense of how the downtown was laid out, and where some of the key landmarks and markets were.
We started at the Templo Santo Domingo, which is considered by many to be the most beautiful church in South America due to the extensive gold leaf used. This baroque style church is located right in the downtown area, shown above, and it is common to see weddings, parades, fireworks starting here.
Our guide (Miriam, upper-right) introduced us around El Centro, where we saw the stamp museum, a graphics art museum belonging to an famous print maker who recently passed, located where the ancient aqueduct is (center), walked us along Macedonia Alcalá which is now a pedestrian-only street, took us to an organic market and experienced the many brightly colored facades (upper-left).  There were occasional remnants of the Día de los Muertos festival (lower-left) from a couple weeks ago. A side benefit was an introduction to a pharmacy where the physician provides a free medical exam before issuing the prescription (Farmacias del Ahorro).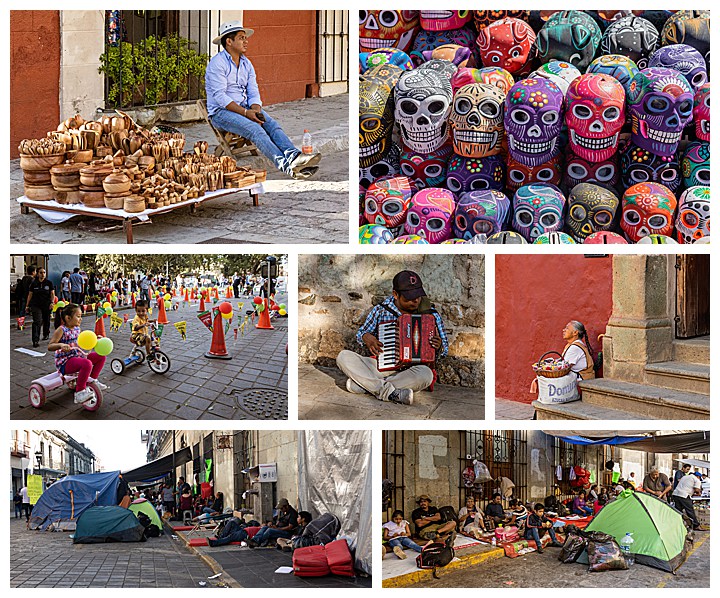 After we left the official tour, we continued to walk around town on our own. On the Zócalo (main center square, equivalent to Parque Calderón in Cuenca), we found a small driving course set up for young children to ride tricycles. The course was complete with street signs, traffic signs, and police teaching the children the rules of the road. Everyone seemed to be having a grand time, even though most of the time the children were ignoring the police and were instead racing and bumping into each other. Seems to me like they were training to be normal Cuenca drivers! ☺
At another part of the Zócalo, we found tents and people sleeping on the sidewalk (bottom row). At first, I thought these might be homeless, but we later learned they are teachers protesting low salaries, lack of adequate classroom equipment, and demanding a new primary school in a neighboring village. We found that these protests have been going on every year since 2006, which was the only year in which things got violent and bloody. I have not been able to discover if these annual teacher protests have actually made any changes or not. The protests are so prevalent though, that there is a cell phone app to help motorists navigate away from traffic jams caused by protester's blocking various roads.