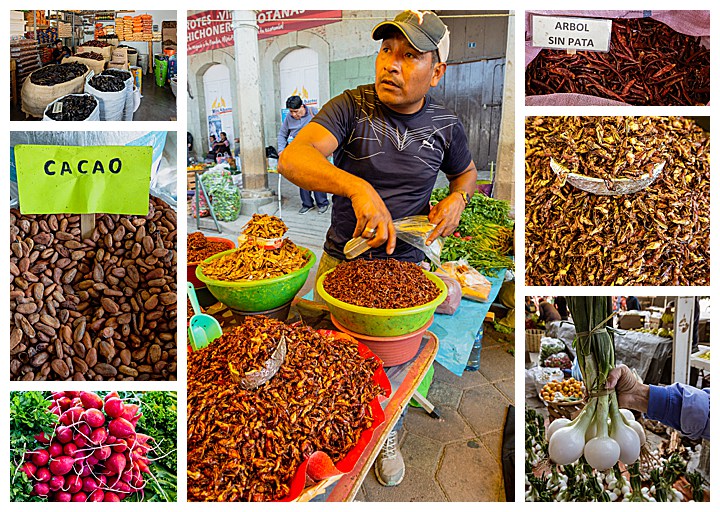 We attended two different cooking schools while in Oaxaca, both recommended by our AirBnb host. The first was Seasons of My Heart, founded by Susana Trilling who starred in a 13-part PBS Series on the Oaxacan culinary experience and authored a book, both by the same name. This class was held in Villa de Etla, a small town about a half hour drive outside Oaxaca. Etla is also where 90% of the potable water serving Oaxaca City comes from. We started with a tour of the largest mercado in Etla, shopping for ingredients, and sampling grasshoppers and various types of tamales. We were joined by a couple from the Netherlands, Rose and Flo, a gourmet chef.
In many ways, this mercado reminded us of Feria Libre, the largest market in Cuenca. There were some differences though. For example, there were many vendors selling dried grasshoppers (center and right-center), which are added as a spice to food, or just eaten directly as a snack. Also, there were far more types of chilis available here (upper-left and upper-right), as Oaxacan food is heavy on the chili. The green onions in the market are also the largest I have ever seen (lower-right).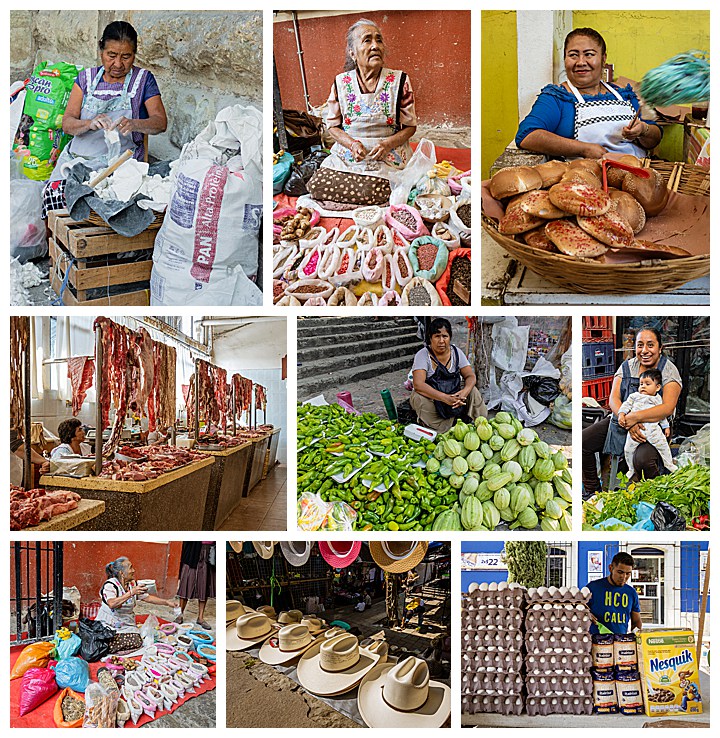 We continued to wander through the market for a couple hours. Another item I found unique was the sale of limestone (upper-left). Women would grind the stone into powder, and then bag it for sale to cooks. The powder is added to dough, allowing the tortillas to be cooked crispy.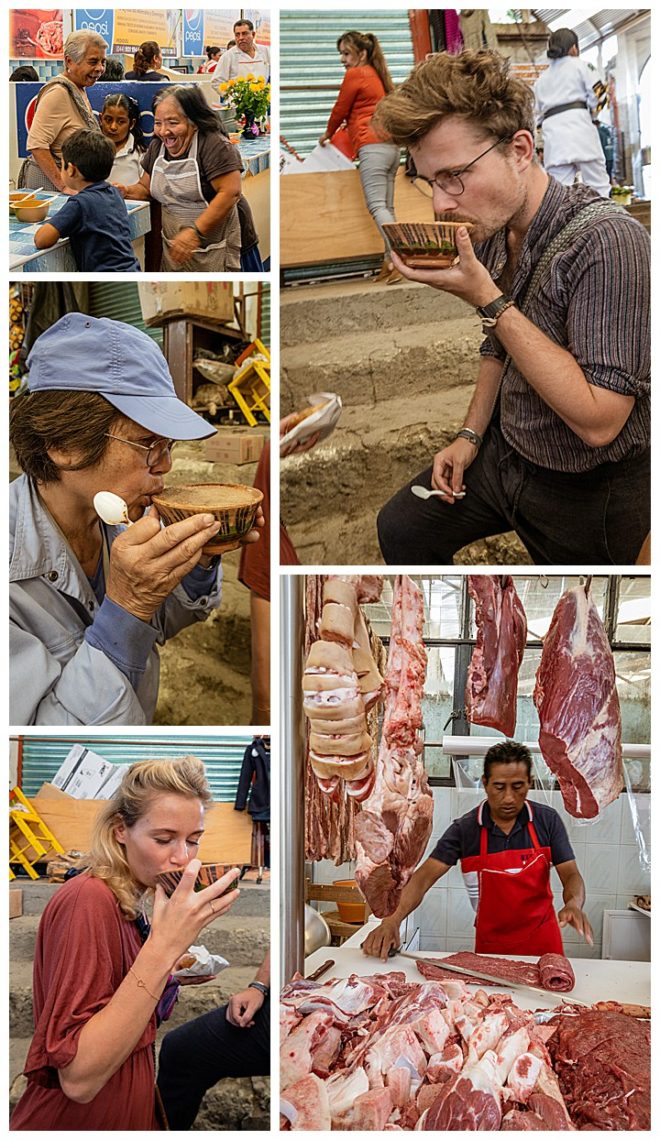 A favorite drink in the Oaxacan markets and street vendors is a drink with a vaguely chocolate taste called Tejate. Each vendor has their own secret recipe passed on through generations. We each had a gourd of the drink during our market tour. Our companions are seen above (Rose in lower-left and Flo in upper-right, while Evelyn drinks middle-left).
Our next stop was at the school, where the cooking class would be held. Our class was lead by Yolanda (center), who started with a short lecture on the meals we would be making, and the ingredients involved. All ingredients were pre-measured, so we only had to mix at the proper times, while adding the proper heat and/or stirring.
Evelyn made our salad and salad dressing, both of which were excellent.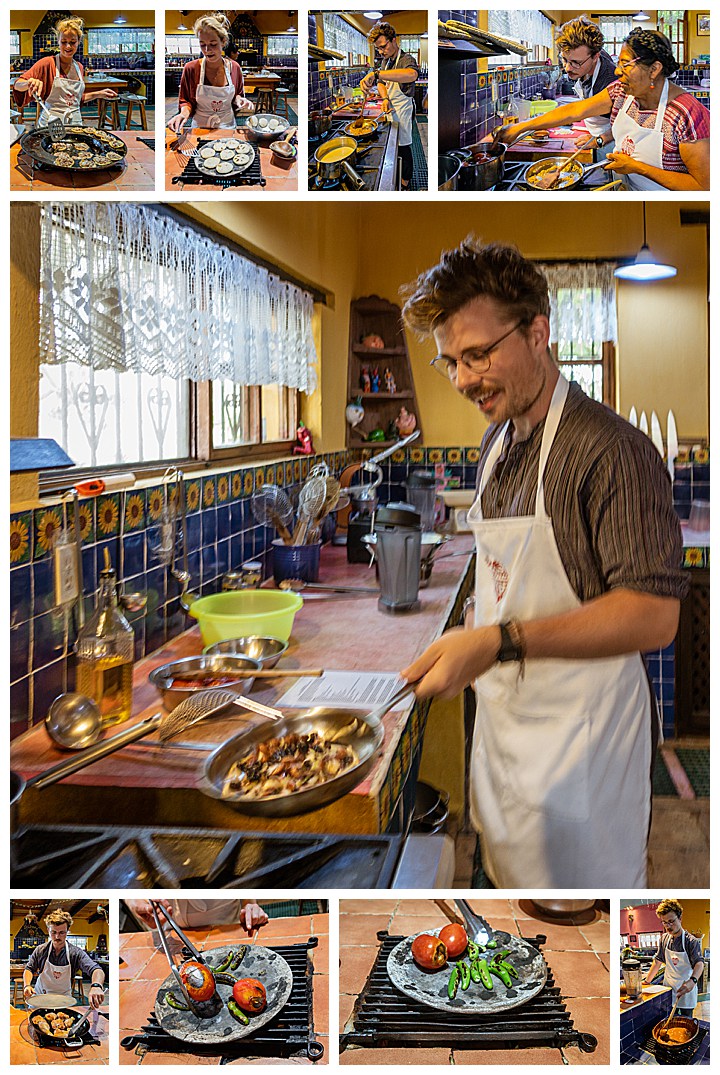 Other courses included chicken (center), a soup made from squash flowers, a salad, roasted tomatoes and chilis, moles, tostadas, curries, and a bread pudding for dessert.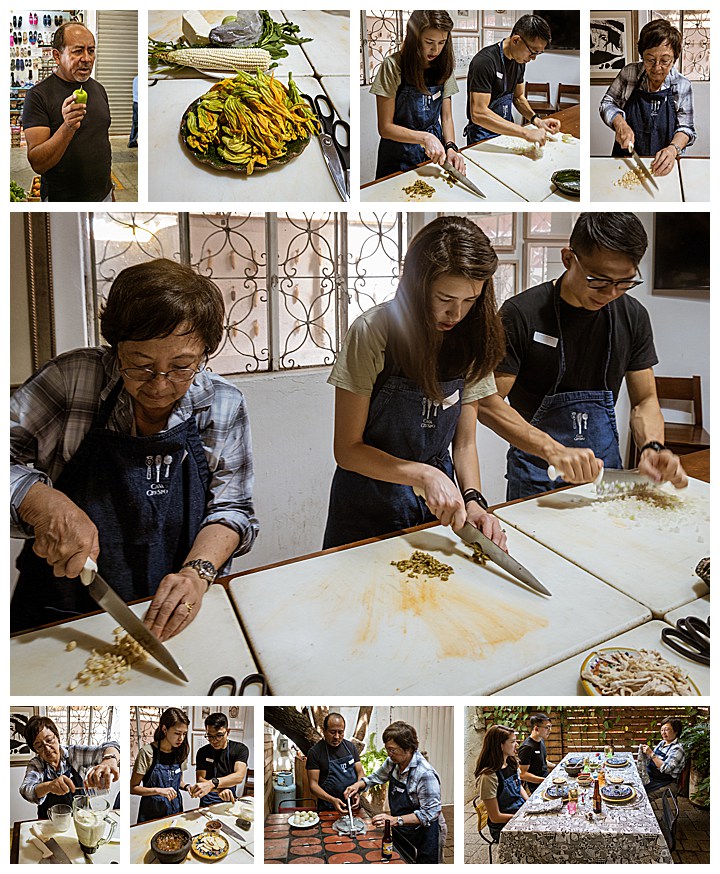 A couple days later, we attended the Cooking School at Casa Crespo Restaurant in Oaxaca. This day also began with a quick tour of a mercado, though it was the same Mercado Sanchez Pascuas near our AirBnb that we had already visited multiple times on our own. Our maestro, Oscar Carrizosa, showed us stores that specialized in making tortillas, where many people would bring their flour and these specialists would blend the dough accordingly.
Oscar allowed us to choose what meals we would make. He asked our favorite foods, and then created a menu around those. That was a very nice and unique touch, as every cooking class we have ever taken in the past has always taught a preset menu. A couple from New York, Elizabeth and Jonathan joined us for this class. For our menu, we made several moles, shrimp appetizer, seafood soup, enchiladas, chili relleno, corn masa, and finished with avocado ice cream.
The kitchen was not as grand as the Seasons of the Heart kitchen, but we each got involved with preparing all the ingredients, and took part in the cooking.
At the end of each class, we were provided with recipes for the courses we had cooked. Though the Seasons menu was more elaborate, the Crespo menu has far more choices that I have set aside to make for guests once we get home. Since I consider that to be the ultimate achievement of any cooking class, I have to give the nod to Crespo as being the more successful for us.