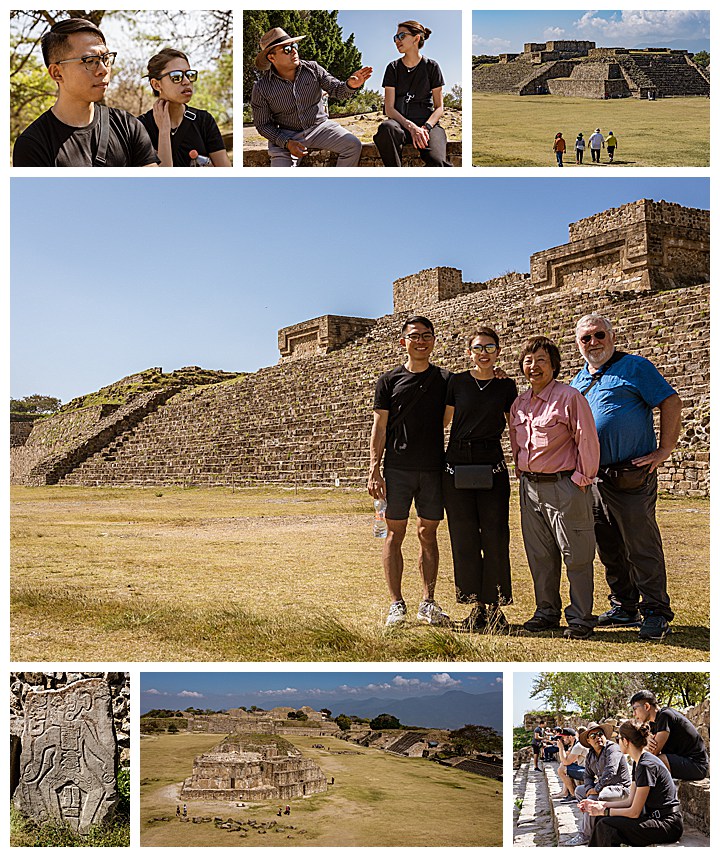 Today we took a private tour with our Crespo cooking school friends, Elizabeth and Jonathan from New York. This was a chance to see some of the major archaeological ruins and villages outside of Oaxaca. We hired Zapotec Tours to set up the trip, though our guide was actually an independent contractor, Gabriel Sanchez Garcia, a history buff who did an outstanding job of sharing history lessons of pre-USA Texas (and Monte Albán) plus showing us around the ruin. He turns out to be quite a success story. He was taken in at an early age by Mrs. Brown, an elementary school teacher, then graduated from a Texas university in history, and returned to Oaxaca to lead tours. Fluent in French, Spanish and English, he is enthusiastic and loves sharing stories of the history of his indigenous ancestry and country.
We had the option of a group tour with 8 others, but instead decided to take a private tour with only Elizabeth (upper-left, top-left listening to Gabriel, and center with us) and Jonathan (upper-left, and center with us), who we met yesterday at the Crespo cooking class. They were excellent traveling companions, and this allowed us more flexibility on where we went and how much time we spent.
Our first stop was a few hours at Monte Albán, a pre-Colombian ruin that was the pre-eminent Zapotecan center of culture for more than 1000 years. The site sits upon an artificially leveled ridge (think of the massive effort to level an entire mountain top more than two thousand years ago!), and covers an area as far as the eye can see. There are hundreds of unearthed terraces here, with evidence of significant cosmological knowledge of solstices, equinoxes, etc. We were told that there is only one other ruin built on a hilltop in North America, Machu Picchu.
We also visited Dona Rosa black clay pottery factory in San Bartolo Coyotepec. Dona Rosa discovered a way to make the clay black and shiny after firing, which created new markets for the pottery from this village.
Here you can see a 15-minute production of a clay pot reduced to 2-1/2 minutes. It is interesting to note that the potters here do not use a pottery wheel of any kind. Instead, they use two bowls, with the bottom one inverted. The bowls are then spun on each other to give the effect of a manual potter's wheel. You can see them in the thumbnail above, and well as see the process in action in parts of the video.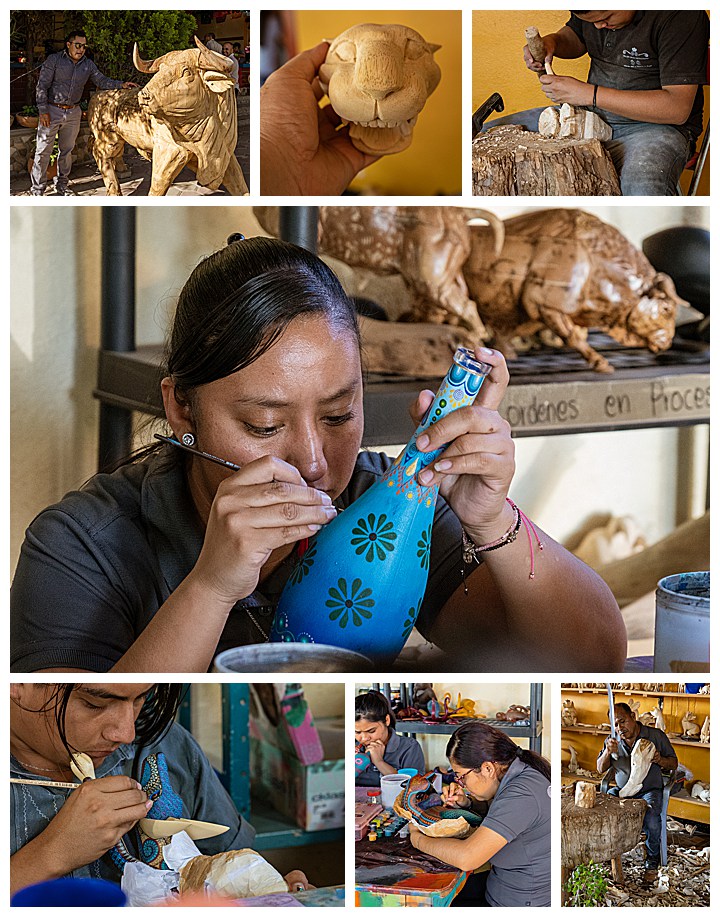 Our other stop was in San Martin Ticajete, at a Alebrije workshop. These are also called "fantastic figures." Originally they were indeed fantastic, with three-headed dragons and similar creatures. Over time though, they found that exotic versions of more standard animals sold better, and that is what is produced here now.
We were shown the entire process from carving out of branches (creatures are carved from both hard and soft woods), the drying stage, filling in the cracks phase, painting, then varnishing. Some of these carvings take several months to complete.
Artisans start here as young as 9 years old, practicing on some simpler pieces that are then sold for lower prices. After four or five years, the artist can advance to Master ranking, where they work on the more sophisticated pieces, and the work sells for very high prices.
Here are a few of the finished pieces for sale. These have been produced by Master craftsmen, and the more detailed pieces, such as the rabbit center, sells for more than USD $100.