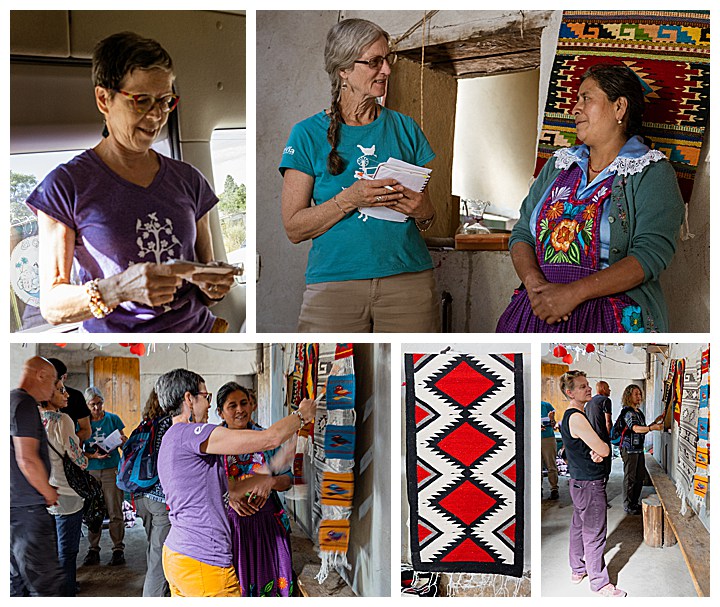 We took a tour today with Fundación En Via, a charity empowering women in Oaxaca to improve their livelihood. They provide tools and interest free micro loans to women in 6 communities surrounding Oaxaca, helping them start and grow their business. While we drove to the first small town, Villa Diaz Ordaz, the spokesperson told us about the history, philosophy and techniques used by En Via.
We were led by two women volunteers on this trip. Kara was our community and history guide, while Karen was our translator. We were provided information on the organization's budget, including the fact that 1200 pesos, or $60, from the day's tour receipts pay for the van and driver, while the remainder (about 6000 pesos, or $300 USD from the entire busload) went towards running the organization and provided the funds for the micro loans.
To qualify for a micro-loan, the women must form teams of three. They are not business partners, but rather form a peer group to help each other succeed through the program. These women must then complete a prerequisite series of eight business classes. All three women must complete all eight classes, which are usually completed within a four-week period. This is where the peer group starts to have an effect, since if any one of the three fails to complete the classes, then none of the women in that team will receive their loan. Payback has been 99% and generally paid off within 12 weeks.
We met with six women, from two teams that had recently paid off their loans. The first was a weaver shown above. She told her story about how the en via loan had changed her life, and enabled her to buy the needed materials to make her tapestries. She has been with en via now for 10 years, through multiple loan cycles.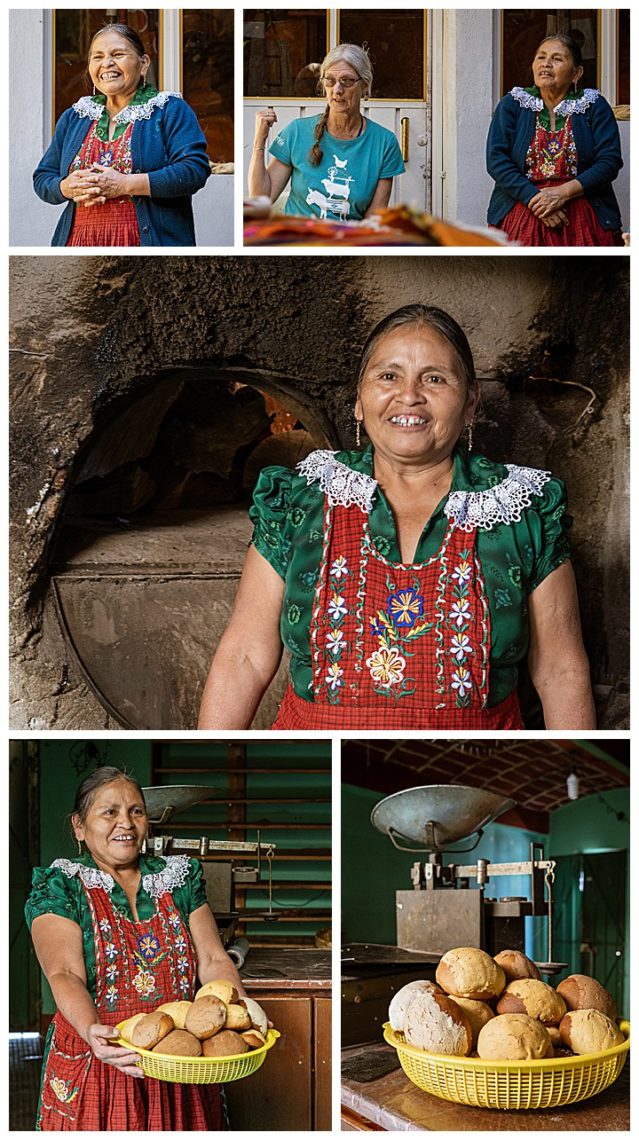 We were told about the business concepts taught in this series of classes, and we were quite impressed. They basically get the guts of the MBA program we required 16 months to complete, and they get it in two weeks.  Such things as separating business money and personal finances; calculating costs and setting prices; how to avoid losing money; managing credit; how to differentiate their business to stand out from the crowd; how and when to buy in bulk for savings vs buying smaller to avoid spoilage; how to market themselves, etc. After the prerequisite 8 classes, there is ongoing continuing education, which many of the women seek.
Our second stop was with a baker from the same three-women team, who used her loan to open a panaderia in her home. She used her loan to build a kitchen. She proudly gave us samples of her bread, which was delicious. She had already sold out her production for today, so there was none for us to buy. She noted that she needs to be careful in how much she makes each day. If she makes too much, then she loses money from waste, but if she does not make enough, then she loses sales to people who will go to her competition.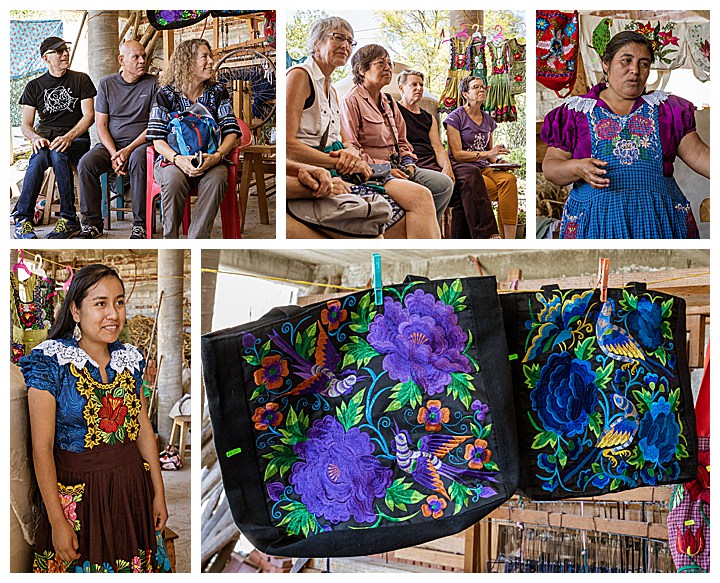 Once the women have completed these business classes, they each receive a loan of 1500 pesos (about $75 USD). They must begin repayment after 2 weeks, and must make a minimum of 20 peso per week (about $1 USD). If any of the women in the team fail to make their payment, then there is a 60 peso penalty ($3 USD) per woman, which encourages them to help each other, and fill in on a payment for one of the team who may be having a hard week.
Our third stop was to meet the last member of the first team. She had originally been a weaver of rugs. With the loan and education she received from en via, she expanded into embroidery, which allows her to differentiate herself from the many other rug weavers in the area.
These loans are made at ZERO percent interest. The loan repayment rate for 2018 was 99%. That is certainly higher than any conventional bank can claim, despite these loans going to women with no credit history, no collateral, and no formal business training prior to joining the program.
After lunch, we visited a second town, Teotitlán del Valle, and another team of three women who had recently successfully paid off their loan. Our first stop was with a weaver of rugs. She did tell us that she is having a difficult time financially, as there are more rug weavers than the current market can support. Regardless, she gave a fascinating presentation of her business, including showing how she grinds various bugs and minerals to produce the dyes for her wool.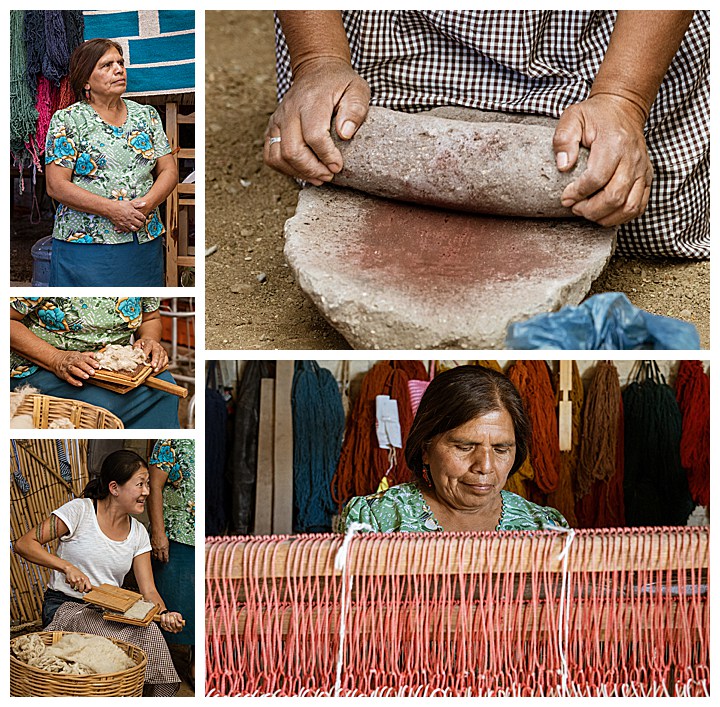 Once a woman and her team has paid off their initial loan, they are eligible for another loan. The women may choose to keep their team together, or shift and join other successful women in new teams. While the initial loan was for 1500 pesos, the second loan is for 2500 pesos ($125 USD). After that has been paid in full, the women are eligible for 3500 peso, then 4500, 5500, 6500, and finally a maximum loan of 7500 peso ($375 USD).
Our second stop of the afternoon was with another woman weaver. Her loan allowed her to make arrangements with sheep farmers in a nearby community, so she can buy the wool directly and save money. That requires more work, since she takes the raw wool and must first card it (middle-left). One of the women taking the tour with us took a turn with carding (lower-left), and found it much harder than it looked! She also showed us how she grinds natural colors (upper-right), and how she works her loom (lower-right).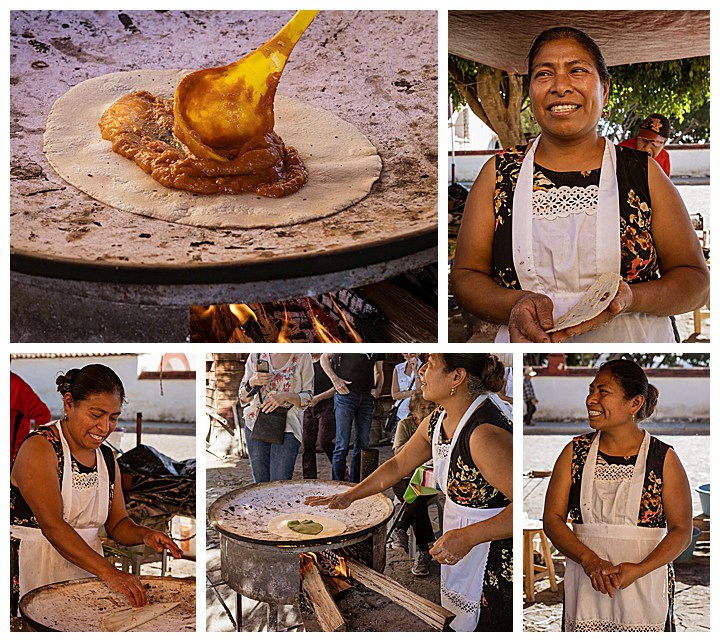 Many of the women we have met on this tour have been with En Via for up to 10 years now, each time using their new loan to expand their businesses further. Other than the one weaver who seems to having a difficult time financially, the others all seemed very hopeful about the future that en via has helped them create.
Our last stop was with a food vendor, who has set up an outdoor stand next to a church and mercado. Instead of competing with other weavers, her first purchase was to buy plates, utensils and glasses. As she made her presentation to us, there were several people around her table enjoying her food, and commenting on how good it was. She then proceeded to make a quesadilla, which she gave each of us to sample.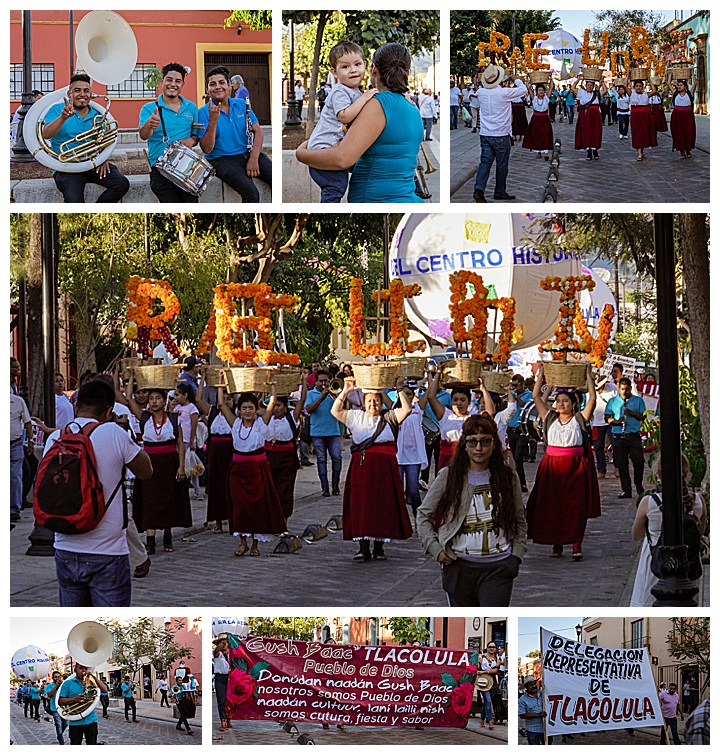 After we were dropped off back at the En Via offices, we walked home. Along the way, we came across a small parade. This was another teacher protest, demanding another primary school in Tlacolula, as well as more equipment and better facilities in general.
We have heard of micro-finance operations before, usually associated with Africa. This is the first one we have been able to observe directly. We saw first-hand the impact these micro loans have made on the women and their families. Not only the money itself, but the education and ongoing support provided.
If you wish to help these women out, please visit their web site at envia.org and either donate or, if you are local, consider volunteering.
We were told that this En Via Tour and the Mezcal Educational Tour (which we will describe tomorrow) were the top two tours in Oaxaca. We have to agree that this tour was well run and allowed us to visit homes of the entrepreneurs.