We flew from Hanoi to Hue last night, and were met by Lan, our final Vietnam guide. The Gerbera Hue hotel was rated 4 star, but felt more like 5 star, and had a river front view. One surprising feature was the shower, which had a large glass window separating it from the bedroom, giving me have a nice view while Evelyn showered… 🙂
We were two blocks from a large city lake, and right in the downtown area, perfect for evening strolling. Unfortunately, we arrived nearly at midnight and had an early morning start, so we went right to bed. Checked out the next morning, so we really didn't get as much time here as we would have preferred — one of the hazards of trying to fit two countries into three weeks.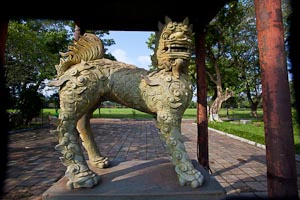 This morning Lan took us to The Citadel first. Lan has no photographic experience, but was a quick study in what kinds of things we wanted to see. She is also quite beautiful and not camera shy. It was only after I got home and reviewed the photos that I realized I had not used her as a model as much as I should have.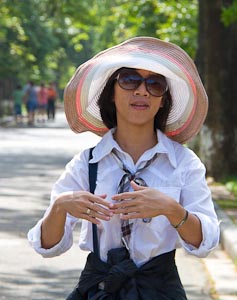 Hue is in Central Vietnam, but was south of the DMZ during the war. After Hanoi, it felt positively quiet. The incessant beep, beep, beep of Hanoi had been left behind. The scooters were still everywhere, but they were not honking incessantly. When I commented to Lan about entire families riding on a single bike, she explained that it was legal for kids under 5 to be on the bike with their parents without a helmet. That 5 y/o age limit is surely flouted, but seeing up to 5 people on a single scooter was always an amazing sight.
In the afternoon we drove to Hoi An, where we would spend the next few days. Enroute, we passed through Danang. We had asked earlier where Dog Patch and the CAP school had been — both of which figured large in the Vietnam war (or, as they call it, the American war).
Both those locations had been completely obliterated though. There was a monster Crown Plaza resort there, as well as a Hyatt, a Greg Norman golf course, casinos and other chain golf resorts. Only the American airstrip remained, behind a high fence. We were told that land had been purchased recently by Korean developers and construction will soon begin on yet another golf resort there.
When we arrived in Hoi An, we saw a small demonstration of rice farming done by a wizened old woman of 90. She went around the display showing how the rice was planted, harvested, processed, etc using "the old ways." It's the kind of show I normally sneer at, but it was oddly interesting. It was also apparently this woman's sole income.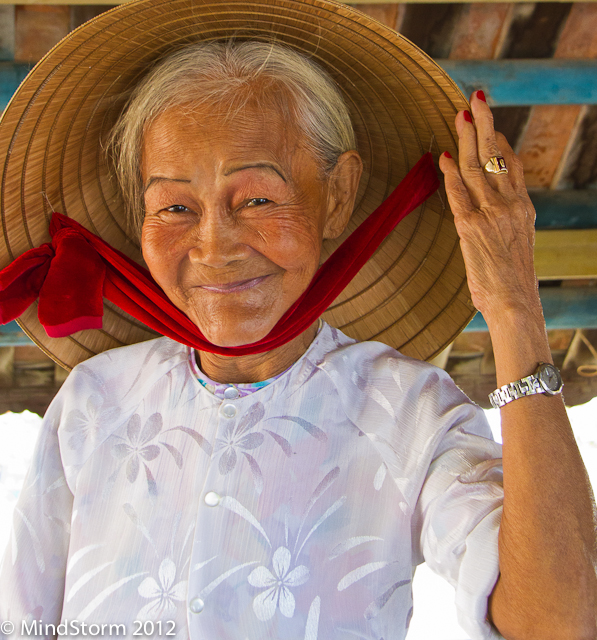 We were taken to a very nice restaurant for dinner, but it was much too loud for our tastes. We were not able to hear instructions from Lan and, once she saw this, immediately arranged for us to move to a different table. The restaurant set up a table on the patio for us, which was perfect in the warm evening. It was only later that we realized the table had been set up just for us, and that they normally do not even serve out there. That was typical of the type of service and instant response we saw throughout South Vietnam.