Saturday, Oct 29
We took a predawn flight from Danang to Saigon (now called Hoi Chi Mihn City, but I still find Saigon rolls off the tongue better), then a quick tour of the Chinese wholesale market. We have been to local markets around the world, and seen wholesale food and flower markets before, but this dry goods market was unique to our experience.
Rows and rows of hats in one stall, motorcycle helmets in another, and shoes in another.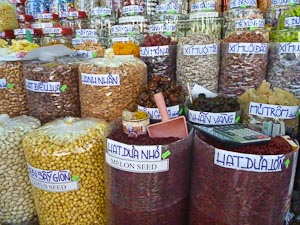 We saw Doc Martin shoes there. Or rather knock-offs of Doc Martin. While the real thing might cost $100 per pair, here they could be had for as little as $10 per dozen…!
Our earlier Saigon hotel now provided a day room for us to shower and rest for a bit before our flight. This was very welcome, as we were about to change from the tropics to San Francisco and needed to shift our luggage and attire accordingly.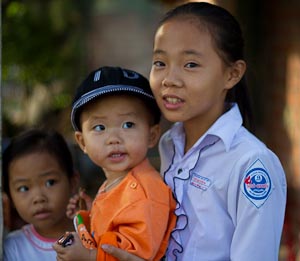 The flight home started near midnight, and took 24 hours, including a 9 hour layover in Seoul, Korea. The leg from Saigon to Seoul was crowded, cramped, and had no entertainment system to speak of. 5 hours of reading and waiting…
While in Seoul, we paid for the use of an airline lounge, which made it a lot more comfortable. Buffet meals, along with beer, wine, ice cream, and just about anything else you would want were included in the lounge.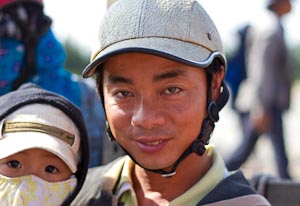 We also had internet access, so I was able to catch up on some of these blog postings during that interlude.
A British couple sat near us, and we started talking. Turns out his wife is from Borneo, and they had just come back from a semi-annual trip there for a month. After talking to him, we had all but decided that Borneo may be our next major trip destination. We still need to do a bit more research before finalizing those plans, but you may see us writing from Borneo in 2012.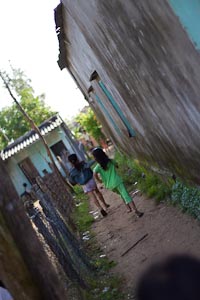 On the 13 hour flight from Seoul to San Francisco, we sat next to a Vietnam War vet who was returning from two weeks in Vietnam. He told us he was traveling with a friend that had been shot down during the war, and had reconnected with the North Vietnamese pilot that had shot him down, and they had written a book together. Made for some interesting conversation.
When we asked him about Danang, and Dog Patch plus CAP, he also said they were long gone and well forgotten. No trace of them remained, and no Vietnamese wanted to remember those places.
The Asiana inflight entertainment included a screen on the seat in front of us, with a list of a dozen on-demand movies. By the end of the flight, I had knocked 5 movies off my Netflix DVD list and had very sore red eyes.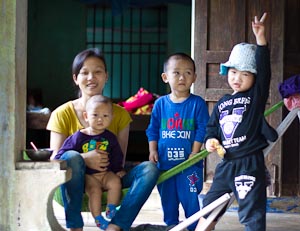 We finally made it home, unpacked, caught up on the mountain of mail (most of it junk that got tossed without opening), and generally settled back in. The next day I went shopping at the local grocery store, and almost went into shock!
After three weeks of walking around where everyone was thin, and round bodies were nearly unheard of, I was suddenly back in the land of Super Size Me. I had to do a double-take to realize this was real. Nearly everyone around me was at least double the size of anyone I had seen in the past three weeks.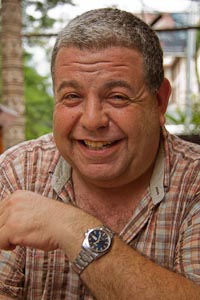 Oh well, America is a big country, after all…
Now I have to get down to editing those 10,107 photographs sitting in my Adobe Lightroom catalog from this trip. That will take awhile yet.