Italy 1 – Toto, I Don't Think We Are in Ecuador Any More!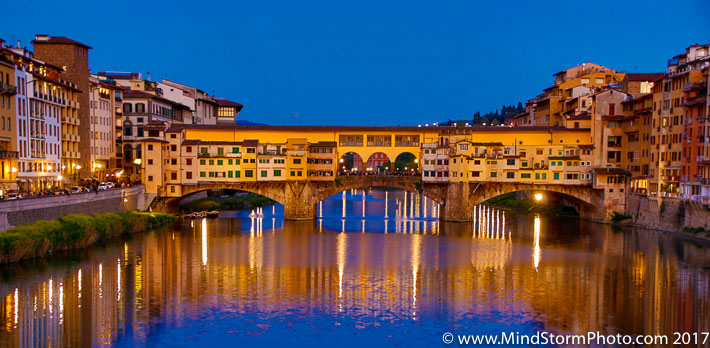 Sunset at Ponte Vecchio bridge in Florence
We began our travels by staying overnight in Madrid for a layover between Ecuador and Italy. After studying Spanish for 3 years in Cuenca, I figured I would be able to communicate in Madrid.  Well... yes and no...  Every time I said anything in Spanish, they looked at me completely blankly.  I then repeated it in English, and every single person understood me fine, and responded back in English!  I also noticed listening to the locals talking among themselves that I did not understand a word they said.  I finally asked a waiter about it, and he said (in perfect English), "you have a strange accent that we cannot understand."  Oh well, so much for learning all that Spanish in Ecuador...English is pretty universal so far.
And then, there are the prices!  At home in Ecuador, we have gotten accustomed to having a decent lunch for $3, maybe $6 if we splurge.  Our first lunch here was $45 for the two of us.  Yikes! Since then, we have discovered that $20 to $35 per person for lunch is the norm.  I turned to Evelyn and said "Toto, we are not in Ecuador any more..."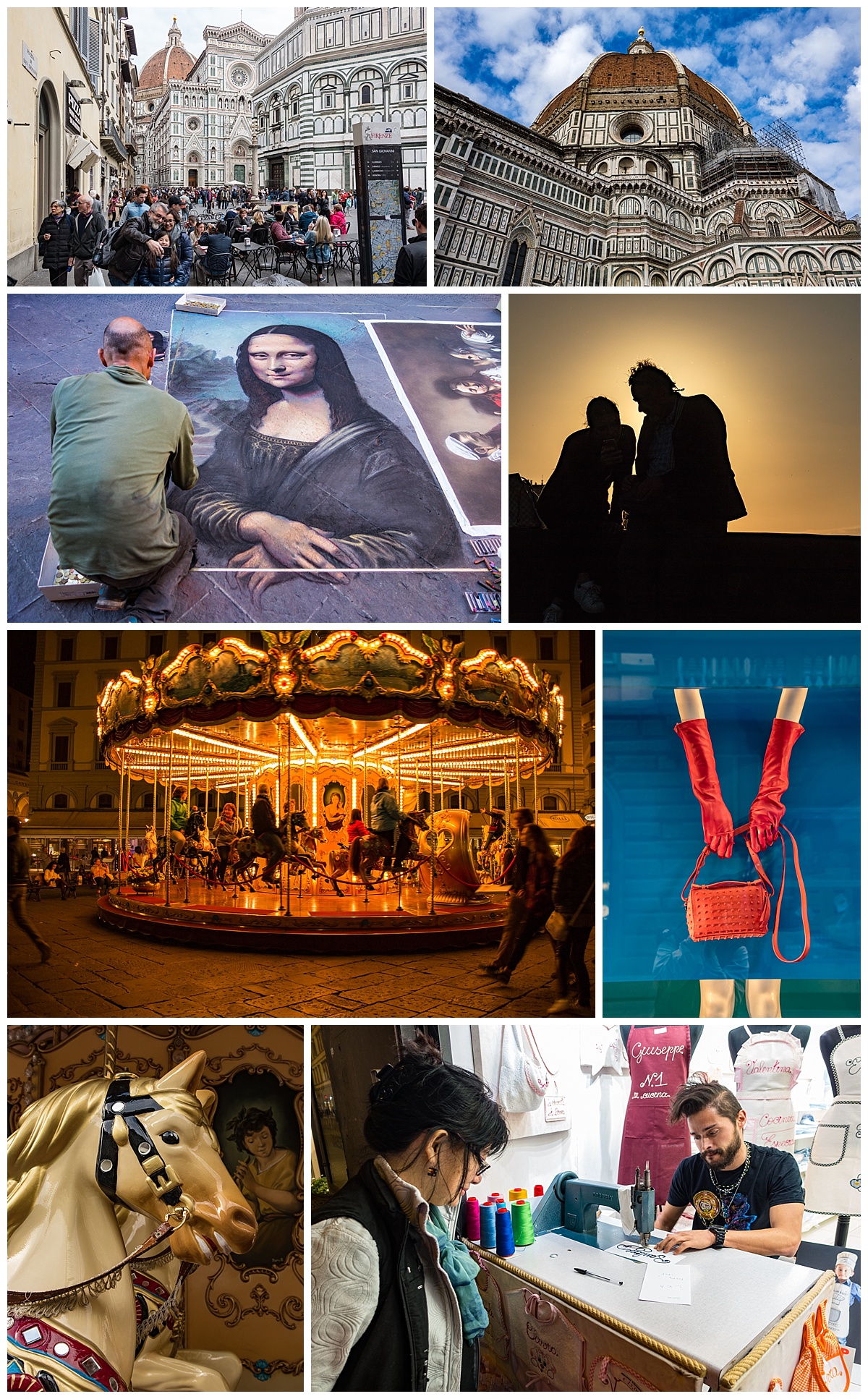 Next, we arrived in Florence, where we stayed for 3 nights. The first thing we could not help notice was the huge number of tourists, and it is only April!  The area around the Duomo was absolutely packed (upper left).  The Duomo itself is a fascinating architectural delight, but the crowds in front meant the only shot really available was looking up (upper right).
Walking around town, we came across some very talented street chalk artists (2nd row left) and very upscale shopping (3rd row right).  As the sun began to lower, lovers on the bridge created interesting silhouettes (2nd row right), and a later visit to the merry go round (lower left 2 images) was mandatory.  Evelyn's sister (Pauline in lower right) joined us a couple days later, when we came across a fascinating tailor that made custom business cards by embroidering the customer's name in a matter of seconds.
Our first night in Florence, we walked to the Ponte Vecchio bridge to photograph sunset.  Almost no clouds resulted in a bland sky, but amplified the blue hour after the sun went down. We were rather happy with our first sunset shots in Italy.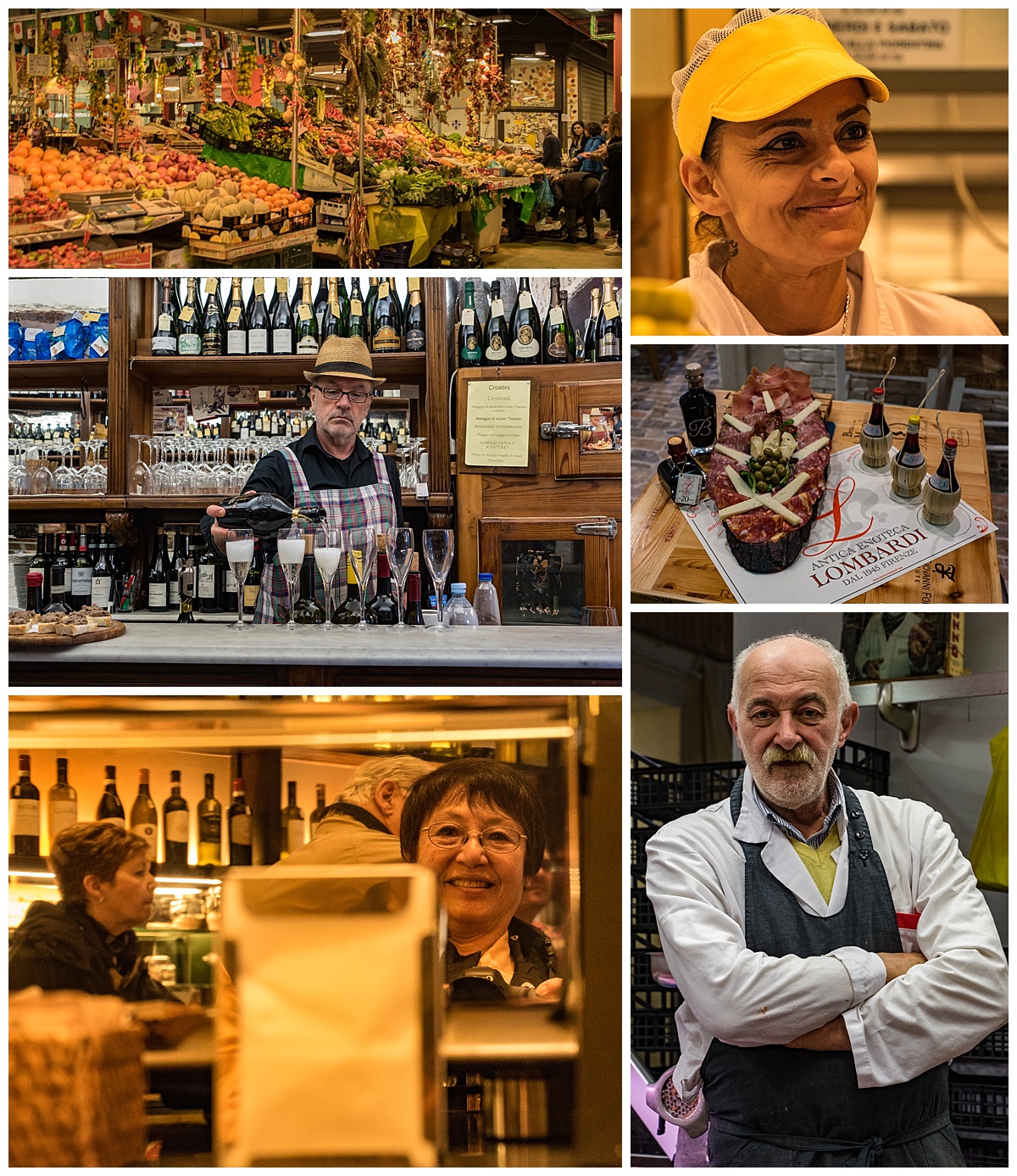 The next morning we got up early for a "food tour" of Florence, which included touring San Lorenzo market.  We made six stops between the first cappuccino (Italian coffee has the consistency and strength of espresso) to the final gelato (a gelato per day is almost an Italian law!).  Very enjoyable way to start our Italian experience.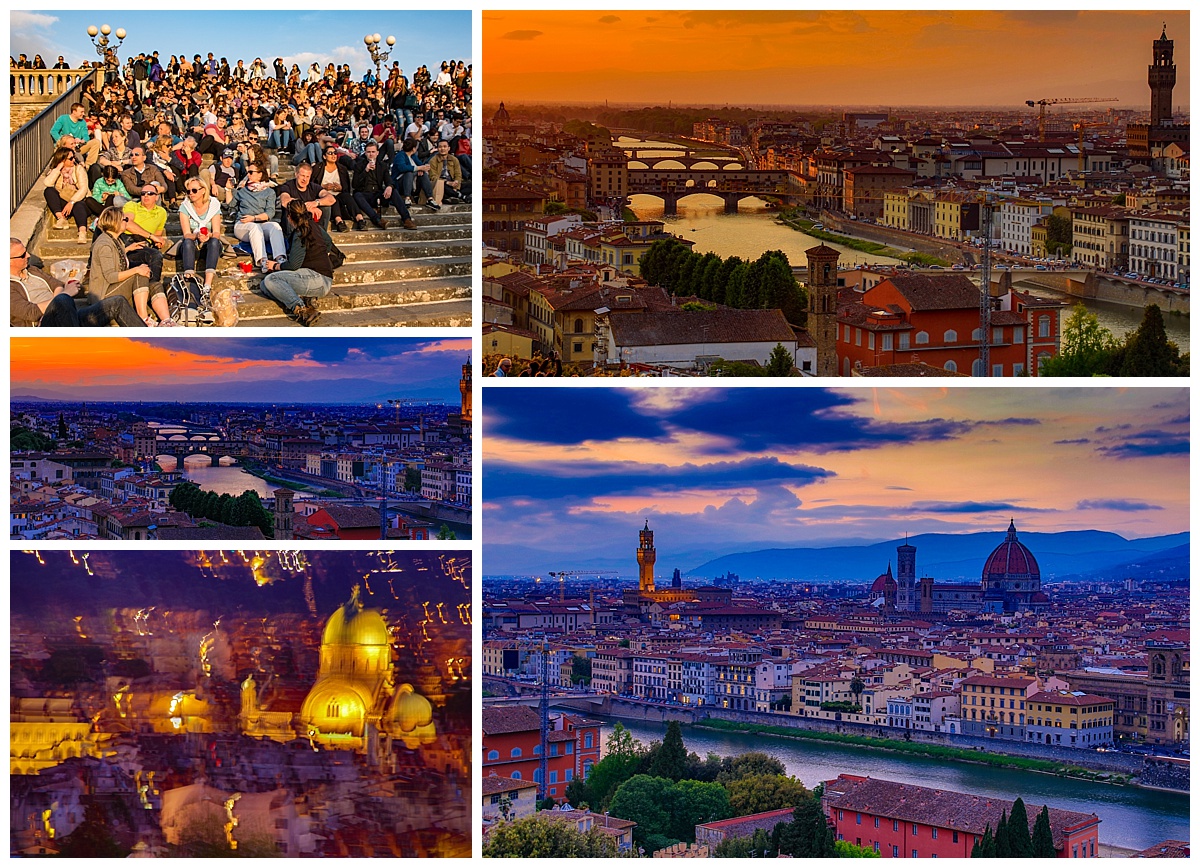 There are two popular places to photograph the sunset in Florence, where we had to compete to get space for our tripods.  Having gone the first night to the bridge, we explored the Michelangelo Plaza at a higher elevation on the second night.  Again, we were astounded by the crowds (upper left).  A few more clouds gave the sky more interest tonight. My tripod got bumped on one shot (lower left), and I think the resulting blur was actually one of the more intriguing images from that night...
After sunset, we went to a steak restaurant that had been recommended by the food tour guide this morning. We had a monster T-Bone steak (3 pounds, about 3 inches thick!).  They showed us a photograph of the type of cow the steak comes from, and I thought they were pulling my leg -- it dwarfed the man standing next to, and was easily 8 feet tall.  I was assured by multiple people that was an honest photo though, and the size of the cow is why the T-Bones are so huge.
Florentine steaks are only cooked one way.  That is, essentially not cooked at all...  That 3" thick steak gets 5 minutes per side, and then put on the platter.  No spices to speak of, and the steak is essentially raw.  To ask for an actual cooked steak is considered an affront to the chef, and our waiter insisted he would refuse such a request -- I never was quite sure if he was joking or not. We have been told repeatedly that was one of the best steaks in town, however not for us. ☹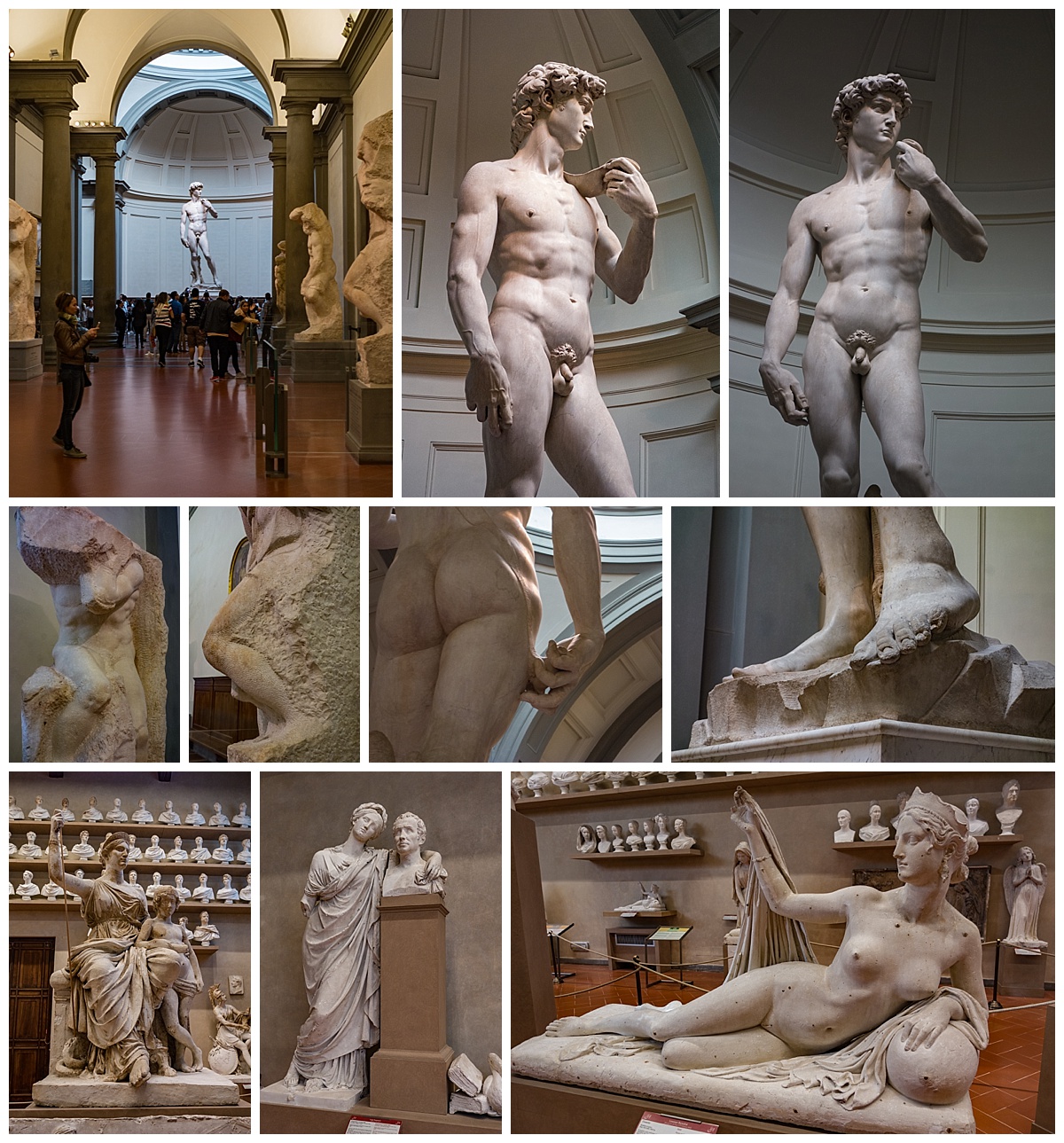 Our third day in Florence was an endurance test. "See all of Florence in one glorious day" touted the advertisement.  3 tours (morning, afternoon, and evening) did let us cover the important museums (the Uffizi and Accademia) and architectural highlights, but it also left our feet worn out after 17,800 steps.  The last tour was to see David, the famous sculpture by Michelangelo.  It is certainly possible to just walk up and see the art on your own, but having an art historian along provided memorable stories and details, helping the chunk of stone come to life.
We learned why there are seven unfinished statues in the hall leading to David (middle, left two) -- they were commissioned by a pope for his mausoleum, but he died before they were done and the next pope said the prior guy did not deserve such grandeur in death, so stopped the work.  Many critics observed that David's proportions seemed a bit off, as his hands and feet appeared too large. However, he was originally designed to rest near the top of the Duomo, and the perspective would have been correct. However, the city leaders decided the quality of the statue was too good to be seen from so far away, so moved David to a location as a sentry at ground level for a number of years, until moved to the museum, where it has remained for the past 4 centuries.  We also learned why parts are so worn (middle right) -- because of centuries of people reaching up and touching the only part they could reach (the toes).   We had an hard time understanding our guide at first, who kept saying "my client" was so great that he even designed the fold in the sling shot holder located on the back of David, even though it was intended to be placed where none of that could be seen. "My client" was actually "Michelangelo", once we understood our guide's accent.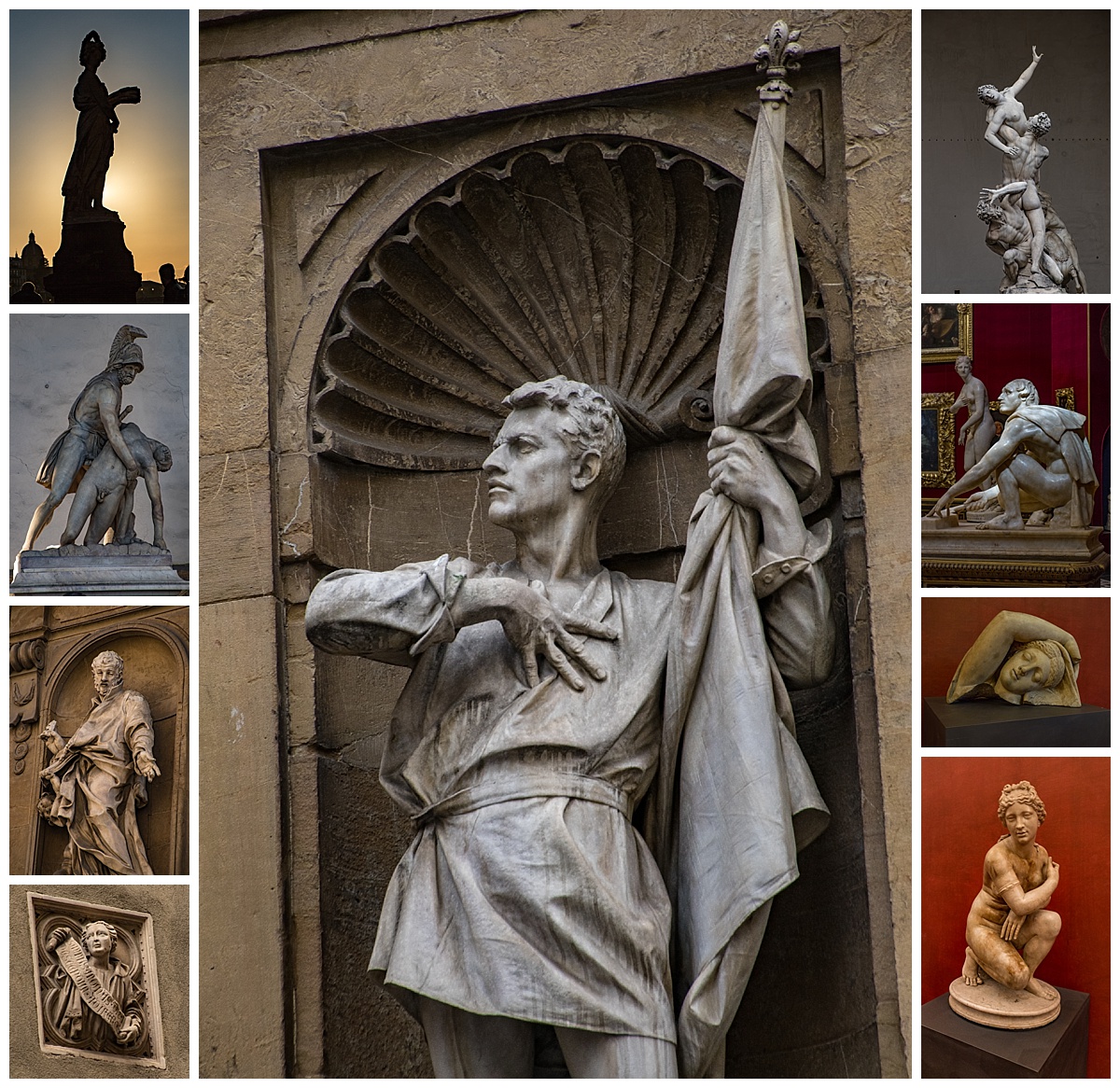 Michelangelo learned his craft from a stone cutting master.  Stone statues abound in the city, at almost every turn.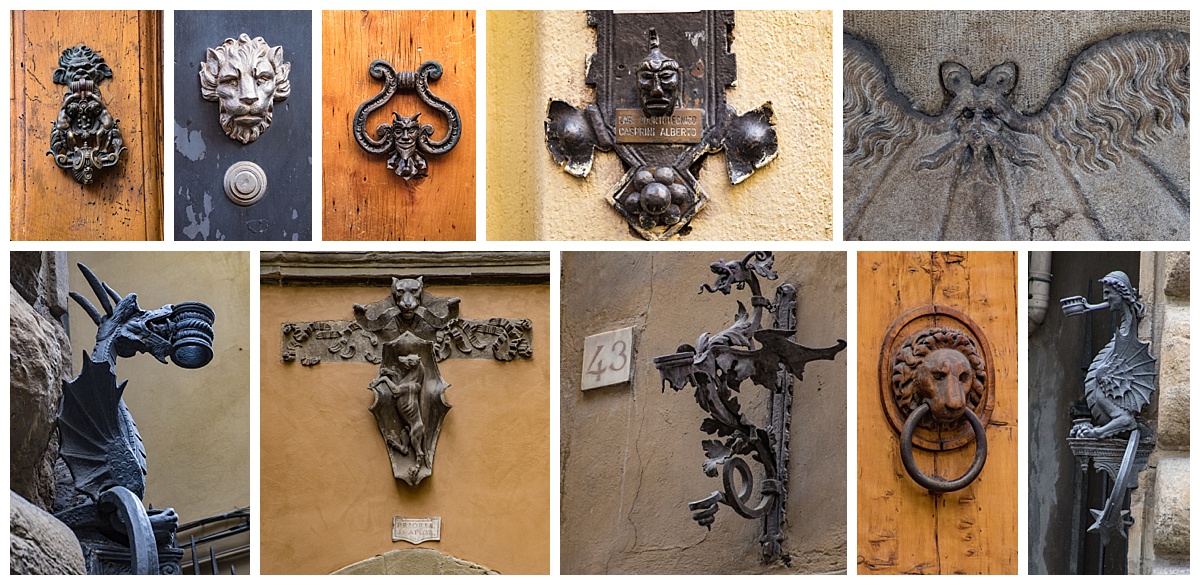 Art is prevalent everywhere in Florence. When you look at the details of the homes as you walk around town, you discover art even in the form of door knockers and address markers.
---
---