Italy 6 – Tuscany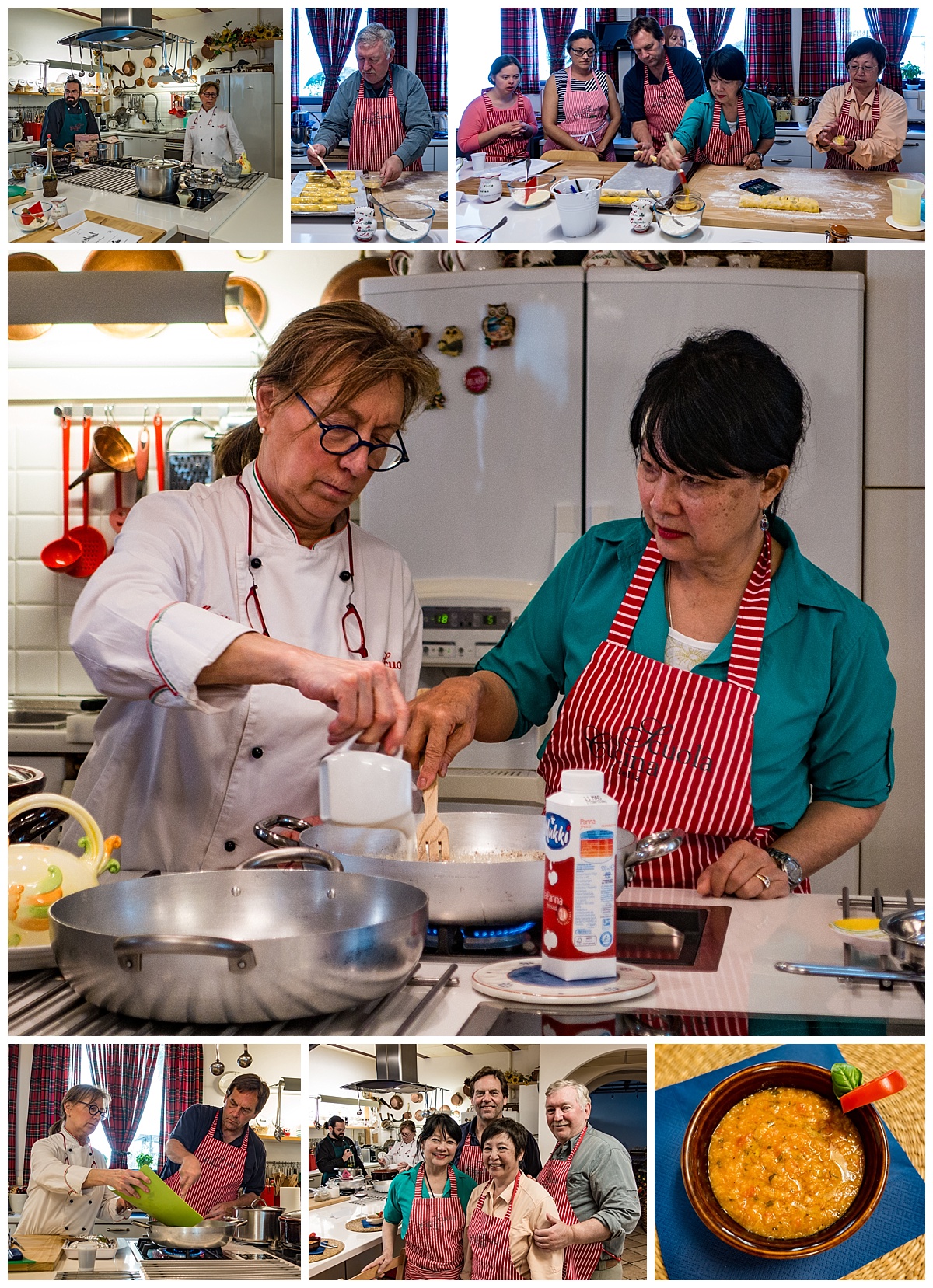 We have just spent several days touring the Tuscany region of Italy, with the medieval town of Siena as our base.  "Sienna" is the color many artists are familiar with. Without a doubt, the highlight of this portion of the trip was the cooking school at La Scuola di Cucina in Siena.  We learned to cook 4 different courses (pici, cinta senese fillet with porcini mushrooms, cantucinni biscuits,and pappa con pomodoro soup, each of which was more delicious than the last.  The instructor, Lella, only spoke Italian, but her instructions were interpreted for us into English.  We ended with several dishes I will try to reproduce when we return home.  Gotta admit though, the the homemade pici (aka fat spaghetti noodles) was delicious, it was a lot of work... ☺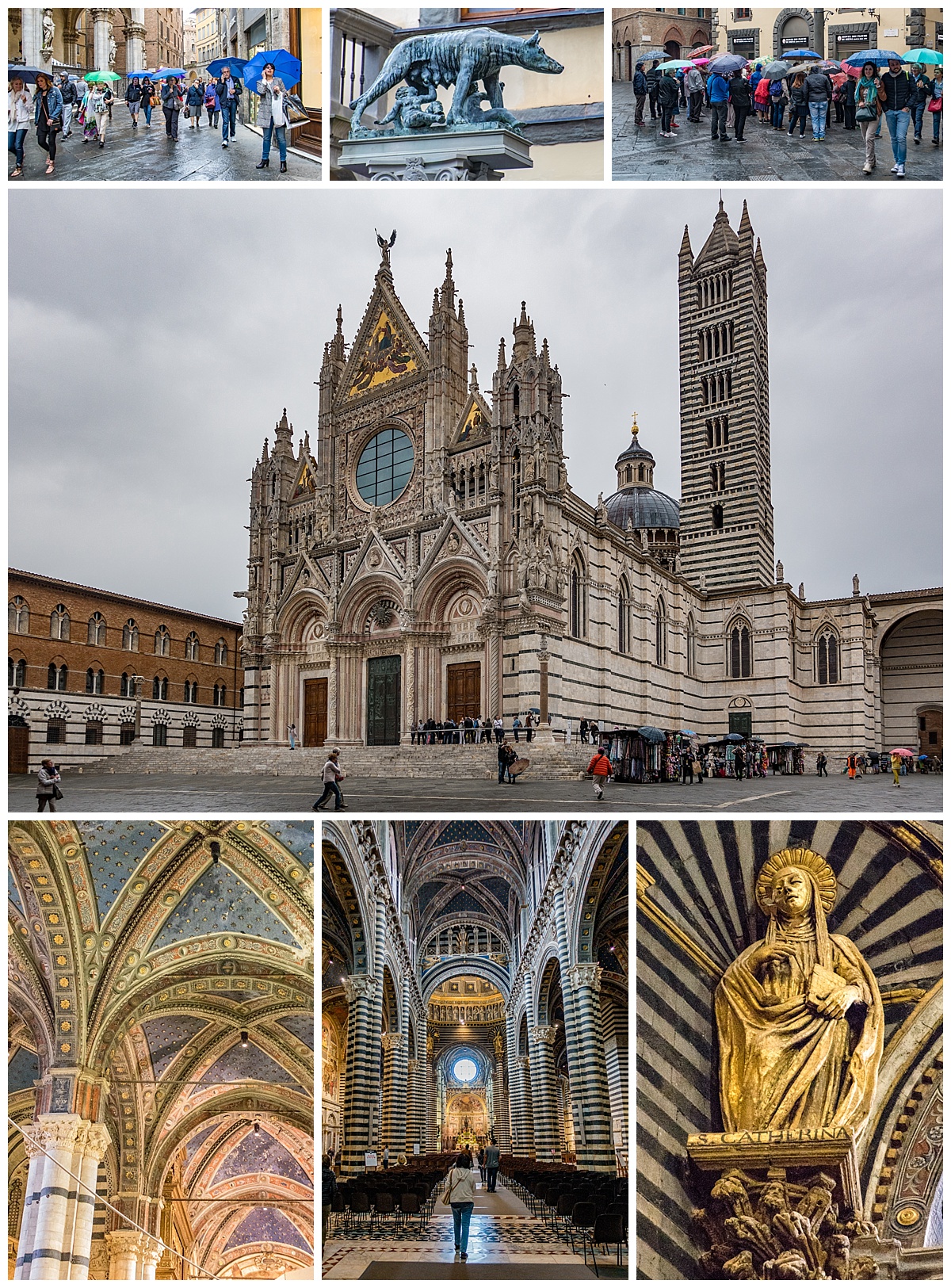 The major landmark in Siena is the monumental Gothic-style Cathedral complex, which includes the Duomo, the Baptistry and the crypt. Statues of she-wolves, a mythical creature, flank the cathedral. What is significant is that this cathedral was built and financed by the people, not the pope. I was amazed at what they could construct with no hydraulic or motorized tools available.
While we toured the Cathedral, Keith and Pauline went truffle hunting.  They found 6 gorgeous black truffles... well, 5 after their lead dog ran off and ate one...We were told that truffle hunters used to hunt with pigs, however stopped this practice as the pigs loved to eat the goodies. ☺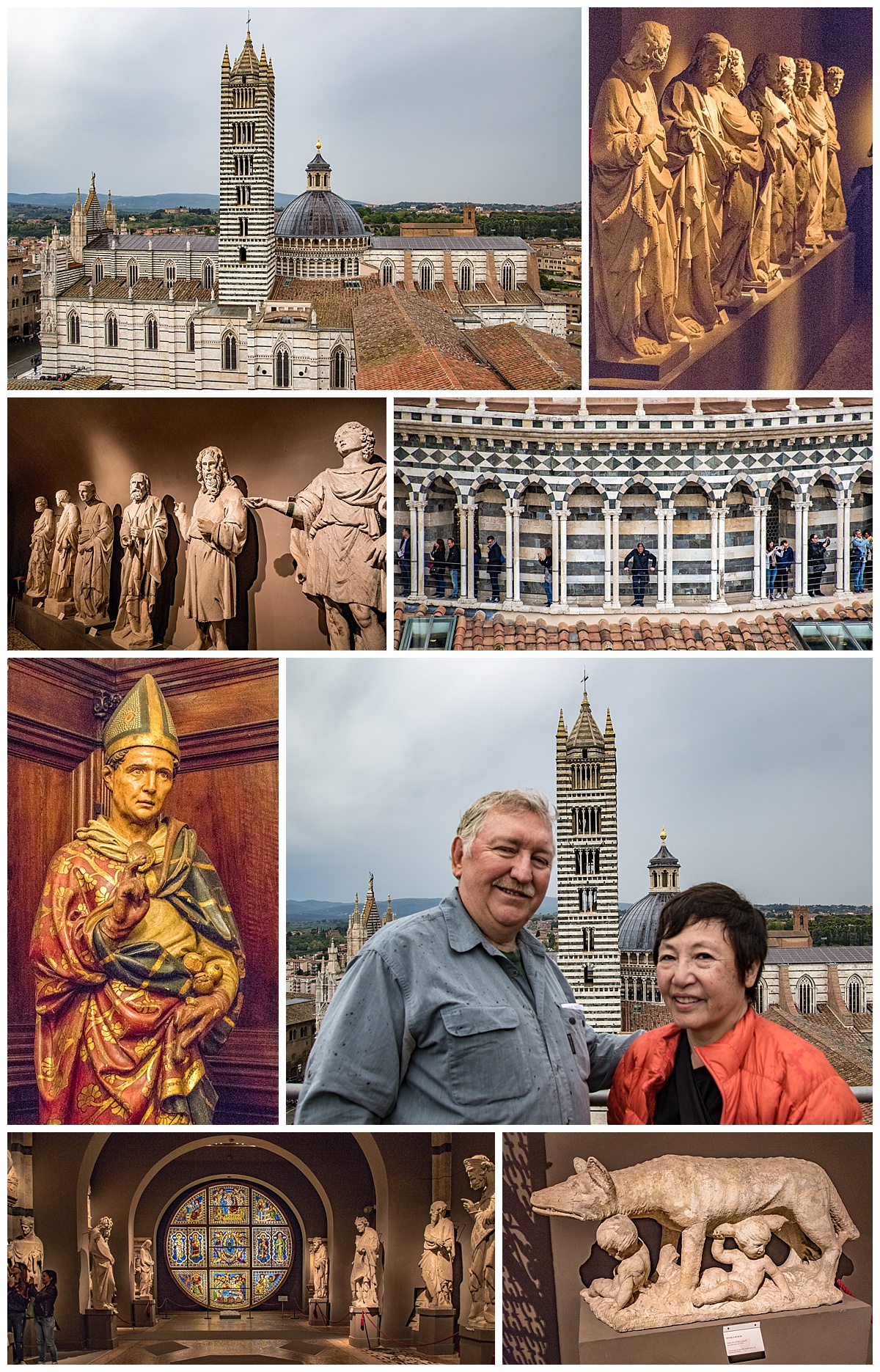 While Keith and Pauline searched for delicious treats, Evelyn and I climbed the tower that was part of the Museo dell'Opera.  The path leads through a crypt with dozens of statues entombed.  We then climbed a narrow winding stairway (one-way only!) to get a 360 degree panoramic view of the city.

Driving around the various hill towns, we came across a granary making pasta (left), and a wine-tasting store with a sophisticated tasting system where you had an opportunity to taste more than 100 different types of wine, charged a few euro for a small pour, before committing to buy an entire bottle.  As with most of Italy, there was not a bad wine in the lot.
While driving around, we visited more tiny village hill towns.  We saw a Roman bath that was no longer in use, and some interesting wire sculptures around the bath and town (center and upper left).  Then, picked a local deli for some yummy treats and "house" wine.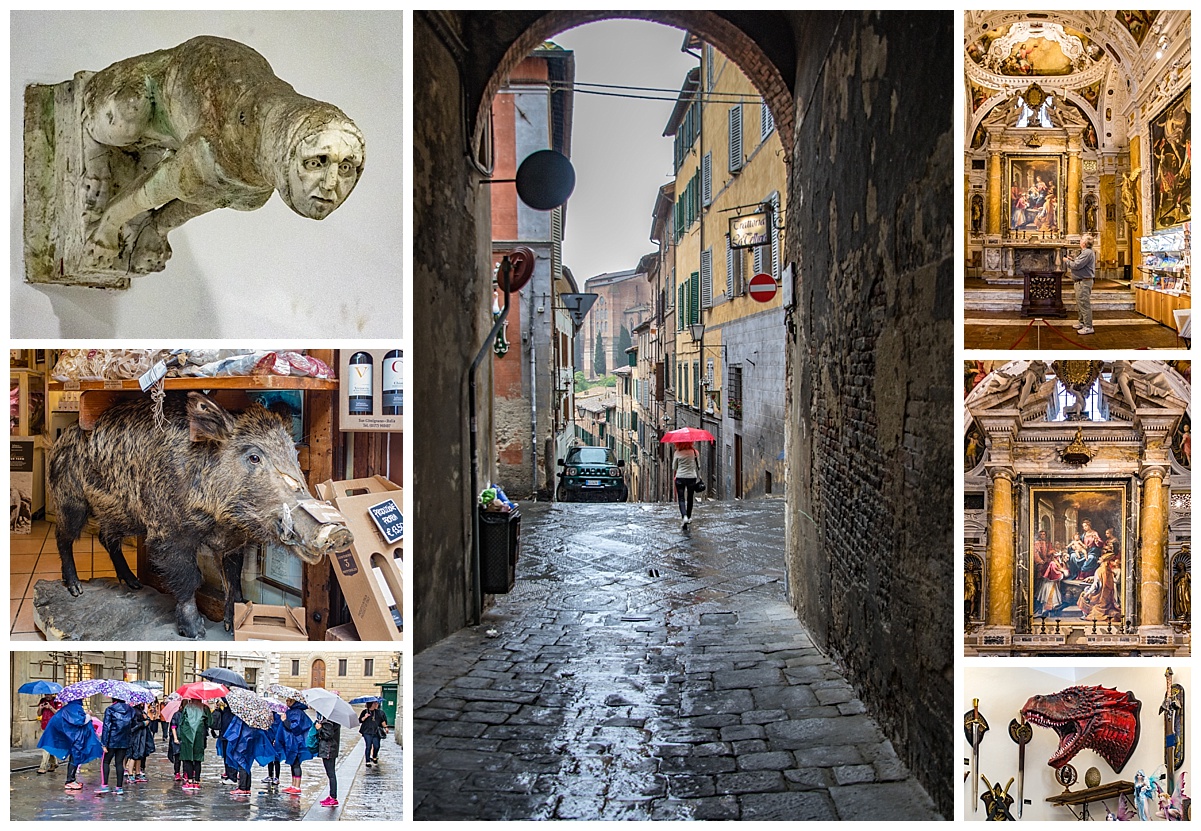 Walking around the various hill towns in the area, all with narrow streets, historic buildings, was a treat, and the persistent rain gave a photographic gleam to the streets. We came across one wall statute that reminded us of Harry Potter's Voldemort (upper left), and another store selling swords and fantasy items, including the mounted head of a dragon (lower right). Even in the rain, tourists were everywhere.
---
---