Italy 7 – Pompeii & Herculaneum
We started today with a guided tour of Pompeii, which is a 45-acre unearthed city. Though the general story of Pompeii is well known, the details are not so much.  The guide provided us with those details of daily life in Pompeii, how the city was one of the leading trading centers, showed us details of the construction, and how various spaces like the spas were used – none of which we would have understood without a guide.
Frescoes and statues survived in surprisingly good condition.  We learned of one pair of slave brothers that were allowed to do small tasks for a wealthy family. Soon they had saved enough to buy their freedom.  They then went on to become one of the wealthiest brothers in Pompeii, and the home they built had the most massive collections of frescoes in the city, including some pornography like the lower right image (the statue right column, third row was in their home's entrance). The guide told us to be sure to also see the "Secret Room" in Naples, which had more such pieces of art.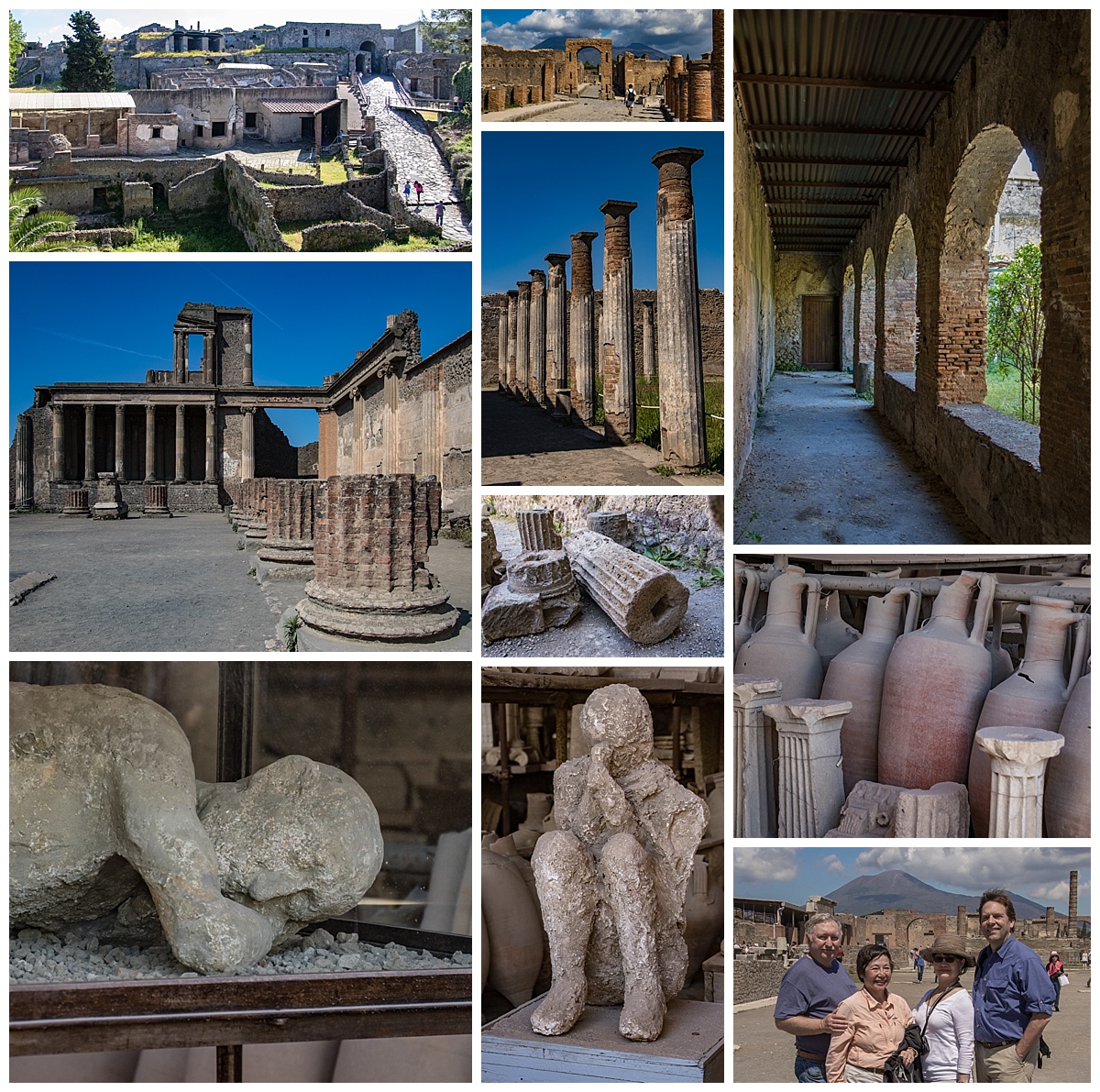 One portion of the city was kept behind bars, so that it cannot be damaged by tourists. That is where the hundreds of recovered wine urns are stored, along with a few of the body casts.  The volcanic pyroclastic blast burned their organic material to dust, as the ash solidified around their form.  When archaeologists reached a human form in their digging, they would pump in plaster to fill the void, then chip away at the pumice.  What was left was a cast of the original person (or animal) in their final pose. Some were praying (center bottom), while others appear have been caught while sleeping (lower left).
Bottom right, of course, is the obligatory shot of the four of us in the main Pompeii plaza with Mt. Vesuvius in the background.  From left to right is Burt, Evelyn Pauline and Keith (the "birthday boy" that was the trigger for our all traveling to Italy).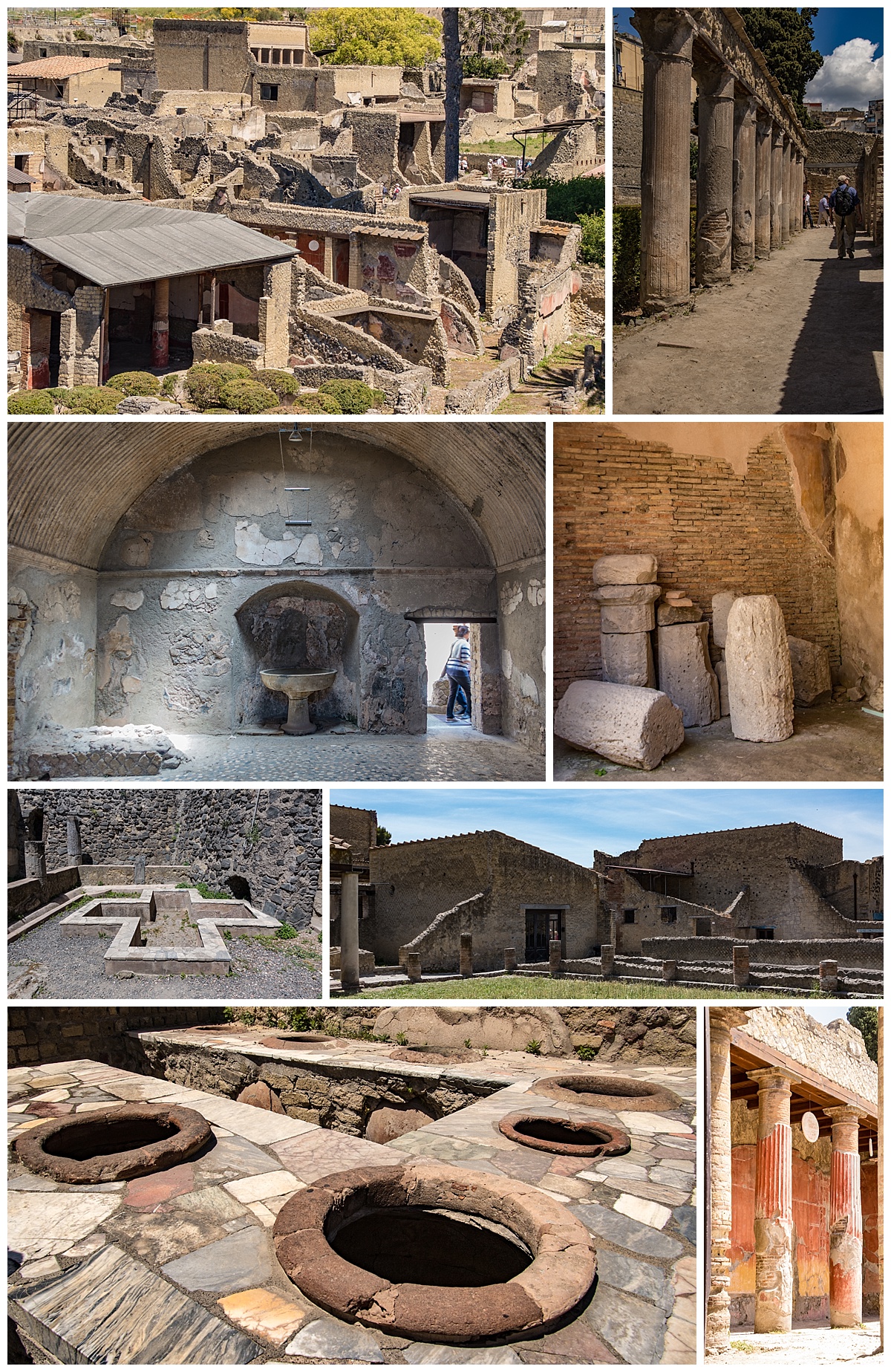 We toured the 5-acre ruins in Herculaneum on our own.  The two cities were only 18 km apart, so there were many similarities, and indeed Herculaneum was destroyed in the same blast in 79AD.  This city had an estimated population of 4,000, compared to the larger Pompeii of 13,000. Many of the roofs and structures were better preserved than at Pompeii.
When Pompeii was destroyed, there were an estimated 75 legal brothels, and 40 bars, all serving those 13,000 people -- clearly a city that liked to party!  Lower left image above shows one of the bars in Herculaneum that was uncovered, showing terra cotta bowls that would contain soup or wine in one of the bars.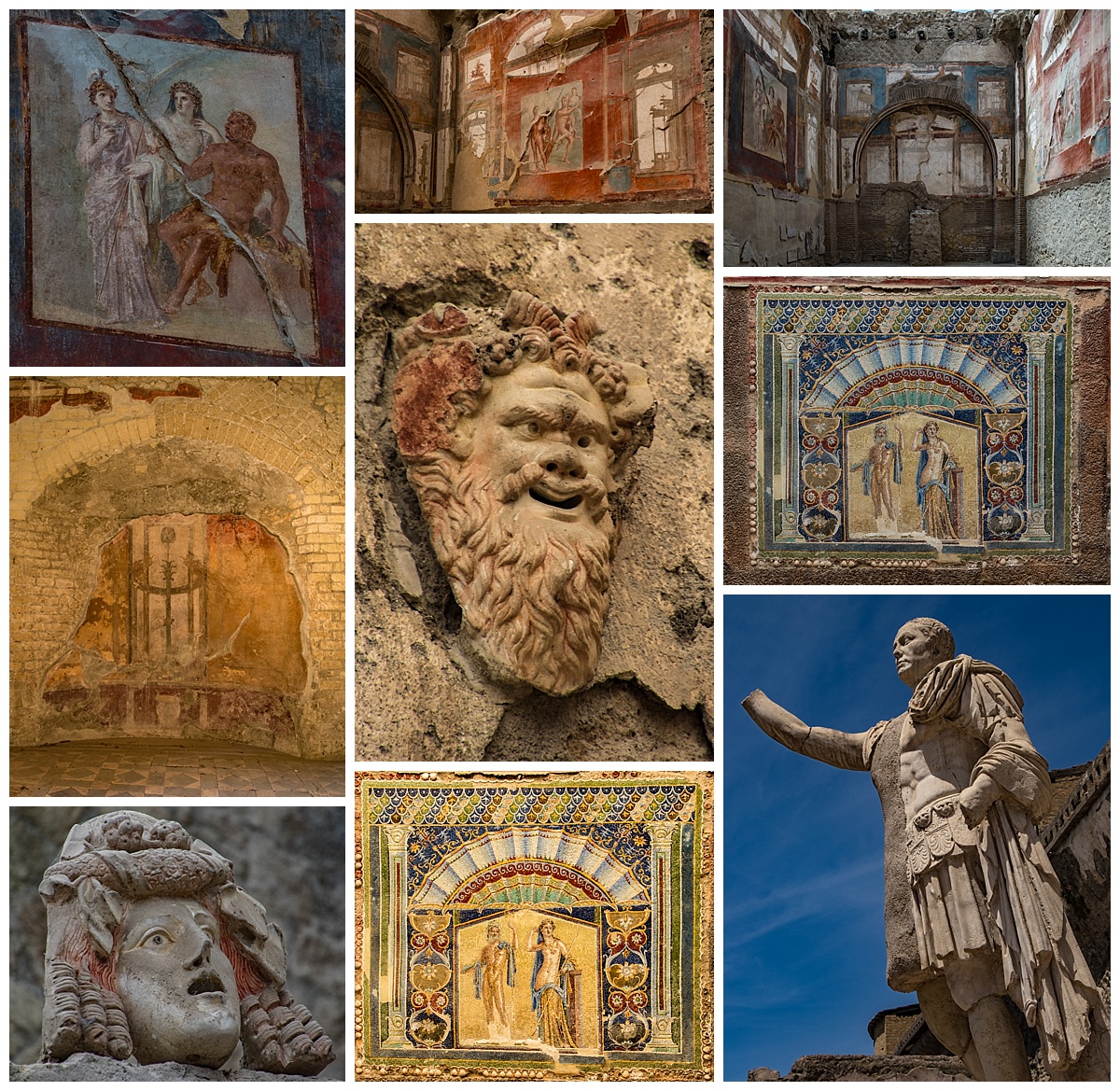 Statues, tiled floors and frescoes also survived in surprisingly good condition, after being covered by volcanic ash and pumice for two millennia prior to excavation. Many of the originals were shipped to the Archaeological Museum in Naples. Sometimes replicas were put in their place for display here, while other times gaps in frescoes or floors existed, where the original had been removed.
Although the population of Herculaneum was 4,000 at the time of eruption, only approximately 200 people died in this city.  It appears that most managed to get onto boats and escape to the sea, even though lava was upon the city within 8 minutes.  When archaeologists first uncovered the city, it was believed that everyone had survived, since no bodies were found.  However, later excavations found 200 skeletons, all crowded in boat sheds at the water's edge.  These are believed to be people that arrived too late to catch the last boats, or perhaps were poorer people not allowed to board.  They all died pretty much instantly as the the pyroclastic blast covered them.
On a last note, we found that Herculaneum to be less inundated with large tour groups, so we felt less rushed.  As such, this was a more pleasant ruin to visit.
---
---