Armenia 4 – Dilijan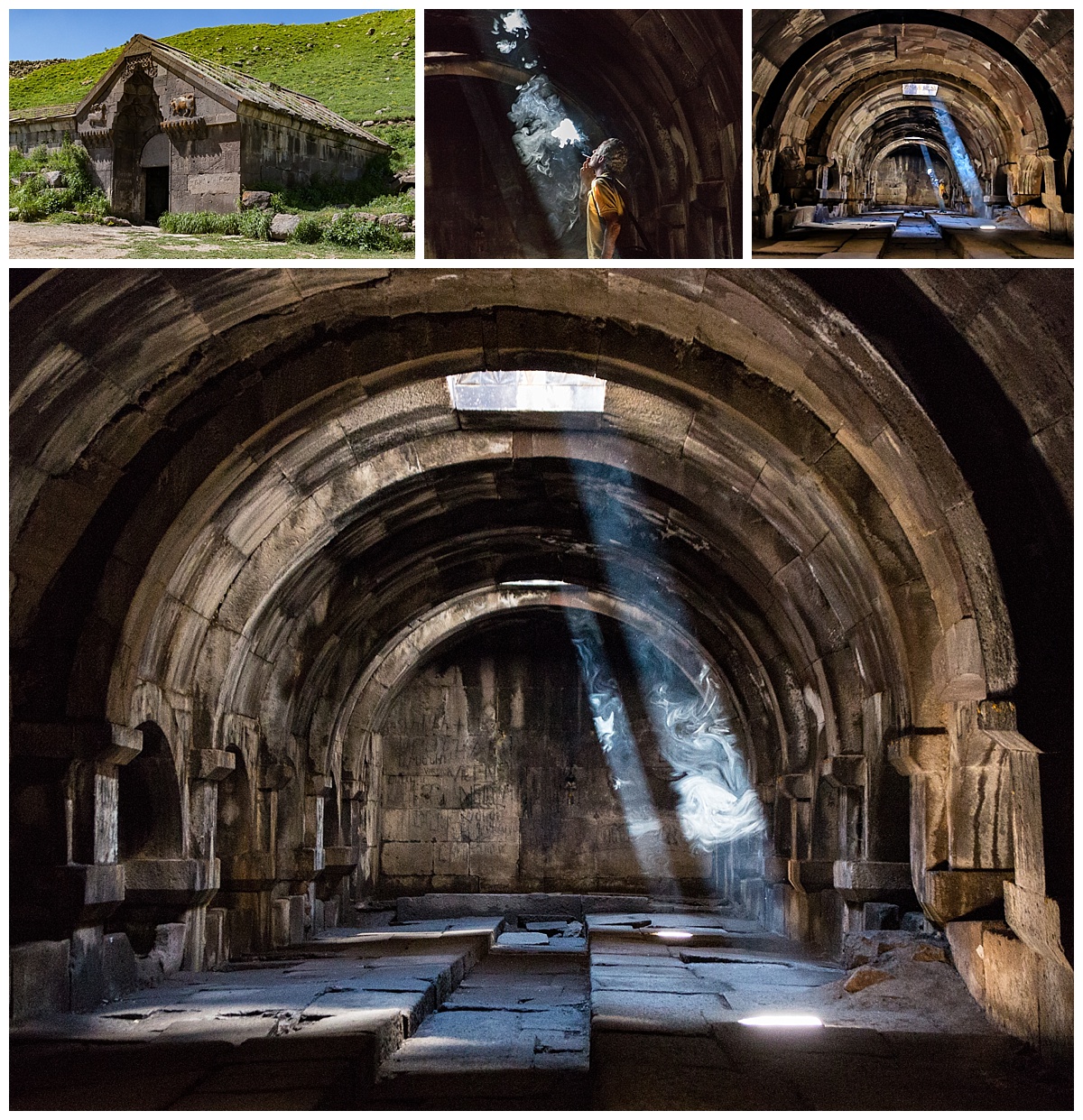 We continued our travels along the Silk Road, an ancient network of trading routes between China and the Mediterranean.  Enroute to our next hotel in Dilijan, we stopped at the Orbeliani Caravansary, a structure where caravans on this Silk Road used to stop for the night.   From the outside (upper left), it is rather unimpressive stone building, so we didn't really have very high expectations of achieving memorable photographs when entering.
Once we entered, we discovered that the sun was at just the right position (Mehmet usually worked things this way, without us realizing it until later) to show excellent shafts of light to illuminate the dim room.
Mehmet is a smoker, though he always made a point of only enjoying his vice during breaks, away from all the travelers.  He asked us if we wanted him to use his vice to add some character to the shafts of light (upper-middle and upper-right), and we all enthusiastically said yes.
The result was the main, bottom image above, which I rather think was well worth the stop.  Mehmet suggested the title for the upper-middle image should be "Working Hard," and who am I to object when he did just that? ☺
After staying overnight in Dilijan, we spent some time the next morning wandering "Old Dilijan," a historic part of town preserved for people to sell their crafts to tourists.  Our favorite such craftsman was a wood carver (center), who created intricate ornaments, including those seen upper-left.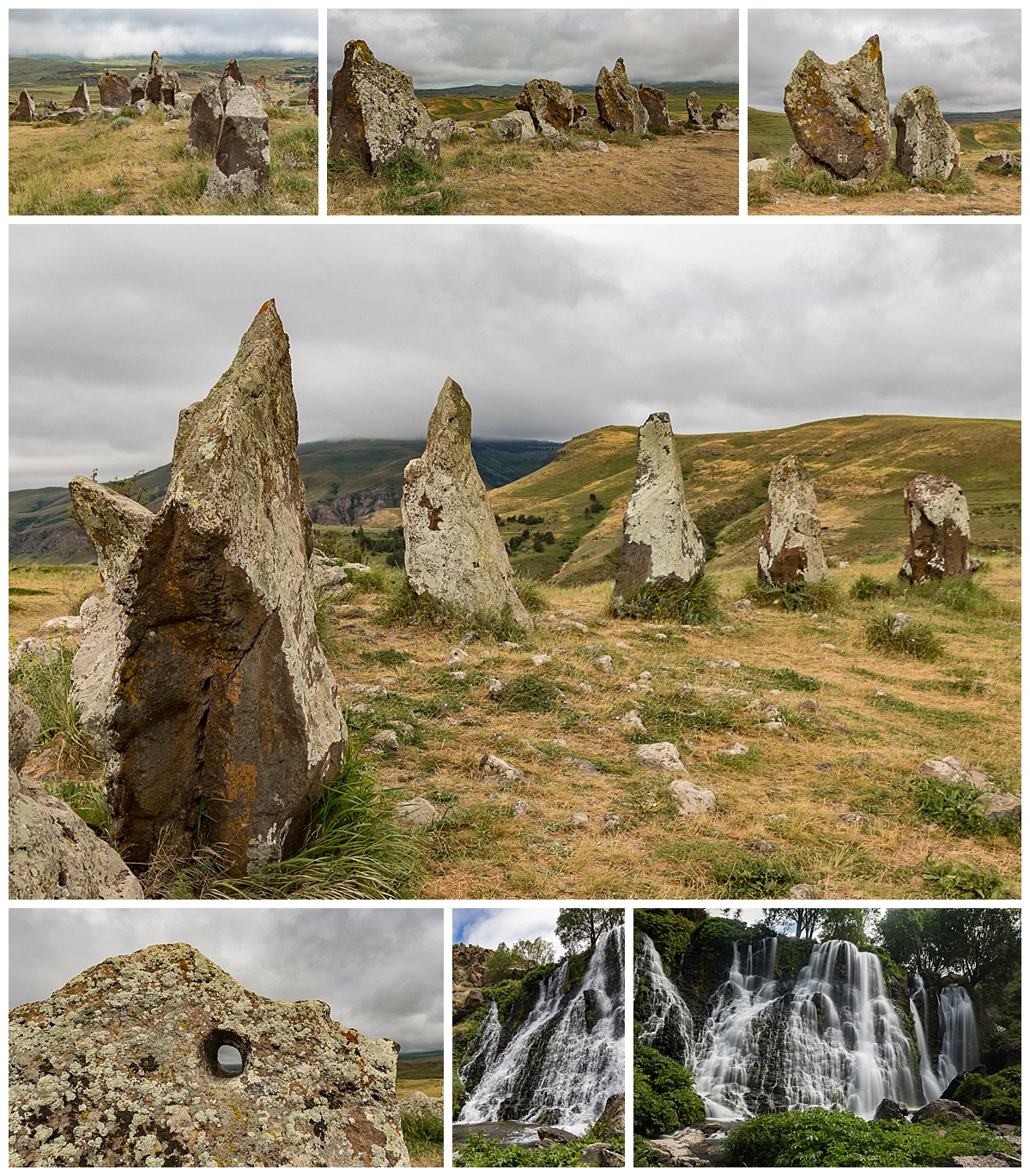 One of our primary objectives in this region was to visit the "Armenian Stonehenge."  These are "vertical rock circles" estimated to have been created around 6000 BC, supposedly for astronomical observation, very similar to the more famous Stonehenge in England (built around 3000 BC, or 3000 years later than these in Armenia).  Our guide stated that such vertical stone circles exist on every continent in the world, except Antarctica, but this is the only one in Central Asia.
We also stopped to photograph a nice waterfall nearby (lower right two images).
The ancient Noraduz cemetery was another photo destination, with graves dating from 1000 years ago up until the present.  The oldest gravestones (left column plus upper-middle) are called "Kachkars" and were reputedly dressed as soldiers during the Middle Ages to fool approaching enemies into thinking there was a large army defending the city.
In the 20th century, images of the deceased were added (upper right shows a young woman who died at the age of 21). Others began to include elaborate large busts of the departed (right column, lower two images).  This is one of the more unique cemeteries, combining both old and new, and it was clear that most of the cemetery was neglected, with weeds waist high in many places (bottom center).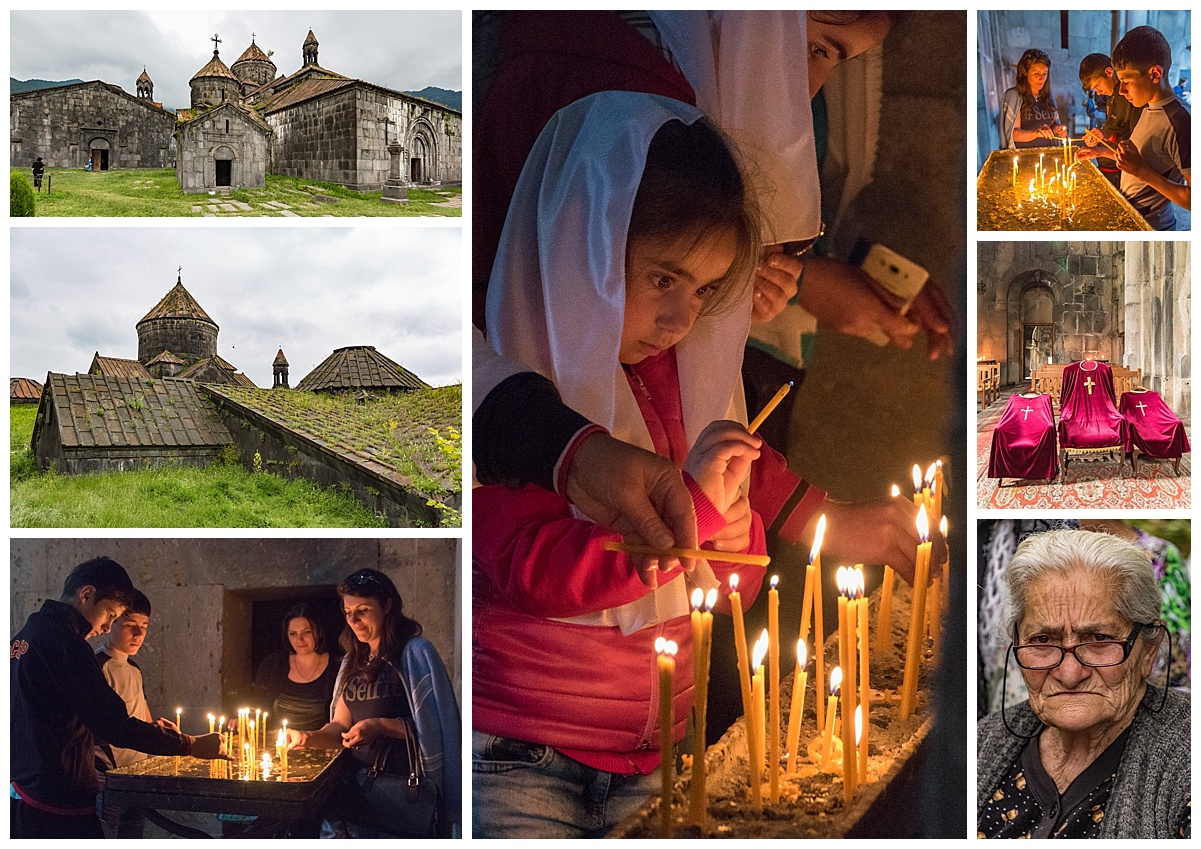 We stopped at a lot of churches during this tour, and today was the Haghpat monastery. As with most of the monasteries in this region, this is an ancient stone structure, with a very plain interior, but is still actively used by the local residents for worship.
Traveling across Armenia required long days in the bus, which were broken up by rest stops where we could stretch both our legs and our cameras.  One such stop was at a market, with butcher shops lined across the street, shown above.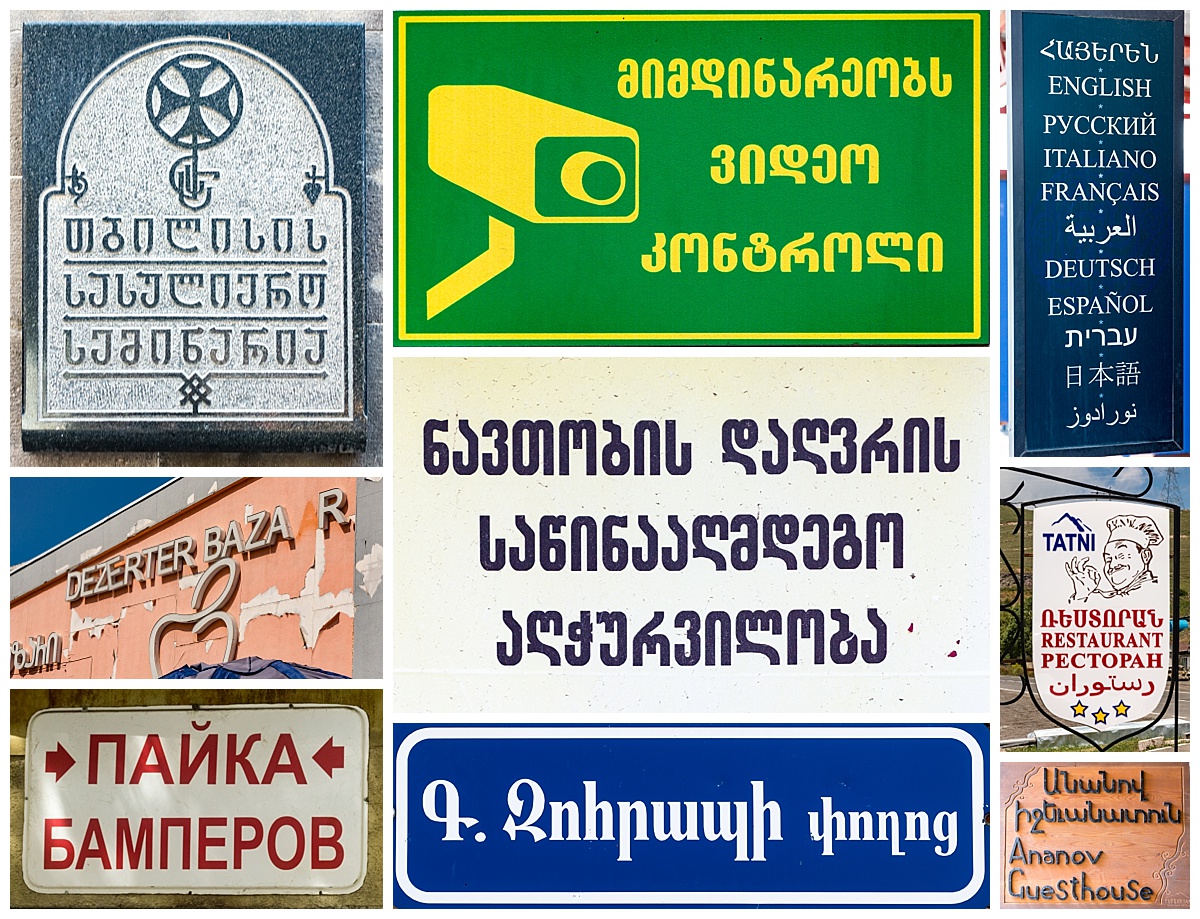 Throughout Armenia, we noticed that the signs are almost a work of art, and often do not look like any recognizable text at all.
The Armenian alphabet consists of 39 letters, and was first created in 405 AD.  Prior to that, the Greek alphabet was used in churches, but the Armenian language had never been written down.  For whatever strange reason, Mesrop Mashtots felt a completely new alphabet was needed when he proceeded to first write down the Armenian language.  The world has been stuck with yet-another-alphabet to confuse communication ever since...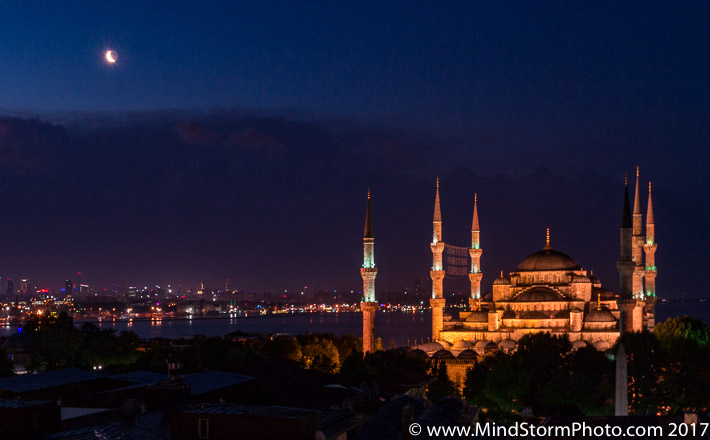 The photo tour is now over, after 6 weeks traversing 5 countries.  Enroute to our next destination of Portugal, we landed in Istanbul with a 13 hour layover.  Mehmet (our guide for this adventure) generously invited us to his home, introduced us to his family (dietician wife, college age son studying network security, and twin daughters about to enter High School), and fed us a wonderful Turkish home-cooked dinner.
The image above was taken of the Blue Mosque from our Istanbul hotel window, shortly before collapsing into bed.
We will just finish with a couple minutes sampling of some of the music we encountered while touring Armenia: 
Armenian Music from Burt Johnson on Vimeo.
---
---