Portugal 1 – Festival of St John of Porto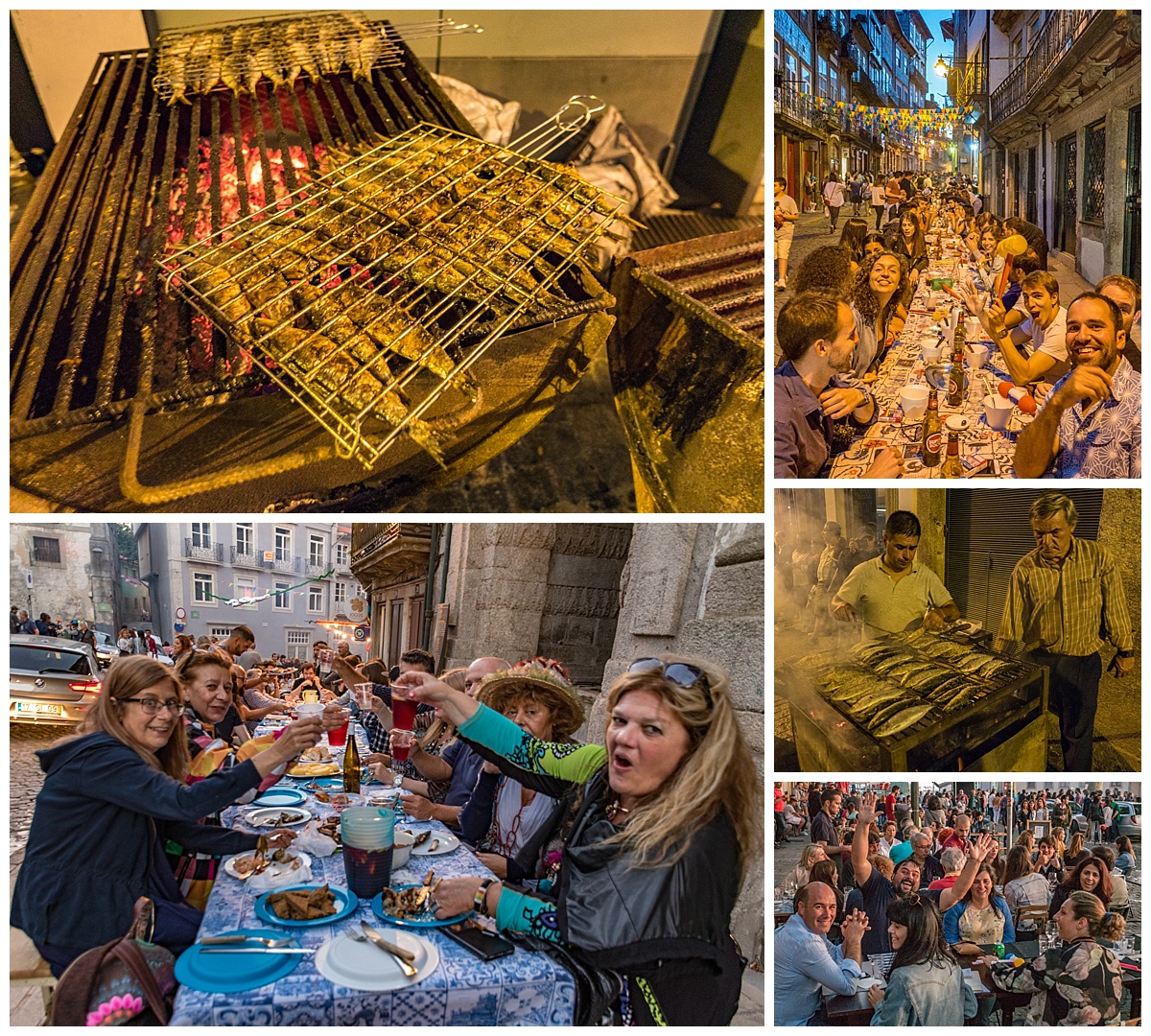 We arranged to come to Porto, Portugal in time for the annual street festival paying tribute to St John the Baptist (Festa de São João do Porto). This lively party has been held every year for the past six centuries (starting the afternoon of June 23rd and ending the sometime on the 24th), and is considered the city's most important festival, topping Christmas.  The party starts around 6PM with families eating barbecued sardines and drinking wine together, and culminates for many with a major fireworks spectacle over the river at midnight.  Teens and young lovers continue the party until dawn though, with bonfires and more dancing until past dawn. The city is absolutely dead the following day with most shops closed, while people recover from the festivities.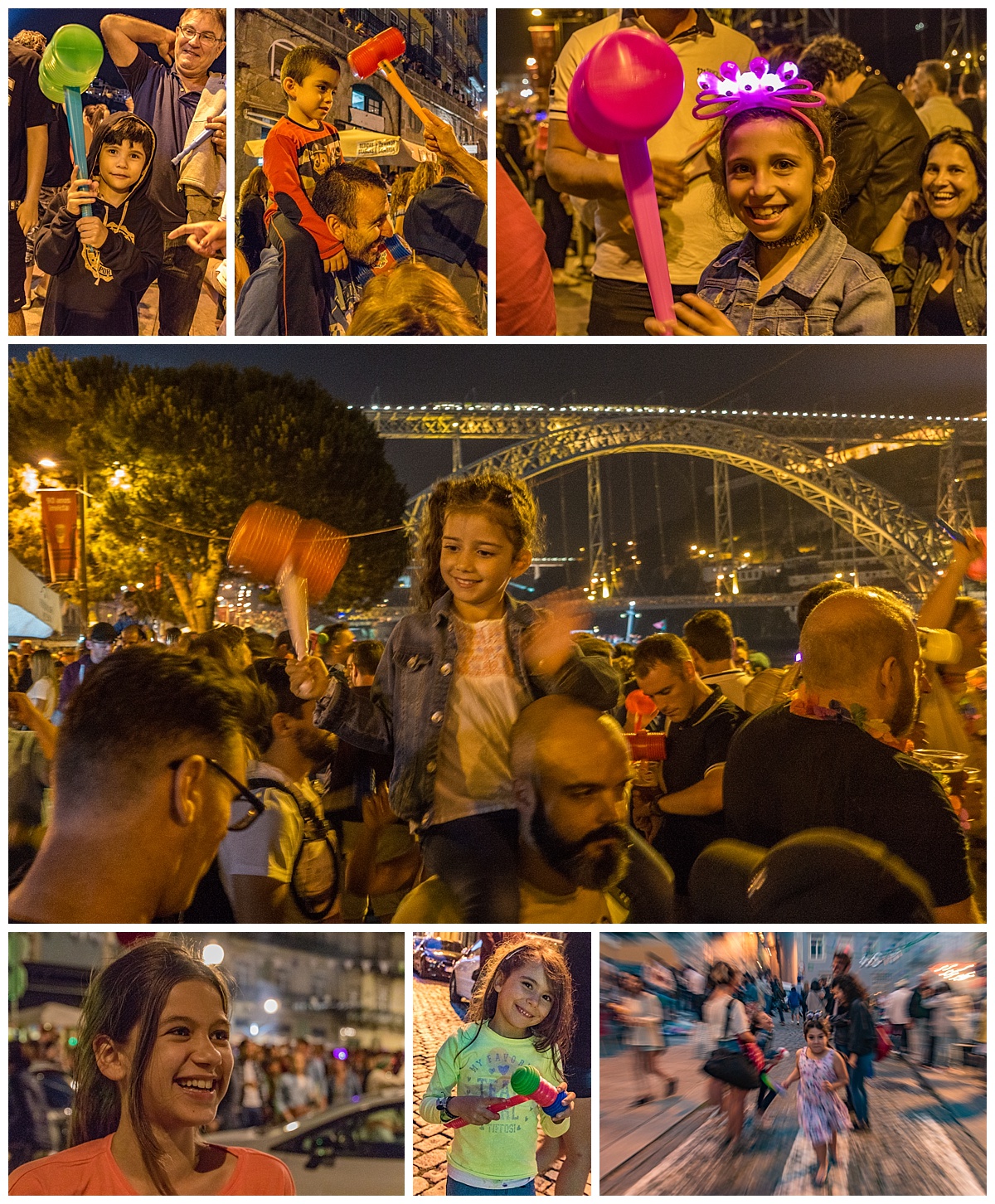 Hammers!  Everyone has a hammer of varying size and colors, and everyone of all ages will gleefully hit everyone else over the head with it! Some of the hammers were as large as the children holding them.
Fortunately, they are soft plastic hammers with little squeaky whistles in them, so they don't hurt... the first few hundred times.  By the end of the night, expect to go home and take some Ibuprofen though, for that simmering headache... ☺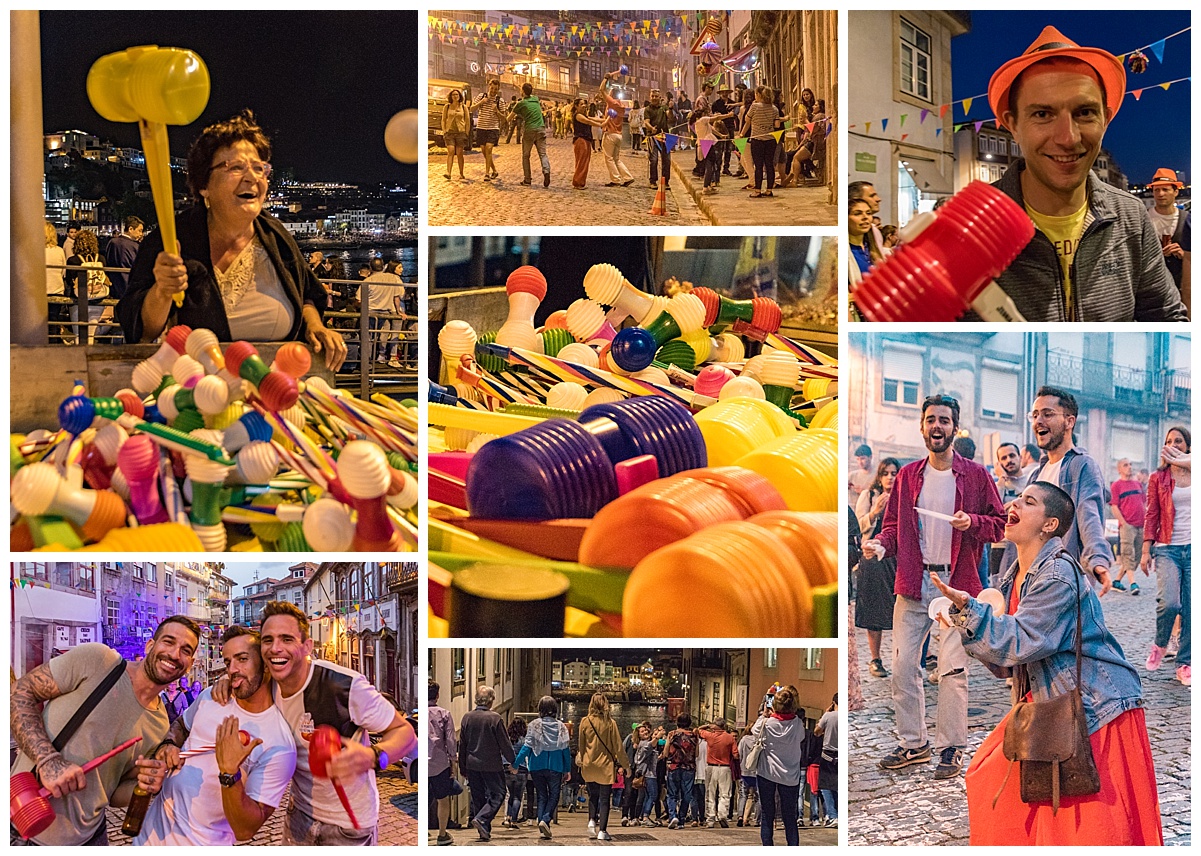 Hammers, dancing, concerts, and all-around fun dominated the entire evening. Chinese lanterns were launched into the skies all night.
The crowds were packed down near the Douro river, so much so that you could barely move forward.  We chose to cross the bridge to the other side, where crowds were only slightly less jammed.
Fireworks were supposed to start at midnight, fired from barges in the river. An announcer told the crowd (in Portuguese) that they were delayed because some boats were too close to the barges, and had to be moved by police.  It took half an hour until the fireworks started, and the crowd all stood peacefully during the wait.
Finally the street lights were turned off, and the crowd cheered. Music then blared in sync with the fireworks, and was one of the more sophisticated fireworks shows we have seen, lasting about 20 minutes.

St John Festival in Porto, Portugal from Burt Johnson on Vimeo.
It was hard to capture much of the atmosphere of the party using a small handheld camera with throngs of people around.  Here is a 2 minute attempt to do just that though...
---
---