Portugal 2 – Porto, Part 2
We are now on our own, exploring Portugal. The star trail image above was shot from our apartment window in Porto, as we start to explore this country.
Our first impressions of this city were rather negative – based largely upon the very steep hills in our neighborhood.  After a week here though, our impression has changed and we are rather interested in returning for a longer visit in the future.  For one thing, we discovered that the steep hills surround the river area, but the neighborhoods nearer the Atlantic ocean are almost flat.  Score one for Porto... ☺
We enjoyed wandering the riverfront, while entertained by numerous musicians and street entertainers.  Watch the video at the end of this post to get a feeling of what it is like to wander for one night along the riverfront. The number of tourists are substantially less than what we experienced in Italy.
We were also immensely impressed by the courtesy of the drivers!  Seriously, we have never seen such polite drivers anywhere else in the world.  Step off the curb, and every driver stops to let you cross.  I tried to get out of a taxi one day, and traffic had backed up and blocked my door.  The driver next to me backed up (and others backed up behind him to let him do so) until I could get out.  I NEVER would have seen something like that in Cuenca, or even in Berkeley.  We were stunned!  (and that is only one of several similar instances in Porto)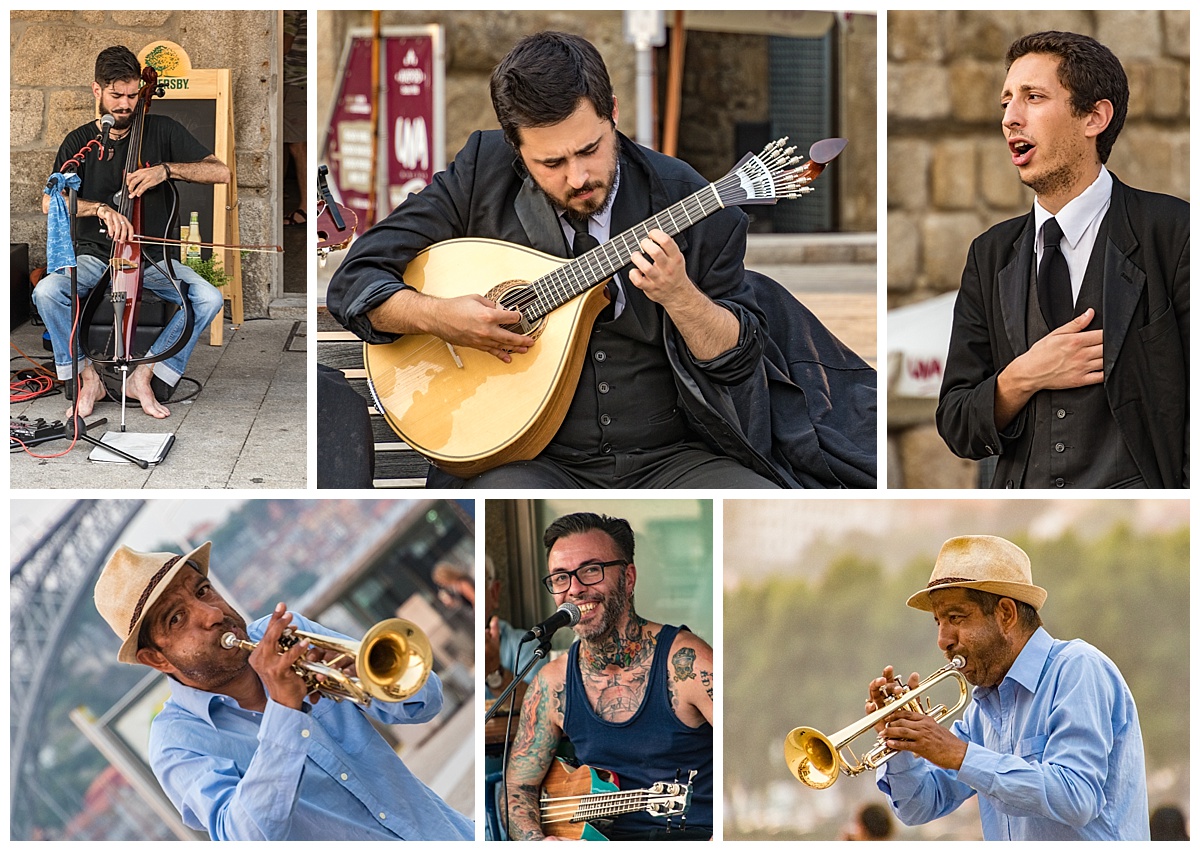 As we mentioned, there was a constant stream of musicians on the riverfront our first night here.  We walked down a few days later and did not find as many, so this may be more of a weekend or weather-related phenomena.
The neighborhoods were preparing for the annual party (see here for our story on it in St John Festival of Porto).  As the center image shows, the Unesco old town is a rather steep hilly neighborhood. We saw very few elderly people here, and those we did see were moving very... very... slowly.  Not sure our maturing legs and hearts will be able to maneuver these hills in the future...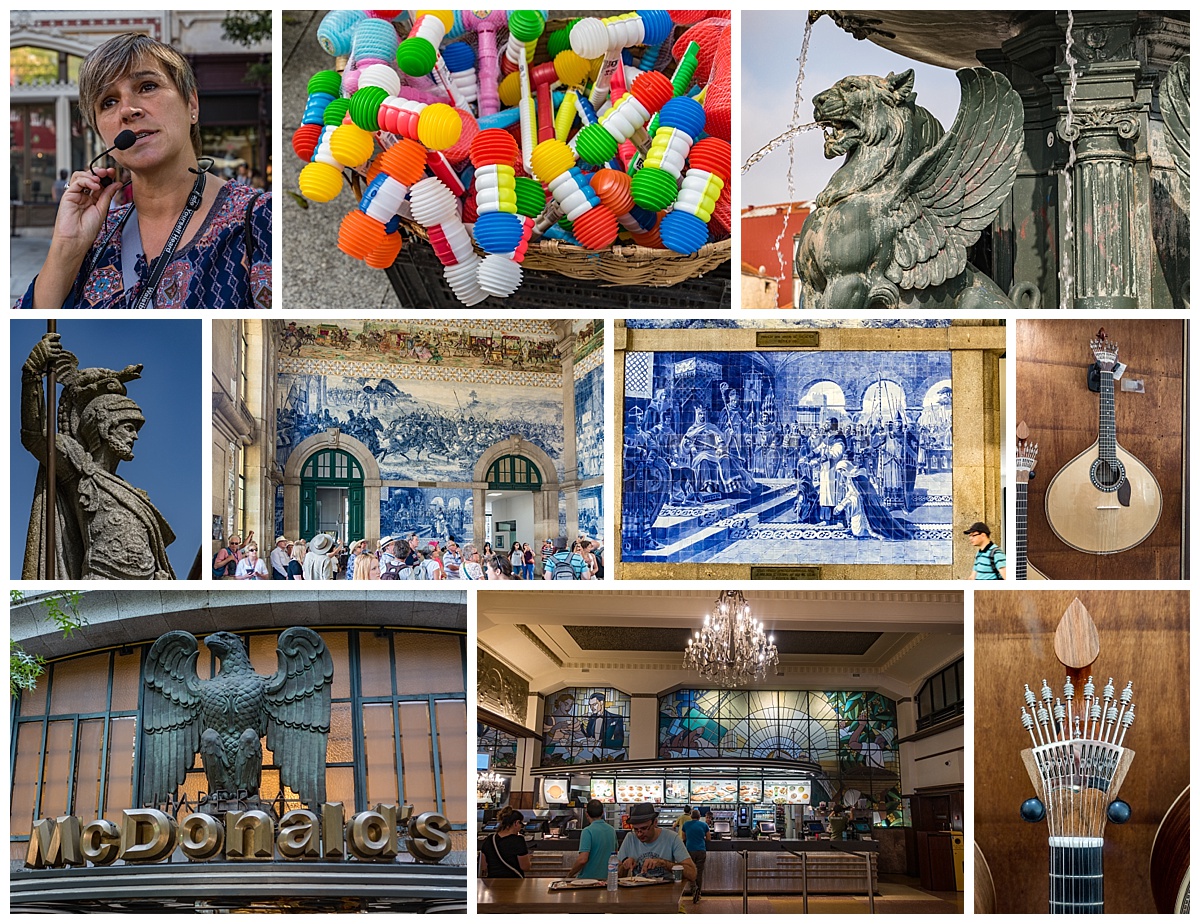 We took a free walking tour of the central district.  Eugenia, our guide (upper left), showed us the cathedral, the Sao Bento train station (center middle two images), a music shop where Fado is played (right-lower two images), crossing the upper rail bridge, and to... McDonalds!  This is easily the most elegant McDonalds in the world, with an interesting history, which boils down to their agreeing to the city to keep the historic facade and interior intact (lower left two images).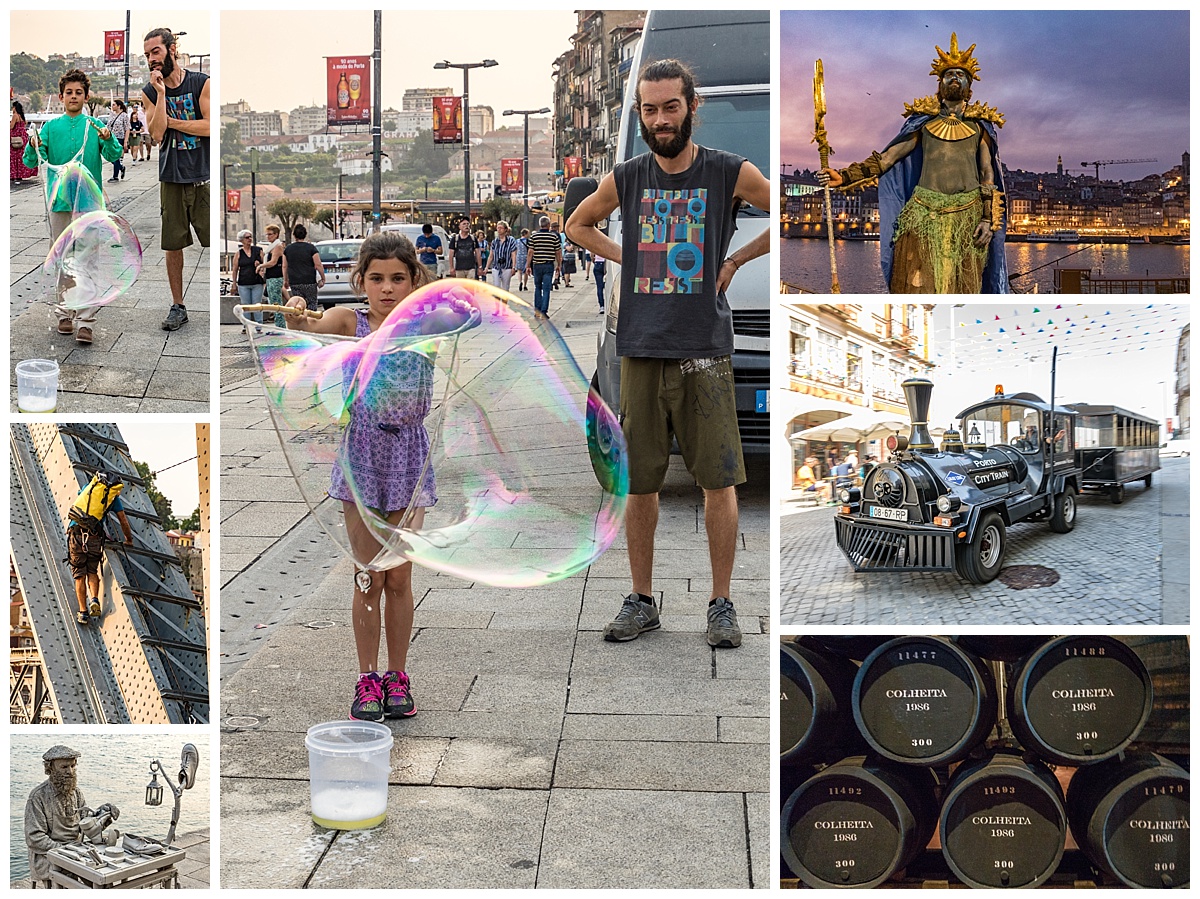 Wandering down at the waterfront gave us a view of several entertainers in addition to the musicians seen everywhere.  There were mimes that reacted to coins dropped in their cup (lower left), Neptune (upper right), a bubble blower who showed children how to create monsters (upper-left and center), and a train that drove tourists around the area (center-right). There's also a legal activity for people to climb across the outside of the bridge (middle left). Porto is known for their port, so we went tasting at the Calem cellars (lower right), which was complete with an interactive digital display.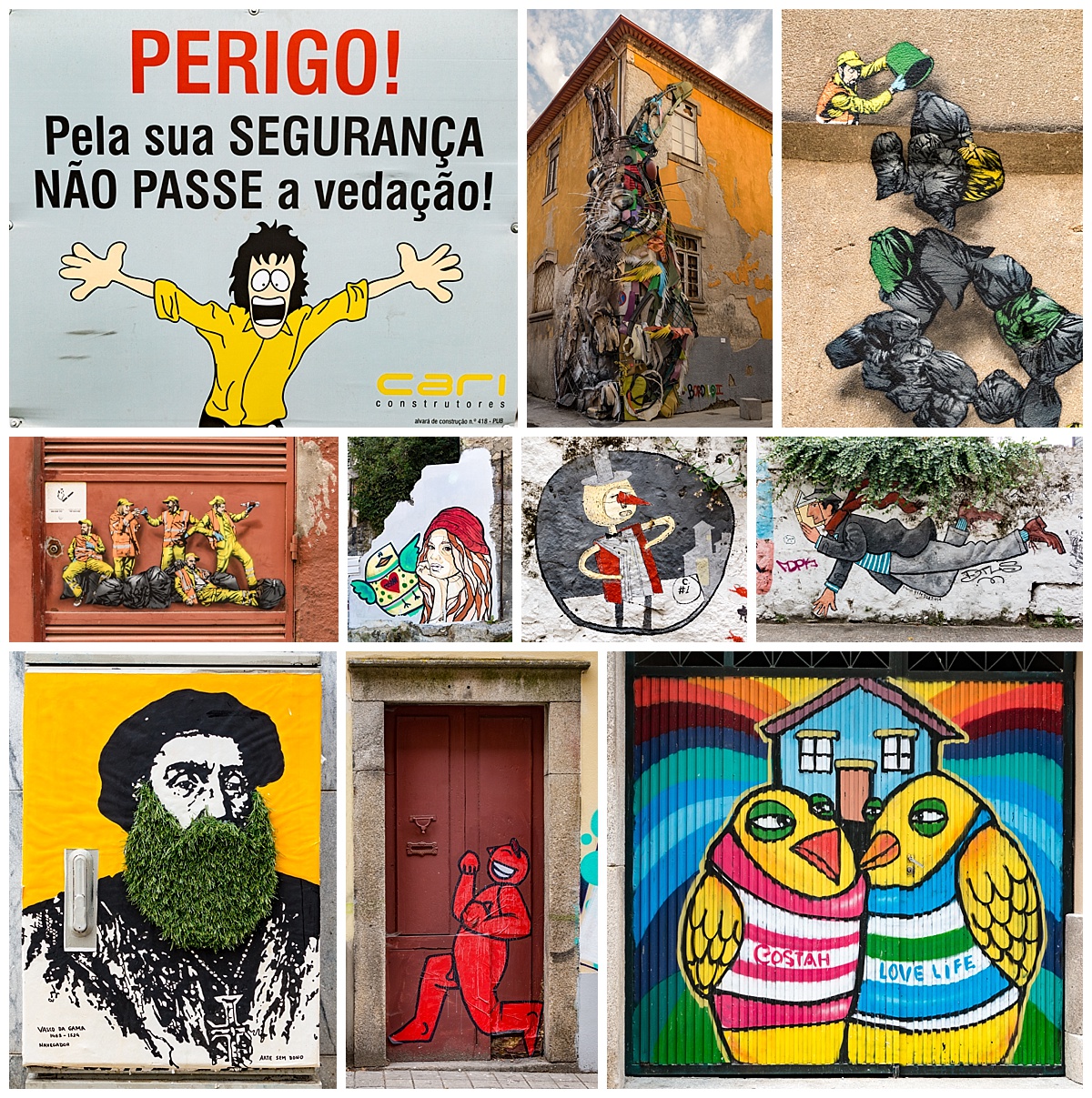 Murals are not as universal in Porto as they are in Cuenca, but there are pockets of them in town. Above you can see some interesting ones, mostly concentrated around the art gallery part of town.

Porto River Music and Entertainment from Burt Johnson on Vimeo.
Check out this 3 minute video to get a feel for the kind of music we encountered on the riverfront as well as other entertainment we came across.
---
---