Hanabanilla – Welcome to Cuba!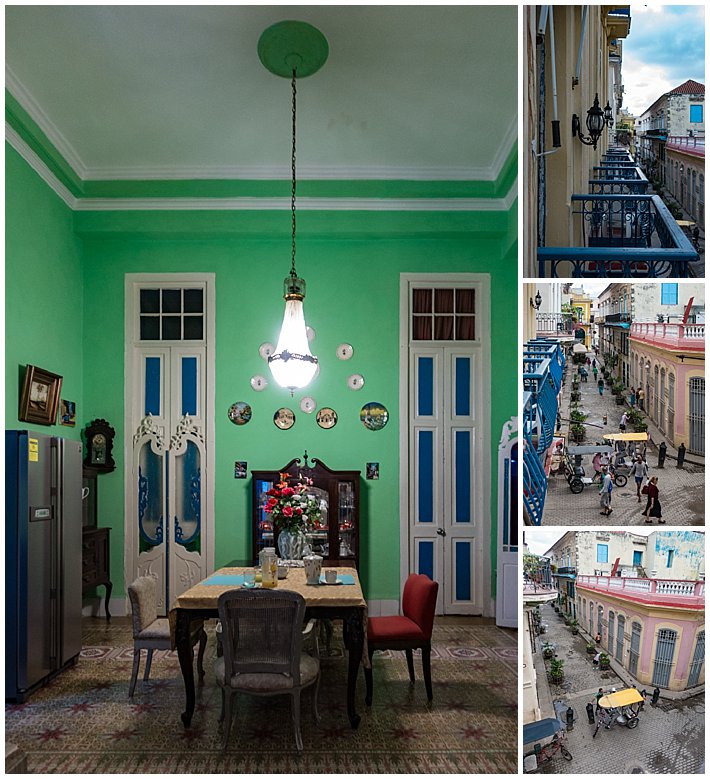 On our 2005 visit to Cuba, both of us got sick, with Evelyn's cold developing into bronchitis, so we've wanted to come back to experience the real Cuba for some time. When we got to the airport, it took more than an hour to get our luggage and clear customs. Then, we changed money into CUCs ($1 USD = 1 CUC), which is the official Cuban currency. There is a 10% penalty for changing US Dollars, but we had been warned in advance to bring either Canadian dollars or euros, so had saved Euros from our Europe trip earlier this year.
We were picked by a 1952 Chevy with a tractor engine (without muffler), and dropped off at a Casa Particular (private homes where rooms are rented out) in Old Havana (pictures above). Across the street was a Vietnamese Cultural Center, where they were celebrating until 2:00 AM, making sleep difficult. We could hear all of the urban noises from people talking on the streets below, tuk tuks (3-wheeled taxis, also known as Coco taxis), garbage trucks, and classic American cars rolling across the cobblestone streets below. Cuenca's cobblestone streets are relatively flat and safe compared to those in Old Havana.
Prior to the start of our photo tour, we wanted to experience another part of Cuba. Our tattooed guide, Monica, recommended a place where Cubans go for vacation, Hanabanilla, which she considered to be one of the most beautiful places in Cuba, and which has been untouched by tourism.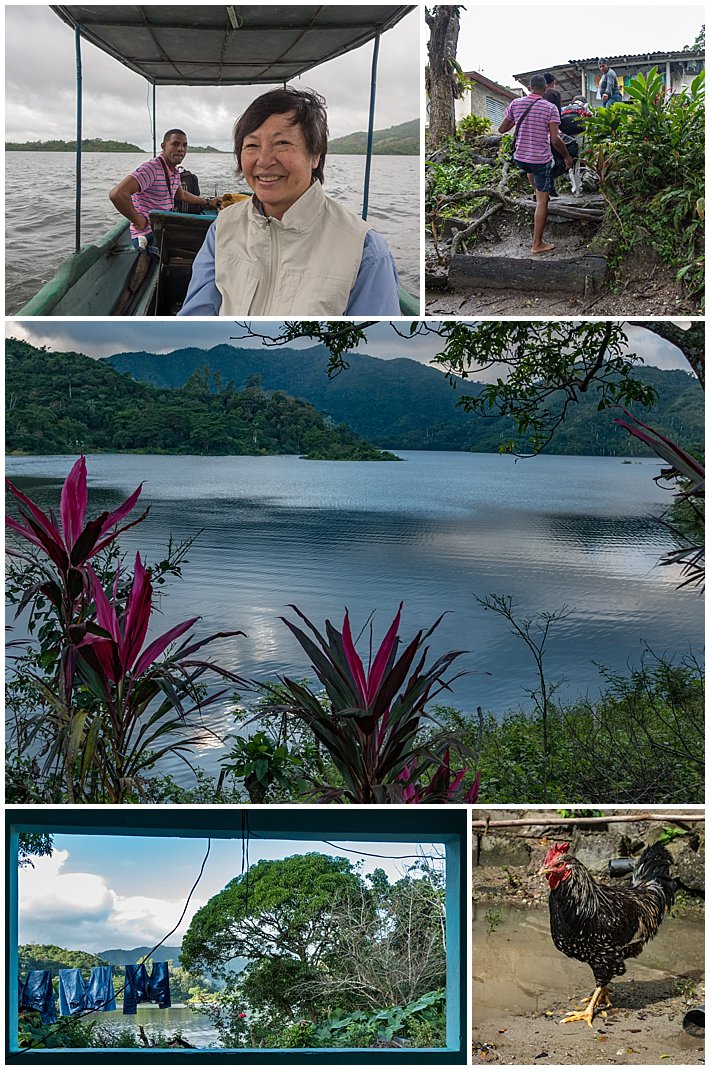 After a 4-hour drive in another classic American Buick, we rolled into a village in the middle of a heavy rain. Our driver asked some questions and followed a barefoot boy up a dirt path. We observed the boy getting into a dilapidated metal boat, scooping water out of the bottom of the boat, and starting up an outboard motor which poured out black smoke. Our driver then pointed for us to get into the boat at the bottom of the grass slope in the middle of nowhere. The boat barely fit the two of us with our backpacks, but we puttered across a body of water for 30 minutes, then landed on a dirt patch (top right). The boy indicated we needed to climb the tree-rooted dirt path up to our room. This turned out to be another Casa Particular, where we were fed a home-cooked lunch, dinner and breakfast, and shared a bathroom with 3 generations of a Cuban family, three dogs, 8 chickens and roosters, and two turkeys.
We were experiencing the daily life of this family. The little boy had much fun dragging around the elderly dog by a rope around its neck, while the dog appeared resigned to accepting his role in life. The father was working on projects around the home with his machete, and hopping on and off of boats working on other neighboring projects. Grandma was sweeping the dirt yard, and hanging the clothes, while others were cleaning and cooking. At night, the family got together to watch local TV.
The single bathroom was shared by the entire family, and they used newspaper for toilet paper. Toilet seats seem to be a rarity in many rural parts of Cuba. When Burt was asked whether he wanted a hot shower, he did not expect that 15 minutes later, he would get his bucket of lukewarm water in the bathroom. Yet, even though very poor, the people seemed genuinely happy.

On the final morning, we were taken by boat to the highlight feature of this lake - a 20' high waterfall.
---
---