Cuba 4 – Viñales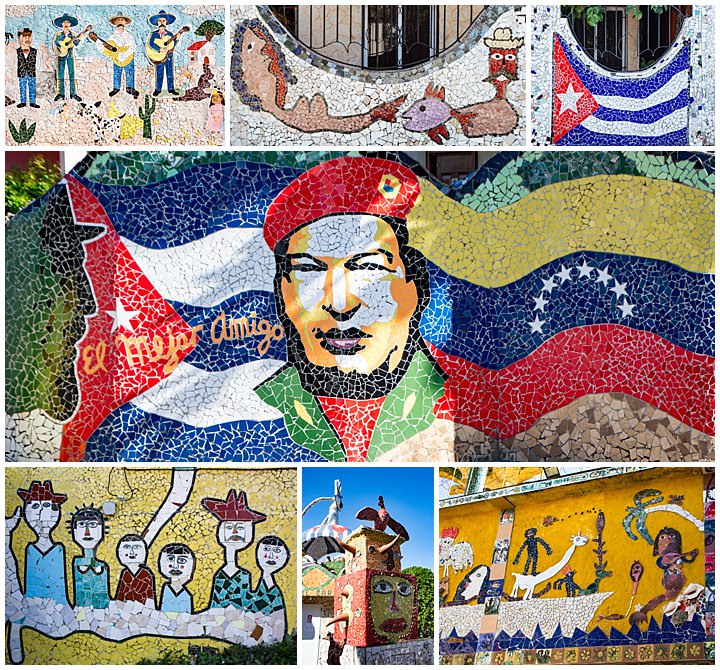 After leaving Havana, we drove to Viñales, which is best known for their cigar farms, spectacular landscape scenery lined with steep-sided limestone hills (mogotes) and rural Cuban lifestyle. The major highway was mostly devoid of cars, with plenty of horse drawn carts taking workers to their fields for the day.  The countryside appeared very much as we remembered it from 12 years ago, when we last visited this area.
One of our stops enroute to Viñales was Fusterlandia in Jaimanitas, a sleepy little town that has recently become a tourist destination (with tour buses from cruise ships). One artist decorated many of the homes in this community with mosaic tile patterned in the style of Gaudi and Picasso works of art, as seen above.
As we did several times during the trip, we stopped at the side of a country road for awhile to photograph.  The location was chosen primarily because it provided a good backdrop to capture images of passing vehicles. There was also a small roadside cafe nearby, which our driver, Alberto, visited to chat with the owner (middle-right).
While there, we did see a few of the Classic American cars we were hoping for (left column).  At one point, a funeral procession also passed (upper-right).  Note that there are eight vehicles in that image, only one of which is Classic American.  As I noted in the Havana blog, that is about the normal ratio of those cars to more modern European and Asian makes.  The one small motorcycle is also fairly typical.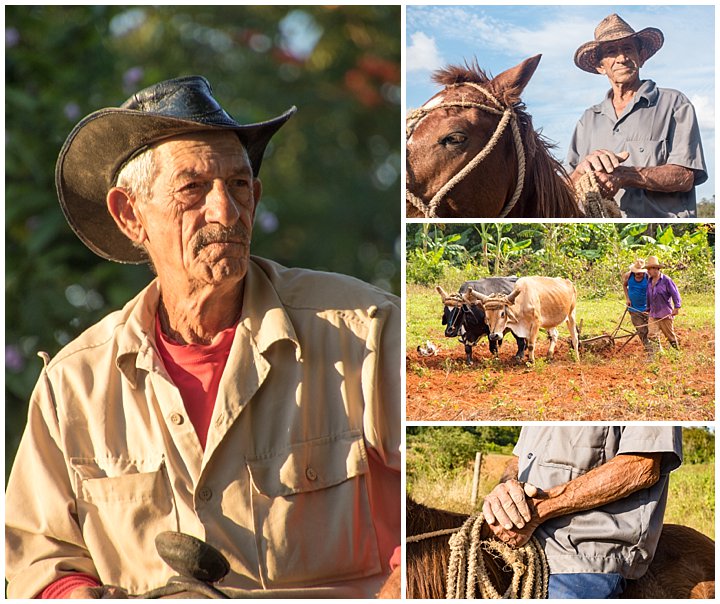 One afternoon in Viñales, we went horseback riding.  Other than one moment when one of our group got thrown from her horse, it was a standard tourist trail ride.  At the end, two of the trail guides modeled for our cameras, which allowed us to capture some wonderful portraits of cowboys. A bit later, we watched farmers plow their field using oxen, the same way it has been done for hundreds of years in this region.
As I have mentioned, one of the benefits of going on a photographic tour, rather than a traditional tour, is that we stopped whenever we saw something photographically interesting.  At one point, we stopped at a row of small farm houses, with people out front.  The grandmother (middle) caught my interest first, while Evelyn gravitated to the kids in front of the neighboring house (left-top and right-top).  After we had paparazzied the kids to death, Jonathan (our tour leader) brought out two sunglasses he had brought for gifts in exchange for photos.  Immediately the two kids (top-middle two) put them on and modeled them for us to take yet more photographs! ☺
Many horse carts traveled along this road, providing another source of interesting images.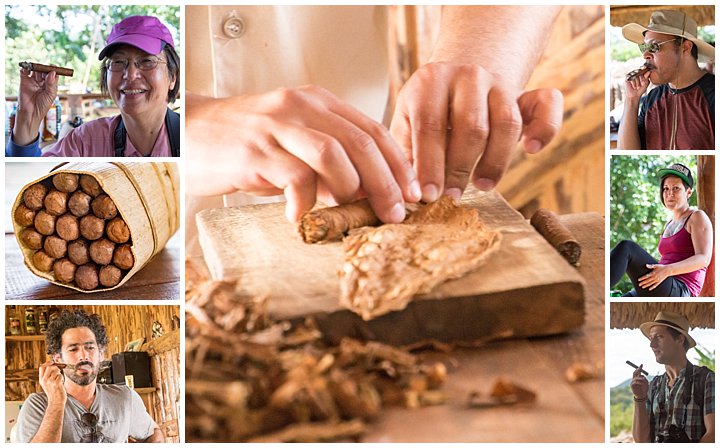 On Thanksgiving Day (which, of course, is not celebrated in Cuba), we visited Finca El Arado, a Cuban Cigar plantation.  They gave us a tour of their farm, showed how they grow and process the tobacco plants, and told us the different types of leaves, and which are used for each purpose.  They then rolled cigars (center) and gave one to each of us to smoke.
Evelyn (upper left) and I puffed and puffed, but seemed to produce no smoke?  Clearly defective cigars, right? Our guides had no problem with their cigars though, with our Cuban photographer guide Joel even blowing rings (lower-left). Jonathan - our American guide/organizer - also enjoyed his cigar (lower-right).  Monica (middle-right) was the third guide  who traveled with us.  Vincent (upper-right), a member of our tour, was the most experienced with his cigar smoking.
After the cigars were lit, our hosts broke out a roast pig for our Thanksgiving lunch.  Delicious, but not quite up to Ecuadorian hornado standards.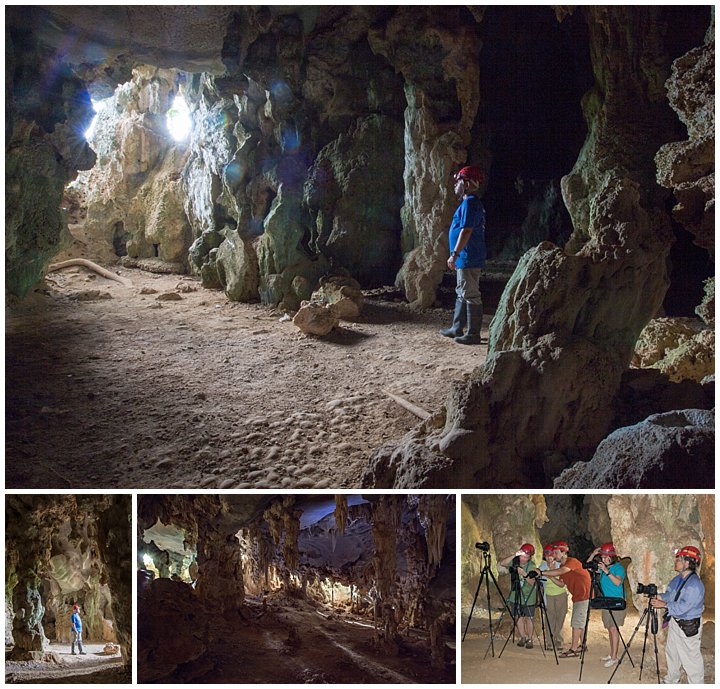 One afternoon, we got a guided tour of the Santo Tomás Cave. This cave system extends for more than 46km, though we only had time to enter the first three chambers.  One of the large chambers can be seen lower-middle, while the lower-right image above shows most of our group lined up for the image of our cave guide (lower-left).
While others were setting up there, I moved to a different location, and captured the guide from another vantage point (top).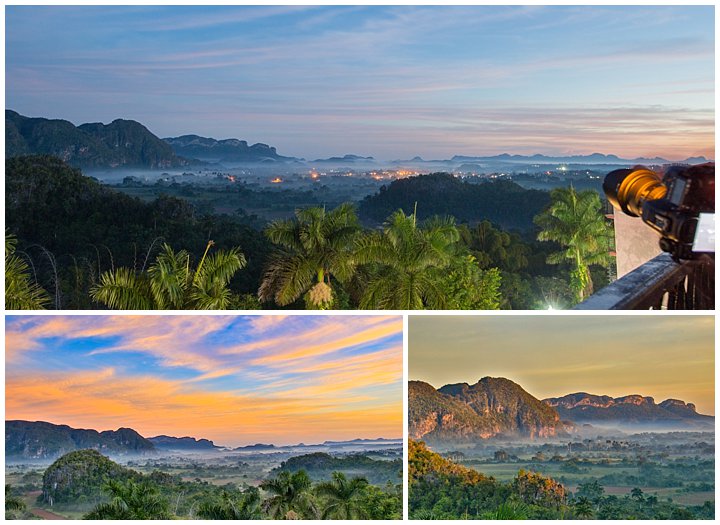 We had several spectacular sunrises and sunsets during this tour of the Viñales area.  A fog developed over the valley below us, then the sky lit up crimson as the sun dipped below the horizon.
---
---