Cuba 7 – Trinidad, Part 2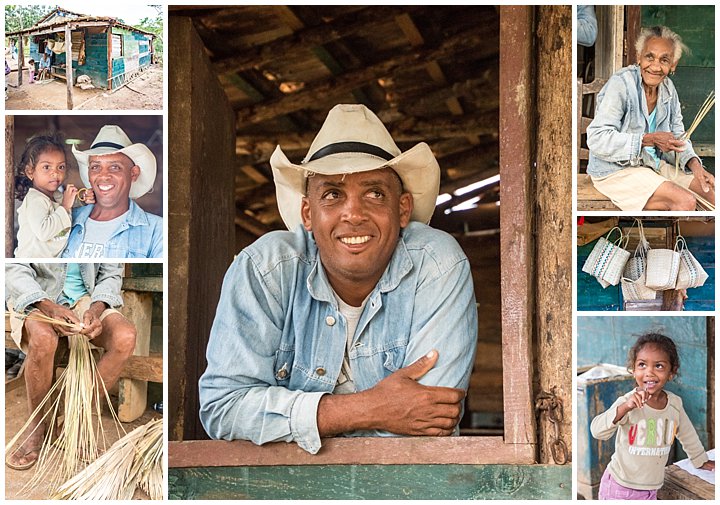 We visited some Cuban homes while in Trinidad. One of the first things that struck us was how small all these homes were.  The home above (upper-left) is little more than the size of our living room in Ecuador, yet houses three generations.  Also, the people are so desperately poor, yet are always smiling and apparently happy to see us.  The grandmother (upper-right) weaved straw (lower-left) to make baskets (middle-right) that she sold for $3 each.  As a group, we bought our her complete inventory, so that grouping of baskets was empty when we left. The father, center, worked as a cowboy.
The little girl was shy at first (middle-left) and wouldn't talk.  One of our group gave her a ballpoint pen and she lit up, ran into the house for a piece of paper, and then drew pictures while talking excitedly for the rest of our visit (lower-right).
We also visited two women's homes that knitted and sewed for a living.  The woman (in the left two) sitting in her doorway knitting a shawl with her tiny newborn puppy on her lap.  When asked, she allowed us to photograph her, then invited us into her home, where two of our group bought shawls from her.
Our guide arranged for pictures to be shot of the woman in the right two images in advance. Her home was so small (about the size of our guest bedroom at home) that only three of us could fit in at a time to take pictures.  She said that it took her between 7 to 14 days to make a single tablecloth, which she then sold for $15.  Again, several members of our group bought some of her exquisite table cloth sets, and her inventory was gone.
There is a steam train that runs through town.  Except it no longer uses steam (it is now diesel powered), and is now just a tourist ride.  We decided not to take the ride, but it did run near a road where we had stopped to photograph passing horse-drawn cart traffic.  The schedule said it would leave a nearby station at 9AM, so we all walked the short distance to the tracks to photograph its passing.
Around 9:30 a rider on a horse passed, and told us that it rarely comes before 10, and sometimes does not come at all.  We patiently waited, and a little after 10, we were collectively giving up and deciding to move on... just as the train could be seen coming in the distance.  Above is the train with the gaggle of camera toting tourists (unlike us, of course...!).  It came and went in under a minute.  Worth the hour's wait to see it? It was at least a diversion.
One of our memories from our visit to Trinidad in 2005 was the colorful facades.  Sure enough, they were still there. Some newly painted in bright colors, with others showing the wear of time.  Together, they tell a part of the story of life here.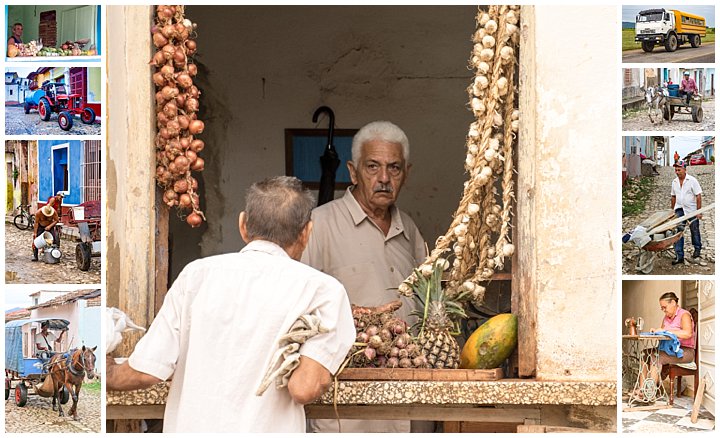 We were able to catch images of people at work along the streets and in small shops in town.  The shop in the center image mostly sold garlic, plus just one pineapple and one guava available.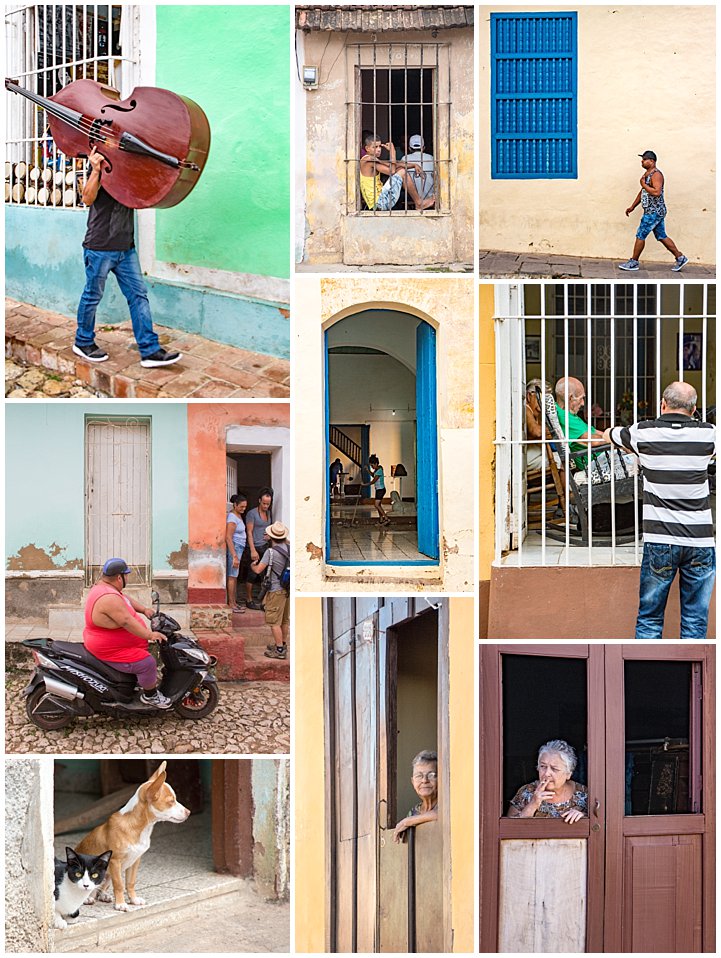 Many of the doors and windows were open, which allowed a glimpse into the homes.  As we remembered from our last trip here, it was common for people to just stand in their doorway or sit on the windowsill and pass the day.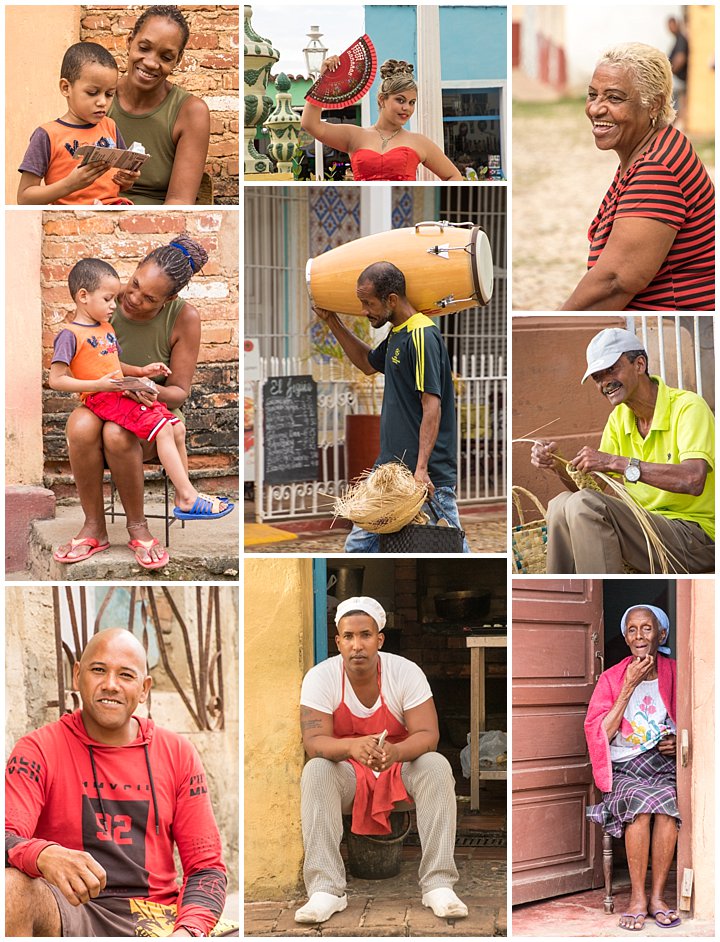 Here are more people, mostly sitting in the front of their homes.  The girl (top-center) was having a professional photography session done for her quinceañera, which is celebrated when a girl turns 15 in Latin America.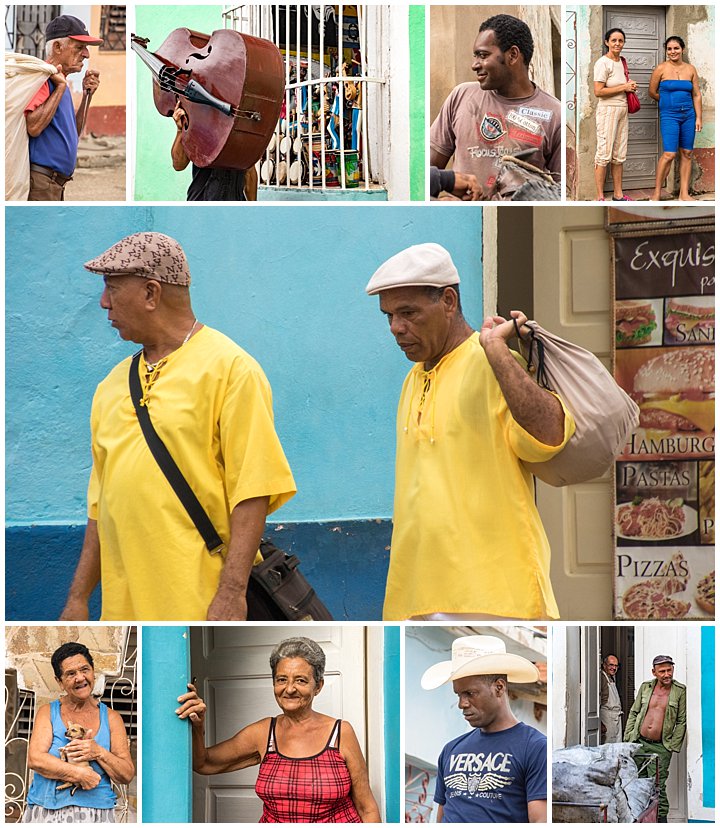 There were so many interesting faces in Trinidad that we will close with just a few more.
---
---