India 12 – Alleppey Backwaters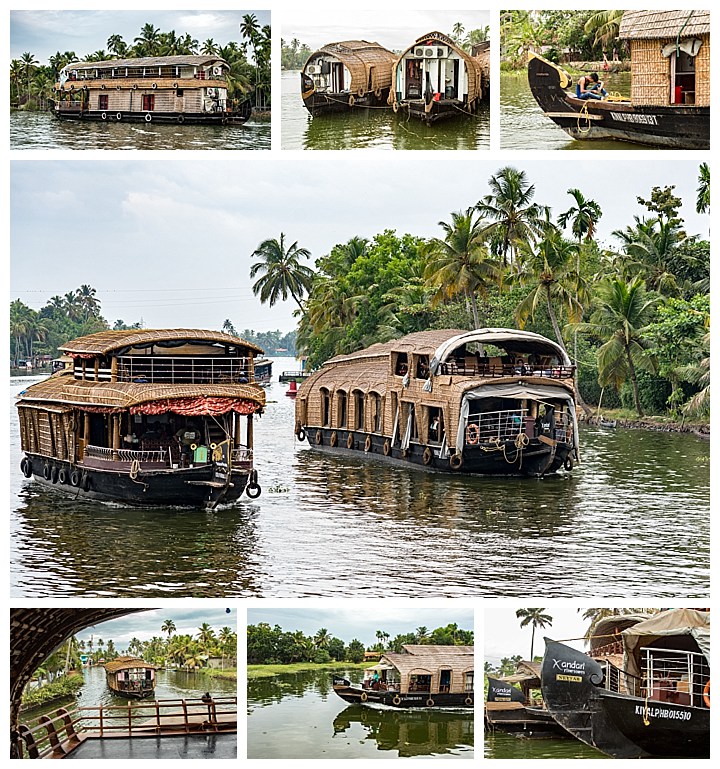 We spent one day relaxing on a houseboat on the backwaters of Alleppey in Kerala, India.  This area is also known as the "Venice of the East."  Our houseboat reminded me of a Hobbit Home, whereas Evelyn thought we were on an armadillo fleet floating on the brackish canals. The original houseboats were primarily deployed for transporting spices, rice and other cargo. Now, 1500 boats a day carry tourists along the waterways, and has become quite a tourist draw.
Our boat was built with elongated wooden planks (no nails), with the thatched roof covering, framed with bamboo over a wooden hull. When moving, it provided a slight breeze, making the otherwise hot air very pleasant.  The chef on board stuffed us with gourmet meals, while we relaxed and watched the world go by like royalty.  In fact, the three of us had our own staff of three in our boathouse... one staff member for every guest. We even bought a kilo of large tiger prawns for the chef to custom grill just for us for dinner, while stocking the boat.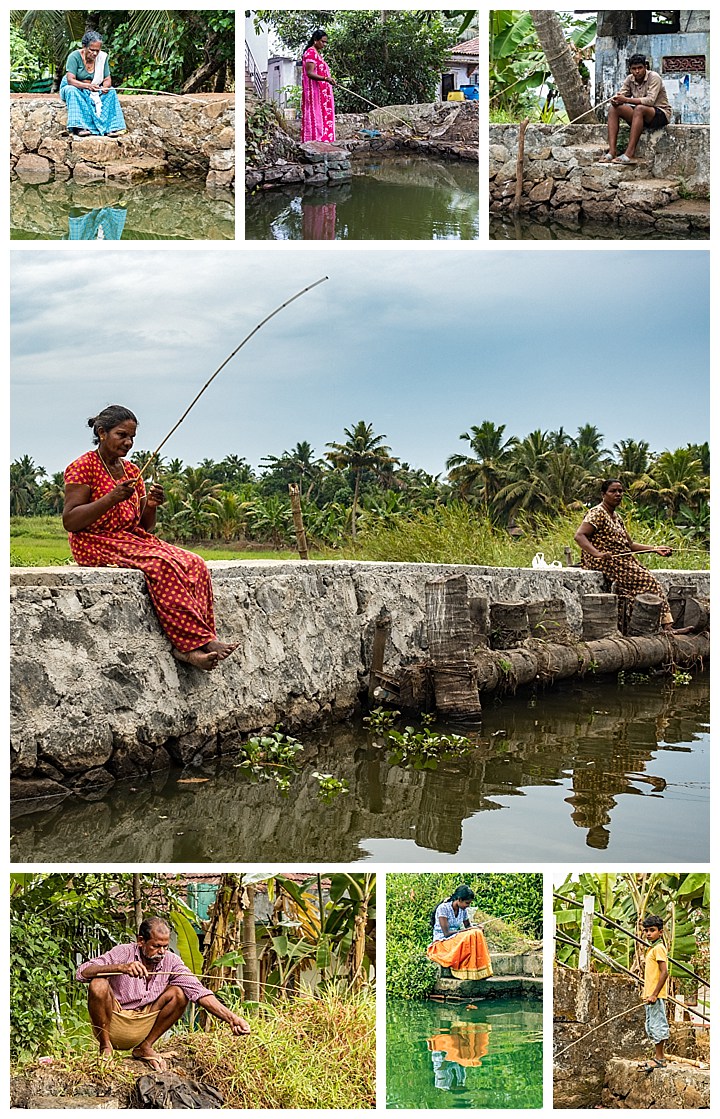 In the late afternoon, we went on a motorless canoe tour of some of the smaller waterways of the backwater area.  As we passed through the village, we found that most homes had someone out front with a simple bamboo pole stuck in the water, catching dinner for their family.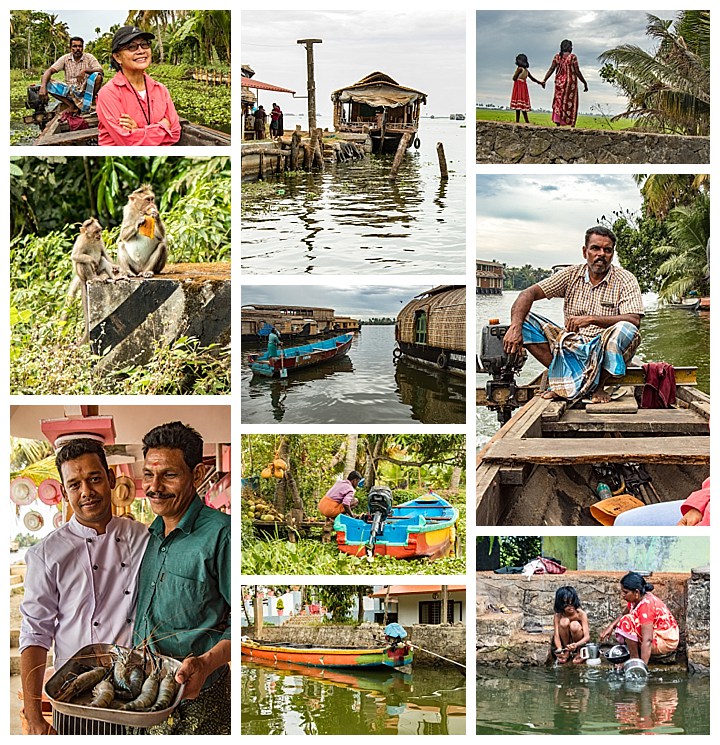 The people living along the canals provided endless fascination, with an occasional monkey (middle-left) to break up the scene.  Upper-left shows Pauline (Evelyn's sister) taking in the day-to-day life of the villages.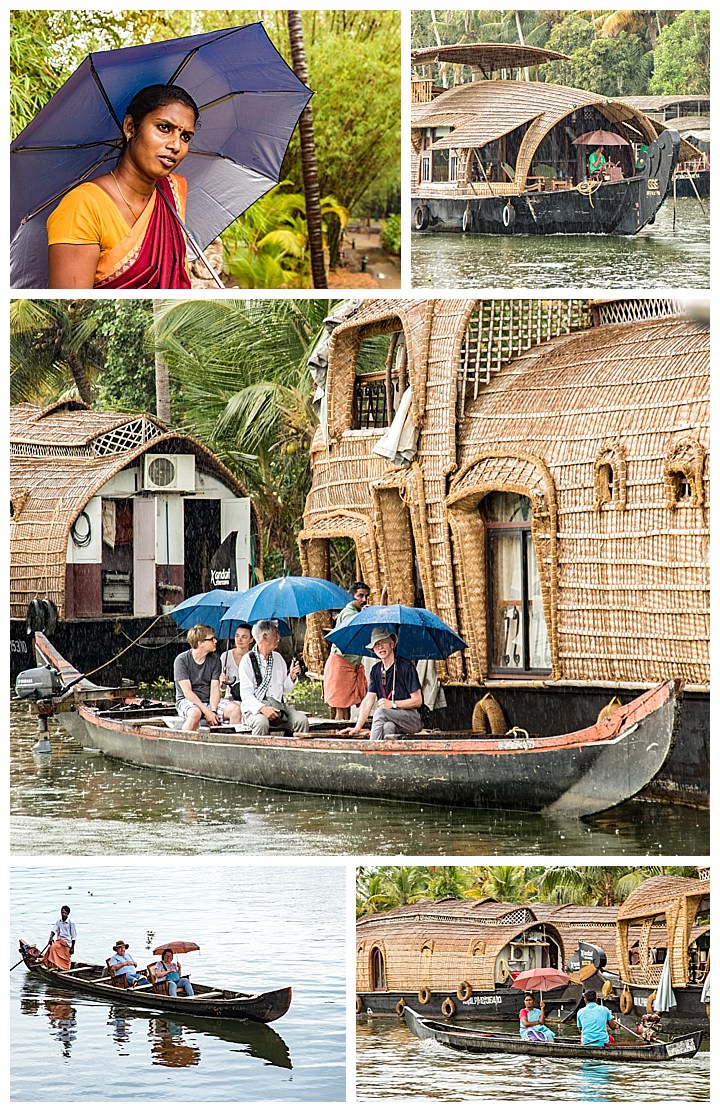 Just as we were about to embark on our canoe tour, the skies opened and the rain started falling in earnest.  Umbrellas came out for most people on the water, but by the time we had loaded the canoe, the rain had stopped, leaving the air pleasantly clean and cool for our journey.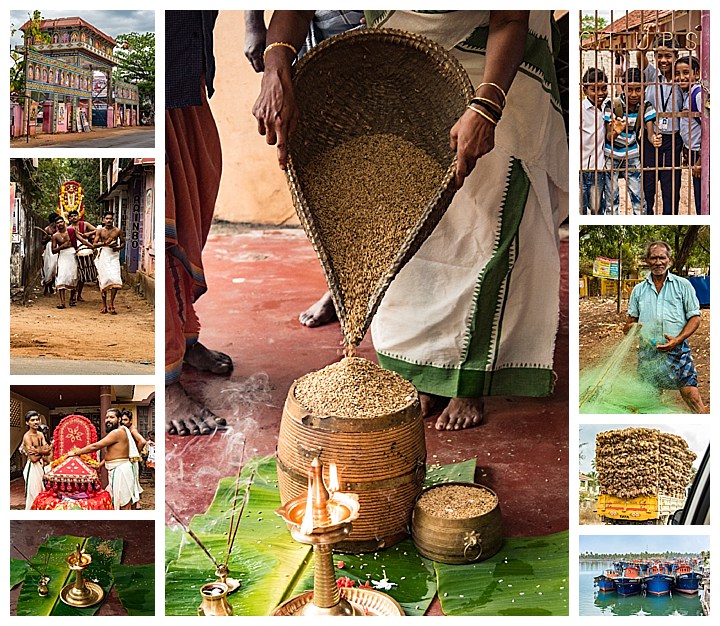 After we finished our houseboat stay, we headed to our next destination.  Enroute, we stopped at a local temple (top-left), and came across six men going from home to home with a god's statue in a litter (middle-left), where each home would pour grain in a ritual to invite the gods into their homes (lower-left and center). Along the way, we also stopped at a bridge to check out the fishing boats parked at the local marina.
We also came across a school that was in recess, and several boys rushed to the gate to gawk at the foreigners (upper-right) then watched a fisherman repairing his nets (middle-right). We encountered plenty of photographic opportunities everywhere in India.
---
---