India 13 – Munroe Island
We took several little side trips during our three weeks of traveling through Southern India.  One was a visit to Munroe island, located in the Kollam district in rural Kerala, India, and well off the beaten path. We had expected to drive to the island and then walk around.  Instead, we were deposited on the side of the road, where a small wooden boat with stand up paddler was waiting for us.  We then proceeded to tour the small canals of the island.
Perhaps the most memorable part of the visit was the very low bridges under which we passed.  There were a few that we could simply duck to pass under, and one bridge even had bats clung to the bottom.  Many others, though, required us to lie down flat in the bottom of the boat, with the bridge still brushing our backs when passing under.
As we passed one small home, we saw a group of women spinning fiber with what looked like bicycle wheels on a handle, rolling back and forth on a wheeled platform. The sisal making machine looked like a hand-made twisting mechanism.  The boat driver let us off the boat, and told us that the Indian people are very resourceful. Every part of the coconut is used, including the short fibers from the husks of the coconuts (called coir). We discovered that this family was spinning the fibers to make natural sisal rope.
We realized that we have used rope made from natural fibers for years, but never given much thought to how it was made.  They took packages of strands of natural fibers, wound it into long strings approximately 1/4" thick, then twisted the strings together to create a rope. The final product (bottom-right) can then be used for rope, rugs, and other products.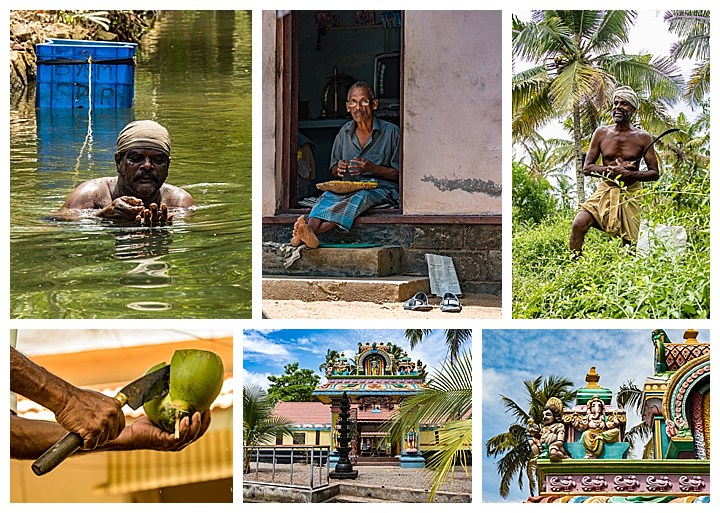 During our ride, we came across a man who was diving for clams (top-left). He swam over and gave us three of his clams as a gift, then swam away, smiling but never uttering a word. At another stop, a man sold us a coconut milk drink, a common thirst quenching drink of the region (lower-left).  As always, we also found a local temple, complete with colorful sculptures (lower row). This is another sample of village life in India.
---
---