Abu Dhabi – UAE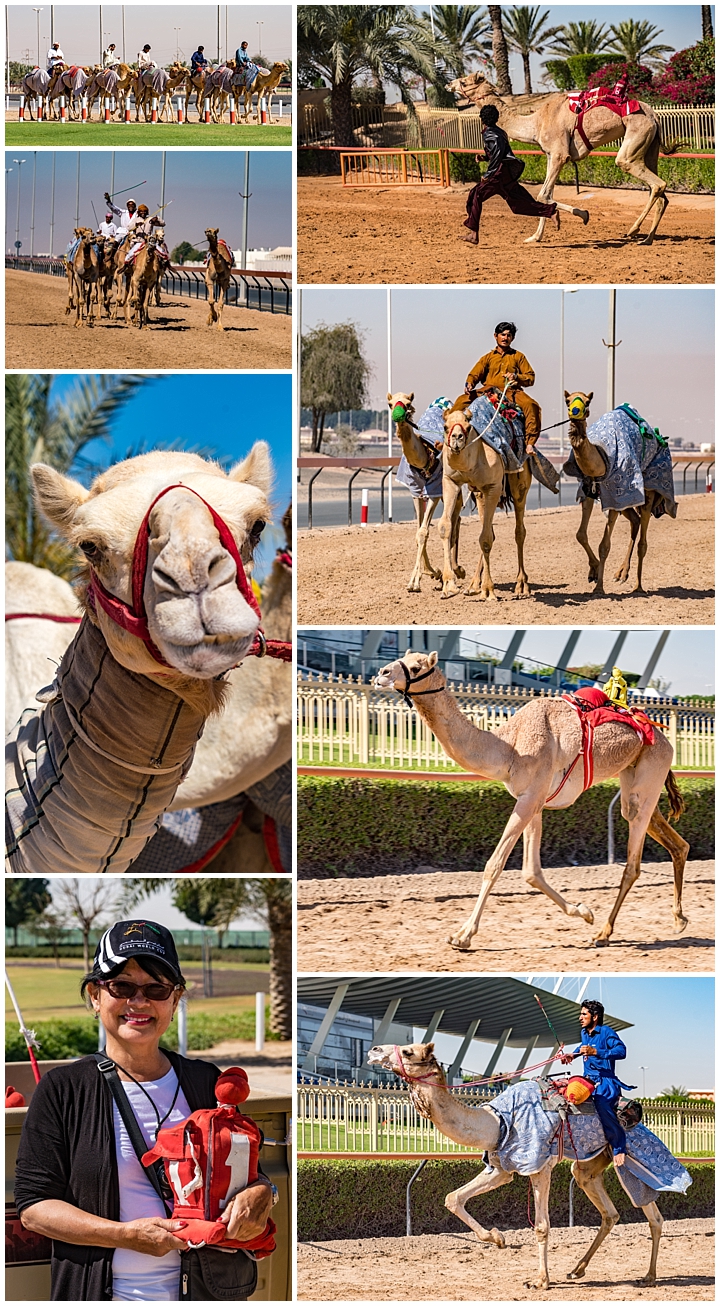 After a couple days in Dubai, we decided to go the capital of the UAE, Abu Dhabi for one day and night.  Barti (our local guide) suggested that we might enjoy stopping at the camel race track.  He told us that they were not racing today, but would be doing some training, and we quickly agreed to this side trip. Camel racing is an important part of the culture, and was known in the past as the sport of the sheiks.
We arrived at the camel racing track, and watched the unfolding scenario.  Some trainers were arriving in groups (upper left). Some ran their camels on foot (upper right), while others exercised their camels in small groups, riding one while others without riders (2nd from top, both left and right).  Still others ran a single camel (lower right).
Perhaps the most interesting... and perplexing... were the camels that ran with no person on their backs, but instead had a small dummy attached (3rd from top right).  We later discovered that these were robot jockeys (bottom left, where Pauline is holding one), used to simulate a whip giving stimulation to the camels to speed them up at the proper times.  Jockeys from age 9-10 years old were used in the past, but in 2004, these robots were developed to eliminate human rights abuses. Indeed, when it was pointed out, we saw some camel owners in their SUVs running alongside the track with their remote controls, activating the robots as part of their training.
Again, we used Barti Rajan to arrange this portion of our trip.  He is a private tour leader that we heartily recommend -- Dubai 1 Tours, can be contacted at baree@hotmail.com or info@dubai1tours.com, URL: dubai1tours.com.
Another stop along the ways was the large fish market in Abu Dhabi.  We often enjoy seeing these around the world.  As we began to realize was typical of UAE, this was one of the largest -- and the cleanest (no "fishy smell" here!) we have seen in our many travels around the world.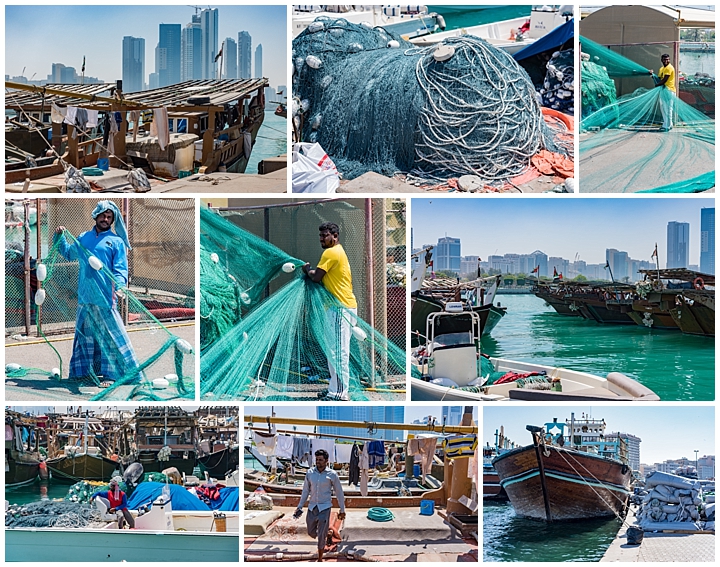 Nearby the fish market was the pier where fishing boats docked and brought in their catch.  We arrived too late to see the fish offloaded, but still enjoyed walking the pier and watching the fisherman putting away their nets.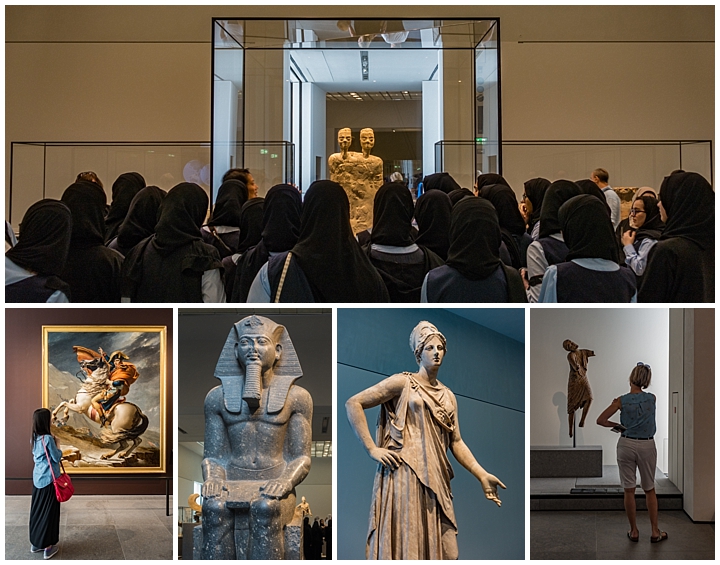 We also stopped in to see the Louvre, simulating the famous museum in Paris. The museum blended art from the west and the east. However the most remarkable aspect was the architecture, where there was a beautiful use of shadow and lights.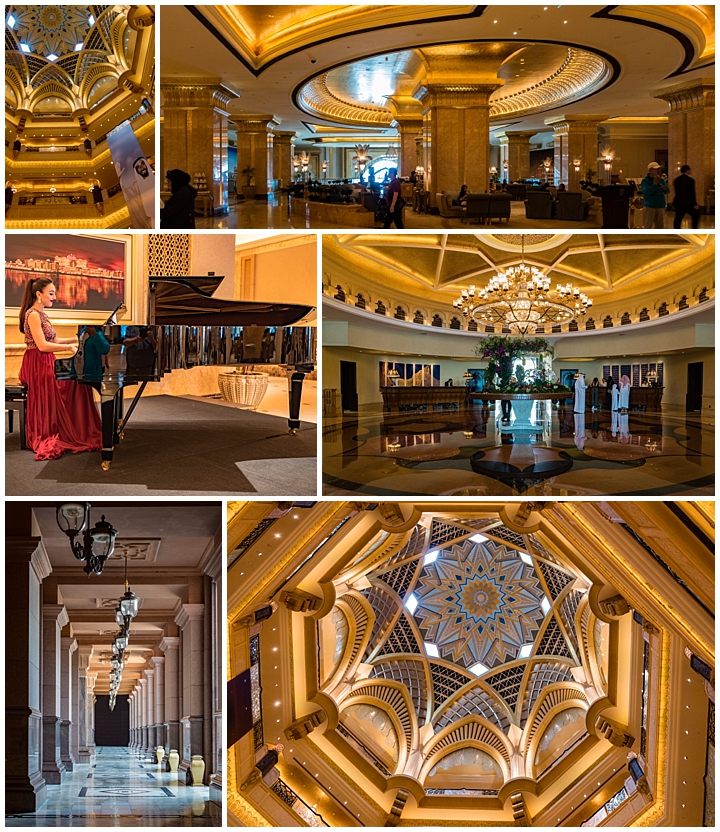 While I am not a fan of visiting hotels just to see their lobby, we made an exception for the Emirates Palace hotel.  The lobby is supposed to reproduce the feeling of a Royal Palace, and is the closest non-royalty (like us...) can come to seeing how "the other half lives."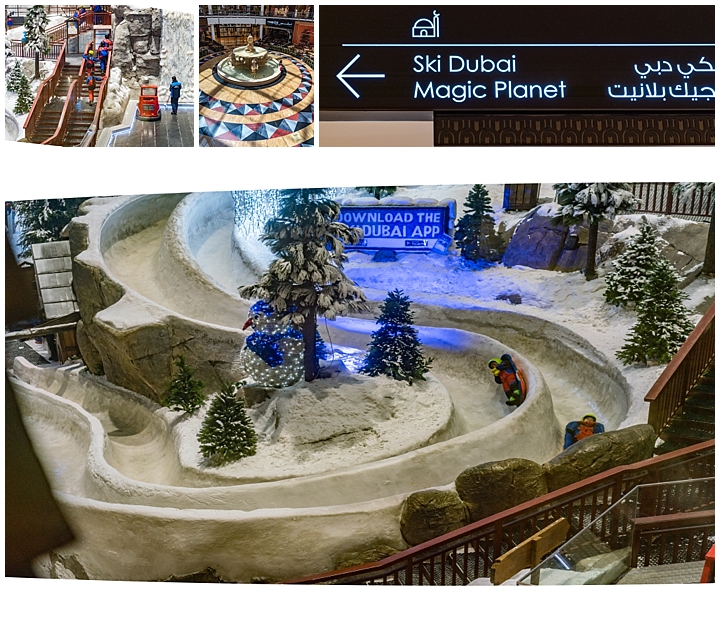 We also visited Ski Dubai, in the Mall of the Emirates, one of the largest shopping malls in the world, located just outside of Dubai. This was an indoor ski resort, including a toboggan run (lower).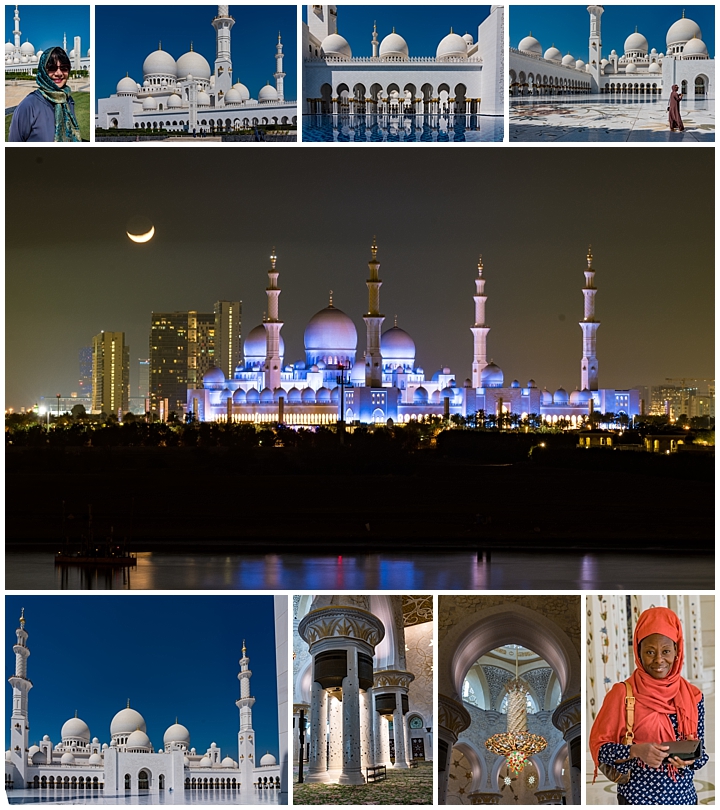 In Abu Dhabi, we stayed at the Shangri-La Hotel, where we had a magnificent sunset view of the Sheikh Zayed Mosque (center).  This is an amazing mosque made entirely of white marble, which can hold up to 41,000 people during prayers.  As with everything else here, this grand mosque was just completed in 2007, yet felt like an iconic site that had been here since ancient times. The design and quality of the construction exceeded expectations.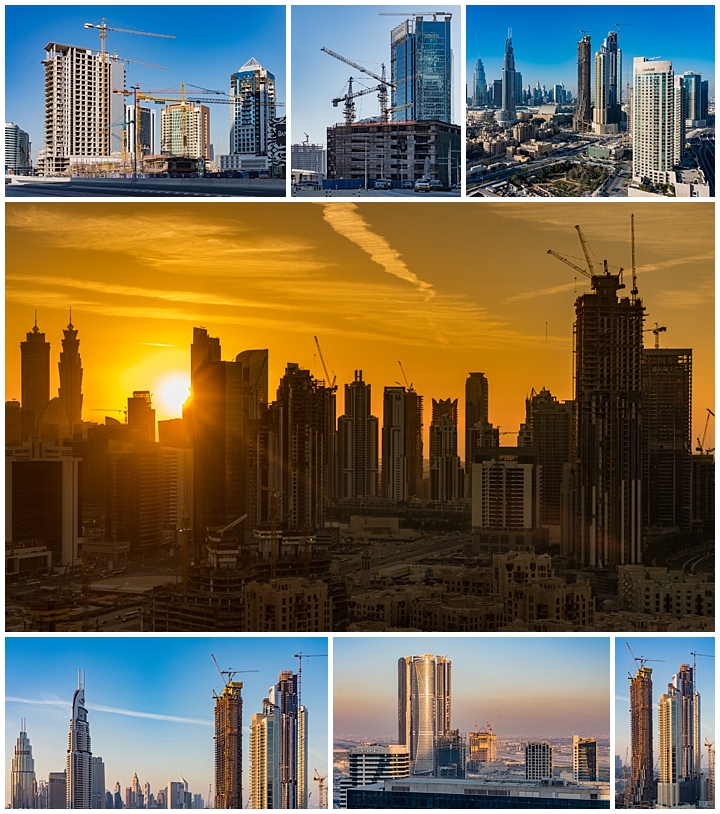 Construction cranes prevailed throughout both Dubai and Abu Dhabi, as the UAE races to become a world center in finance, media development, tourism, and many other arenas.

There were already two videos in yesterday's blog post, so I moved this one here.  It is a 90 second clip showing the Dubai Fountains, starting from ringside at the Dubai Fountains and finishing from our hotel balcony in downtown Dubai.
This concludes our time in the UAE.  I must admit that I had expected to be disappointed by a gaudy environment.  Instead, I found that everything, while huge and over-the-top, kept an air of elegance, cleanliness and quality. If you focus only on the shopping malls, then this would be disappointing place to visit.  However, looking beyond the shopping, it is a photographer's delight.  Personally, we hope to return at some point, to capture images that we missed, and to see how the skyline continues to evolve.
---
---