Lower Manhattan Skyline, New York
At the end of our India and UAE trip, we returned to New York City to spend some more time in the US before returning to Ecuador.  We spent a couple nights with long-time friends Zoya and Vladimir, and their parents, in New Jersey. We had wanted to take photos of the lower Manhattan skyline, which has been on our photo bucket list for some time. I had saved images of the Brooklyn Bridge that I showed to Vladimir. He also enjoys photography, and offered to drive us to Dumbo Park, at the base of the Brooklyn Bridge, where the images were shot.
The secret to capturing good images has always been about searching for the right locations to shoot from and waiting for the best light. None of us knew for sure where Dumbo Park was located, nor what it had to offer, beyond that one view we had discovered in our online search. The day had been completely cloudy, but it cleared up enough around twilight to capture the sunset, and we ended up with the images shown above.
For the last two nights, we stayed at the Holiday Inn in Long Island City.  The hotel was surprisingly good (OK, I was skeptical of "Holiday Inn," but this really was a top-notch hotel). The above images of the Manhattan skyline were all shot from our room balcony.
I happened to open my eyes around 3AM the first night.  About to roll over, I glanced out the window, saw the moon (upper image) and immediately woke up, to set up the tripod and catch that shot.  It was s-o-o-o-o-o cold (32 deg F, which is quite literally, freezing!) that I actually shot the photo through our hotel window instead of outside on our balcony.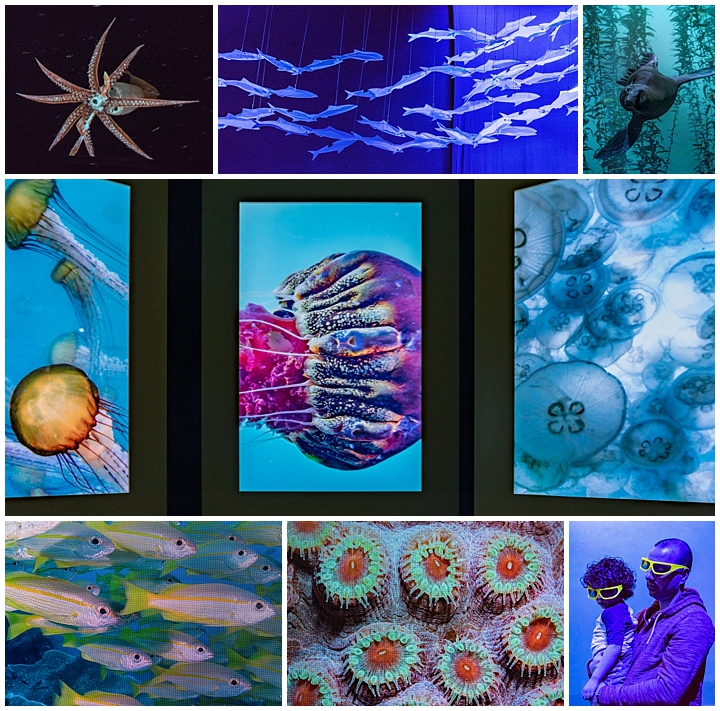 One of the latest tourist attractions in Manhattan is the National Geographic Virtual Aquarium.  We often go to the larger aquariums in cities we visit, so I decided to get tickets to visit this one. The video technology was interesting (all the above images are actually of video screens), including one 3D section at the end (lower right is a father and son watching the show). However, it felt gimmicky, and left us disappointed after less than half an hour for the entire tour.  We cannot recommend this to adults, particularly not at the sky high prices charged.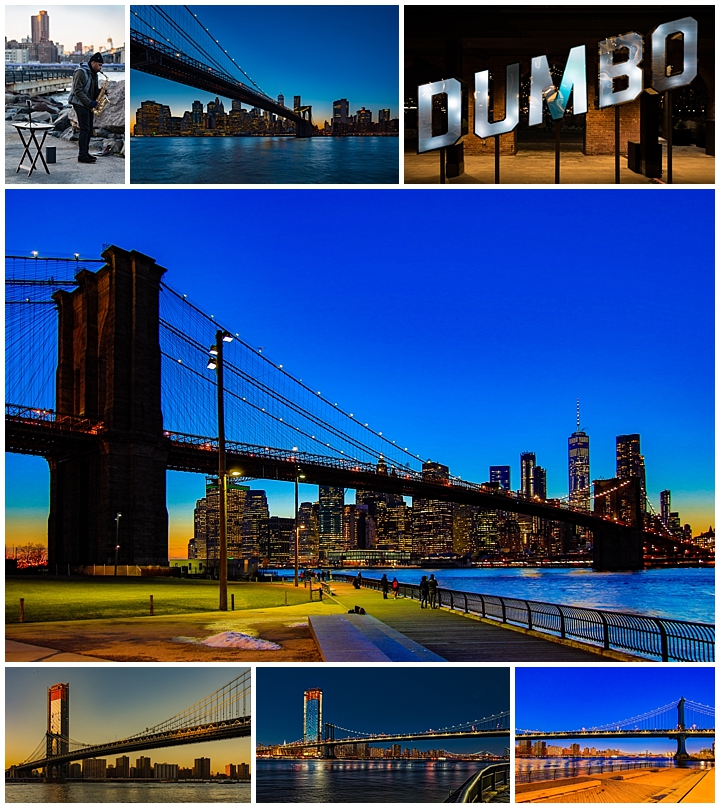 The second night in Brooklyn, the skies were clear, and we decided to return to Dumbo Park for another run at the bridge photos.  As you can see above, the weather made quite a bit of difference in the result, and we are glad we returned to capture the blue hour.
Our return flight to Ecuador left at midnight, making it seem like a waste to pay for a hotel room that night. As such, we stored our bags at the hotel and wandered the neighborhood for awhile.  We finally decided to go to the airport around 5PM.  Wow! If we had known what was waiting for us, we would have gone earlier!
We were flying Business Class back to Ecuador. Being over 65, all flights to and from Ecuador are half price for us, and we had a lot of bags. The result was that the difference between Economy (pay for extra luggage) or Business (3 bags free) was tiny.  This also gave us access to the American Airlines VIP lounge at the JFK airport -- which turned out to be a real treat!  Starting off, we found a wide selection of wines and champagne (good stuff too, not cheap brands) that was all free.  The food bar was also free, and had some really great food -- in fact, some of the best we have had on this entire trip.  That included scallops to die for -- some of the best I have ever tasted.
And to top that off, the best internet connection I have ever had -- 100 Mb/s download, 200 Mb/s upload (yes, twice the upload than download) with only 6ms ping.  Sorry for the tech-speak, but for those who understand these terms, that is 5 times better than we had in California, and 100 times better (yeah, we only get 1Mb/s in Cuenca...) than here at home in Cuenca.
We considered just skipping the flight and living there...  However, I have to admit, it is nice to be home again now, with our own bed, shower, and home cooked food. ☺
---
---