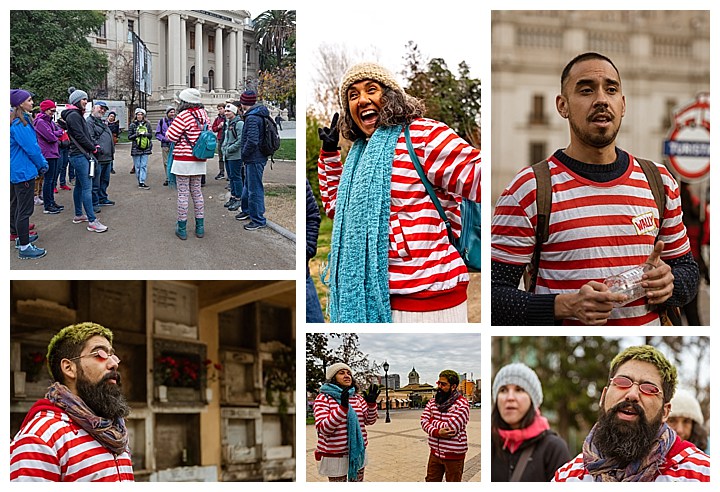 We spent two days in Santiago — one at the start of this trip, and a second later when returning from Easter Island. On both days, we used "Tours 4 Tips" free walking tours. Their guides dress as "Wally," playing off the "Where is Wally" cartoon (known as "Where is Waldo" in the US and Canada, but "Where is Wally" in South America). We enjoyed the morning tour enough that we also took the afternoon tour, and later signed up for the same pair of tours in Valparaiso (a future blog). It is easy to spot the guides, as they all wear the striped red-and-white shirts of Wally in the cartoons. Highly recommended!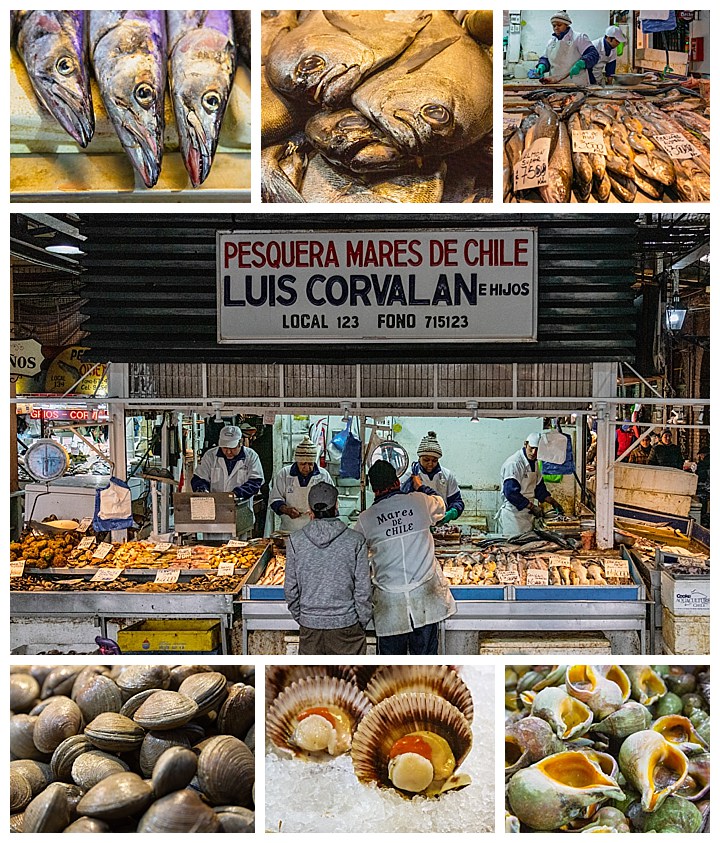 One of our stops was at the fish market. We often like to wander through the aisles of fish markets around the world, and this one lived up to expectations. Fresh fish with an immense variety, mostly from the local waters, brought in by fishermen that morning.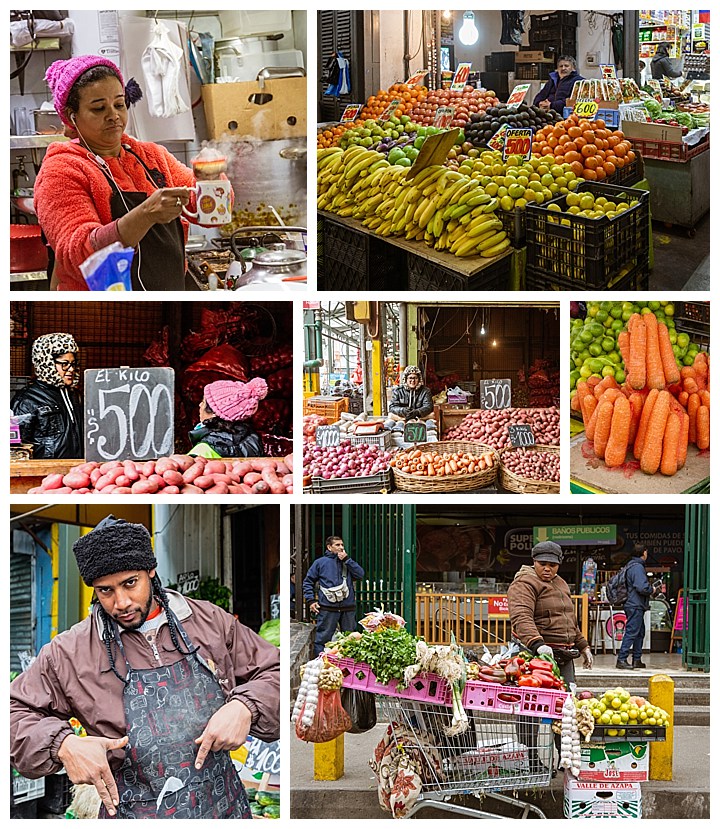 We also like wandering fruit and vegetable markets around the world, and watching the vendors and customers. The area near Mercado Central is where immigrants who work hard can make a living. Many operate out of shopping carts or unauthorized food stands, and continually move around when the police come.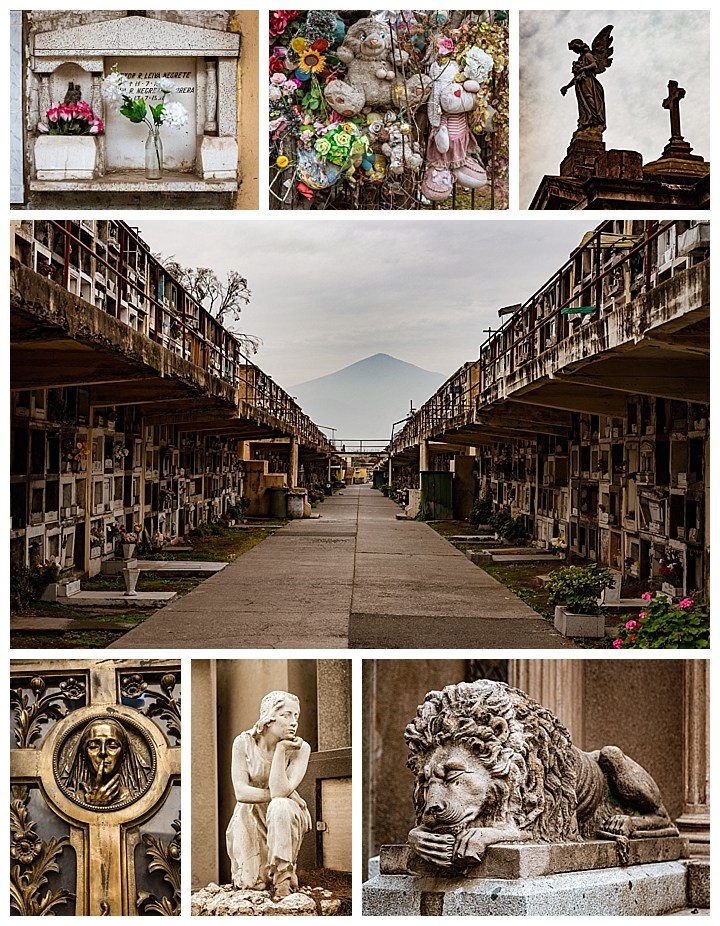 Many cities have very old cemeteries with long and fascinating histories. Our Wally guides kept us crowding closer to hear the various stories they told. This Santiago cemetery shared a characteristic we have seen many places in South America with the condo-style of burials (center). People here are inserted head-first into a small space just large enough for their body, in a structure half a dozen bodies high and a hundred or more long. Burial plots can be purchased (the body is kept there for perpetuity), or rented for a limited period, and then moved into a mass grave if rent is not paid.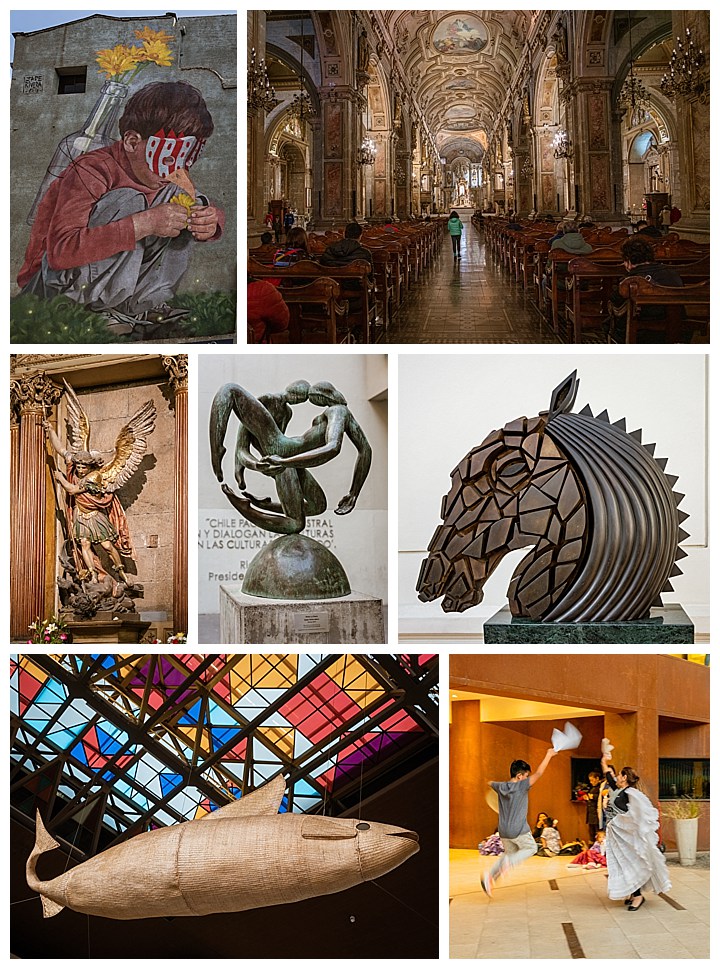 The Highlights Tour brought us to the more touristy locations, including the Santiago Metropolitan Cathedral (top-right and middle-left), the GAM Cultural Center (La Corporación Centro Cultural Gabriela Mistral) and The Chilean Fine Arts Museum. One building was demolished and rebuilt after Pinochet died, and is now dedicated to openness, visibility, and the arts. There were numerous small groups practicing various arts, as with the dancers shown lower-right.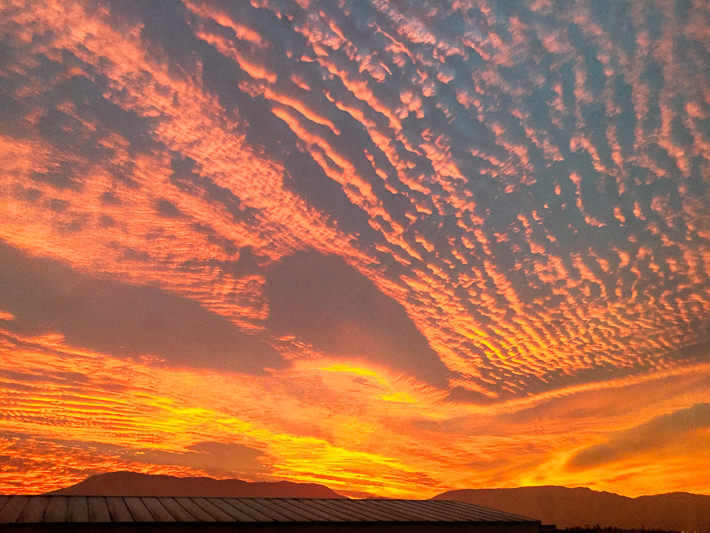 What better way to leave Santiago than with one of the more colorful sunsets. This was one of the evenings when the clouds and temperature orchestrated a Fire In The Sky sunset — our favorite kind.