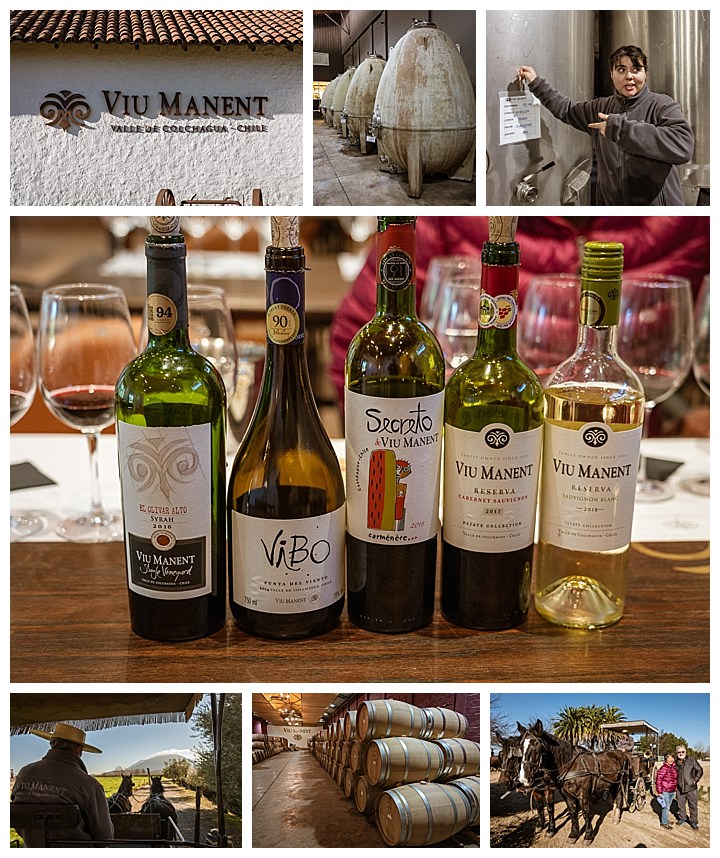 What do you think of when you think of Chile? According to one walking tour guide, the answer is "Atacama Desert, Patagonia, violent politics, earthquakes… and wine." We were on the edge of the desert while watching the eclipse. It is far too cold this time of year (July is the middle of their Winter) to go to Patagonia. Their violent politics is mostly in their past, and I hope not to experience one of their 9+ magnitude quakes.
That leaves wine… so we visited a total of eight wineries to make up for skipping the rest! ☺ Having lived near the Napa Valley vineyards in California for most of our lives, we thought we knew what to expect in Chile. Surprisingly though, each winery was different in the unique way they presented themselves, and we learned a lot. There were two common elements though — all tours required an advance reservation, and all tours were expensive, generally costing between $25 and $35 per person.
Our first winery was Viu Manent, in the Colchagua wine valley. The tour itself was pleasant, and included a horse drawn carriage taking us from one part of the property to another. Because it is winter, all the vines we saw during these days are naked and ready for pruning. Unfortunately, our English speaking guide had a soft voice and a thick accent, and I missed much of what she said. They then concluded the tour by letting us taste only their lowest quality wines. This was one of only two wineries where we left without buying any bottles.
We next toured Montes Winery, also in the Cholchagua valley. This tour was led by a very personable young guide who made everything quite enjoyable. At the end, we were given four reserve (premium) wines to taste, and chose to buy bottles of their Outer Limits Sauvignon Blanc. After the tour, we ate lunch at their restaurant, which was truly excellent. We were introduced to a new grape (for us), carménère, which was introduced from the Bordeaux region in France and is prevalent in this wine valley. We were told that this is the most famous varietal of wine produced in Chile.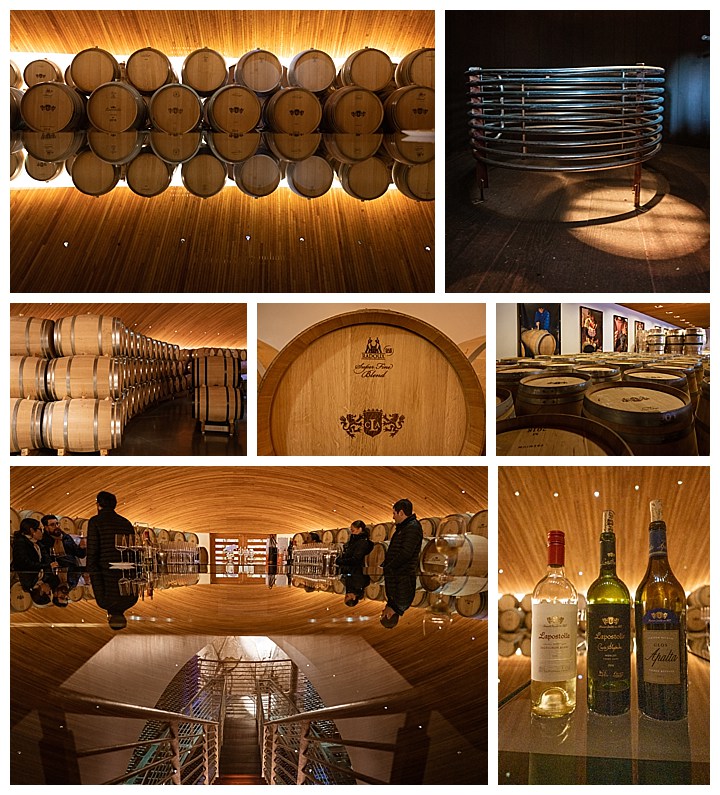 We did three wine tours that first day… which is something we do not recommend. Our hotel owner had suggested two, and he was right — two is a good limit for a single day of Chilean wine touring. Our third stop this day was at Lapostolle. However, upon following our Google Map, we found only a small wine store, where the owner told us that the tours were actually at their partner winery, Clos Apalta. We arrived a few minutes late, but since we were the only English speaking people taking the tour, the guide was waiting for us. This was the case at all but one winery — this is their off-season, but even so, English speakers rarely visit these wineries.
This boutique winery has a very unique architecture, being similar to an iceberg, in that 90% of it is underground. They produce only about 45,000 bottles of wine each year, and machinery contact with the grapes and wine is kept to an absolute minimum. The wine proceeds to each new stage via gravity, to the floor below, and then to the floor below that, until it is placed in kegs on the bottom of six floors. Actually, there is still one floor even lower, but that is where the owner's wines are kept, in the wine cellar seen down the stairs in the bottom-left image, while we did our tasting at a table covering that staircase.
These bottles start at $150 per bottle, with some reaching much higher than that. Though we enjoyed the tour and the tasting, the wine was still young and needed several years to age. Since our apartment does not have space for long term storage of wines, we left without buying any bottles here.
The next day, we headed out again, but limited ourselves to two vineyards. The first of the day was Montgras. This was the largest winery we visited, producing 8 million bottles of wine per year. Everything here was on a massive scale, with everything clean and as organized as you might expect is needed to run such a massive operation. The barrel room alone (upper-right and middle-right) holds 30,000 barrels of wine. We enjoyed the tour and the tasting so much that we bought multiple bottles of Antu Cabernet Sauvignon / Carmenere, Reserve Carmenere, and Amaral Brut sparkling wine.
Our tour of wineries will continue with tomorrow's blog post.