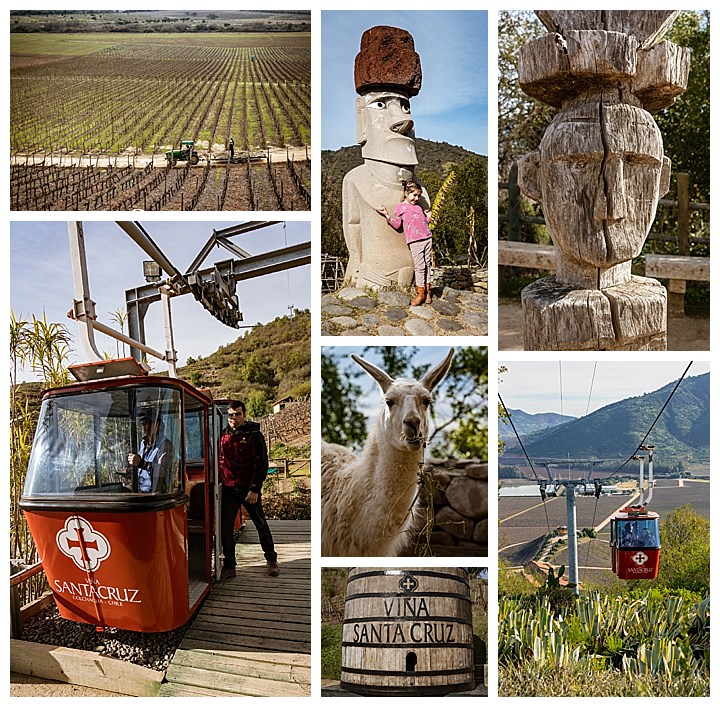 We visited a total of eight wineries while in Chile. The first four were described yesterday. Here are the remaining four. The next one in our tour was Viña Santa Cruz, still in the Colchagua Valley. This tour was not as enjoyable as most, partly because of the large number of children everywhere. This was Winter Break for the schools (remember, July is the middle of their Winter), and many families bring theirs kids here for the cable car ride (lower-left and lower-right), and the open-air museum at the top of the hill (middle and right-top). We purchased a bottle of Makemake, made in the Rapi Nui methods of Easter Island.
We did stop for lunch here, and that was outstanding.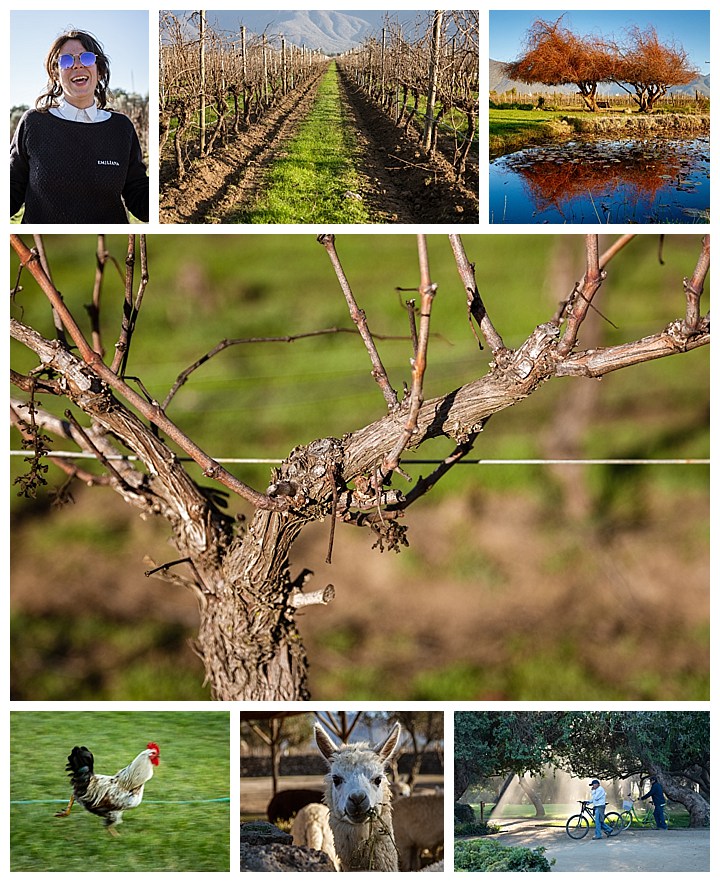 We started our third day of wine tours in the Casablanca Valley at Emiliana, which is billed as the world's largest organic winery. This tour focussed on the vineyards rather than the production process, since the production is actually done at a different property. Various insects, such as lady bugs act as natural pesticides, and guinea fowl and chicken also play vital roles. We learned a surprisingly amount about organic farming, from a lively guide (upper-left). We bought a bottle of their Coyam, which is a blend of nine different grape varietals. This vineyard produces only 45,000-60,000 bottles a year.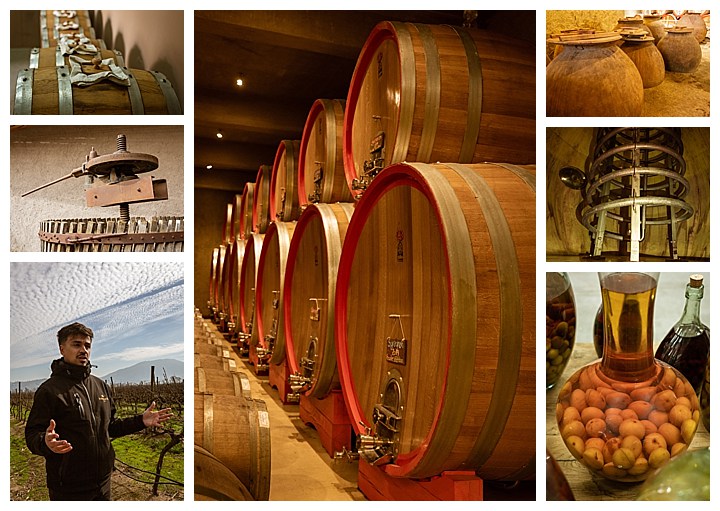 The last winery that we drove to was Bodega RE in the Casablanca Valley, which is another very small boutique winery. We were told the "RE" stands for "re-invention," since the owner wanted to re-invent wine making in Chile. This was the oldest winery of all those we visited in Chile, and we learned that it was one of the first on the Chilean coast, and one that developed the first methods to deal with the coastal frost that had been so devastating to earlier vineyard attempts. Each wine is an experiment, often using old clay pots used to make wine as they did during the days of the Etruscans. We bought a bottle of Doble, a wine made from vines that had two different varietals growing on a single root — Garnacha and Carignan,
In addition to wine, they also make several varieties of fruit liquor and balsamic vinegar (lower-right). All these are experimental though, being made in just six kegs holding roughly 10 gallons each.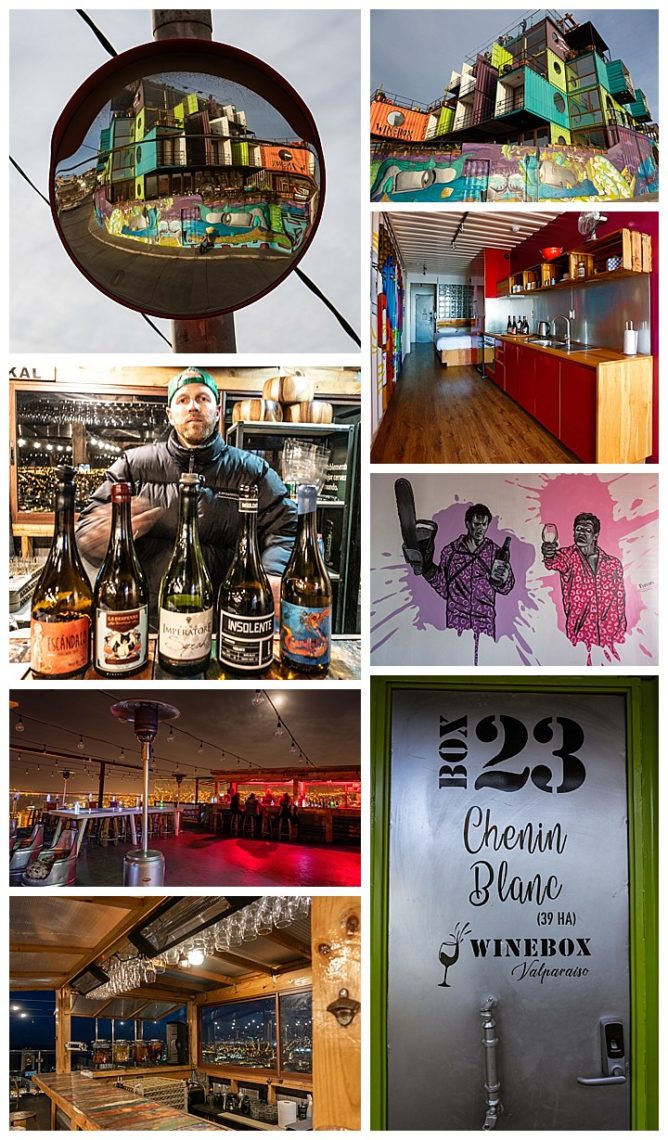 Our last winery was perhaps the most unique of all. It was actually our hotel while in Valparaiso. This was the WineBox. The owner and creator is Grant Phelps (second row-left), a young man from New Zealand who came to Chile 19 years ago, fell in love with it, and stayed. He is great to talk to, and we informally learned the history of how he decided to make his hotel from 25 recycled shipping containers (upper row). The drinking glasses are made from used wine bottles, chairs are made from used wooden wine barrels and sofas are made from recycled bath tubs. He produces only 3,000 bottles a year, and stores the barrels down in his parking garage.
I must admit I was a bit skeptical about staying in a shipping container for four nights. I quickly became a convert though, and we will likely stay here again when we return to Valparaiso for the wine crush in some future year. His guests are sometimes invited to participate in the wine production and crush. The container was amazingly spacious (second row-right was our room), with lots of whimsical wall murals (the zombies third row-right were in our room, and from a famous zombie movie I never saw…).
Grant is actually a winemaker, and sells his wines only to his hotel customers and some local restaurants. He gives a great wine tasting event featuring unique small family-owned wines (second row-left again) on his upper terrace bar (third and fourth row-left). We were already over our limit on the number of wines we could bring back to Ecuador, but his presentation broke down our resistance and we bought three more bottles from him!
After leaving the WineBox, we headed back home to Cuenca. We had 12 bottles of wine, and the customs limit is 8 for the two of us. hmmm… We spread them out among our luggage and "took our chances." Passing through customs, they only asked to examine one suitcase that had five bottles. The limit per person is four bottles. The Customs officer told me I was over the limit, but when I asked how much the duty was on the extra bottle he had found, he just said (in Spanish), "nothing this time, but next time remember that you are only allowed four." Thus, we got them all back home with no extra Customs import fee. That was a rather sweet ending to our trip. ☺
Tomorrow, we will continue with a series of blogs describing our time in Valparaiso.