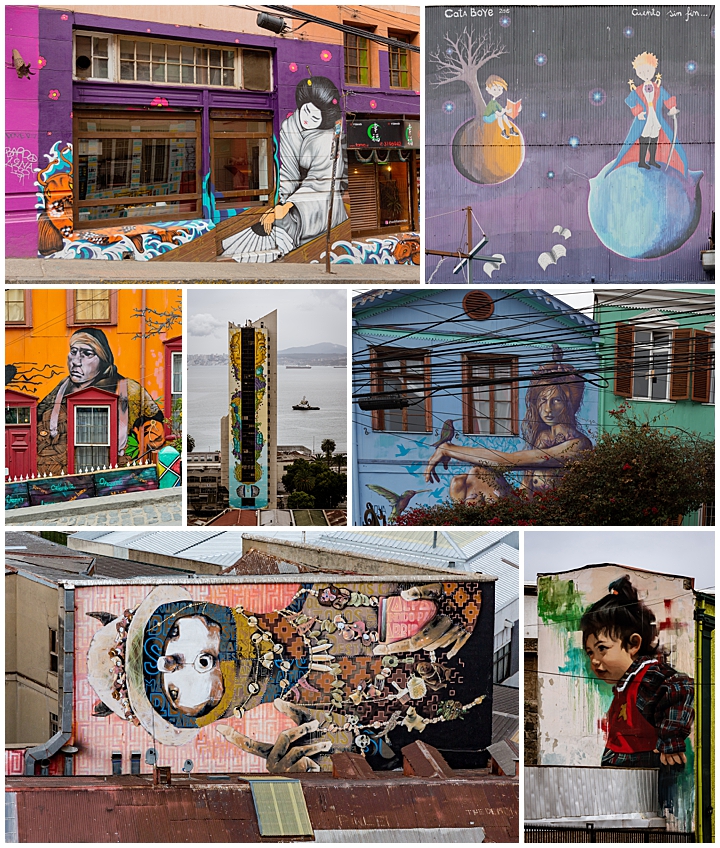 Valparaiso, called Valpo by locals, is one of the most colorful cities in the world and considered to be the cultural capital of Chile. The historical quarter was designated a UNESCO World Heritage Site in 2003. It is well known for the massive amount of world-class street art throughout the city. In large parts of town, there is barely a vertical surface without such art. This art is broken into three types by the locals — murals, graffiti and tagging. Murals are the elaborate, highly artistic paintings on walls like those shown above. Graffiti is the artistic, highly stylized words on walls, and are also considered acceptable art by many. Tagging is the lowest form of vandalism that simply defaces a property, with no discernible talent or redeeming value.
Street art began in earnest in Valpo during the Pinochet dictatorship, as a form of protest. Though such art was illegal, it could be done clandestinely. Those who were caught often "disappeared." After democracy was restored, the local government made street art legal, as a form of free expression. Artistic competitions were created, where the winner was given all the tools necessary for more art. People began to hire artists to create unique designs on their buildings.
Besides the general beautification of the city, taggers also respected the art, and random ugly tags disappeared from large swaths of the city, as available surfaces were covered with commissioned art.
Many of these murals are larger than life, as seen in this first photo block. The one covering the side of the entire 22 story Centenario building (center) was commissioned after legalization. The art on the lower left was painted by the legendary Inti, born in Valpo and well-known as a muralist worldwide.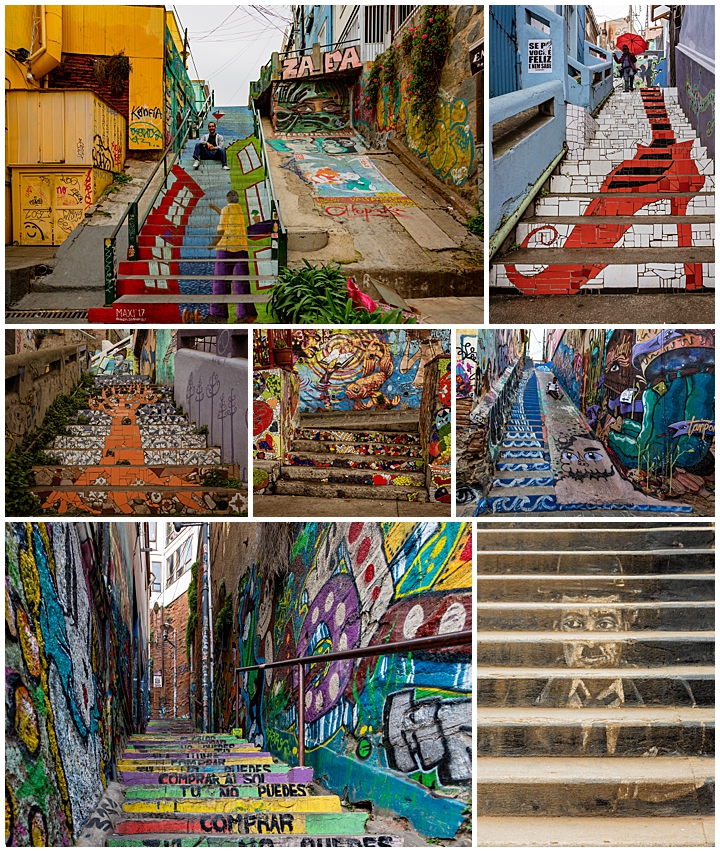 Many of the stairways in this city of 42 steep hills (cerros) have also become canvases for artists. You don't even notice the art when walking down, but if you turn around, the vibrant art lays out in front of you. Note the image upper-left, and you can see that the stairway is free of tagging, but the surfaces on both sides are badly defaced by tagging, since no murals were created there. To the right of some of the stairs, people playfully slide down the sides (middle-right). Several stairs are decorated in mosaic tile, while others are painted.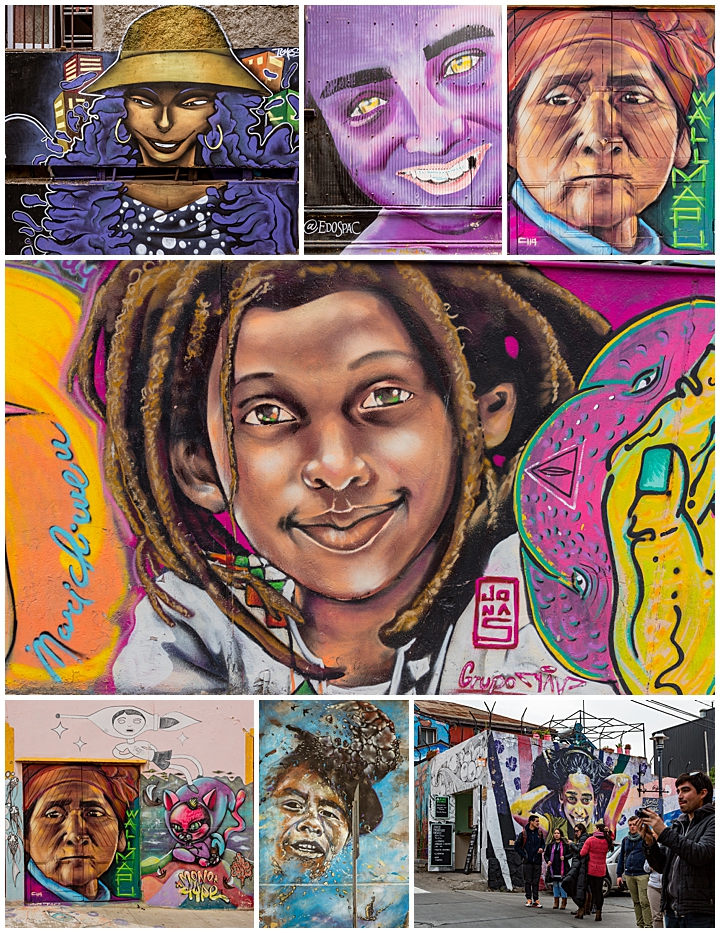 Faces are a frequent theme of murals. Some depict local indigenous people, while others are signed by well-known muralists, and still others are merely fanciful. All are beautiful examples of highly talented artists.
The artwork is not confined to the sides of buildings. Even fire hydrants sometimes get fanciful art (upper-right). Many sidewalk vendors' buildings also sport murals (center column). The local water company truck gets in on the game with murals too (upper-left).
We will see still more street art in tomorrow's blog, so check back…