We spent four days in Valparaiso at the end of our Chile travels. After visiting eight countries so far in 2019, we were looking for a few days of taking it easy. One thing we have been enjoying are the free walking tours (for tips) in many of the major cities we visit.
In Valparaiso, we again joined Tours 4 Tips to get oriented. Their guides dress as the "Where's Wally?" character (upper-left), making them easy to find. Their "offbeat" tour was our favorite, showing us more street art in the surrounding hills (cerros), a visit to the former prison which has been transformed into a cultural center, and showing us the cemeteries.
We used public transpiration during the tours, both riding on the many funiculars (ascensors) going up the steep hills (lower-left) and a public bus (middle-left). The bus system here is unique relative to any we have seen elsewhere. The busses all have normal routes, for fixed fares during the day, which is pretty much like everywhere else. However, if you approach an empty bus with a group (as we had with the walking tour), you might be able to convince the driver to switch his sign to go on a different route, and take you where you wish.
Also, each driver has a quota of number of people he must pick up each day. He gets a percentage of all fares up to that quota — but he gets 100% of all fares after that number. By early evening, many drivers are in the total-profit area, and things get interesting. To flag down a bus, you raise one finger, indicating you want to board and pay the normal fare. Or… you hold up two, three, four or five fingers to indicate how much you are willing to pay for the ride (four fingers means you are bidding 400 pesos). After the quota has been reached, the driver no longer needs to stop, so tends to do so for those that bid the highest for the ride…!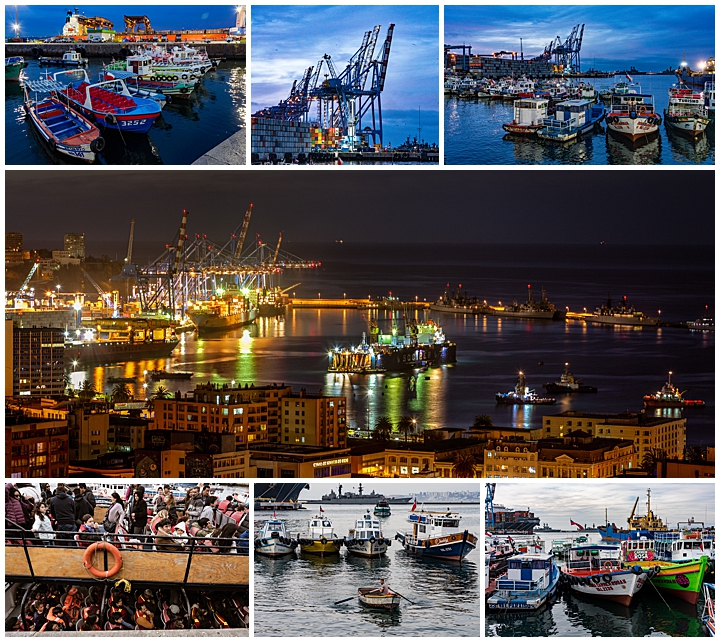 Valparaiso was originally founded as a major shipping port. The Golden Age of the city came to an end in 1914 when the Panama Canal opened, and ships no longer had to pass through the Strait of Magellan to reach the US West Coast. There are now container ships transporting goods to and from the Chilean coast, and recently cruise ships have started bringing tourists here. The smaller boats now mostly give short tours of the coast to tourists for about $6 each (lower-left). The container ships are busy 24 hours per day (middle).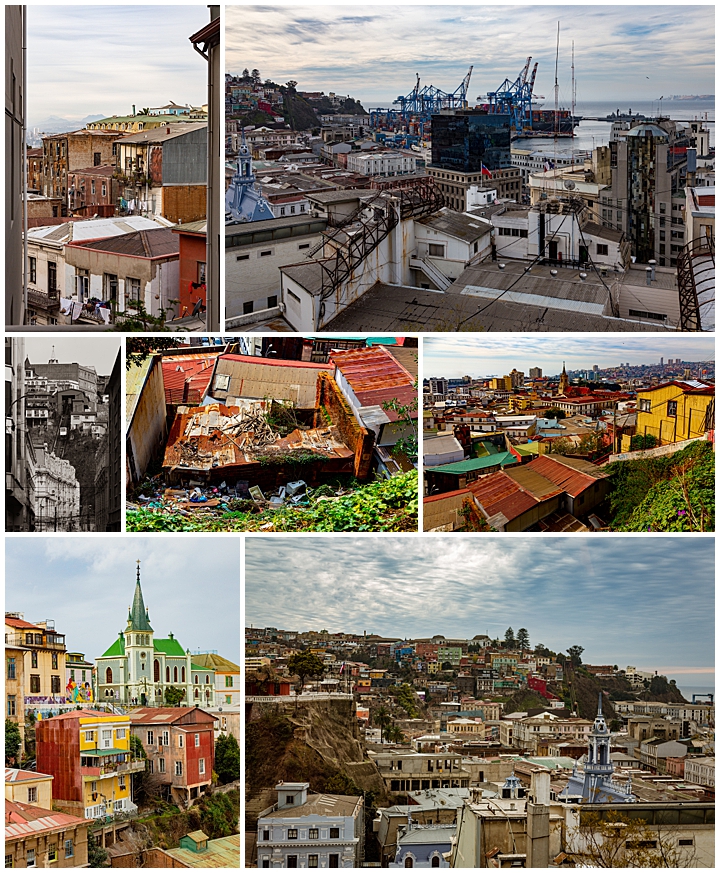 Valparaiso is an extremely hilly city with 42 hills (cerros). On several walks, we saw many panoramic views of the city below. From that vantage, you can see portions of the city that are well maintained (lower-left), but can also see dilapidated properties badly in need of renovation (center). We understand that Chile has one of the most stringent structural codes to deal with the more than 8,000 earthquakes a year, including the largest earthquake recorded during the 20th century, in 1960 a ten minute 9.6 quake and tsunami killed 7000 people in this area.