Tonight at the Berkeley Camera Club, we had Creative and Nature category competitions. Creative has always been one of my favorites, while Nature has never really been my strong suit. Tonight's results followed those strengths.
The procedure for competition at our club is to have the photos projected on a screen one at a time, while a commentator discusses the strengths of each image, along with suggestions for improvement. The audience (club members, most of whom have images in the competition) sit quietly and listen, only occasionally whispering comments of agreement or not among themselves. For my creative images, I try to shake things up and get a reaction. Sometimes I try for a gasp from the audience, if I have something I think is stunning visually, or will instantly make the audience wonder how it was done. Othertimes, I try for a laugh — something that will strike them funny enough that they can't help themselves but give a loud guffaw.
Tonight I was trying for the guffaw — and I got it! 🙂 There was an immediate loud laugh, followed a moment latter by more laughter as the caption was read. A double winner this time!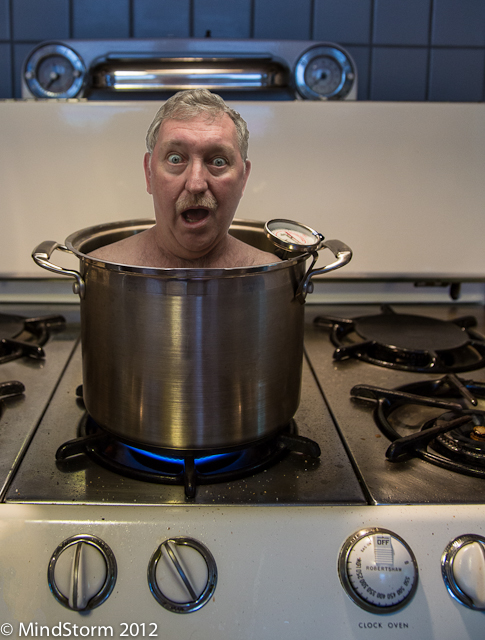 I titled it "In Hot Water Again," and I am happy to say it was awarded 1st place at the Masters level of Creative photography tonight.
The image was actually pretty simple to make. I put one of our pots on our home stove, added a oil thermometer, lit the stove and shot a few pictures handheld. I then went into my studio and placed the lights to mimic the lighting in the stove, stood against a white background, and clicked off a dozen images while I made faces that I thought would work here. 15 minutes of Photoshop created the composite.
I also had an entry in the Nature competition, which won an Honorable Mention at the Intermediate level (2nd level of 4). It is an image I shot of a Red Footed Booby on a trip to Galapagos Islands a few years ago. Almost all my nature winners have come from that trip. It is almost cheating using photos from there, since they are so easy to get. In this photo, I was no more than maybe 8 feet from the bird, who had no fear of humans at all. When walking, you have to careful not to step on the birds and reptiles that cover the islands.