Squirt guns have been left at the door, as it seems every kid in town is now toting an aerosol can of Carnaval Foam. This looks like a cousin of the "silly string" we have terrorized friends with in past years around New Years. A broad spray of foam is sent out to the hapless passerby. A few minutes later only the laughter of the kids remains.
Bring your sun block! The clouds have been constant since we arrived, often black and threatening, though there have only been a few scattered showers. I forgot to use sun block yesterday (who needs it when the sun can't be seen?), and today I am paying the price. My face is sunburned, and my ears have scabs from the burn. Sun block will be on my face every time I leave the apartment for the rest of the week!
We went walking into town again this morning, in search of Bananas, a highly recommended breakfast restaurant. We got hopelessly lost, and ended up eating at Cafe Austria, which was across the street when we gave up. There were only 4 breakfasts on the menu — American, Continental, Austrian and <can't remember what #4 was called>. I ordered the Austrian – eggs, bacon and juice. Evelyn saw pancakes going by to another table and asked the waiter. Turns out they were available, even though not on the menu. Evelyn's pancakes were better than my passable eggs.
Afterwards, we walked over to Parque Calderon again. There was a band playing, and about 3 dozen varieties of rocking horses around the plaza, with a vendor taking pictures of kids sitting on the horses. While Evelyn was photographing, I sat down on a concrete bench to watch.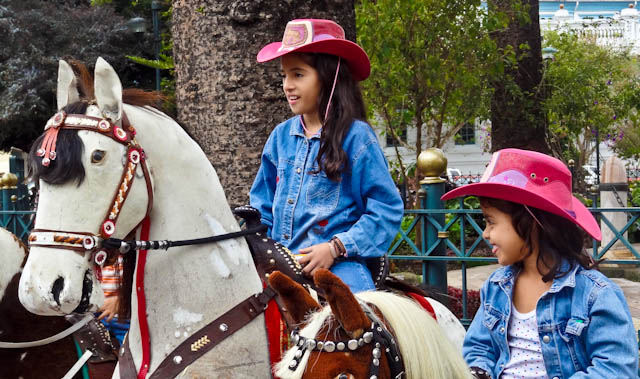 A Peruvian woman came over and started talking to me in rapid Spanish. When I replied "Hablo muy pequeño Espanol" ("I speak very little Spanish"), she sat down and we worked out a crude conversation with the limited Spanish Evelyn and I could muster. She was another example of just how easy it is to meet and talk to people here — even if you don't share the same language.
At one point, she asked our plans for the day, and we said were going to Banos. She was confused, and said that was a 4 hour drive, so we couldn't possibly be going this afternoon. I told her I thought it was only 20 minutes away, but she insisted. Oops, further than we thought, so I guess we can't go after all.
Later, our first Google search "distance from Banos to Cuenca" confirmed the 4 hour drive. However, after more research tonight, we discovered there is a "Banos resort" near Quito (the 4 hour drive), and another "Little Bano" with hot springs 20 minutes from Cuenca. Could have gone after all, but too late now. We will have to do that when we return to Cuenca sometime in the future.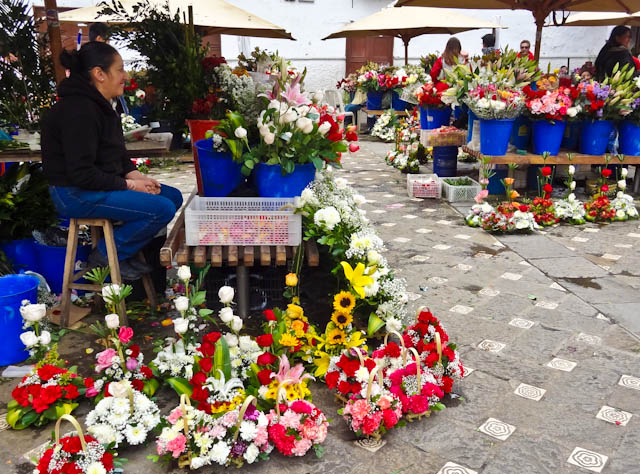 After leaving the square, we walked about a block away and came across a flower market, then on to the local indoor co-op market where Peter and David (both Gringos we met earlier on the trip) shop for their produce. There were rows of open-air counter-tops with butchered beef, pork and poultry, just as we have seen in many Asian markets. The difference is there were no flies on this meat — a benefit of being at 8,500 and too high for most bugs. We were later told that the merchants are required to sell the meat on the day it is slaughtered, and any remains are fed to dogs in the evening.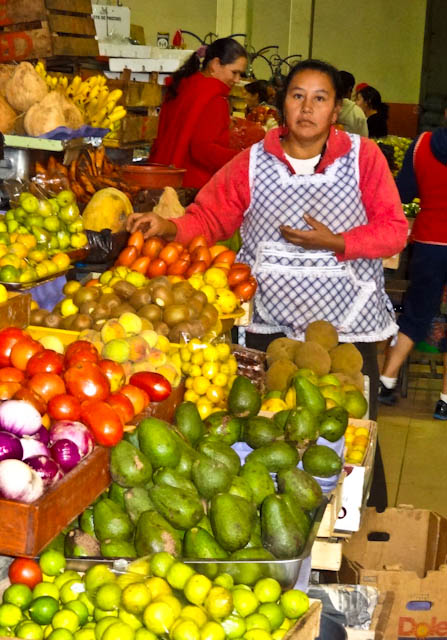 We tried to eat at Tiestos restaurant tonight, but it was closed. In fact, the first 4 restaurants we called were all closed. The city is largely shut down for Carnaval.
We ended up eating at the Akelarre restaurant in the Hotel Inca, which was recommended to us by the California Kitchen when we called to get in there. The food was fabulous. We opened with a great potato soup (a specialty of Cuenca), then had the best sea bass béarnaise we have ever eaten. I talked to the owner for awhile. He said they have been there for 7 years, and are just starting to get positive reviews in Lonely Planet and other travel books. I added a 5-star review for them in Trip Advisor.