40 years ago today, we drove to Kirkwood Meadows near Lake Tahoe, mounted skis and got married. Kirkwood Meadows was a new ski resort that we had not been to before, so we thought it would be a good place to start our new lives.  We didn't realize ahead of time that Dec 16, 1972 was the official Grand Opening of the resort.
Word got out that we were going to get married on the slopes, and the entire ski patrol team was waiting for us at the agreed location, along with TV and newspaper photographers who were there for the grand opening.  We did not own a TV in those days (our first TV was in 1984 when my Apple II monitor was switched to TV use after I got my first Apple Mac). My parents told me that we were on the news that night though, and we managed to get prints from the newspaper photographer.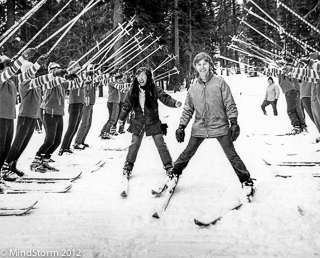 We look like novices doing the "snow plow" because the photographer kept saying we went too fast, so we had to stop midway between the raised poles of the ski patrol.  This photo was in our local newspaper.
My boss from Ampex (where I had worked my way through college) was our minister, and we used The French Way of Skiing as our bible.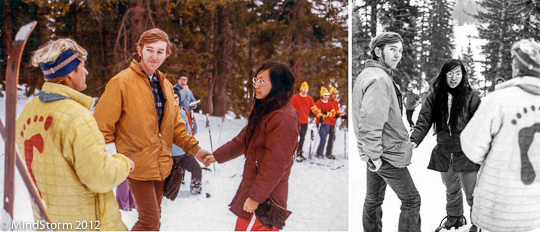 When looking up these photos, I came across some others from the same time period.  It's hard to believe we were ever so young!
Photos we took of each other right around the time of our marriage.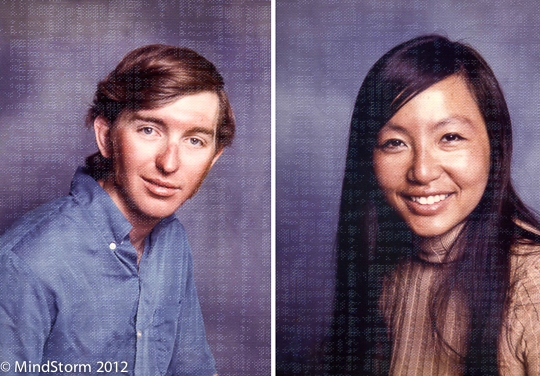 A year later we hired a professional photographer to come to our house for these portraits.  We had just come back from a weekend skiing on Mt Hood, so we were both a bit sunburned.
And here we are, 40 years later, on another adventure — this time exploring Ecuador for three months. Having travelled to more than 50 countries so far, we are making plans now for more adventures to come. Stay tuned for the next few decades, as we continue to try new things and go new places. The last 40 years have just been a warm-up for what is still to come!