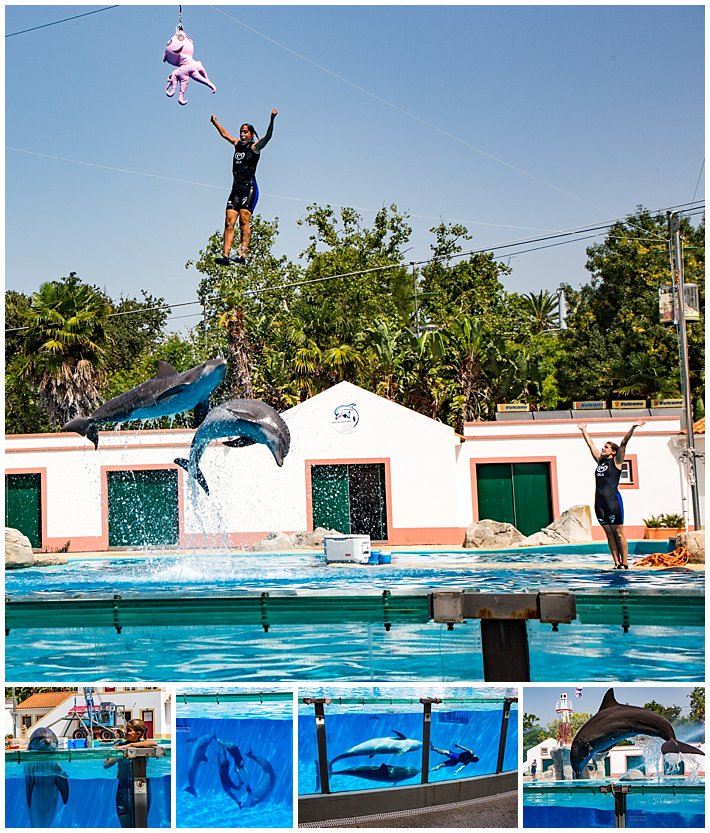 Our three month adventure in Europe and Central Asia is now over. This is our 37th and final blog entry covering this trip that has taken us to Italy, Uzbekistan, Kyrgyzstan, Kazakhstan, Georgia, Armenia, and finishing with a month in Portugal.
On our last day in Lisbon, we decided to check out their zoo.  We arrived just as the dolphin show was starting, so we quickly went to Dolphin's Bay to watch.  It was excellent entertainment, and a good way to start the day.  As it turned out, this was the highlight of the zoo.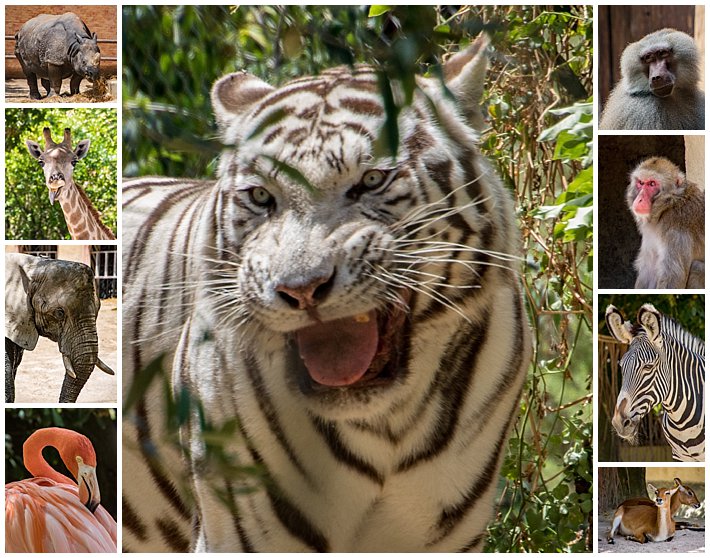 There was the usual cast of animals at the zoo, in fairly standard zoo enclosures. Many of the enclosures appeared empty at first, as the animals were sleeping.  Later, many of them woke up and made an appearance.  The white Siberian tiger (center) was the most unusual animal among the collection.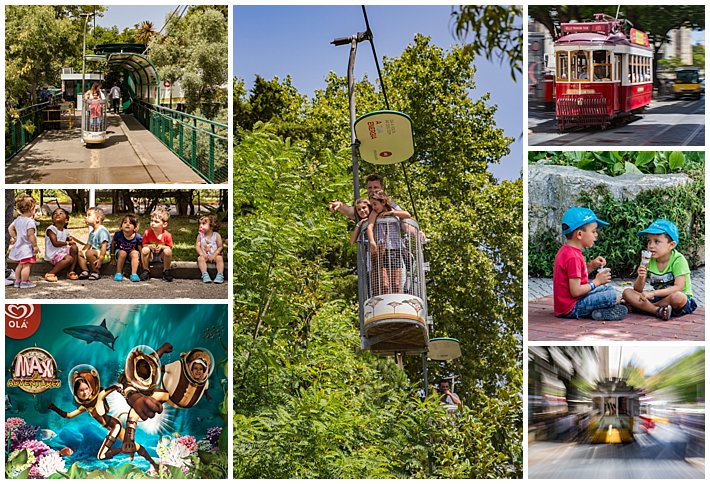 We often enjoy watching children at places such as this, and the zoo was no exception.  There was an interesting standing cable car (center and upper-left) that circled the zoo property, giving an aerial view of the property.  As expected, there were groups of school children (center left, bottom-left and right-center) having fun.  Some people used public transportation, including the ubiquitous trams (upper and lower right), to reach the zoo.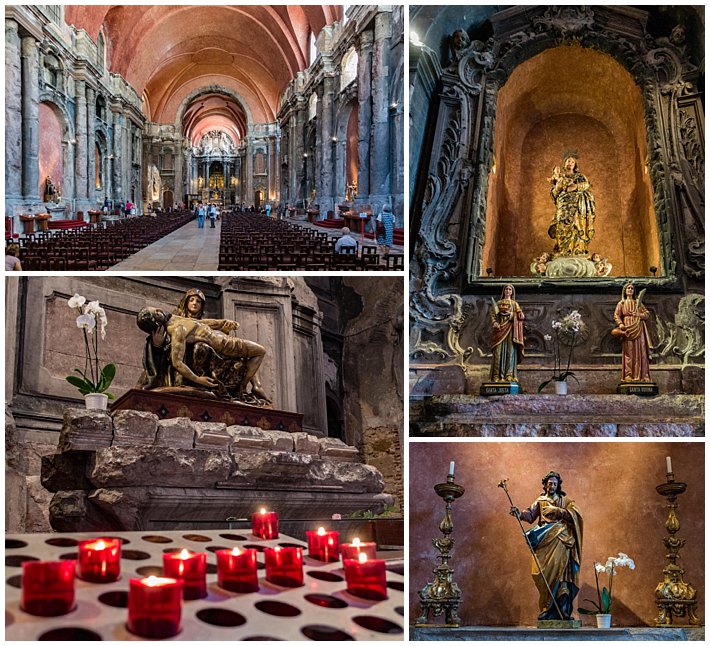 Near the AirBnb in the Alfama district where we were staying was the São Domingos cathedral, which is considered a national monument, built in 1241.  We had seen so many cathedrals in the past three months that we almost passed this one by.  We decided to walk in, on our way back to our apartment, and were glad we did.  This one was quite different from every other cathedral we had seen.  It was a medieval church that had been destroyed and restored several times.  The stone columns showed the centuries that have passed (upper left), with signs of the fire in 1995 that gutted the church left intact.
Lisbon is a city undergoing massive change.  Almost everywhere we turned, there were more construction cranes or facades under protective covering (center left) for new construction projects or renovation.  Unfortunately, the river front is being transformed into a massive cruise ship terminal (bottom row). On some days, more than 10 cruise ships come into the Lisbon port already, as cruise ship companies are adding this city to their routes. This will not be a very pleasant place to visit in the next year or two when this all opens… ☹

Lisbon is famous for Fado, a music genre characterized by mournful tunes and lyrics, and some consider this the soul of Portuguese culture.
There were at least a dozen restaurants within a few blocks of where we were staying that had Fado with dinner, so of course we had to sample a couple of them.  In general, the music was very pleasant, but the food was poor and the prices were exorbitant.  Here is a short clip that gives a feel of the music without the downsides…
Some say that the fado music in Porto is quite different from this Lisbon variety, and was originally sung by suitors below the balconies of the singer's affections.  By tradition, a person is only allowed to sing Fado if they have attended the music university and have reached at least the third year of study.

Portugal is a country that loves music.  We came across dozens of street musicians that were enjoyable enough to stop and watch for awhile… and video.  We will finish our Portugal blog with this street performing group singing "I wanna dance with you," with a few of the zoo images interspersed.
Hope you have enjoyed reading about our recent travels as much as we have enjoyed experiencing – and writing about – them. ☺