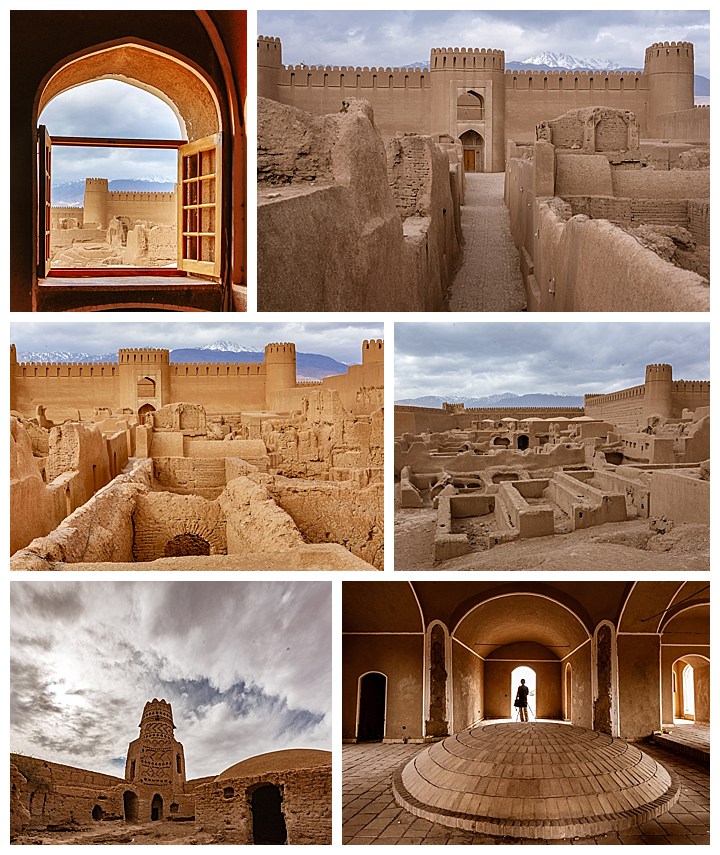 Iranian Local: Where are you from?
Me: America.
IL: But where are you from NOW?
Me: America.
IL: No, that is not possible. Americans are not allowed to come to Iran. Where did you come from? (discussion continued, and he was amazed to discover that it is legal for Americans to visit Iran)
Kerman plays an important role in Iran, as it was the capital several times in its history. We visited the ancient Rayen castle (above) in Kerman.  The foundations are still mostly intact, showing the tiny size of most of the adobe homes 1000 years ago.  Despite being built a millennia ago, it was still occupied until late in the 1800s.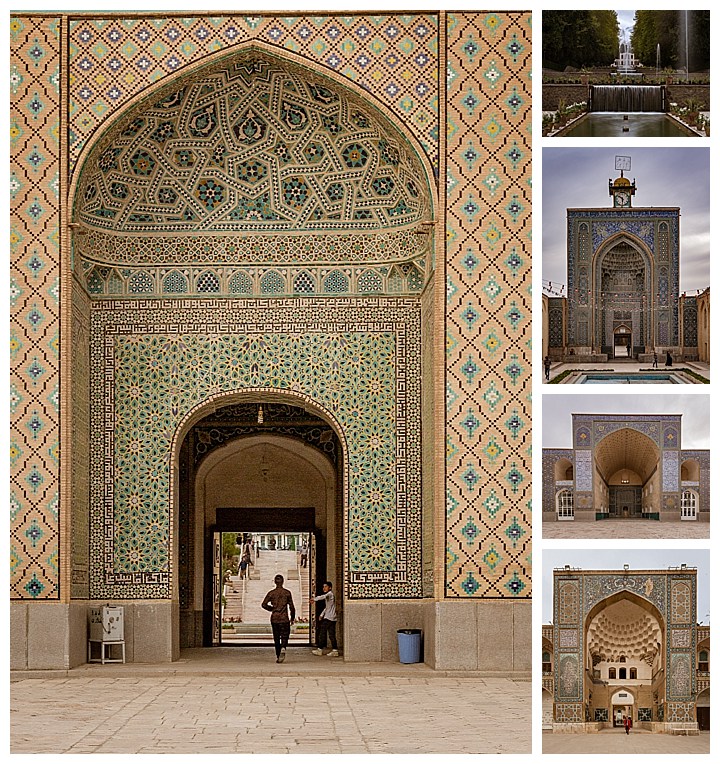 Another stop in Kerman was the Juma Mosque, built in the 12th century.  It has been destroyed many times due to earthquakes and war, but always reconstructed after each loss.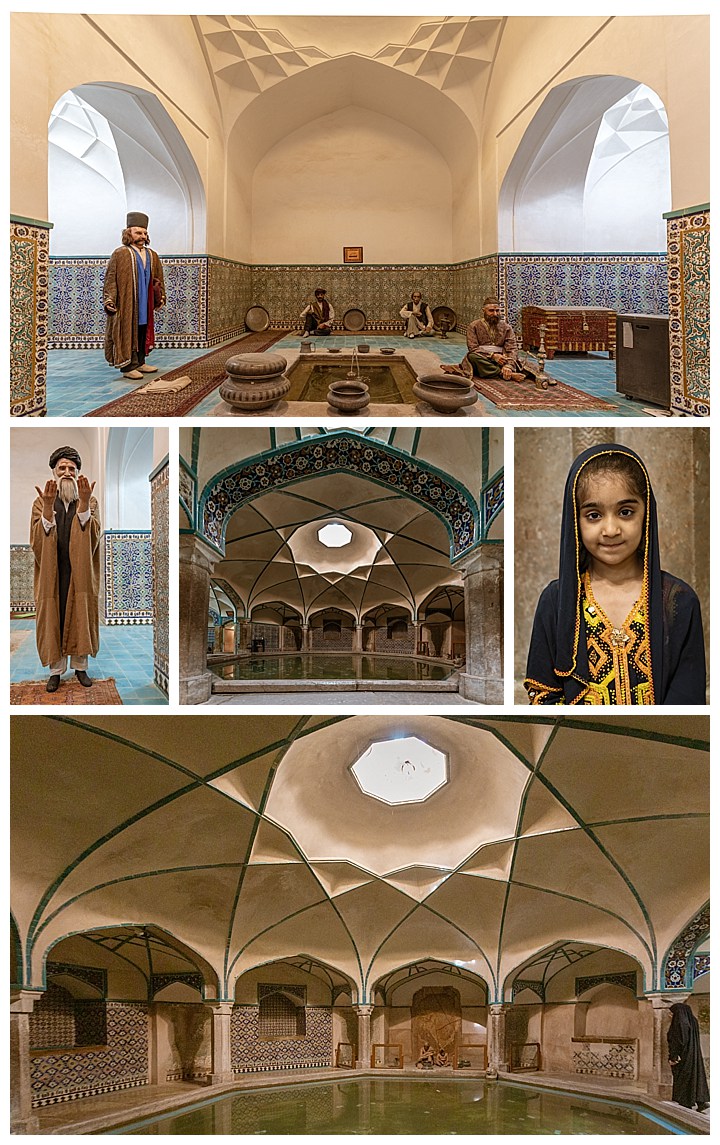 The Ganjali Bath was a rather interesting look into the social life of the 16th Century.  It has been reconstructed, complete with wax mannequins in typical form of the day. (The girl middle-right is an Iranian tourist. Her mother prodded her to model for our cameras.)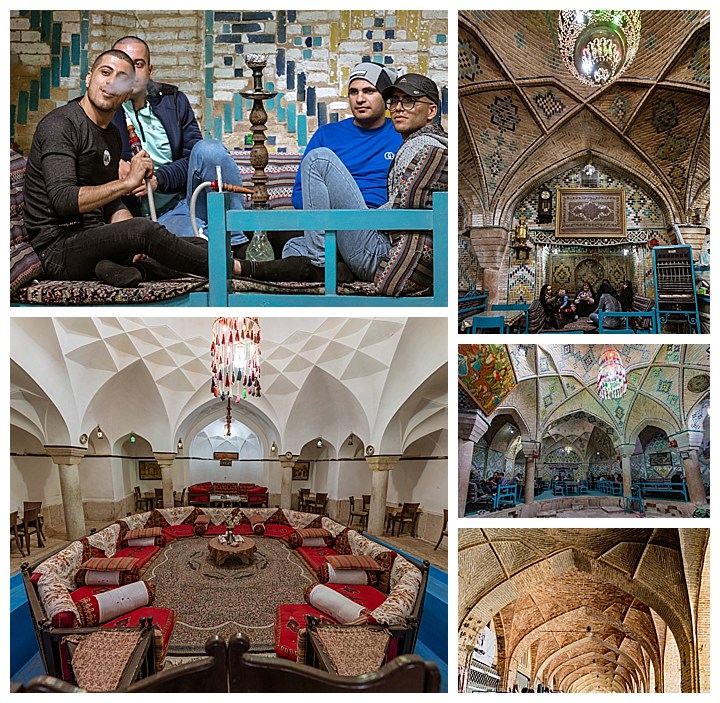 Our next stop was another old Bath House, this one converted into a restaurant.  This was the first of many times that we saw hookahs being smoked by so many people (upper-left).  Only tobacco is used in the pipes, as all alcohol and recreational drugs are forbidden in the country.
We went into the desert to photograph the kalutes (middle-left) at sunset.  Lower-left shows our tour guide heading off towards another shooting point, while the shadows of the rest of us gather on the top of another kalute as the sun lowers.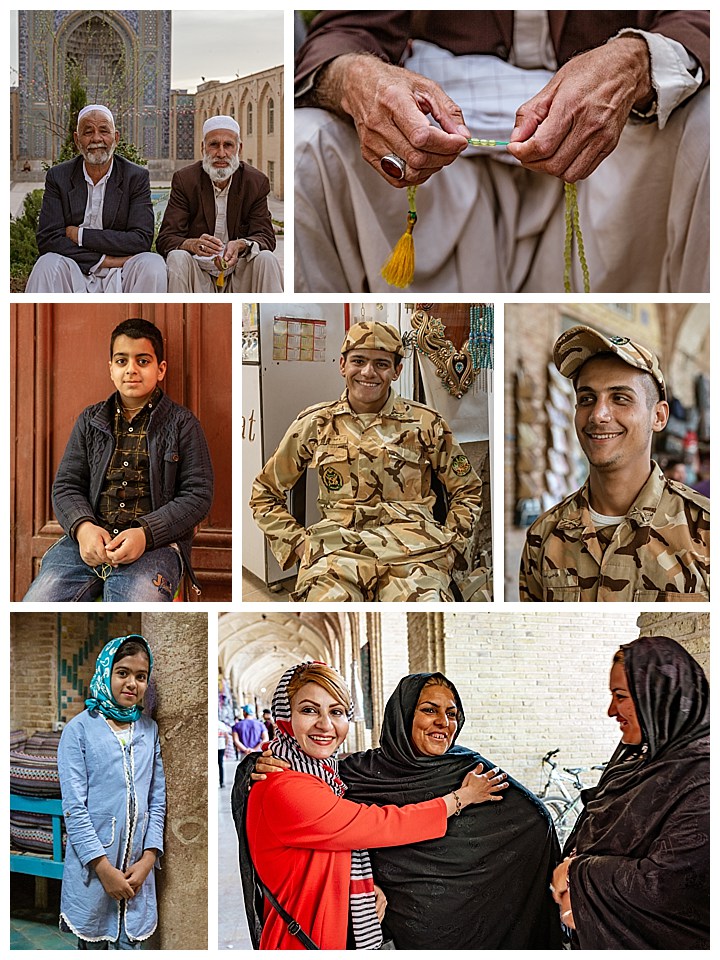 Whenever we travel, it is the people that we usually remember the most.  That will be true of Iran too.  We had expected the Iranians to be shut off, unwilling to talk to strangers, let alone Americans.  Instead, at least once an hour during every day when we were walking, someone would come up and ask (often in very broken English): "Where you from?"
Our travel group was actually quite diverse. Our tour guide is Turkish. One of the other couples is German and Belgian, but now living in Portugal, while another is Malaysian, who became Australian citizens after completing studies at the university in Melbourne. And of course, we are American. The immigration agent kept asking Evelyn where she was from, despite showing her American passport and even started to talk to her in Chinese.
Whenever we replied "America" to Iranian people, the response was sometimes disbelief that Americans were allowed to travel to Iran. In every single case though, it always then went to "Welcome to Iran!" with a broad smile.  If we happened to be sitting, or just standing around waiting, the conversation often continued much longer.  They were, of course, interested in how we liked Iran, but topics went much further.
To my surprise, Trump or the American embargo was only mentioned twice in all our discussions with Iranians.  In one case, the elderly man was vehement "Trump is bad. The Ayatollah is bad. All governments are bad. People are good. People love each other. Why can't all governments leave us alone?"
When we turned our cameras towards children (lower left), the parents were always nearby, encouraging the kids to say "hello" and to "look at the camera."  Even soldiers would hover when they saw our cameras, ask questions about America, and then ask to have their pictures taken (middle and middle-right).
The woman in red (lower-right) was our Iranian guide, Saba.  She is one of the best guides we have had in any country we have visited so far.  In addition to always being happy (did I mention that almost all Iranians seem happy?), she was full of knowledge, and often would translate our photographic requests to local Iranians who spoke no English.  She also frequently modeled for us, and you will see her in several of the photos from this week.