Day of the Innocents Masquerade Parade 2017
Every January 6, Cuenca celebrates the Day of the Innocents with a parade that combines satire, political and social commentary.  It is variously called the Fools Parade, Inocentes Parade, or Masquerades Parade. This was originally a religious event commemorating King Herod's death sentence for all new-born boys after the birth of Christ, though Cuenca's version has evolved into a fun-filled costume party combining April Fool's Day, Carnaval, and Halloween, with some politics thrown into the mix.
Our first time seeing this parade was in 2013, when we found it definitely unique among the festivities we had seen previously. 2014 followed with a large number of men dressed in drag.  2015 saw a definite subdued political satire, as President Correa had just put through a law making it illegal to make fun of political leaders, and most groups were clearly worried about crossing that line.
The local newspaper reported that there were three times as many entrants in the contest as in past years. However we only captured the first hour of the festivities starting at 6:00 PM, as the party continued well into the night with many arriving after 8:30 PM. This year, the University of Cuenca won the Mascaradas 2017 contest prize of $4,000. The $3,000 second prize was awarded to the University of Azuay for their skit  that included zombies dancing to Michael Jackson's song, Thriller, making fun of the obsessive use of electronic devices and social networks.
Every year there are groups that come through where we can recognize the parody... and then there are numerous ones where we just shrug our shoulders and wonder what the heck they are referring to.  One repeating theme this year was Ruliman.  Who is Ruliman, you ask?  hmmm... I am still asking that too... ☺  I have since read several articles that talk about the Ecuadorian government creating a solidarity hero called Solimán.  Ruliman is a character from a local voice impersonator named Santiago Illescas. The crowd cheered every time a float or group came by with the Ruliman theme, but I still don't understand why...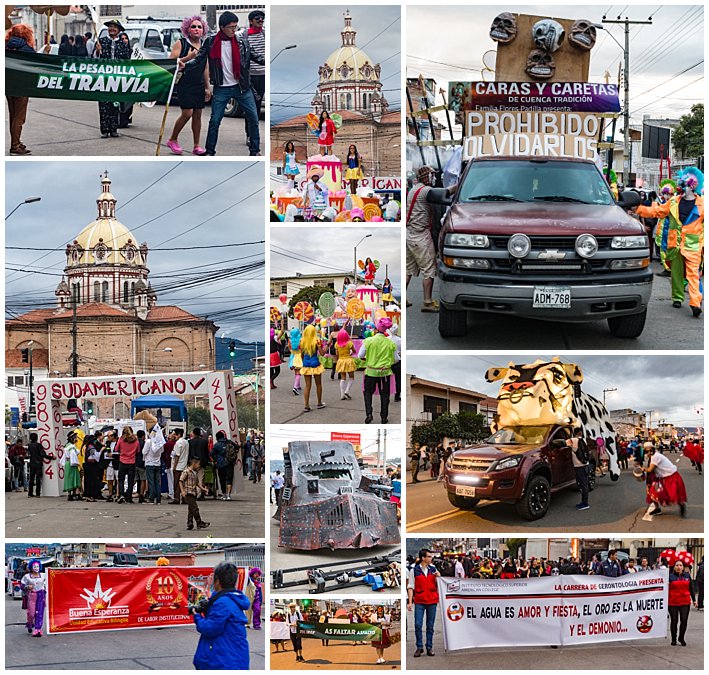 There were numerous groups led by floats or banners.  Sometimes we knew what they meant.  For example, the upper left is complaining about the Tranvia light rail project in Cuenca that is running more than a year late and well over budget, partly due to political maneuvering and mismanagement. Lower right says "Water is love and parties. Gold is death and the demon."  This one is objecting to massive gold mines that have recently been opened in the Amazon.  Upper right is telling people to "never forget" Cuenca traditions.  Another skit with caskets reminded everyone of the many famous people who passed away the past year.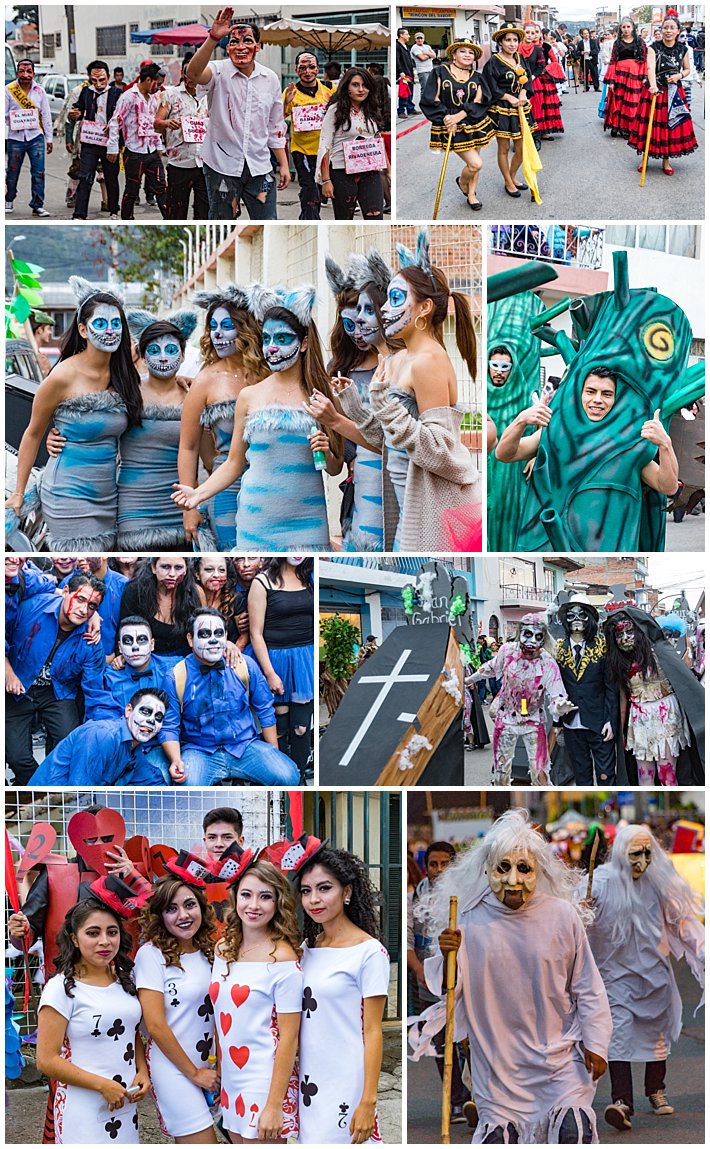 Many groups traveled in costumes, all matching a single theme.

Superheroes were in plentiful supply.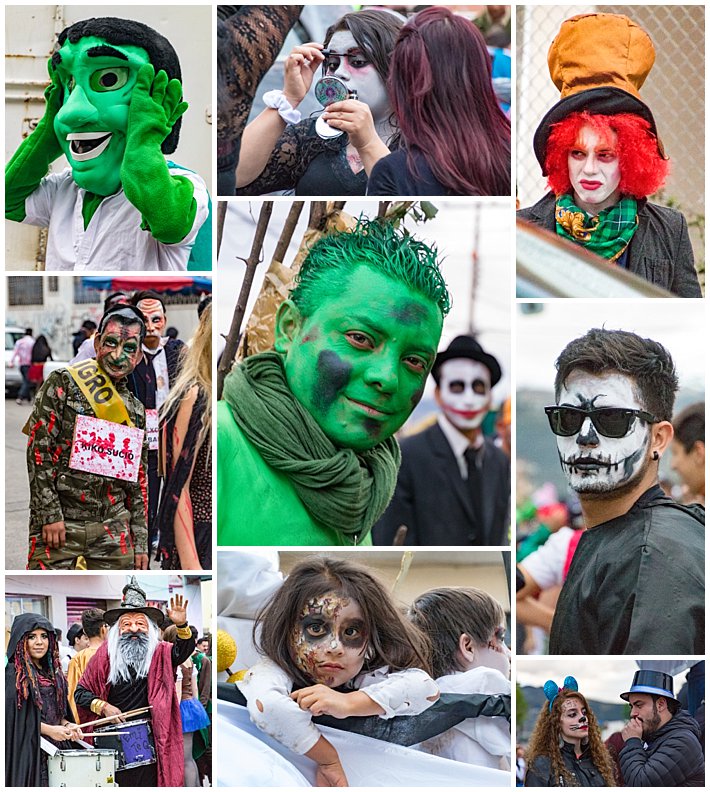 Masks and elaborate face paint was common, and many were quite well done.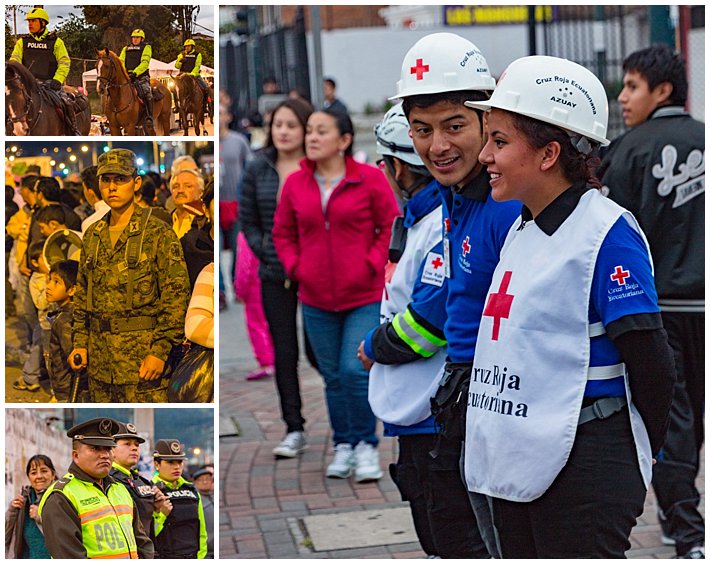 As with all large parades like this, the police and Red Cross were on hand as needed.  I have never seen any disturbances at any of these events.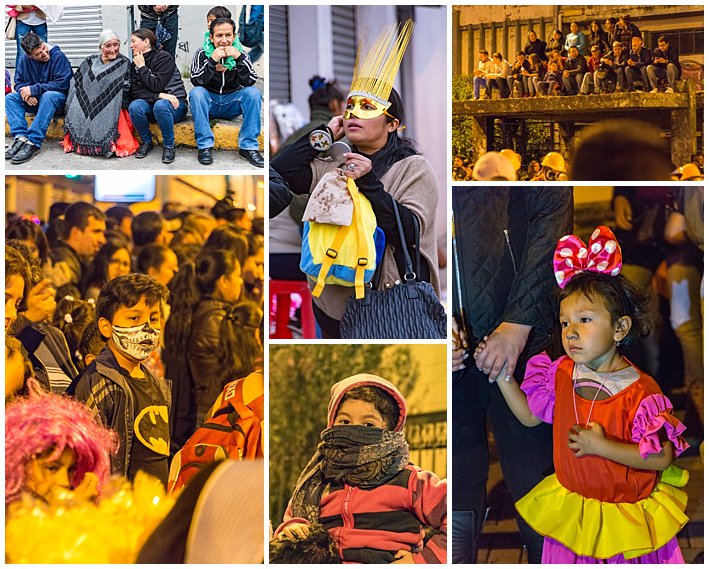 The audience is often as interesting as the parade itself, and tonight was no exception.
Just a last few more images that I particularly liked tonight, as the Inocents enjoyed their party.
---
---