Cuenca Carnaval–Foam Attack!
In recent years, Cuenca has celebrated Godparent's Day with a foam party in Parque Calderon, in the center of town.  Cans of foam ("espuma") come out at 5:00, and the entire park becomes a slip-and-slide zone within minutes.  In past years, we walked over to the parque later in the evening, when teenagers were in abundance.  We decided to go earlier this year, partially for better photography light.  We discovered that the younger kids dominate the scene when the foam party first starts.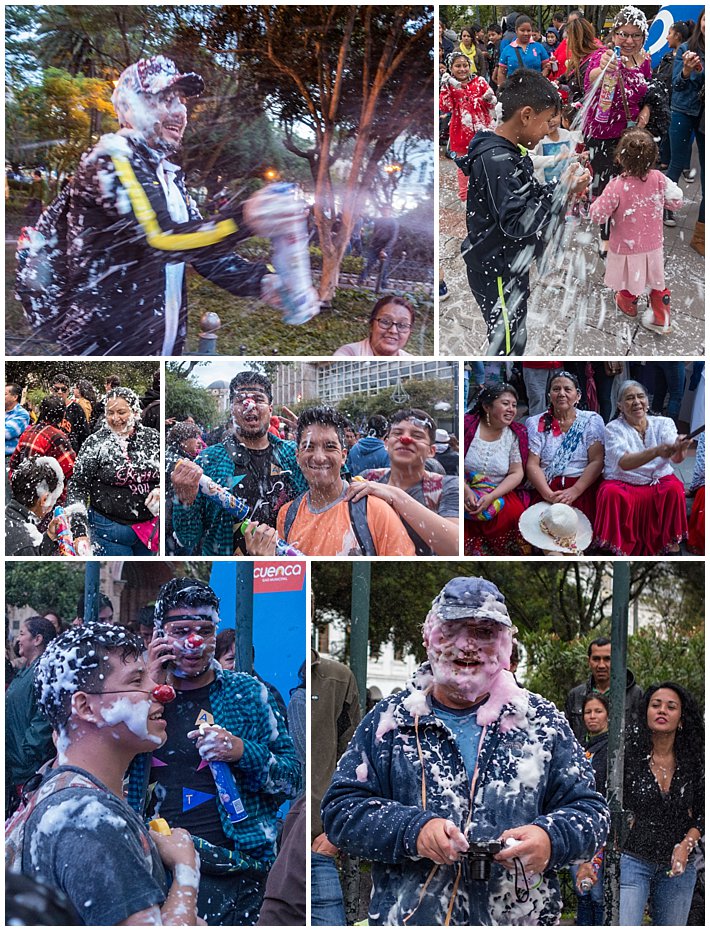 The adults involved in this earlier time were mostly parents or grandparents of the kids.  A few of them had foam cans of their own, but more were covered with foam as they watched the fun.  And yep, that is me in the lower right.  Taking any photographs in the war zone was a constant shoot-wipe-shoot cycle to keep the lens clean enough to use!
Godparents had their own small parade.  Whether they had their own cans of foam or not, they were quickly covered.  Firemen were on hand (upper left), and the military provided music (upper right).  Evelyn (lower right) managed to stay on the periphery and survived the evening with only minimal foam. Last year, Evelyn was carrying one of the humongous cans of espuma, and wondering why she was targeted by all of the kids and adults.
We have been amazed how the Carnaval celebration has evolved over the past few years in Cuenca -- 3 years ago, the entire city was a ghost town as all the inhabitants left for the coast, and now there's a huge party, parades and even some restaurants stay open for this holiday. The evening ended around 11:00 PM with the best choreographed fireworks we have seen in Ecuador.
Carnaval Espuma Party Cuenca 2017 from Burt Johnson on Vimeo.
---
---