Mindo, Ecuador and 45 Years!
We have explored most of Ecuador in past trips, but have never been to either Mindo or Tulcán.  Since we were flying through Quito on our way from Panama back to Cuenca, we decided to spent a week in this part of the country.  We rented a (highly underpowered...) car at the airport, and took off through the mountains to Mindo.
Mindo is a small village located in a cloud forest in the Andes mountains in northern Ecuador known for their wide diversity of birds. We stayed at the Mindo Coffee Lodge. When driving from the town of Mindo, the hotel seemed quite remote and it seemed like we traveled for miles before reaching it.  Fortunately, our very pleasant host provided us with a hand-drawn map of the area (there are very few street names and no maps exist here), which included a shortcut that allowed us to walk over a precarious foot bridge into town in about 10 minutes.
One of the highlights of Mindo is supposed to be the Yumbos chocolate factory, so we took a tour (above).  Our expectations of the tour were high, after the coffee plantation tour we had in Panama.  Unfortunately, our guide really only knew his set speech, and could not answer any questions that were not included in that patter.  Also, the chocolate is not as good as the Pacari brand, yet Yumbos charged twice as much for their bars.  I cannot really recommend the tour or the chocolate...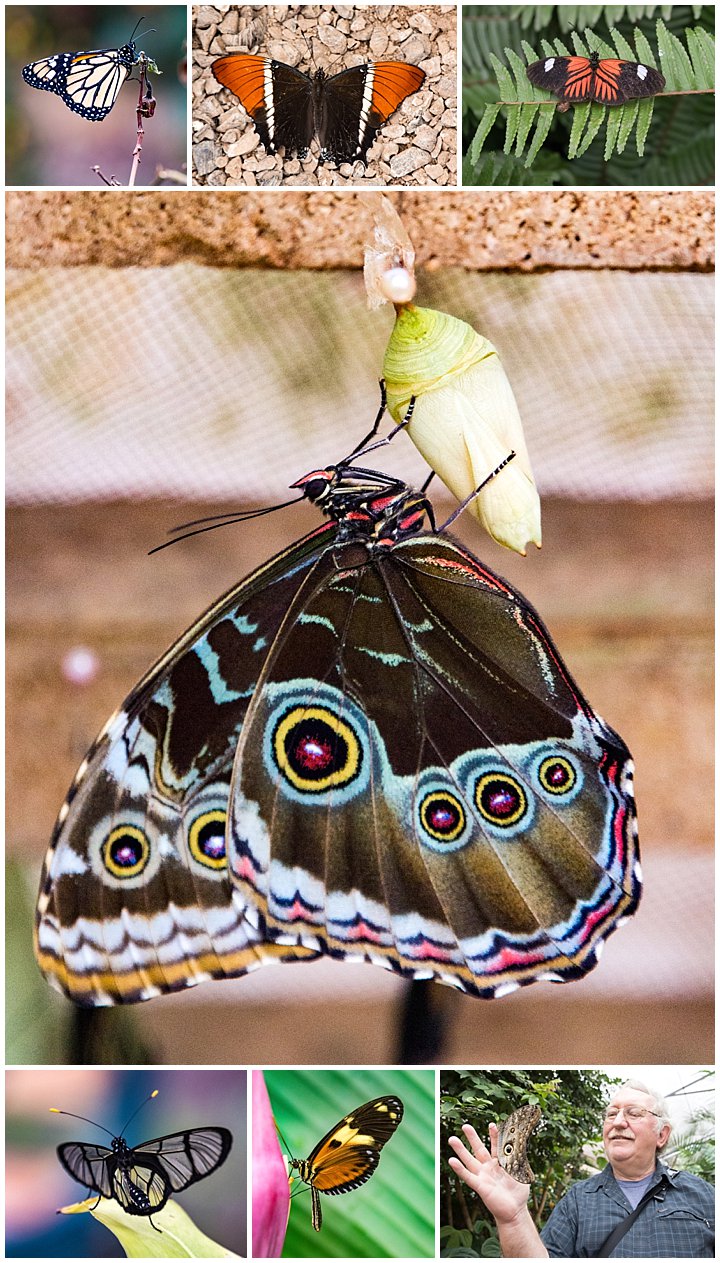 Mindo is also known for its butterflies and hummingbirds. We went to two  butterfly farms in town.  Both were pretty good, though the garden at Hostería Mariposas de Mindo was the larger.  I would recommend both, but if you only have time for one, than this would be the one to see. They have a large selection of butterflies, including pupa with emerging butterflies in the open for easy viewing and to let the butterflies fly free as they do in nature.  An employee comes through every few minutes and shakes the trees, so the butterflies are flying around you rather than hiding in the bushes.
Lower right shows two Caligo Memnon butterflies mating.  They had been flying around joined for mating, when they landed on my hand.  I could not even shake them off, so Evelyn shot this image of me ogling the pair... ☺
When we walked into the Mariposa butterfly enclosure, we did a double-take.  Paused. Looked again.  To our surprise, two friends from Cuenca (Peter and Kris Fischer) were sitting on a bench enjoying the butterfly environment.  Neither of us knew the other was going to be in town, but we caught up and then later had dinner together.
We were about to leave for lunch when Kris told us that the restaurant right there was excellent.  We therefore decided to eat there, and she was completely right -- it was some of the best food we had during our stay in Mindo.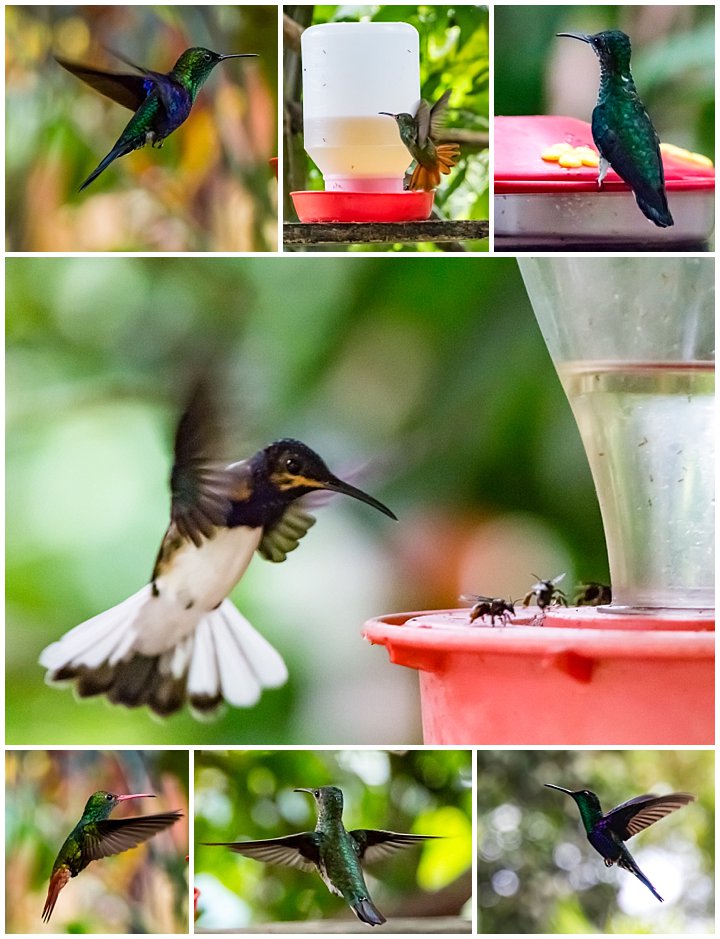 On the path leading up to the butterfly enclosure were several hummingbird feeders.  We spent about an hour watching and photographing those too.  See the bottom of this post for a slow-motion video I took of their flying.
We have seen many cities with elaborate street murals, and we can now count Mindo among them.  Above is a selection of some of the murals on walls in town.
Peter and Kris also told us that there was a great jazz group playing at their hobbit hotel that evening, so we joined them to listen to the music. The group of four musicians included one Mindo local, plus three Venezuelan refugees who had arrived in town four days earlier, and were trying to eek out a living on tips. They were introduced as music teachers who fled their country because it is no longer possible to make a living there with music (or pretty much anything else, from the news we have been hearing in recent years).
45 YEARS!  Yep, our 45th wedding anniversary is only a few days away.  (Details of our wedding were written about on our 40th anniversary) We decided to celebrate by stopping in Cotacachi and staying at the luxury La Mirage hotel, a 5-star hotel, restaurant and resort. We chose their "anniversary special" which included an elegant, old-world king suite, a welcome bottle of champagne and chocolate covered strawberries, complete with a gourmet three-course lunch and dinner, plus American breakfast. Evelyn then treated herself to their hot stone massage.
We had eaten lunch here back in 2012, and remembered the meal as being something special, so we had high expectations -- and they were met.  I rarely photograph food in restaurants, because the photographs don't do justice to the meals.  The meal presentation was so extraordinary that I felt the need to capture it this time though (and no, these photos just don't do justice to the superb food). Royalty have stayed at this hotel, and we felt special with the over-the-top level of service. The fireplace was lit each night, and there were even hot water bottles in our bed to keep us warm.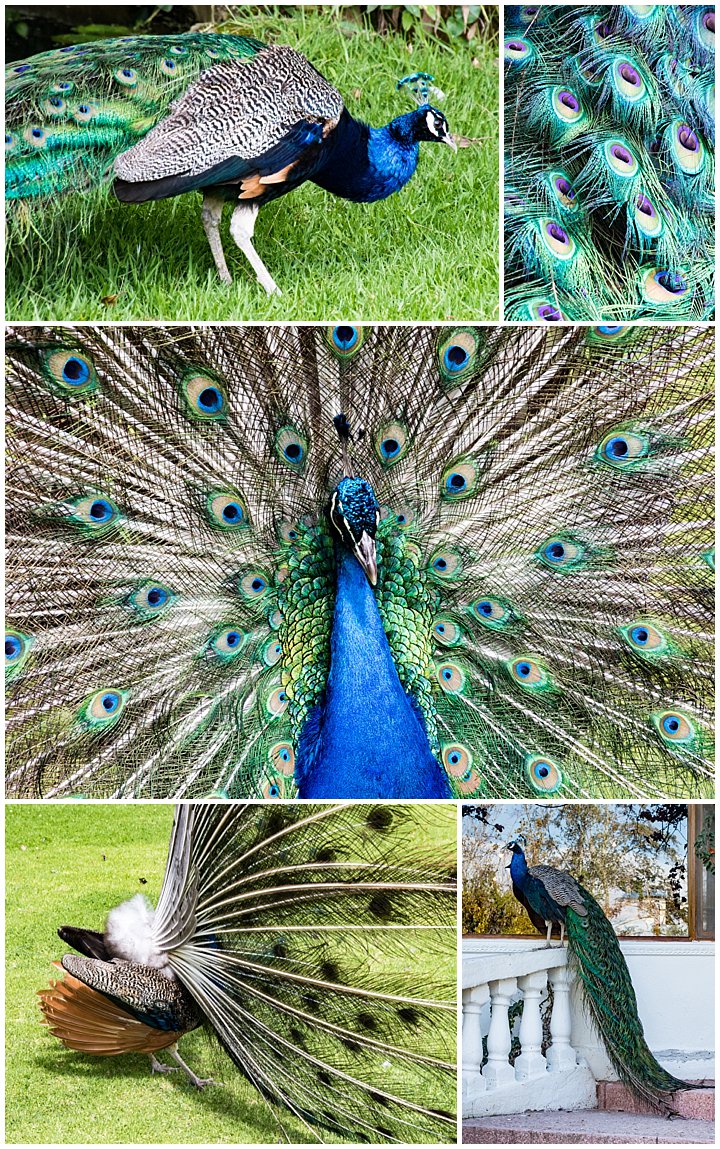 The grounds of La Mirage include a flock of two male and six female peacocks.  We spent some time following them around and photographing them.  The bottom-left shows a male peacock in full plumage from the side -- something I had never seen before.  I had not realized how the feathers cup forward in full display.

Hummingbirds in Slow Motion from Burt Johnson on Vimeo.
While photographing the hummingbirds outside the butterfly farm, I also took some time to capture slow motion video of their flying.  Unfortunately, I had not realized that the camera does not capture full resolution when doing high-speed capture, so these are not quite as clear as I had hoped.
---
---